Abstract
Soil water availability is an important field of study in soil water and plant relationship. Least limiting water range (LLWR) and integral water capacity (IWC) are two important concepts which are used for water availability to plant. LLWR is determined from four moisture coefficients (θAFP, θFC, θSR, θPWP) that are the soil water contents 10% air-filled porosity (AFP), at field water capacity (FC), 2 MPa penetration resistance (SR), and permanent wilting point (PWP), respectively. The computation is dependent on critical values, so IWC was introduced to avoid using the critical limits that sharply rises in a cut-off from 0 to 1 at the wet end of water release curve or sharply falls from 1 to 0 at the dry side in the previous concepts of water availability for plant. IWC is the integral of differential water capacity function (C(h)) in the amplitude of 0 to infinity soil matric potential (h) multiplied by some weighting functions (ωi(h)) each considering the effect of various soil limitations on water availability to plants. Up to now, the effect of different soil attributes and the tillage treatments have been reviewed on LLWR. The effect of soil various physical and chemical limitations such as soil hydraulic conductivity (K(h)), aeration, SR, and salinity has been considered on IWC computation. LLWR and especially IWC have been seldom studied using plant real response. Results of few studies about LLWR and IWC using stomatal conductance and canopy temperature showed that their values were considerably different with those computed based on previously introduced critical limits for LLWR and weighting functions for IWC. These differences indicate that the critical limits proposed by da Silva et al. (Soil Sci Soc Am J 58:1775–1781, 1994) and weighting functions by Groenevelt et al. (Aust J Soil Res 39:577–598, 2001) may not be applied indiscriminately for all plants and should to be modified according to plant response. Physiological characteristics like transpiration and photosynthesis rate, chlorophyll index, leaf water potential, and relative water content also could be appropriate indices for monitoring plant water status and computation the real value of LLWR and IWC in the field or greenhouse for various types of plants.
This is a preview of subscription content, log in to check access.
Access options
Buy single article
Instant access to the full article PDF.
US$ 39.95
Price includes VAT for USA
Subscribe to journal
Immediate online access to all issues from 2019. Subscription will auto renew annually.
US$ 210
This is the net price. Taxes to be calculated in checkout.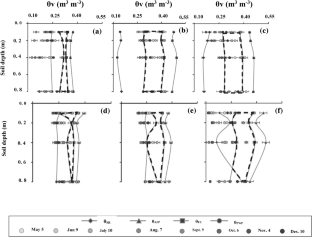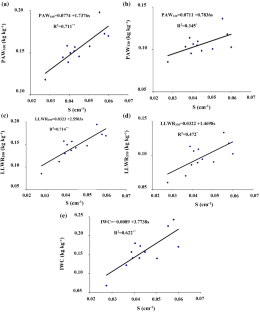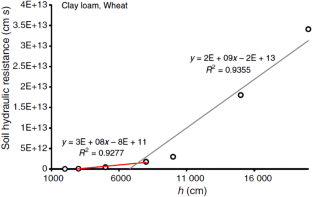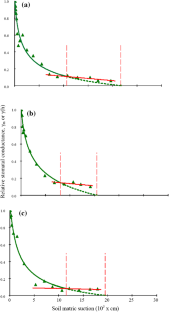 References
Acevedo Hinojosa E. 1975. The growth of Zea mays L. as affected by its water relations. Ph.D. Diss. University of California, Davis, U.S.A

Ahuja LR, Naney JW, Williams RD (1985) Estimating soil water characteristics from simpler properties or limited data. Soil Sci Soc Am J 49:1100–1105

Asgarzadeh H, Mosaddeghi MR, Mahboubi AA, Nosrati A, Dexter AR (2010) Soil water availability for plants as quantified by conventional available water, least limiting water range and integral water capacity. Plant Soil 335:229–244

Assouline S, Or D (2014) The concept of field capacity revisited: defining intrinsic static and dynamic criteria for soil internal drainage dynamics. Water Resour Res 50:4787–4802

Baiazidi-Aghdam MT, Mohammadi H, Ghorbanpour M (2016) Effects of nanoparticulate anatase titanium dioxide on physiological and biochemical performance of Linum usitatissimum (Linaceae) under well watered and drought stress conditions. Braz J Bot 39:139–146

Batra NG, Sharma V, Kumari N (2014) Drought-induced changes in chlorophyll fluorescence, photosynthetic pigments, and thylakoid membrane proteins of Vigna radiata. J Plant Interact 9:712–721

Bazzaz MdM, Khaliq QA, Karim MdA, Al-Mahmud A, Khan MdSA (2015) Canopy temperature and yield based selection of wheat genotypes for water deficit environment. Open Access Lib J 2:2–11

Benjamin JG, Nielsen DC, Vigil MF (2003) Quanifying effects of soil conditions on plant growth and crop production. Geoderma 116:137–148

Benjamin JG, Nielsen DC, Vigil MF, Mikha MM, Calderon F (2014) Water deficit stress effects on corn (zea mays L.) root:shoot ratio. Open J Soil Sci 4:151–160

Besharat S, Nazemi AH, Sadraddini AA (2010) parametric modeling of root length density and root water uptake in unsaturated soil. Turk J Agric For 34:439–449

Betz CL, Allmaras RR, Copeland SM, Randall GW (1998) Least limiting water range: traffic and long-term tillage influences in a webster soil. Soil Sci Soc Am J 62:1384–1393

Beutler AN, Centurion JF (2003) Effect of water content and soil compaction on soybean production. Pesquisa Agropecuária Brasileira 38:849–856

Beutler AN, Centurion JFL, da Silva AP (2005) Soil resistance to penetration and least limiting water range for soybean yield in a haplustox from Brazil. Braz Arch Biol Technol 48:863–871

Blum A (2011) Plant breeding for water-limited environments. Springer, New York

Brestic M, Zivcak M (2013) PSII fluorescence techniques in drought and high temperature stress signal measurement of crop plants: protocols and applications. In: Rout GR, Das AB (eds) Molecular stress physiology of plants. Springer, India, pp 87–113

Busscher WJ (1990) Adjustment of flat-tipped penetrometer resistance data to a common water content. Trans ASAE 33(2):519–0524

Buttar GS, Singh CJ, Ahuja MS, Saini KS (2005) Canopy temperature: a method to estimate plant water stress and scheduling irrigation in cotton and wheat. J Agric Phys 5:79–83

Camara RK, Klein VA (2005) Chiseling in no-tillage system as soil and water conservation practice. Revista Brasileira de Ciência do Solo 29:789–796

Campbell GS (1974) A simple method for determining unsaturated conductivity from moisture retention data. Soil Sci 117:311–314

Chahal SS (2010) Evaluation of soil hydraulic limitations in determining plant-available water in light textured soils. Phd. Thesis. School of Agriculture, Food and Wine. The University of Adelaide, Australia

Chen XW, Wang N, Shi XH, Zhang XP, Liang AZ, Jia SX, Fan RQ, Wei SC (2013) Evaluating tillage practices impacts on soil organic carbon based on least limiting water range. Acta Ecol Sin 33:2676–2683

Chen XW, Shi XH, Liang AZ, Zhang XP, Jia SX, Fan RQ, Wei SC (2015) Least limiting water range and soil pore-size distribution related to soil organic carbon dynamics following zero and conventional tillage of a black soil in Northeast China. J Agric Sci 153:270–281

da Silva Junior CA, Carvalho AA, Meurer I, Libardi PL, Silva MAC, Oliveira ECA (2010) Changes in physical attributes of an Acrustox under different tillage methods for the planting of sugarcane. Revista Agrarian 3:111–118

da Silva AP, Kay BD (1996) The sensitivity of shoot growth of corn to the least limiting water range of soils. Plant Soil 184:323–329

da Silva AP, Kay BD (1997) Estimating the least limiting water range of soils from properties and management. Soil Sci Soc Am J 61:877–883

da Silva AP, Kay BD (2004) Linking process capability analysis and least limiting water range of assessing soil physical quality. Soil Tillage Res 79:167–174

da Silva A, Kay B, Perfect E (1994) Characterization of the least limiting water range of soils. Soil Sci Soc Am J 58:1775–1781

Dauda AB, Ajadi A, Tola-Fabunmi AS et al (2019) Waste production in aquaculture: sources, components and managements in different culture systems. Aquacult Fish 4(3):81–88

de Lima CLR, Sanches Suzuki LEA, Reinert D, Reichert JM (2015) Least limiting water range and degree of compactness of soils under no-tillage. Biosci J 31:1071–1080

de Souza GS, de Souza ZM, Miguel C, Cássio AT (2015) Controlled traffic and soil physical quality of an Oxisol under sugarcane cultivation. Scientia Agricola 72:270–277

de Souza GS, Alves DI, Dan ML, de Souza Lima JS, da Fonseca ALCC, Silva Araújo JB, de Oliveira Prata Guimarães LA (2017) Soil physico-hydraulic properties under organic conilon coffee intercropped with tree and fruit species. Pesquisa Agropecuária Brasileira 52:539–547

Dodd IC, Egea G, Davies WJ (2008) Accounting for sap flow from different parts of the root system improves the prediction of xylem ABA concentration in plants grown with heterogeneous soil moisture. J Exp Bot 59(15):4083–4093

Farahania E, Hojat Emamia H, Fotovata A, Khorassania R, Keller T (2020) Soil available water and plant growth in relation to K: Na ratio. Geoderma 363:1–8

Farooq M, Wahid A, Kobayashi N, Fujita D, Basra SMA (2009) Plant drought stress: effects, mechanisms and management. Agron Sustain Dev 29:185–212

Ferrars LA, Costa JL, Garcia FO, Pecorari C (2002) Effect of no-tillage on some soil physical properties of a structural degraded Petrocalcic Paleudoll of the southern "Pampa" of Argentina. Soil Tillage Res 54:31–39

Ferreira MM, Fernandes B, Curi N (1999) Mineralogy of clay fraction and structure of latosols (Oxisols) from southeastern Brazil. Revista Brasileira de Ciência do Solo 23:507–514

Ferreira CJB, Zotarelli L, Tormenaa CA, Rensb LR, Rowland DL (2017) Effects of water table management on least limiting water range and potato root growth. Agric Water Manag 186:1–11

Fidalski J, Tormena CA, da Silva AP (2010) Least limiting water range and physical quality of soil under groundcover management systems in citrus. Scientia Agricola 67:448–453

Fredlund DG, Xing A (1994) Equations for the soil-water characteristic 'curve'. Can Geotech J 31:521–532

Gardner WR (1960) Dynamic aspects of water availability to plants. Soil Sci 89:63–73

Glinski J, Stepniewski W (1985) Soil aeration and its role for plants. CRC Press, Boca Raton

González-Dugo MP, Moran MS, Mateos L, Bryant R (2006) Canopy temperature variability as an indicator of crop water stress severity. Irrig Sci 24(4):233–240

Grant CD, Groenevelt PH, Robinson NI (2010) Application of the Groenevelt-Grant soil water retention model to predict the hydraulic conductivity. Aust J Soil Res 48:447–458

Gregory AS, Watts CW, Griffiths BS, Hallett PD, Kuan HL, Whitmore AP (2009) The effect of long-term soil management on the physical and biological resilience of a range of arable and grassland soils in England. Geoderma 153:172–185

Groenevelt PH, Grant CD (2004) A new model for the soil-water retention curve that solves the problem of residual water contents. Eur J Soil Sci 55:479–485

Groenevelt PH, Grant CD, Semetsa S (2001) A new procedure to determine soil water availability. Aust J Soil Res 39:577–598

Guedes FO, da Silva AP, Giarola NFB, Tormena CA (2014) Least-limiting water range of the soil seedbed submitted to mechanical and biological chiselling under no-till. Soil Res 52:521–532

Guo Y, Tian S, Liu S, Wang W, Sui N (2018) Energy dissipation and antioxidant enzyme system protect photosystem II of sweet sorghum under drought stress. Photosynthetica 56:1–12

Haghighi FF, Gorji M, Sharifi F (2017) Least limiting water range for different soil management practices in dryland farming in Iran. Arch Agron Soil Sci 63:1814–1822

Hasegawa S (1981) A simplified model of water uptake by dryland rice root system. Soil Phys Cond Plant Growth Japan 44:14–22 (in Japanese with English summary)

Hasegawa S, Sato T (1985) Soil water movement in the vicinity of soybean roots determined by root plane experiment. Trans Japan Soc Irrigat Drain Reclam Eng 117:17–24

Hillel D (1980) Fundamentals of soil Physics 1969. Academic Press, Jackson

Iqbal M, Hassan AU, Ali A, Rizwanullah M (2005) Residual effect of tillage and farm manure on some soil physical properties and growth of wheat (Triticum aestivum L.). Int J Agric Biol 7:54–57

Iqbal N, Hussain S, Raza MA, Yang CQ, Safdar ME, Brestic M, Aziz A, Hayyat MS, Asghar MA, Wang XC, Zhang J, Yang W, Liu J (2019) Drought tolerance of soybean (Glycine max L. Merr.) by improved photosynthetic characteristics and an efficient antioxidant enzyme activities under a split-root system. Front Physiol 10:786

Islam MM, Barman A, Kundu GK et al (2019) Vulnerability of inland and coastal aquaculture to climate change: evidence from a developing country. Aquacult Fish 4(5):183–189

Kahlon MS, Chawla K (2017) Effect of tillage practices on least limiting water range in Northwest India. Int Agrophys 31:183–194

Kay BD, Hajabbasi MA, Ying J, Tollenaar M (2006) Optimum versus non- limiting water contents for root growth, biomass accumulation, gas exchange and the rate development of maize. Soil Tillage Res 88:42–54

Kazemi Z, Neyshabouri MR, Bayat H, Oustan SH, Moghaddam M (2016) Performance of the several models in prediction of least limiting water range (abstract no 409). In: Abstracts: Eurosoil Istanbul, October 16 and 21, Istanbul, Turkey

Kazemi Z, Neyshabouri MR, Zarehaghi D, Asgarzadeh H (2018) Determination of the least limiting water range based on sunflower plant response. Iranian J Soil Research 32:165–176 (Persian with English abstract)

Kazemi Z, Neyshabouri MR, Zare Haghi D, Asgarzadeh H, Onnabi Milani A, Irani M, Dabbagh Mohammadi Nasab A (2019) Evaluation of the effect of root length density on integral water capacity in sunflower plant. In: 16th Iranian Soil Science Congress, University of Zanjan, Zanjan, Iran. August 27–29 (Persian with English abstract)

Khalifezadeh KH, Hossein AH, Mosaddeghi MR, Khodaverdiloo H (2019) Critical values of soil physical quality indicators based on vegetative growth characteristics of spring wheat (Triticum aestivum L.). J Soil Sci Plant Nutr 12:1–14

Kirkham MB (2004) Principles of soil and plant water relations. Elsevier Academic Press

Klein VA, Camara RK (2007) Soybean grain yield and least limiting water range in an Oxisol under chiseled no-tillage. Revista Brasileira de Ciencia do Solo 31:221–227

Klein C, Klein VA (2015) Least limiting water range under no-tillage system and maize grain yield. Científica 43:179–187

Klein VA, Vieira ML, Durigon FF, Massing JP, Fávero F (2008) Air-filled porosity in Latosol and wheat grain yield under no-tillage chiseled. Ciência Rural 38:1365–1371

Kosugi K (1994) Three-parameter lognormal distribution model for soil water retention. Water Resour Res 30:891–901

Lapen DR, Topp GC, Gregorich EG, Curnoe WE (2004) Least limiting water range indicators of soil quality and corn production, eastern Ontario, Canada. Soil Tillage Res 78:151–170

Lawlor DW, Tezara W (2009) Causes of decreased photosynthetic rate and metabolic capacity in water-deficient leaf cells: a critical evaluation of mechanisms and integration of processes. Ann Bot 103:561–579

Leão TP, da Silva AP, Perfect E, Tormena CA (2005) An algorithm for calculating the least limiting water range of soils. Agron J 97:1210–1215

Leão TP, da Silva AP, Macedo MCM, Imhoff S, Euclides VPB (2006) Least limiting water range: a potential indicator of changes in near-surface soil physical quality after the conversion of Brazilian Savanna into pasture. Soil Tillage Res 88:279–285

Letey J (1985) Relationship between soil physical properties and crop production. Adv Soil Sci 1:276–294

Lide DR (2002) Handbook of chemistry and physics, 83rd edn. CRC Press, Boca Raton

Meskini-Vishkaee F, Mohammadi MH, Neyshabouri MR, Farid Shekari F (2018) Evaluation of canola chlorophyll index and leaf nitrogen under wide range of soil moisture. Soil Res 56:331–345

Miyazaki T (2005) Water flow in soils. CRC Press, Boca Raton

Modolo AJ, Fernandes HC, Schaeferm GCE, Silveira JCM (2008) Effect of the compacting of the soil on the seed in the emergency of the soy in direct planting system. Ciência e Agrotecnologia 32:1259–1265

Mohammadi MH, Khataar M (2017) A simple numerical model to estimate water availability in saline soils. Soil Res 56:264–274

Mohammadi MH, Asadzadeh F, Vanclooster M (2010) Refining and unifying the upper limits of the least limiting water range using soil and plant properties. Plant Soil 334:221–234

Moldrup PC, Olesen T, Schjønning P, Yamaguchi T, Rolston DE (2000) Predicting the gas diffusion coefficient in undisturbed soil from soil water characteristics. Soil Sci Soc Am J 64:94–100

Mualem Y (1976) A new model for predicting the hydraulic conductivity of unsaturated porous media. Water Resour Res 12(3):513–522

Nachabe MH (1998) Refining the definition of field capacity in the literature. J Irrig Drain Eng 124:230–232

Nang ND, Grant CD, Murray RS (2010) An evaluation of plant available water during reclamation of saline soils: Laboratory and field approaches, 19th World Congress of soil science, soil solutions for a changing world. Australia (Published on DVD), Brisbane

Nemes A, Schaap MG, Leij FJ (2000) The UNSODA unsaturated soil hydraulic property database, version 2.0

Neyshabouri MR, Kazemi Z, Oustan SH, Moghaddam M (2014) PTFs for predicting LLWR from various soil attributes including cementing agents. Geoderma 226:179–187

Neyshabouri MR, Kazemi Z, Milani O, Zarehagghi D, Asgharzadeh H (2018) Computation of integral water capacity using leaf temperature at different soil compaction levels. In: 21th word congress of soil science, Sunday 12-Friday 17 August 2018, Rio de Janeiro, Brazil

Nobel P (1974) Introduction to biophysical plant ecology. W. H Freeman and Company, San Francisco, CA, USA

Olibone D, Encide-Olibone AP, Rosolem CA (2010) Least limiting water range and crop yields as affected by crop rotations and tillage. Soil Use Manag 26:485–493

Oosterbaan RJ, Sharma DP, Singh KN, Rao KVGK (1990) Crop production and soil salinity: evaluation of field data from India by segmented linear regression. Proc Symp Land Drain Salinity Control Arid Semi-Arid Regions Cairo Egypt 3:373–383

Perez MY, de Andreu AD (2013) Least limiting water range of soils in the Colonia Agrícola de Turen, Venezuela. European Geosciences Union General Assembly, 07–12 April. Vienna, Austria

Petrov P, Petrova A, Dimitrov I, Tashev T, Olsovska K, Brestic M, Misheva S (2018) Relationships between leaf morpho-anatomy, water status and cell membrane stability in leaves of wheat seedlings subjected to severe soil drought. J Agron Crop Sci 204:219–227

Ramos FT, de Souza Maia JC, dos Santos Weber OL, Campelo Júnior JH (2015) Estimate of the least limiting water range based on relative density of an Oxisol in Brazil. Afr J Agric Res 11:516–526

Rechert JM, da Silva VR, Reinert DJ (2004) Soil moisture, penetration resistance and least limiting water range for three soil management systems and Black Beans yield. In: 13th international soil conservation organization conference-Brutish, July

Ross PJ, Williams J, Bristow KL (1991) Equation for extending water-retention curves to dryness. Soil Sci Soc Am J 55:923–927

Saxton KE, Rawls WJ, Romberger JS, Papendick RI (1986) Estimating generalized soil-water characteristics from texture. Soil Sci Soc Am J 50:1031–1036

Shaver TM, Peterson GA, Ahuja LR, Westfall DG, Sherrod LA, Dunn G (2002) Surface soil properties after twelve years of dryland no-till management. Soil Sci Soc Am J 66:1292–1303

Siddique Z, Jan S, Imadi SR, Gul A, Ahmad P (2016) Drought stress and photosynthesis in plants. In: Ahmad P (ed) Water stress and crop plants: a sustainable approach, 2 edn, pp 1–11

Stepniewski W, Stepniewska Z, Paolo Bennicelli R, Glinski J (2005) Oxygenology in outline. In: EU 5th framework program, QLAM-2001-00428. Institute of Agrophysics, Lublin

Stock O, Downes NK (2008) Effects of addition organic matter on the penetration resistance of glacial till for the entire water tention range. Soil Tillage Res 99:191–201

Tanji KK, Kielen NC (2002) Agricultural drainage water management in arid and semi-arid areas. Rome, FAO

Tavares FJ, Barbosa GMC, Guimarães MF, Fonseca ICB (2001) Soil resistence to penetration and corn (Zea mays) root system development under different soil management on a Latossolo Roxo (Oxisol). Revista Brasileira de Ciência do Solo 25:725–730

Tisdall JM, Oades JM (1982) Organic matter and water-stable aggregates in soils. Eur J Soil Sci 33:141–163

Topp GC, Galganov YT, Wires KC, Culley JLB (1994) Non-limiting water range (NLWR): an approach for assessing soil structure. In: Soil quality evaluation program Report 2, Centre for Land and Biological Resources Research, Agriculture and Agri-Food Canada, Ottawa

Tormena CA, Silva AP, Libardi PL (1999) Soil physical quality of a Brazilian Oxisol under two tillage systems using the least limiting water range approach. Soil Tillage Res 52:223–232

Vadez V, Krishnamurthy L, Kashiwagi JW, Kholova J, Devi JM, Sharma KK, Bhatnagar-Mathur P, Hoisington DA, Hash CT, Biding FR, Keatinge JDH (2007) Exploiting the functionality of root systems for dry, saline, and nutrient deficient environments in a changing climate. JSAT Agric Res 4 (Special Symposium edition):1–55 Available from http://www.icrisat.org/journal/specialproject.htm

van Genuchten MTH (1980) A closed form equation for predicting the hydraulic conductivity of unsaturated soils. Soil Sci Soc Am J 44:892–898

Van Lier QJ, Gubiani PI (2015) Beyond the "least limiting water rang: rethinking soil physics research in Brazil. Revista Brasileira de Ciência do Solo 39:925–939

Veiga M, Horn R, Reinert DJ, Reichert JM (2007) Soil compressibility and penetrability of an Oxisol from southern Brazil, as affected by long-term tillage systems. Soil Tillage Res 92:104–113

Veihmeyer FJ, Hendrickson AH (1927) The relation of soil moisture to cultivation and plant growth. Soil Sci 3:498–513

Veihmeyer FJ, Hendrickson AH (1931) The moisture equivalent as a measure of the field capacity of soils. Soil Sci 32:181–193

Verma S, Sharma PK (2008) Long- term effects of organics, fertilizers and cropping systems on soil physical productivity evaluated using a single value index (NLWR). Soil Tillage Res 98:1–10

Wagente RJ, Bouma J, Grassman RB (1991) Minimum data sets for use of soil survey information in soil interpretative models. In: Mausubach MJ, Wildings LP (eds) Spatial variabilities of soil and land forms. SSSA Spec. Publ. 28. SSSA, Madison, pp 161–182

Wang W, Wang C, Pan D, Zhang Y, Luo B, Ji J (2018) Effects of drought stress on photosynthesis and chlorophyll fluorescence images of soybean (Glycine max) seedlings. Int J Agric Biol Eng 11:196–201

Wu L, Feng G, Letey J, Ferguson L, Mitchell J, McCullough- SB, Markegard G (2003) Soil management effects on the nonlimiting water range. Geoderma 114:401–414

Wu Y, Gong W, Wang Y, Yong T, Yang F, Liu W, Wu X, Du J, Shu K, Liu J, Liu C, Yang W (2018) Leaf area and photosynthesis of newly emerged trifoliolate leaves are regulated by mature leaves in soybean. J Plant Res 131:1–10

Xavier TMT, Pezzopane JEM, Penchel RM et al (2019) Leaf water potential and gas exchange of eucalypt clonal seedlings to leaf solar protectant. J For Res 30(1):57–63

Yordanov I, Velikova V, Tsonev T (2003) Plant responses to drought and stress tolerance. Bulg J Plant Physiol Special Issue: 187–206

Zimmermann U, Schneider H, Wegner LH, Wagner HJ, Szimtenings M, Haase A, Bentrup F-W (2002) What are the driving forces for water lifting in the xylem conduit? Physiol Plant 114:327–335

Zou C, Sands R, Buchan G, Hudson I (2000) Least limiting water range: a potential indicator of physical quality of forest soils. Aust J Soil Res 38:947–958
Ethics declarations
Conflict of interest
The authors declare that they have no conflict of interest.
About this article
Cite this article
Kazemi, S., Nasiri, M., Asgari Lajayer, B. et al. Integral water capacity (IWC) and least limiting water range (LLWR): prediction using plant growth indices and soil properties. 3 Biotech 10, 314 (2020). https://doi.org/10.1007/s13205-020-02283-5
Received:

Accepted:

Published:
Keywords
Moisture coefficients

Weighting functions

Physiological characteristics