Abstract
A novel sensing system was designed for pH measurements based on the enhanced and quenched photoluminescence (PL) and UV–Vis absorption of the diluted water solutions of F-, O-, and N-containing carbon nanoparticles (FON-CNPs). These FON-CNPs were solvothermally synthesized, dissolved, ultra-filtrated, and separated by thin-layer chromatography. The total fluorine content in them was found to be 1.2–1.5 mmol per gram. Their TGA showed a total weight loss of 52.7% because of the thermal decomposition and detachment of the surface groups and the partial burning of the functionalized shell on the carbon core at temperatures below 1200 °C. TEM and Raman data confirmed the presence of graphitic structures in the carbon core. From the results of ATR FTIR and UV–Vis spectroscopies, we showed that a carbon shell incorporates different functional groups covering the carbon core. The surface groups of the carbon shell include carboxyl, phenolic, and carbonyl groups. Heterocyclic N-containing and amino groups and trifluoromethyl groups supporting the hydrophobicity were also found. We suggested the possible reasons for the pH responses obtained with the sensing system considering them dependent on the de-protonation of functional groups with pH change.
Access options
Buy single article
Instant access to the full article PDF.
US$ 39.95
Tax calculation will be finalised during checkout.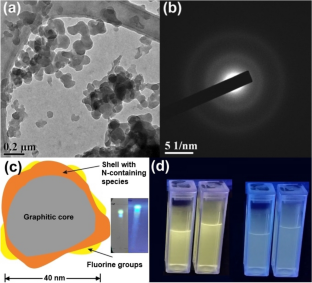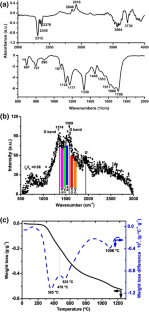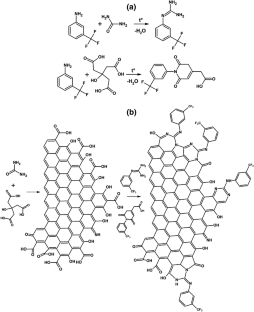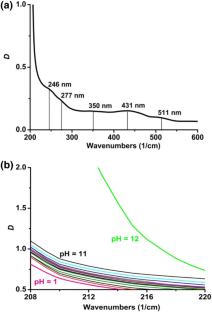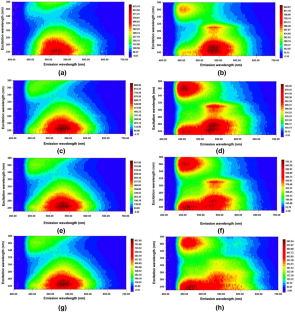 References
Bellamy LJ (1980) Carbonyl Frequencies. In: Bellamy LJ (ed) The infrared spectra of complex molecules. Springer, Dordrecht, pp 128–194

Benilov A, Gavrilchenko I, Benilova I, Skryshevsky V, Cabrera M (2007) Influence of pH solution on photoluminescence of porous silicon. Sens Actuators A 137:345–349. https://doi.org/10.1016/j.sna.2007.02.032

Cançado LG, Takai K, Enoki T, Endo M, Kim YA et al (2006) General equation for the determination of the crystallite size La of nanographite by Raman spectroscopy. Appl Phys Lett 88:163106. https://doi.org/10.1063/1.2196057

Coates J (2006) Interpretation of infrared spectra a practical approach. In: Meyers RA, McKelvy ML (eds) Encyclopedia of analytical chemistry. Wiley, Hoboken

Soc C, Inc. (2018) Evaluated Infrared Reference Spectra. In: Linstrom PJ, Mallard WG (eds) NIST chemistry webbook, NIST standard reference database number 69. National Institute of Standards and Technology, Gaithersburg

Ding H, Yu SB, Wei JS, Xiong HM (2016) Full-color light-emitting carbon dots with a surface-state-controlled luminescence mechanism. ACS Nano 10:484–491. https://doi.org/10.1002/adma.201704740

Feng S, Mu Z, Liu H et al (2019) A novel application of fluorine doped carbon dots combining vortex-assisted liquid-liquid microextraction for determination of 4-nitrophenol with spectrofluorimetric method. J Fluoresc 29:1133–1141. https://doi.org/10.1007/s10895-019-02427-8

He J, Chen Y, He Y, Xu X (2020) Anchoring carbon nanodots onto nanosilica for phosphorescence enhancement and delayed fluorescence nascence in solid and liquid states. Small 16:49. https://doi.org/10.1002/smll.202005228

Jiang L, Ding H, Lu S, Geng T et al (2019) Photoactivated fluorescence enhancement in F, N-doped carbon dots with piezochromic behavior. Angew Chem 132:10072–10077. https://doi.org/10.1002/ange.201913800

Kauffman KL, Culp JT, Goodman A, Matranga C (2011) FT-IR study of CO2 adsorption in a dynamic copper (II) benzoate-pyrazine host with CO2–CO2 interactions in the adsorbed state. J Phys Chem C 115:1857–1866. https://doi.org/10.1021/jp102273w

Larkin PJ (2011) Infrared and Raman spectroscopy principles and spectral interpretation. Elsevier, Amsterdam, pp 61–62

Lin-Vien D, Colthup NB, Fateley WG, Grasselli JG (1991) The handbook of infrared and Raman characteristic frequencies of organic molecules. Academic Press, San Diego, pp 479–481

Lin C-K (2018) Pyridine vs. N-Hydrogenated pyridine moieties: theoretical study of stability and spectroscopy of nitrogen-contained heterocyclic aromatic compounds and graphene nanoflakes. ACS Omega 3:12312–12319. https://doi.org/10.1021/acsomega.8b01759

Liu L, Anwar S, Ding H, Xu M (2019) Electrochemical sensor based on F, N-doped carbon dots decorated laccase for detection of catechol. J Electroanal Chem 840:84–92. https://doi.org/10.1016/j.jelechem.2019.03.071

Long P, Feng Y, Cao C, Li Y et al (2018) Self-protective room-temperature phosphorescence of fluorine and nitrogen codoped carbon dots. Adv Funct Mater 28:1800791. https://doi.org/10.1002/adfm.201800791

Mermoux M, Crisci A, Petit T, Girard HA, Arnault J-C (2014) Surface modifications of detonation nanodiamonds probed by multiwavelength Raman spectroscopy. J Phys Chem C 118:23415–23425. https://doi.org/10.1021/jp507377z

Mochalin V, Osswald S, Gogotsi Y (2009) Contribution of functional groups to the Raman spectrum of nanodiamond. Chem Mater 21:273–279. https://doi.org/10.1021/cm802057q

Nevar A, Tarasenka N, Nedelko M, Tarasenko N (2020) Carbon nanodots with tunable luminescence properties synthesized by electrical discharge in octane. Carbon Lett. https://doi.org/10.1007/s42823-020-00147-9

Novoa De León IC, Johny J, Vázquez-Rodríguez S, García-Gómez N, Carranza-Bernal S, Mendivil I, Shaji S, Sepúlveda-Guzmán S (2019) Tuning the luminescence of nitrogen-doped graphene quantum dots synthesized by pulsed laser ablation in liquid and their use as a selective photoluminescence on–off–on probe for ascorbic acid detection. Carbon 150:455–464. https://doi.org/10.1016/j.carbon.2019.05.057

Pal A, Sk MP, Chattopadhyay A (2020) Recent advances in crystalline carbon dots for superior application potential. Mater Adv 1:525–553. https://doi.org/10.1039/D0MA00108B

Rap DB, Marimuthu AN, Redlich B, Brünken S (2020) Stable isomeric structures of the pyridine cation (C5H5N•+) and protonated pyridine (C5H5NH+) elucidated by cold ion infrared spectroscopy. J Mol Spectrosc 373:111357. https://doi.org/10.1016/j.jms.2020.111357

Serdiuk T, Skryshevsky VA, Ivanov II, Lysenko V (2011) Storage of luminescent nanoparticles in porous silicon: toward a solid state "golden fleece." Mater Lett 65:2514–2517. https://doi.org/10.1016/j.matlet.2011.05.033

Shahravan A, Desai T, Matsoukas T (2012) Controlled manipulation of wetting characteristics of nanoparticles with dry-based plasma polymerization method. Appl Phys Lett 101:251603. https://doi.org/10.1063/1.4772544

Shen L, Zhang L, Chen M, Chen X, Wang J (2013) The production of pH-sensitive photoluminescent carbon nanoparticles by the carbonization of polyethylenimine and their use for bioimaging. Carbon 55:343–349. https://doi.org/10.1016/j.carbon.2012.12.074

Sim Y, Seung Kim SJ, Janani G, Chae Y et al (2019) The synergistic effect of nitrogen and fluorine co-doping in graphene quantum dot catalysts for full water splitting and supercapacitor. Appl Surf Sci 50:145157. https://doi.org/10.1016/j.apsusc.2019.145157

Singh NP, Yadav RA (2001) Vibrational studies of trifluoromethyl benzene derivatives 1: 2-amino, 5-chloro and 2-amino. 5-bromo benzotrifluorides. Indian J Phys 75B:347–355

Smith DC, Godard G (2009) UV and VIS Raman spectra of natural lonsdaleites: towards a recognised standard. Spectrochim Acta A 73:428–435. https://doi.org/10.1016/j.saa.2008.10.025

Socrates G (1994) Infrared characteristic group frequencies. Wiley, New York

Su Q, Lu C, Yang X (2019) Efficient room temperature phosphorescence carbon dots: Information encryption and dual-channel pH sensing. Carbon 152:609–615. https://doi.org/10.1016/j.carbon.2019.06.061

Sun Y, Liu S, Sun L, Wu S et al (2020) Ultralong lifetime and efficient room temperature phosphorescent carbon dots through multi-confinement structure design. Nature Commun 11:1. https://doi.org/10.1038/s41467-020-19422-4

Tarasenka N, Stupak A, Tarasenko N, Chakrabarti S, Mariotti D (2017) Structure and optical properties of carbon nanoparticles generated by laser treatment of graphite in liquids. ChemPhysChem 18:1074. https://doi.org/10.1002/cphc.201601182

Tsapyuk GG, Diyuk VE, Mariychuk R et al (2020) Effect of ultrasonic treatment on the thermal oxidation of detonation nanodiamonds. Appl Nanosci 10:4991–5001. https://doi.org/10.1007/s13204-020-01277-2

Wang H, Sun C, Chen X, Zhang Y et al (2017) Excitation wavelength independent visible color emission of carbon dots. Nanoscale 9:1909–1915. https://doi.org/10.1039/C6NR09200D

Wang Y, Yue Q, Hu Y, Liu C et al (2019) Synthesis of N-doped carbon dots and application in vanillin detection based on collisional quenching. RSC Adv 9:40222–40227. https://doi.org/10.1039/C9RA08352A

Xia C, Zhu S, Feng T, Yang M, Yang B (2019) Evolution and synthesis of carbon dots: from carbon dots to carbonized polymer dots. Adv Sci 6:23. https://doi.org/10.1002/advs.201901316

Xiang M, Dan Q, Dongxue Y, Bing N, Yikang Z, Hongyou F, Zaicheng S (2018) Synthesis of carbon dots with multiple color emission by controlled graphitization and surface functionalization. Adv Mater 30:1704740. https://doi.org/10.1021/acsnano.5b05406

Yadav RA, Singh IS (1985) Vibrational spectra and normal coordinate analysis for substituted trifluoromethyl benzenes. Proc Indian Acad Sci (Chem Sci) 95:471–487. https://doi.org/10.1007/BF02840446

Yang P, Zhu Z, Chen W, Luo M et al (2020) Nitrogen/sulfur Co-doping strategy to synthesis green-yellow emitting carbon dots derived from xylose: toward application in pH sensing. J Lumin 232:117489. https://doi.org/10.1016/j.jlumin.2020.117489

Zaderko A (2020) The process for obtaining of fluoralkylated carbon quantum dots. WO2020121119 Patent. https://patentscope.wipo.int/search/en/detail.jsf?docId=WO2020121119. Accessed 25 Jan 2021

Zaderko AN, Shvets RYa, Grygorchak II et al (2019) Fluoroalkylated nanoporous carbons: testing as a supercapacitor electrode. Appl Surf Sci 470:882–892. https://doi.org/10.1016/j.apsusc.2018.11.141

Zan M, Li C, Liao F, Rao L et al (2020) One-step synthesis of green emission carbon dots for selective and sensitive detection of nitrite ions and cellular imaging application. RSC Adv 10:10067–10075. https://doi.org/10.1039/C9RA11009G

Zuo G, Xie A, Pan X, Su T, Li J, Dong W (2018) Fluorine-doped cationic carbon dots for efficient gene delivery. ACS Appl Nano Mater 1(5):376–2385. https://doi.org/10.1021/acsanm.8b00521
Acknowledgements
G.K. Mussabek, Y.T. Taurbayev, and V.V. Lisnyak acknowledge the support of Grant No AP08856579 of the Ministry of Education and Science of the Republic of Kazakhstan. G.K. Mussabek is grateful to Al-Farabi Kazakh National University for a Scholarship in the Postdoctoral Fellowship program. A.N. Zaderko and V.A. Skryshevsky recognize a support from the Ministry of Education and Science of Ukraine, Grant No 0119U100326. A.N. Zaderko is also thankful for the scholarship of the National Scholarship Programme of the Slovak Republic, Grant No 32492. This work was partially supported by EU Horizon 2020 Research and Innovation Staff Exchange Programme (RISE) under Marie Skłodowska-Curie Action (project 101008159 "UNAT").
Ethics declarations
Conflict of interest
A.N. Zaderko is the inventor of the WO2020121119 international patent publication. A.N. Zaderko is the owner of the trademark Fluocar® Nano UA213198 and US5479088. All authors declare that they have no conflict of interest.
Additional information
Publisher's Note
Springer Nature remains neutral with regard to jurisdictional claims in published maps and institutional affiliations.
About this article
Cite this article
Lisnyak, V.V., Zaderko, A.N., Mariychuk, R. et al. Preparation and characterization of F-, O-, and N-containing carbon nanoparticles for pH sensing. Appl Nanosci (2021). https://doi.org/10.1007/s13204-021-01725-7
Received:

Accepted:

Published:
Keywords
F-,O-, and N-containing carbon NPs

Solvothermal synthesis

Photoluminescence

pH nanosensors