Abstract
In the current modeling, a chamber with one wavy cold wall was analyzed considering the permeable zone. A titled straight wall was heated and considered as a heating element and provides a gravity effect. Hybrid nanoparticles that involve Lorentz were included in the model, and to eliminate the gradient of P from equations, a vorticity formula was implemented. Outputs reveal that no change was reported for Nu with the rise of permeability in the existence of Ha equals 60 while it augments slightly with increasing Da in the absence of Lorentz. A stronger cell will be generated using greater Da while imposing Ha leads to reduction in the power of the cell by about 83%. With a reduction of the gradient of temperature, Nu decreases as Ha augments. As Lorentz forces were imposed, about 25% decrement was achieved for Nu.
Access options
Buy single article
Instant access to the full article PDF.
US$ 39.95
Tax calculation will be finalised during checkout.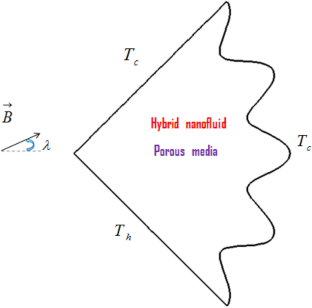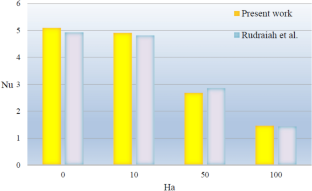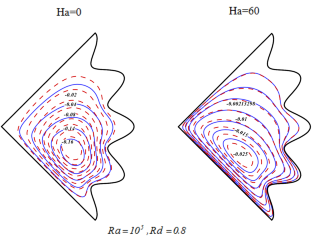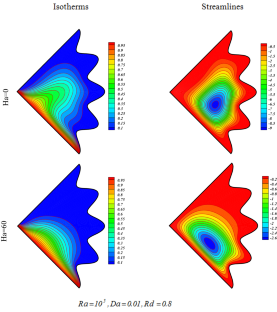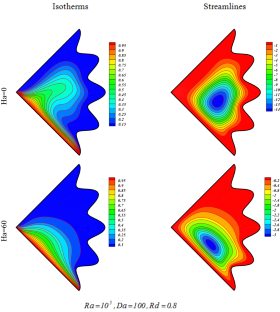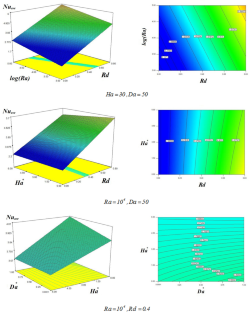 References
Wang G, Yao Y, Chen Z, Hu P (2019a) Thermodynamic and optical analyses of a hybrid solar CPV/T system with high solar concentrating uniformity based on spectral beam splitting technology. Energy 166:256–266. https://doi.org/10.1016/j.energy.2018.10.089

Zhao H, Li Y, Song Q, Liu S, Yan J, Wang X, Shu X (2019a) Investigation on the physicochemical structure and gasification reactivity of nascent pyrolysis and gasification char prepared in the entrained flow reactor. Fuel 240:126–137. https://doi.org/10.1016/j.fuel.2018.11.145

Zhang Y, Huang P (2019) Influence of mine shallow roadway on airflow temperature. Arab J Geosci. https://doi.org/10.1007/s12517-019-4934-7

Zhao H, Li Y, Song Q, Liu S, Ma Q, Ma L, Shu X (2019b) Catalytic reforming of volatiles from co-pyrolysis of lignite blended with corn straw over three different structures of iron ores. J Anal Appl Pyrol 144:104714. https://doi.org/10.1016/j.jaap.2019.104714

Liu Y, Yang C, Sun Q, Wu S, Lin S, Chou Y (2019a) Enhanced embedding capacity for the SMSD-based data-hiding method. Signal Process 78:216–222. https://doi.org/10.1016/j.image.2019.07.013

Zhang W (2020) Parameter adjustment strategy and experimental development of hydraulic system for wave energy power generation. Symmetry (Basel) 12(5):711. https://doi.org/10.3390/sym12050711

Deng Y, Zhang T, Clark J, Aminabhavi T, Kruse A, Tsang DCW, Ren H (2020) Mechanisms and modelling of phosphorus solid–liquid transformation during the hydrothermal processing of swine manure. Green Chem. https://doi.org/10.1039/D0GC01281E

Yu H, Dai W, Qian G, Gong X, Zhou D, Li X, Zhou X (2020a) The NOx degradation performance of nano-TiO2 coating for asphalt pavement. Nanomaterials (Basel, Switzerland) 10(5):897. https://doi.org/10.3390/nano10050897

Guo C, Hu M, Li Z, Duan F, He L, Zhang Z, Du M (2020a) Structural hybridization of bimetallic zeolitic imidazolate framework (ZIF) nanosheets and carbon nanofibers for efficiently sensing α-synuclein oligomers. Sensors Actuators B 309:127821. https://doi.org/10.1016/j.snb.2020.127821

Liu C, Huang X, Wu Y, Deng X, Liu J, Zheng Z, Hui D (2020a) Review on the research progress of cement-based and geopolymer materials modified by graphene and graphene oxide. Nanotechnol Rev (Berlin) 9(1):155–169. https://doi.org/10.1515/ntrev-2020-0014

Yan H, Xue X, Chen W, Wu X, Dong J, Liu Y, Wang Z (2020) Reversible Na+ insertion/extraction in conductive polypyrrole-decorated NaTi2(PO4)3 nanocomposite with outstanding electrochemical property. Appl Surf Sci 530:147295. https://doi.org/10.1016/j.apsusc.2020.147295

Sheikholeslami M (2021) Seyyed Ali Farshad, Ahmad Shafee, Houman Babazadeh, performance of solar collector with turbulator involving nanomaterial turbulent regime. Renew Energy 163:1222–1237

Cai C, Wu X, Liu W, Zhu W, Chen H, Qiu JCD, Shi Y (2020) Selective laser melting of near-α titanium alloy Ti-6Al-2Zr-1Mo-1V: parameter optimization, heat treatment and mechanical performance. J Mater Sci Technol 57:51–64. https://doi.org/10.1016/j.jmst.2020.05.004

Lin J, Hu J, Wang W, Liu K, Zhou C, Liu Z, Guo Z (2020a) Thermo and light-responsive strategies of smart titanium-containing composite material surface for enhancing bacterially anti-adhesive property. Chemical Eng J. https://doi.org/10.1016/j.cej.2020.125783

Hu J, Lin J, Zhang Y, Lin Z, Qiao Z, Liu Z, Guo Z (2019a) A new anti-biofilm strategy of enabling arbitrary surfaces of materials and devices with robust bacterial anti-adhesion via a spraying modified microsphere method. J Mater Chem A 7(45):26039–26052. https://doi.org/10.1039/c9ta07236e

Hu X, Ma P, Wang J, Tan G (2020) A hybrid cascaded DC-DC boost converter with ripple reduction and large conversion ratio. IEEE J Emerg Selected Topics Power Electron 8(1):761–770. https://doi.org/10.1109/JESTPE.2019.2895673

Guo H, Li X, Zhu Q, Zhang Z, Liu Y, Li Z, Liu J (2020b) Imaging nano-defects of metal waveguides using the microwave cavity interference enhancement method. Nanotechnology 31(45):455203. https://doi.org/10.1088/1361-6528/abaa74

Liu J, Wang C, Sun H, Wang H, Rong F, He L, Du M (2020b) CoOx/CoNy nanoparticles encapsulated carbon-nitride nanosheets as an efficiently trifunctional electrocatalyst for overall water splitting and Zn-air battery. Appl Catal B 279:119407. https://doi.org/10.1016/j.apcatb.2020.119407

Wang M, Guo Y, Wang B, Luo H, Zhang X, Wang Q, Dou S. (2020) An engineered self-supported electrocatalytic cathode and dendrite-free composite anode based on 3D double-carbon hosts for advanced Li–SeS2 batteries. J Mater Chem A 8(6):2969–2983. https://doi.org/10.1039/C9TA11124G

Feng Q, Li Y, Wang N, Hao Y, Chang J, Wang Z, Wang L (2020) A biomimetic nanogenerator of reactive nitrogen species based on battlefield transfer strategy for enhanced immunotherapy. Small. https://doi.org/10.1002/smll.202002138

Bao J, Li S, Zhang P, Ding X, Xue S, Cui Y, Zhao T (2020) Influence of the incorporation of recycled coarse aggregate on water absorption and chloride penetration into concrete. Constr Build Mater 239:117845. https://doi.org/10.1016/j.conbuildmat.2019.117845

Lin J, Cai X, Liu Z, Liu N, Xie M, Zhou B, Guo Z (2020b) Anti-liquid-interfering and bacterially antiadhesive strategy for highly stretchable and ultrasensitive strain sensors based on Cassie-Baxter Wetting State. Adv Func Mater 30(23):2000398. https://doi.org/10.1002/adfm.202000398

Yu X, Zhang J, Zhang J, Niu J, Zhao J, Wei Y, Yao B (2019) Photocatalytic degradation of ciprofloxacin using Zn-doped Cu2O particles: Analysis of degradation pathways and intermediates. Chemical Eng J 374:316–327. https://doi.org/10.1016/j.cej.2019.05.177

Liao Q, Wei W, Zuo H, Li X, Yang Z, Xiao S, Wu G (2020) Interfacial bonding enhancement and properties improvement of carbon/copper composites based on nickel doping. Compos Interfaces. https://doi.org/10.1080/09276440.2020.1798681

Liu Y, Zhang Q, Xu M, Yuan H, Chen Y, Zhang You JB (2019b) Novel and efficient synthesis of Ag-ZnO nanoparticles for the sunlight-induced photocatalytic degradation. Appl Surf Sci 476:632–640. https://doi.org/10.1016/j.apsusc.2019.01.137

Shi M, Narayanasamy M, Yang C, Zhao L, Jiang J, Angaiah S, Yan C (2020) 3D interpenetrating assembly of partially oxidized MXene confined Mn–Fe bimetallic oxide for superior energy storage in ionic liquid. Electrochim Acta 334:135546. https://doi.org/10.1016/j.electacta.2019.135546

Zhu W, Zhang Z, Chen D, Chai W, Chen D, Zhang J, Hao Y (2020a) Interfacial voids trigger carbon-based, all-inorganic CsPbIBr 2 perovskite solar cells with photovoltage exceeding 133 V. Nano-micro letters 12(1):1–14. https://doi.org/10.1007/s40820-020-00425-1

Gao N, Cheng B, Hou H, Zhang R (2018) Mesophase pitch based carbon foams as sound absorbers. Mater Lett 212:243–246. https://doi.org/10.1016/j.matlet.2017.10.074

Song Q, Zhao H, Jia J, Yang L, Lv W, GuShu QX (2020a) Effects of demineralization on the surface morphology, microcrystalline and thermal transformation characteristics of coal. J Anal Appl Pyrol 145:104716. https://doi.org/10.1016/j.jaap.2019.104716

Sheikholeslami M, Jafaryar M, Said Z, Ammar I (2021) Alsabery, Houman Babazadeh, Ahmad Shafee, Modification for helical turbulator to augment heat transfer behavior of nanomaterial via numerical approach. Appl Thermal Eng 182(5):115935

Chen H, Fan D, Huang J, Huang W, Zhang G, Huang L (2020a) Finite element analysis model on ultrasonic phased array technique for material defect time of flight diffraction detection. Sci Adv Mater 12(5):665–675. https://doi.org/10.1166/sam.2020.3689

Reddy PS, Rao KVS (2015) MHD natural convection heat and mass transfer of Al2O3-water and Ag-water nanofluids over a vertical cone with chemical reaction. Proced Eng 127:476–484

Luo X, Hu H, Pan Z, Pei F, Qian H, Miao K, Feng G (2020a) Efficient and stable catalysis of hollow Cu9S5 nanospheres in the Fenton-like degradation of organic dyes. J Hazard Mater 396:122735. https://doi.org/10.1016/j.jhazmat.2020.122735

Wang W, Guo J, Long C, Li W, Guan J (2015) Flaky carbonyl iron particles with both small grain size and low internal strain for broadband microwave absorption. J Alloy Compd 637:106–111. https://doi.org/10.1016/j.jallcom.2015.02.220

Yu H, He Z, Qian G, Gong X, Qu X (2020b) Research on the anti-icing properties of silicone modified polyurea coatings (SMPC) for asphalt pavement. Constr Build Mater 242:117793. https://doi.org/10.1016/j.conbuildmat.2019.117793

Yu H, Zhu X, Qian G, Gong X, Nie X (2020c) Evaluation of phosphorus slag (PS) content and particle size on the performance modification effect of asphalt. Constr Build Mater 256:119334. https://doi.org/10.1016/j.conbuildmat.2020.119334

Liu Q, Song Z, Han H, Donkor S, Jiang L, Wang W, Chu H (2020c) A novel green reinforcement corrosion inhibitor extracted from waste Platanus acerifolia leaves. Constr Build Mater 260:119695. https://doi.org/10.1016/j.conbuildmat.2020.119695

Zhong P, Lin H, Wang L, Mo Z, Meng X, Tang H, Pan Y (2020) Electrochemically enabled synthesis of sulfide imidazopyridines via a radical cyclization cascade. Green Chem. https://doi.org/10.1039/D0GC02125C

Zhang Y, Zhang X, Li M, Liu Z (2019) Research on heat transfer enhancement and flow characteristic of heat exchange surface in cosine style runner. Heat Mass Transf 55(11):3117–3131. https://doi.org/10.1007/s00231-019-02647-5

Ni T, Liu D, Xu Q, Huang Z, Liang H, Yan A (2020) Architecture of Cobweb-based redundant TSV for clustered faults. IEEE Trans Very Large Scale Integr Syst 28(7):1736–1739. https://doi.org/10.1109/TVLSI.2020.2995094

Song Q, Zhao H, Jia J, Yang L, Lv W, BaoZhang WP (2020b) Pyrolysis of municipal solid waste with iron-based additives: a study on the kinetic, product distribution and catalytic mechanisms. J Clean Prod 258:120682. https://doi.org/10.1016/j.jclepro.2020.120682

Su F, Jia Q, Li Z, Wang M, He L, Peng D, Fang S (2019a) Aptamer-templated silver nanoclusters embedded in zirconium metal–organic framework for targeted antitumor drug delivery. Microporous Mesoporous Mater 275:152–162. https://doi.org/10.1016/j.micromeso.2018.08.026

Wang M, Hu M, Liu J, Guo C, Peng D, Jia Q, Du M (2019b) Covalent organic framework-based electrochemical aptasensors for the ultrasensitive detection of antibiotics. Biosens Bioelectron 132:8–16. https://doi.org/10.1016/j.bios.2019.02.040

Duan F, Hu M, Guo C, Song Y, Wang M, HeHe LL (2020) Chromium-based metal-organic framework embedded with cobalt phthalocyanine for the sensitively impedimetric cytosensing of colorectal cancer (CT26) cells and cell imaging. Chem Eng J 398:125452. https://doi.org/10.1016/j.cej.2020.125452

Kuznetsov AV, Nield DA (2010) Natural convective boundary-layer flow of a nanofluid past a vertical plate. Int J Therm Sci 49(2):243–247

Chamkha AJ, Rashad AM, Aly AM (2013) Transient natural convection flow of a nanofluid over a vertical cylinder. Meccanica 48(1):71–81

Meng X, Zhang X, Li Q (2016) Numerical investigation of nanofluid natural convection coupling with nanoparticles sedimentation. Appl Therm Eng 95:411–420

He L, Liu J, Liu Y, Cui B, Hu B, Wang M, Du M (2019) Titanium dioxide encapsulated carbon-nitride nanosheets derived from MXene and melamine-cyanuric acid composite as a multifunctional electrocatalyst for hydrogen and oxygen evolution reaction and oxygen reduction reaction. Appl Catal B 248:366–379. https://doi.org/10.1016/j.apcatb.2019.02.033

Jia Q, Li Z, Guo C, Huang X, Kang M, Song Y, Du M. (2020) PEGMA-modified bimetallic NiCo Prussian blue analogue doped with Tb(III) ions: efficiently pH-responsive and controlled release system for anticancer drug. Chem Eng J 389:124468. https://doi.org/10.1016/j.cej.2020.124468

Zhao X, Zhao X, Yu Q, Ye Y, Yu M (2020a) Development of a representative urban driving cycle construction methodology for electric vehicles: a case study in Xi'an. Transport Res D 81:102279. https://doi.org/10.1016/j.trd.2020.102279

Hu X, Chong H, Wang X (2019b) Sustainability perceptions of off-site manufacturing stakeholders in Australia. J Cleaner Prod 227:346–354. https://doi.org/10.1016/j.jclepro.2019.03.258

Zhu J, Wu P, Chen M, Kim MJ, Wang X, Fang T (2020b) Automatically processing IFC clipping representation for BIM and GIS integration at the process level. Appl Sci 10(6):2009. https://doi.org/10.3390/app10062009

Wu C, Wang X, Chen M, Kim MJ (2019) Differential received signal strength based RFID positioning for construction equipment tracking. Adv Eng Inform 42:100960. https://doi.org/10.1016/j.aei.2019.100960

Xie J, Wen D, Liang L, Jia Y, GaoLei LJ (2018) Evaluating the validity of current mainstream wearable devices in fitness tracking under various physical activities: comparative study. JMIR mHealth uHealth 6(4):e94. https://doi.org/10.2196/mhealth.9754

Wu X, Huang B, Wang Q, Wang Y (2020) High energy density of two-dimensional MXene/NiCo-LDHs interstratification assembly electrode: understanding the role of interlayer ions and hydration. Chem Eng J 380:122456. https://doi.org/10.1016/j.cej.2019.122456

Lv X, Li CS, McCabe S (2020a) Expanding theory of tourists' destination loyalty: the role of sensory impressions. Tourism Manage 77:104026. https://doi.org/10.1016/j.tourman.2019.104026

Zhu J, Wang X, Wang P, Wu Z, Kim MJ (2019a) Integration of BIM and GIS: geometry from IFC to shapefile using open-source technology. Automat Construct 102:105–119. https://doi.org/10.1016/j.autcon.2019.02.014

Zhao X, Ye Y, Ma J, Shi P, Chen H (2020b) Construction of electric vehicle driving cycle for studying electric vehicle energy consumption and equivalent emissions. Environ Sci Pollut Res Int. https://doi.org/10.1007/s11356-020-09094-4

Sheikholeslami M (2017) Magnetic field influence on nanofluid thermal radiation in a cavity with tilted elliptic inner cylinder. J Mol Liq 229:137–147

Wen D, Ding Y (2005) Formulation of nanofluids for natural convective heat transfer applications. Int J Heat Fluid Flow 26(6):855–864

Sivaraj C, Sheremet MA (2017) MHD natural convection in an inclined square porous cavity with a heat conducting solid block. J Magn Magn Mater 426:351–360

Wang M et al (2019) Bimetallic cerium and ferric oxides nanoparticles embedded within mesoporous carbon matrix: electrochemical immunosensor for sensitive detection of carbohydrate antigen 19–9. Biosens Bioelectron 135:22–29

Guo H, Qian K, Cai A, Tang J, Liu J (2019) Ordered gold nanoparticle arrays on the tip of silver wrinkled structures for single molecule detection. Sensors Actuators B 300:126846. https://doi.org/10.1016/j.snb.2019.126846

Xu W, Qu S, Zhao L, Zhang H (2020) An improved adaptive sliding mode observer for a middle and high-speed rotors tracking. IEEE Trans Power Electron. https://doi.org/10.1109/TPEL.2020.3000785

Wang Y et al (2020) Design strategy of barium titanate/polyvinylidene fluoride-based nanocomposite films for high energy storage. J Mater Chem A 8(3):884–917

Qu S, Zhao L, Xiong Z (2020) Cross-layer congestion control of wireless sensor networks based on fuzzy sliding mode control. Neural Comput Appl. https://doi.org/10.1007/s00521-020-04758-1

Song K, Zhu W, Li X, Yu Z (2020c) A novel mechanical robust, self-healing and shape memory hydrogel based on PVA reinforced by cellulose nanocrystal. Mater Lett 260:126884. https://doi.org/10.1016/j.matlet.2019.126884

Han X, Zhang D, Yan J, Zhao S, Liu J (2020) Process development of flue gas desulphurization wastewater treatment in coal-fired power plants towards zero liquid discharge: energetic, economic and environmental analyses. J Clean Prod 261:121144. https://doi.org/10.1016/j.jclepro.2020.121144

Wang M et al (2018a) Bimetallic NiFe oxide structures derived from hollow NiFe Prussian blue nanobox for label-free electrochemical biosensing adenosine triphosphate. Biosens Bioelectron 113:16–24

Luo X, Guo J, Chang P, Qian H, Pei F, Wang W, Feng G (2020b) ZSM-5@MCM-41 composite porous materials with a core-shell structure: adjustment of mesoporous orientation basing on interfacial electrostatic interactions and their application in selective aromatics transport. Sep Purif Technol 239:116516. https://doi.org/10.1016/j.seppur.2020.116516

Wen D, Zhang X, Liu X, Lei J (2017) Evaluating the consistency of current mainstream wearable devices in health monitoring: a comparison under free-living conditions. J Med Internet Res 19(3):e68. https://doi.org/10.2196/jmir.6874

Yang Y, Liu J, Yao J, Kou J, Li Z, Wu T, Sun H (2020a) Adsorption behaviors of shale oil in kerogen slit by molecular simulation. Chem Eng J 387:124054. https://doi.org/10.1016/j.cej.2020.124054

Choudhary R, Subudhi S (2016) Aspect ratio dependence of turbulent natural convection in Al2O3/water nanofluids. Appl Therm Eng 108:1095–1104

Lin KC, Violi A (2010) Natural convection heat transfer of nanofluids in a vertical cavity: effects of non-uniform particle diameter and temperature on thermal conductivity. Int J Heat Fluid Flow 31(2):236–245

Song Q, Zhao H, Chang S, Yang L, Zou F, ShuZhang XP (2020d) Study on the catalytic pyrolysis of coal volatiles over hematite for the production of light tar. J Anal Appl Pyrol. https://doi.org/10.1016/j.jaap.2020.104927

Han X, Chen N, Yan J, Liu J, Liu M, Karellas S (2019) Thermodynamic analysis and life cycle assessment of supercritical pulverized coal-fired power plant integrated with No.0 feedwater pre-heater under partial loads. J Clean Prod 233:1106–1122. https://doi.org/10.1016/j.jclepro.2019.06.159

Lv X, Li H., Xia L (2020) Effects of haptic cues on consumers' online hotel booking decisions: the mediating role of mental imagery. Tourism management (1982), 77:104025. https://doi.org/10.1016/j.tourman.2019.104025

Su Z, Liu E, Xu Y, Xie P, Shang C, Zhu Q (2019) Flow field and noise characteristics of manifold in natural gas transportation station. Oil & Gas Science and Technology – Revue d'IFP Energies Nouvelles 74:70. https://doi.org/10.2516/ogst/2019038

Chen H, Chen A, Xu L, Xie H, Qiao H, LinCai QK (2020) A deep learning CNN architecture applied in smart near-infrared analysis of water pollution for agricultural irrigation resources. Agric Water Manag 240:106303. https://doi.org/10.1016/j.agwat.2020.106303

Haddad Z, Abu-Nada E, Oztop HF, Mataoui A (2012) Natural convection in nanofluids: are the thermophoresis and Brownian motion effects significant in nanofluid heat transfer enhancement? Int J Therm Sci 57:152–162

Job VM, Gunakala SR (2016) Unsteady MHD free convection nanofluid flows within a wavy trapezoidal enclosure with viscous and Joule dissipation effects. Numerical Heat Transfer A 69(4):421–443

Lv X, Li N, Xu X, Yang Y (2020) Understanding the emergence and development of online travel agencies: a dynamic evaluation and simulation approach. Internet Res. https://doi.org/10.1108/INTR-11-2019-0464

Yang W, Pudasainee D, Gupta R, Li W, Wang B, Sun L (2020) An overview of inorganic particulate matter emission from coal/biomass/MSW combustion: Sampling and measurement, formation, distribution, inorganic composition and influencing factors. Fuel Process Technol. https://doi.org/10.1016/j.fuproc.2020.106657

Liu Y, Hu B, Wu S, Wang M, Zhang Z, Cui B, Du M. (2019) Hierarchical nanocomposite electrocatalyst of bimetallic zeolitic imidazolate framework and MoS2 sheets for non-Pt methanol oxidation and water splitting. Appl Catal B 258:117970. https://doi.org/10.1016/j.apcatb.2019.117970

Wang X et al (2018) Hierarchical coral-like NiMoS nanohybrids as highly efficient bifunctional electrocatalysts for overall urea electrolysis. Nano Res 11(2):988–996

Zhu J, Wang X, Chen M, Wu P, Kim MJ (2019) Integration of BIM and GIS: IFC geometry transformation to shapefile using enhanced open-source approach. Automat Construct 106:102859. https://doi.org/10.1016/j.autcon.2019.10285

Jacob R, Basak T, Das SK (2012) Experimental and numerical study on microwave heating of nanofluids. Int J Therm Sci 59:45–57

Ahmad S, Sheikholeslami M, Jafaryar M, Houman B (2020) Irreversibility of hybrid nanoparticles within a pipe fitted with turbulator. J Therm Anal Calorim.

Sheikholeslami M, Mehryan SAM, Shafee A, Sheremet MA (2019) Variable magnetic forces impact on Magnetizable hybrid nanofluid heat transfer through a circular cavity. J Mol Liquids 277:388–396

Mohsen Sheikholeslami, Application of Control Volume based Finite Element Method (CVFEM) for Nanofluid Flow and Heat Transfer, Elsevier, (2019), ISBN: 9780128141526.

Rudraiah N, Barron RM, Venkatachalappa M, Subbaraya CK (1995) Effect of a magnetic field on free convection in a rectangular enclosure. Int J Engrg Sci 33:1075–1084
Ethics declarations
Conflict of interest
Author (Adel Almarashi) declares that he has no conflict of interest.
Additional information
Publisher's Note
Springer Nature remains neutral with regard to jurisdictional claims in published maps and institutional affiliations.
About this article
Cite this article
Almarashi, A. Non-Darcy simulation of permeable domain filled with hybrid nanomaterial. Appl Nanosci (2021). https://doi.org/10.1007/s13204-021-01718-6
Received:

Accepted:

Published:
Keywords
Hybrid nanomaterial

Convection

Permeability

Radiation

External forces