Abstract
This research is intended to compare degradation processes in light-cured (dimeth)acrylate-type polymer/filler dental composites affected to aging in dry-air and water-immersed mode. The positron annihilation lifetime (PAL) spectroscopy has been employed to study changes in atomic-deficient structure in these composites under aging. Under light-curing polymerization initiating crosslinking of monomer chains, fragmentation of free-volume holes in resin matrix dominates over enhanced fraction of trapped positrons, since filler–particles assemblies get to be more tightly covered by surrounding polymer causing disappearing of interfacial voids at the filler–polymer surface. Therefore, the PAL spectra-transforming trend in light-cured composites obeys inverse positron-to-Ps trapping conversion. In contrast, the PAL spectra-transforming trend in these restoratives under aging obeys direct Ps-to-positron trapping conversion. After dry-air aging, the observed changes in the density of annihilation sites are ascribed to a strong agglomeration of Ps-decay holes in polymer sub-system accompanied by weaker agglomeration and appearance of positron traps in filler–polymer sub-system. Under the water aging, the agglomeration of Ps-decaying holes in the polymer sub-system is suppressed due to absorbed water molecules, this effect being slightly revealed at lower polymerization. New positron traps are observed at the filler–polymer interfaces in all light-cured composites. The agglomerated Ps-decay holes in a polymer matrix and positron traps inside filler–particles assemblies and filler–polymer interfaces of artificially aged composites cause their progressive microcracking.
Access options
Buy single article
Instant access to the full article PDF.
US$ 39.95
Tax calculation will be finalised during checkout.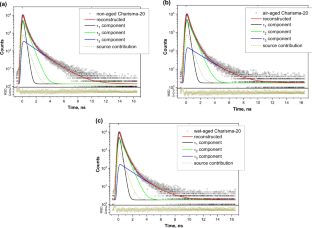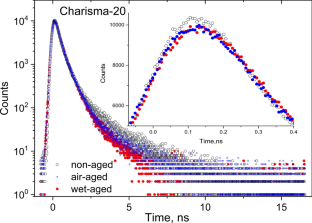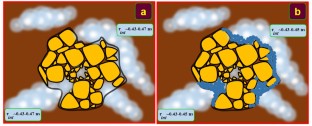 References
Bigg DM (1996) A review of positron annihilation lifetime spectroscopy as applied to the physical aging of polymers. Polym Eng Sci 36:737–743. https://doi.org/10.1002/pen.10461

Bland MH, Peppas NA (1996) Photopolymerized multifunctional (meth)acrylates as model polymers for dental applications. Biomater 17:1109–1114. https://doi.org/10.1016/0142-9612(96)85912-6

Chakraverty S, Mitra S, Mandal K, Nambissan PMG, Chattopadhyay S (2005) Positron annihilation studies of some anomalous features of NiFe2O4 nanocrystals grown in SiO2. Phys Rev B 71:024115. https://doi.org/10.1103/PhysRevB.71.024115

Cramer NB, Stansbury JW, Bowman CN (2011) Recent advantages and developments in composite dental restorative materials. J Dent Res 90:402–416. https://doi.org/10.1177/0022034510381263

Curtis AR, Shortall AC, Marquis PM, Palin WM (2008) Water uptake and strength characteristics of a nanofilled resin-based composite. J Dent 36:185–193. https://doi.org/10.1016/j.jdent.2007.11.015

Dale JM, Hulett LD, Rosseel TM, Fellers JF (1987) A positron annihilation spectroscopy study of carbon-epoxy composites. J Appl Polym Sci 33:3055–3067. https://doi.org/10.1002/app.1987.070330837

Dannefaer S, Bretagnon T, Kerr D (1993) Vacancy-type defects in crystalline and amorphous SiO2. J Appl Phys 7:884–890. https://doi.org/10.1063/1.354882

Egilmez F, Ergun G, Cekic-Nagas I, Vallittu PK, Lassila LVJ (2018) Does artificial aging affect mechanical properties of CAD/CAM composite materials. J Prosthodont Res 62:65–74. https://doi.org/10.1016/j.jpor.2017.06.001

Ferracane JL (2006) Hygroscopic and hydrolytic effects in dental polymer networks. Dent Mater 22:211–222. https://doi.org/10.1016/j.dental.2005.05.005

Ferracane JL, Marker VA (1992) Solvent degradation and reduced fracture toughness in aged composites. J Dent Res 71:13–19. https://doi.org/10.1177/00220345920710010101

Gӧpferich A (1996) Mechanisms of polymer degradation and erosion. Biomater 17:103–114. https://doi.org/10.1016/0142-9612(96)85755-3

Hertz G (1995) Charisma – Universalkomposit mit "Charisma". Dent Spiegel 4:24–26

Iwata J, Asakura M, Hayashi T et al (2019) Leaching behaviors of computer-aided design/computer-aided manufacturing composite resin component elements immersed in water. J Prosthodont Res 63:221–226. https://doi.org/10.1016/j.jpor.2018.12.001

Jean YC (1995) Positron annihilation in polymers. Mater Sci Forum 175–178:59–70. https://doi.org/10.4028/www.scientific.net/MSF.175-178.59

Jean YC, Deng Q (1992) Direct measurement of free-volume hole distribution in polymers by using a positronium probe. J Polym Sci Part B Polym Phys 30:1359–1364. https://doi.org/10.1002/polb.1992.090301206

Jean YC, Van Horn JD, Hung WS, Lee KR (2013) Perspective of positron annihilation spectroscopy in polymers. Macromolecul 46:7133–7145. https://doi.org/10.1021/ma401309x

Kansy J (1996) Microcomputer program for analysis of positron annihilation lifetime spectra. Nucl Instr Meth Phys Res A 374:235–244. https://doi.org/10.1016/0168-9002(96)00075-7

Kluin JE, Yu Z, Vleeshouwers S et al (1992) Temperature and time dependence of free volume in bisphenol A polycarbonates studied by positron lifetime spectroscopy. Macromolecul 25:5089–5093. https://doi.org/10.1021/ma00045a040

Kluin JE, Yu Z, Vleeshouwers S et al (1993) Ortho-positronium lifetime studies of free volume in polycarbonates of different structures: Influence of hole size distribution. Macromolecul 26:1853–1861. https://doi.org/10.1021/ma00060a010

Koin PJ, Kilislioglu A, Zhou M, Drummond JL, Hanley L (2008) Analysis of the degradation of a model dental composite. J Dent Res 87:661–665. https://doi.org/10.1177/154405910808700712

Mitra S, Mandal K, Sinha S, Nambissan PMG, Kumar S (2006) Size and temperature dependent cationic redistribution in NiFe2O4 (SiO2) nanocomposites: positron annihilation and Mössbauer studies. J Phys D Appl Phys 39:4228–4235. https://doi.org/10.1088/0022-3727/39/19/016

Moraes RR, Marimon JLM, Schneider LFJ et al (2007) Hydrolytic stability of dental composites: one-year aging effect on surface roughness and surface/subsurface hardness. Rev Odontol UNESP 36:383–387

Pfeifer CS, Shelton ZR, Braga RR et al (2011) Characterization of dimethacrylate polymeric networks: a study of the crosslinked structure formed by monomers used in dental composites. Eur Polym J 47:162–170. https://doi.org/10.1016/j.eurpolymj.2010.11.007

Shpotyuk O, Ingram A, Shpotyuk M, Filipecki J (2014) Prediction of free-volume-type correlations in glassy chalcogenides from positron lifetime measurements. Nucl Instr Meth Phys Res B 338:66–71. https://doi.org/10.1016/j.nimb.2014.08.009

Shpotyuk O, Ingram A, Shpotyuk O (2016) Free volume structure of acrylic-type dental nanocomposites tested with annihilating positrons. Nanoscale Res Lett 11:528. https://doi.org/10.1186/s11671-016-1751-8

Shpotyuk O, Adamiak S, Bezvushko E, et al (2017) Light-curing volumetric shrinkage in dimethacrylate-based dental composites by nanoindentation and PAL study. Nanoscale Res Lett 12:75. http://hdl.handle.net/123456789/3681

Shpotyuk O, Ingram A, Shpotyuk Y (2018) Free-volume characterization of nanostructurized substances by positron annihilation lifetime spectroscopy. Nucl Instr Meth Phys Res B 416:102–109. https://doi.org/10.1016/j.nimb.2017.12.012

Shpotyuk O, Ingram A, Shpotyuk Y, Filipecki J, Shpotyuk O (2020) Volumetric effects in the degradation of dimethacrylate-based polymer/filler nanocomposites: a positron annihilation study. Polym Degrad Stab 176:109150. https://doi.org/10.1016/j.polymdegradstab.2020.109150

Sӧderholm K-JM (1983) Leaking of fillers in dental composites. J Dent Res 62:126–130. https://doi.org/10.1177/00220345830620020801

Sӧderholm K-JM, Roberts MJ (1990) Influence of water exposure on the tensile strength of composites. J Dent Res 69:1812–1816. https://doi.org/10.1177/00220345900690120501

Tuomisto F, Makkonen I (2013) Defect identification in semiconductors with positron annihilation: experiment and theory. Rev Mod Phys 85:1583–1631. https://doi.org/10.1103/RevModPhys.85.1583
Acknowledgment
This work is supported by the Ministry of Education and Science of Ukraine under the young scientist's program (project 0120U101332).
Ethics declarations
Conflict of interest
The authors declare no conflict of interest with respect to authorship and publication of this article.
Additional information
Publisher's Note
Springer Nature remains neutral with regard to jurisdictional claims in published maps and institutional affiliations.
About this article
Cite this article
Shpotyuk, O., Ingram, A., Slobodzyan, D. et al. Comparative study of free-volume changes in light-cured (dimeth)acrylate-type dental resin composites affected to artificial aging in dry-air and water-immersed mode. Appl Nanosci (2021). https://doi.org/10.1007/s13204-021-01681-2
Received:

Accepted:

Published:
Keywords
Dental resin composites

Polymer

Filler nanocomposites

Artificial aging

Positron annihilation lifetime spectroscopy

Light-curing polymerization