Abstract
In this work, we present two green routes, as an alternative method to traditional synthesis, to obtain TiO2 nanoparticles (NPs) from vanillin (TiO2_V) and Bougainvillea glabra Choisy flower extracts (TiO2_B) as suitable non-toxic reducing agents due to their potential to reduce their environmental impact and cost during the synthesis process. The NPs presented an anatase phase as confirmed by X-ray diffraction, and with crystallite sizes of 6.10 nm (TiO2_V) and 5.89 nm (TiO2_B), their hydrodynamic size and morphology were characterized by dynamic light scattering and scanning electron microscopy, respectively. Infrared spectroscopy confirmed TiO2 characteristic bands for the obtained materials and from their UV–Vis absorption spectra band gap values of 3.07 and 3.08 eV for TiO2_V and TiO2_B, respectively, were calculated. Additionally, Grätzel cells were prepared to investigate the efficiency of the NPs obtained by this green synthesis. Finally, we included a theoretical section where, from ab initio calculations of structural and electronic properties, we explain the role of the reducing agents of the employed experimental synthesis, finding that the radicals restrict the grown-up of the clusters by the passivation of the dangling bonds modifying the crystal structure of the clusters splitting the t2g orbitals, altering the band gap of the clusters.
Access options
Buy single article
Instant access to the full article PDF.
US$ 39.95
Tax calculation will be finalised during checkout.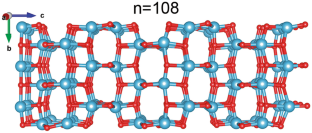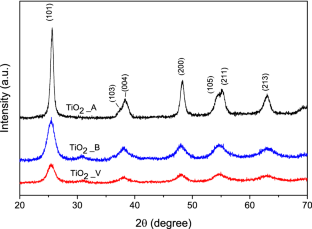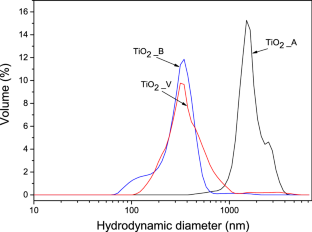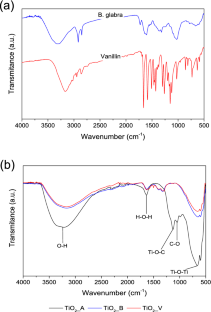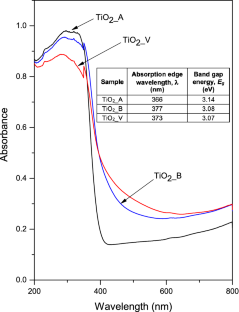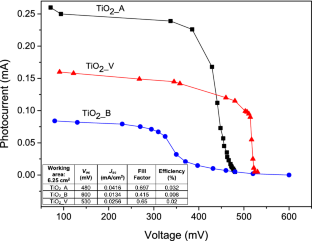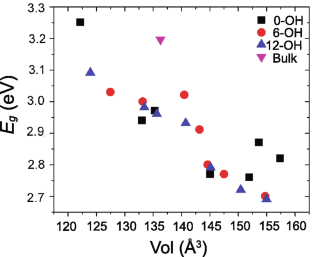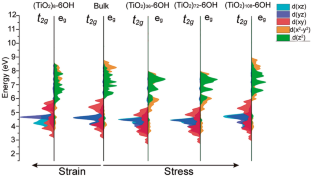 References
Abarca-Vargas R, Petricevich VL (2018) Bougainvillea genus: a review on phytochemistry, pharmacology, and toxicology. Evid Based Complem Alternat Med 2018:1–17. https://doi.org/10.1155/2018/9070927

Al-Taweel S, Saud H (2016) New route for synthesis of pure anatase TiO2 nanoparticles via ultrasound-assisted sol-gel method. J Chem Pharm Res 8:620–626

Amanulla AM, Sundaram R (2019) Green synthesis of TiO2 nanoparticles using orange peel extract for antibacterial, cytotoxicity and humidity sensor applications. Mater Today Proc 8:323–331. https://doi.org/10.1016/j.matpr.2019.02.118

Arief S, Hidayani P, Aferta L, Zulhadjri Ban T, Ohya Y (2017) Green chemistry formation of stable Ag nanoparticles (AgNPs) in isopropanol solvent. Orient J Chem 33(1):87–91. https://doi.org/10.13005/ojc/330109

Batzill M, Morales EH, Diebold U (2006) Influence of nitrogen doping on the defect formation and surface properties of TiO2 rutile and anatase. Phys Rev Lett 96:026103. https://doi.org/10.1103/PhysRevLett.96.026103

Blöchl PE (1994) Projector augmented-wave method. Phys Rev B 50:17953. https://doi.org/10.1103/PhysRevB.50.17953

Choudhury B, Choudhury A (2014) Oxygen defect dependent variation of band gap, Urbach energy and luminescence property of anatase, anatase-rutile mixed phase and of rutile phases of TiO2 nanoparticles. Phys E 56:364–371. https://doi.org/10.1016/j.physe.2013.10.014

Dubey R, Krishnamurthy KV, Singh S (2019) Experimental studies of TiO2 nanoparticles synthesized by sol-gel and solvothermal routes for DSSCs application. Res Phys 14:102390. https://doi.org/10.1016/j.rinp.2019.102390

Godbert N, Mastropietro T, Poerio T (2018) Mesoporous TiO2 thin films: state of the art. http://doi.org/10.5772/intechopen.74244

Goutam SP, Saxena G, Singh V, Yadav AK, Bharagava RN, Thapa KB (2018) Green synthesis of TiO2 nanoparticles using leaf extract of Jatropha curcas l. for photocatalytic degradation of tannery wastewater. Chem Eng J 336:386–396. https://doi.org/10.1016/j.cej.2017.12.029

Grimme S, Ehrlich S, Goerigk L (2011) A consistent and accurate ab initio parametrization of density functional dispersion correction (DFT-D) for the 94 elements H-Pu. J Comp Chem 32:1456. https://doi.org/10.1063/1.3382344

Hafizah N, Iis S (2009) Nanosized TiO2 photocatalyst powder via sol-gel method: effect of hydrolysis degree on powder properties. Int J Photoenergy 2009:1–8. https://doi.org/10.1155/2009/962783

He F, Ma F, Li J, Li T, Li G (2014) Effect of calcination temperature on the structural properties and photocatalytic activities of solvothermal synthesized TiO2 hollow nanoparticles. Ceram Int 40:6441–6446. https://doi.org/10.1016/j.ceramint.2013.11.094

Heyd J, Scuseria GE, Ernzerhof M (2006) Erratum: "Hybrid functionals based on a screened Coulomb potential" [J. Chem. Phys. 118, 8207 (2003)]. J Chem Phys 124:219906. https://doi.org/10.1063/1.2204597

Hussain M, Ceccarelli R, Marchisio D, Fino D, Russo N, Geobaldo F (2010) Synthesis, characterization and photocatalytic application of novel TiO2 nanoparticles. Chem Eng J 157:45–51. https://doi.org/10.1016/j.cej.2009.10.043

Ibarra JJ (2015) Síntesis de nanopartículas de plata y dióxido de titanio por métodos ambientalmente amigables para aplicaciones en la industria de la curtiduría. PhD thesis

Jeng MJ, Wung YL, Chang LB, Chow L (2013) Dye-sensitized solar cells with anatase TiO2 nanorods prepared by hydrothermal method. Int J Photoenergy 2013:280253. https://doi.org/10.1155/2013/280253

Kresse G, Furthmüller J (1996) Efficient iterative schemes for ab initio total-energy calculations using a plane-wave basis set. Phys Rev B 54:11169–11186. https://doi.org/10.1103/PhysRevB.54.11169

Kresse G, Joubert D (1999) From ultrasoft pseudopotentials to the projector augmented wave method. Phys Rev B 59:1758. https://doi.org/10.1103/PhysRevB.59.1758

Kumar R, Sharma P, Mishra PS (2012) A review on the vanillin derivatives showing various biological activities. Int J PharmTech Res 4(1):266–279

Liu Z, Jian Z, Fang J, Xu X, Zhu X, Wu S (2012) Low-temperature reverse microemulsion synthesis, characterization, and photocatalytic performance of nanocrystalline titanium dioxide. Int J Photoenergy 2012:8. https://doi.org/10.1155/2012/702503

Mahal H, Badheka L, Mukherjee T (2001) Radical scavenging properties of a flavouring agent-vanillin. Res Chem Intermed 27:595–604. https://doi.org/10.1163/156856701317051699

Makula P, Pacia M, Macyk W (2018) How to correctly determine the band gap energy of modified semiconductor photocatalysts based on UV–Vis spectra. J Phys Chem Lett 9(23):6814–6817. https://doi.org/10.1021/acs.jpclett.8b02892

Marslin G, Siram K, Maqbool Q, Selvakesavan RK, Kruszka D, Kachlicki P, Franklin G (2018) Secondary metabolites in the green synthesis of metallic nanoparticles. Materials 11(6):1–25. https://doi.org/10.3390/ma11060940

Monticone S, Tufeu R, Kanaev A, Scolan E, Sanchez C (2000) Quantum size effect in TiO2 nanoparticles: does it exist? Appl Surf Sci 162–163:565–570. https://doi.org/10.1016/S0169-4332(00)00251-8

Ochoa Y, Ortegón Y, Rodríguez-Paez JE (2010) Synthesis of TiO2, anatase phase by the sol-gel method: study of the effect of the presence of AcacH in the system. Revista Facultad de Ingeniería Universidad de Antioquia, pp 29–40

Pabisiak T, Kiejna A (2007) Energetics of oxygen vacancies at rutile TiO2 (110) surface. Solid State Commun 144(7):324–328. https://doi.org/10.1016/j.ssc.2007.08.043

Rauf MA, Oves M, Rehman FU, Khan AR, Husain N (2019) Bougainvillea flower extract mediated zinc oxide's nanomaterials for antimicrobial and anticancer activity. Biomed Pharmacother 116:108983. https://doi.org/10.1016/j.biopha.2019.108983

Ruhane TA, Islam MT, Rahaman MS, Bhuiyan MMH, Islam JMM, Bhuiyan TI, Khan KA, Khan MA (2017) Impact of photo electrode thickness and annealing temperature on natural dye sensitized solar cell. Sustain Energy Technol Assess 20:72–77. https://doi.org/10.1016/j.seta.2017.01.012

Shanavas S, Priyadharsan A, Karthikeyan S, Dharmaboopathi K, Ragavan I, Vidya C, Acevedo R, Anbarasana PM (2019) Green synthesis of titanium dioxide nanoparticles using Phyllanthus niuri leaf extract and study on its structural, optical and morphological properties. Mater Today Proc 26(4):3531–3534. https://doi.org/10.1016/j.matpr.2019.06.715

Sharma K, Sharma V, Sharma SS (2018) Dye-sensitized solar cells: fundamentals and current status. Nanoscale Res Lett 381:1–46. https://doi.org/10.1186/s11671-018-2760-6

Shekarforoush E, Mendes AC, Baj V, Beeren SR, Chronakis IS (2017) Electrospun phospholipid fibers as micro-encapsulation and antioxidant matrices. Molecules 22:1708. https://doi.org/10.3390/molecules22101708

Tong T, Zhang J, Tian B, Chen F, He D (2008) Preparation and characterization of anatase TiO2 microspheres with porous frameworks via controlled hydrolysis of titanium alkoxide followed by hydrothermal treatment. Mater Lett 62:2970–2972. https://doi.org/10.1016/j.matlet.2008.01.085

Ünal H, Gunceler D, Güseren O, Ellialtioglu S, Mete E (2015) Hybrid functional calculated optical and electronic structures of thin anatase TiO2 nanowires with organic dye adsorbates. Appl Surf Sci 354:437–442. https://doi.org/10.1016/j.apsusc.2015.04.086(European Conference on Surface Science 2014)

Watson S, Beydoun D, Scott J, Amal R (2004) Preparation of nanosized crystalline TiO2 particles at low temperature for photocatalysis. J Nanopart Res 6:193–207. https://doi.org/10.1023/B:NANO.0000034623.33083.71
Ethics declarations
Conflict of interest
On behalf of all authors, the corresponding author states that there is no conflict of interest.
Additional information
Publisher's Note
Springer Nature remains neutral with regard to jurisdictional claims in published maps and institutional affiliations.
Supplementary Information
Below is the link to the electronic supplementary material.
About this article
Cite this article
García-Castañeda, M.C., Castellanos-Águila, J.E., Maury-Cuna, G.H.I. et al. A novel route to obtain TiO2 nanoparticles using green synthesis with vanillin and Bougainvillea glabra Choisy extract. Appl Nanosci (2021). https://doi.org/10.1007/s13204-020-01648-9
Received:

Accepted:

Published:
Keywords
Green synthesis

Titanium dioxide

Photoenergy

DFT

Theoretical properties