Abstract
Nano-grained ytterbium sulfide (Yb2S3) thin film is deposited by an inexpensive chemical bath deposition (CBD) method with excellent supercapacitive performance. The formation of Yb2S3 thin film is confirmed from XRD, FT-Raman, and XPS studies. The nano-grains like surface morphology of Yb2S3 thin film is observed using scanning electron microscopy and transmission electron microscopy techniques. The Yb2S3 film shows hydrophilic nature with a contact angle value of 61.2°. The electrochemical supercapacitive properties of Yb2S3 thin film are studied using cyclic voltammetry (CV), galvanostatic charge–discharge (GCD), and electrochemical impedance spectroscopy (EIS) techniques. The Yb2S3 thin film exhibits a specific capacitance of 184.6 F g−1 in 1 M KOH electrolyte at a 5 mV s−1 scan rate. The symmetric solid-state supercapacitor device of configuration Yb2S3/KOH-PVA/Yb2S3 shows a specific capacitance of 15 F g−1 and energy density of 13.80 W kg−1 at power density 0.55 kW kg−1. The device exhibits 78% capacitive retention over 3000 cycles.
This is a preview of subscription content, log in to check access.
Access options
Buy single article
Instant access to the full article PDF.
US$ 39.95
Price includes VAT for USA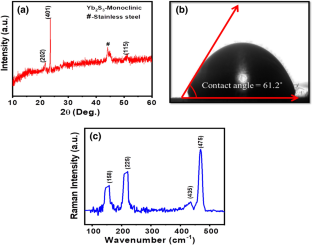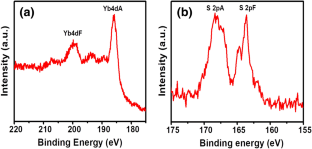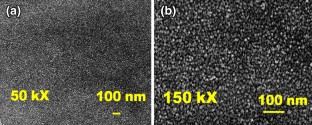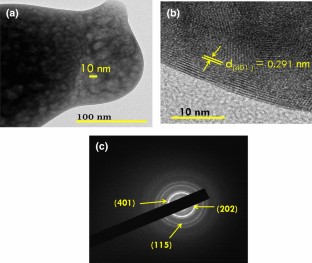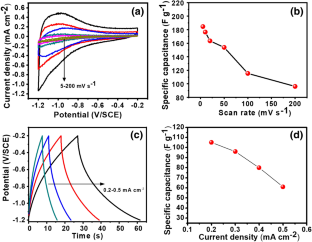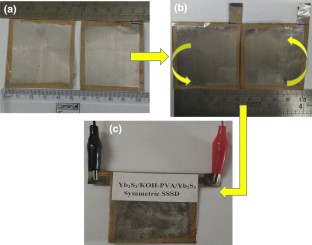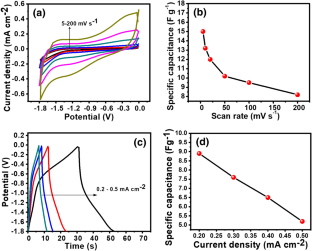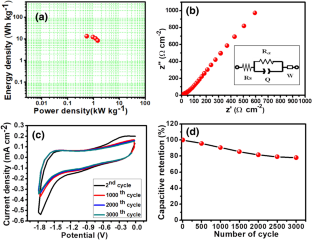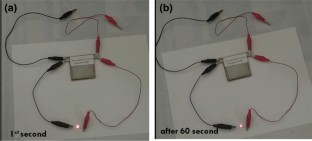 References
Arivarasan A, Bharathi S, Ezhilarasi S, Arunpandiyan S, Jayavel R (2019) Photovoltaic performances of Yb doped CdTe QDs sensitized TiO2 photoanodes for solar cell applications. J Inorg Organomet Polym Mater 1:1–10

Cai F, Sun R, Kang Y, Chen H, Chen M, Li Q (2015) One-step strategy to a three-dimensional NiS reduced graphene oxide hybrid nanostructure for high performance supercapacitors. RSC Adv 5:23073–23079

Chodankar NR, Gund GS, Dubal DP, Lokhande CD (2014) Alcohol mediated growth of α-MnO2 thin films from KmnO4 precursor for high performance supercapacitors. RSC Adv 45:1–36

Conway B, Pell W (2003) Double-layer and pseudocapacitance types of electrochemical capacitors and their applications of hybrid devices. J Solid State Electrochem 7:637–644

Dhawale DS, Vinu A, Lokhande CD (2011) Stable nanostructured polyaniline electrode for supercapacitor application. Electrochim Acta 46:9482–9487

Dubal DP, Gund GS, Lokhande CD, Holze R (2014) Controlled growth of CoSx nanostrip arrays (CoSx-NSA) on nickel foam for asymmetric supercapacitors. Energy Technol 2:401–408

Ghogare TT, Pujari RB, Lokhande AC, Lokhande CD (2018) Hydrothermal synthesis of nanostructured β-LaS2 thin films. Appl Phys A 124:248–252

Ghosh S, Inganas O (1999) Conducting polymer hydrogels as 3-D electrodes: applications for supercapacitors. Adv Mater 11:1214–1218

Hodes G, Inc MD (2002) Chemical solution deposition of semiconductor films, New York, pp 1–38

Kale SB, Lokhande AC, Pujari RB, Lokhande CD (2018) Cobalt sulfide thin films for electrocatalytic oxygen evolution reaction and supercapacitor applications. J Colloid Interface Sci 532:491–499

Karade SS, Banerjee K, Majumder S, Sankapal BR (2016a) Novel application of non-aqueous chemical bath deposited Sb2S3 thin films as supercapacitive electrode. Int J Hydrog Energy 726:1–8

Karade SS, Dubal DP, Sankapal BR (2016b) MoS2 ultrathin nanoflakes for high performance supercapacitors: room temperature chemical bath deposition (CBD). RSC Adv 1:1–26

Karade SS, Dubal DP, Sankapal BR (2017) Decoration of ultrathin MoS2 nanoflakes over MWCNTs: enhanced supercapacitive performance through electrode to symmetric all-solid-state device. Energy Environ Sci 2:10405–10412

Katkar PK, Marje SJ, Pujari SS, Khalate SA, Lokhande AC, Patil UM (2019) Enhanced energy density of all-solid-state asymmetric supercapacitors based on morphologically tuned hydrous cobalt phosphate electrode as cathode material. ACS Sustain Chem Eng 7:11205–11218

Knight DS, White WB (1989) Raman spectroscopic study of the rare earth sesquisulfides. J Solid State Chem 1:1–18

Kumbhar VS, Jagadale AD, Gaikwad NS, Lokhande CD (2014) Modified chemical synthesis of porous α-Sm2S3 thin films. Mater Res Bull 56:39–44

Kumbhar VS, Lokhande AC, Gaikwad NS, Lokhande CD (2015) Facile synthesis of Sm2S3 diffused nanoflakes and their pseudocapacitive behavior. Ceram Int 41:5758–5764

Lokhande CD (1991) A chemical method for deposition of metal sulfide thin films. Mater Chem Phys 28:145–149

Mane RS, Lokhande CD (2000) Chemical deposition method for metal chalcogenide thin films. Mater Chem Phys 65:1–31

Mohite UK, Gadhave KM, Lokhande CD (1994) Electrosynthesis of yttrium sulfide. Indian J Pure Appl Phys 32:772–777

Patil SJ, Lokhande CD (2015) Fabrication and performance evaluation of rare earth lanthanum sulfide film for supercapacitor application: effect of air annealing. Mater Des 87:939–948

Patil SJ, Kumbhar VS, Patil BH, Bulakhe RN, Lokhande CD (2014) Chemical synthesis of α-La2S3 thin film as an advanced electrode material for supercapacitor application. J Alloys Compd 611:191–196

Patil SJ, Lokhande VC, Chodankar NR, Lokhande CD (2016a) Chemically prepared La2Se3 nanocubes thin film for supercapacitor application. J Colloid Interface Sci 469:318–324

Patil AM, Lokhande VC, Lokhande AC, Chodankar NR, Jib T, Kim JH, Lokhande CD (2016b) Ultrathin nickel sulfide nano-flames as an electrode for high performance supercapacitor comparison of symmetric FSS-SCs and electrochemical SCs device. RSC Adv 6:68388–68401

Pujari RB, Lokhande AC, Yadav AA, Kim JH, Lokhande CD (2016a) Synthesis of MnS microfibers for high performance flexible supercapacitors. Mater Des 108:510–517

Pujari RB, Lokhande AC, Kim JH, Lokhande CD (2016b) Bath temperature controlled phase stability of hierarchical nanoflakes CoS2 thin films for supercapacitor application. RSC Adv. 6:40593–40601

Pujari RB, Lokhande AC, Ghogare TT, Kale SB, Lokhande CD (2018) Hydrothermally synthesized monoclinic Yb2S3 thin films for supercapacitive application. J Mater Sci Mater Electron 29:14116–14121

Salunkhe RR, Tang J, Kamachi Y, Nakato T, Kim JH, Yamauchi Y (2015) Asymmetric supercapacitors using 3D nanoporous carbon and cobalt oxide electrodes synthesized from a single metal-organic framework. ACS Nano 9:6288–6296

Shinde PA, Lokhande AC, Chodankar NR, Patil AM, Kim JH, Lokhande CD (2017) Temperature dependent surface morphological modifications of hexagonal WO3 thin films for high performance supercapacitor application. Electrochim Acta 224:397–404

Simon P, Gogotsi Y (2008) Materials for electrochemical capacitors. Nat Mater 7:845–854

Snooka GA, Kao P, Best AS (2011) Conducting-polymer-based supercapacitor devices and electrodes. J Power Sources 196:1–12

Soudagar NM, Pandit VK, Pujari RB, Chorghade KB, Lokhande CD, Joshi SS (2017) Chemically synthesized polyaniline supercapacitor. Int J Eng Res Technol IJERT 10:587–594

Wang GP, Zhang L, Zhang JJ (2012) A review of electrode materials for electrochemical supercapacitors. Chem Soc Rev 42:797–828

Xu J, Gao L, Cao J, Wang W, Chen Z (2010) Preparation and electrochemical capacitance of cobalt oxide (Co3O4) nanotubes as supercapacitor material. Electrochim Acta 56:732–736

Yadav AA, Kumbhar VS, Patil SJ, Chodankar NR, Lokhande CD (2016) thin film. Ceram Int 42:2079–2084

Yu XY, Yu L, Lou XW (2016) Metal sulfide hollow nanostructures for electrochemical energy storage. Adv Energy Mater 6:1501333–1501346

Yuan CZ, Yang L, Hou LR, Shen LF, Zhang XG, Lou XW (2012) Growth of ultrathin mesoporous Co3O4 nanosheet arrays on Ni foam for high-performance electrochemical capacitors. Energy Environ Sci 5:7883–7887

Zhang LL, Zhao XS (2009) Carbon-based materials as supercapacitor electrodes. Chem Soc Rev 38:2520–2531

Zhi M, Xiang C, Li J, Li M, Wu N (2013) Nanostructured carbon-metal oxide composite electrode for supercapacitors: a review. Nanoscale 5:72–88
Acknowledgements
S. B. Ubale acknowledges the Chhatrapati Shahu Maharaj Research Training and Human Development Institute (SARTHI), Government of Maharashtra, India for awarding the Junior Research Fellowship (JRF). In addition, we are thankful to the Department of Science and Technology-Science and Engineering Research Board (DST-SERB), New Delhi, India for their financial support through research Project No. SERB/F/001677/2016-17. In addition, this research was supported by Basic Science Research Program through the National Research Foundation of Korea (NRF) funded by the Ministry of Education (2018R1A6A1A030237).
Additional information
Publisher's Note
Springer Nature remains neutral with regard to jurisdictional claims in published maps and institutional affiliations.
About this article
Cite this article
Ubale, S.B., Bulakhe, R.N., Mane, V.J. et al. Chemical synthesis of nano-grained ytterbium sulfide thin films for supercapacitor application. Appl Nanosci (2020). https://doi.org/10.1007/s13204-020-01495-8
Received:

Accepted:

Published:
Keywords
Chemical bath deposition method

Crystal structure

Supercapacitor

Thin film

Ytterbium sulfide