Abstract
Greatly secure semiconducting materials of Ag doped ZrO2 (AZO) nanoparticles have been prepared by the use of hydrothermal and precipitation methods. Photocatalytic nanoparticles were characterized by UV-DRS, XRD, FT-IR and HR-SEM, HR-TEM, PL and CV techniques. Admirable improvement in the direct band gap of 4.61–4.58 eV was achieved as a result of doping. XRD diffraction pattern established the arrangement of monoclinic and tetragonal phase. The crystallite size and specific surface area were resoluted as 37.51 nm and 50.44 g/cm3. In addition, microscopic observation shows the Ag doped ZrO2 has achieved agglomeration and the particle diameter range between less than 100 nm of 5.81 and 7.65 1/nm. Luminescence and cyclic voltammetry are given additional supports towards optoelectronic characterization of Ag doped zirconium dioxide nanomaterials. The obtained ZO/AZO nanoparticles persist towards cationic dye of Rh6G at outfitted parameters of pH medium 9 implemented effectively in UV and solar light. The photodegradation of Rh6G dye is well described by pseudo-first order kinetics and high quantum yield. The Langmuir–Hinshel wood mechanism of photocatalytic effect of Ag doped Zirconium oxide nanomaterial have been discussed sucessfully and COD analysis was investigated. In this study, AZO material has to be proficient and potential remediated for contaminated water.
This is a preview of subscription content, log in to check access.
Access options
Buy single article
Instant access to the full article PDF.
US$ 39.95
Price includes VAT for USA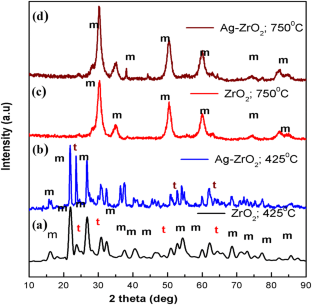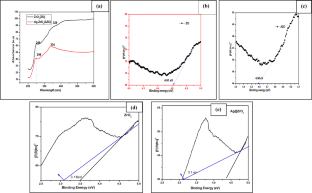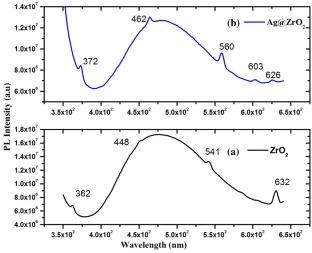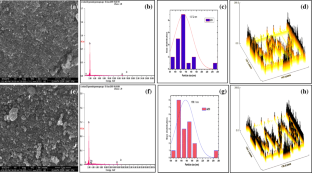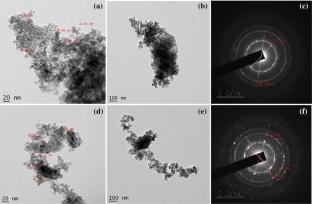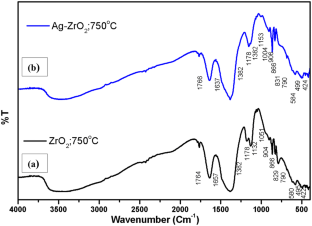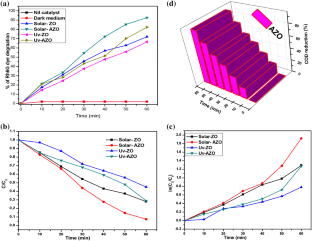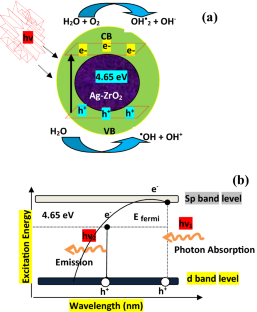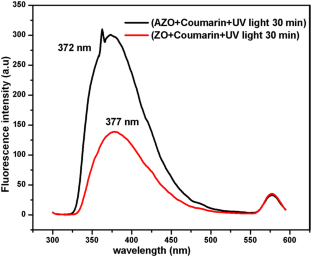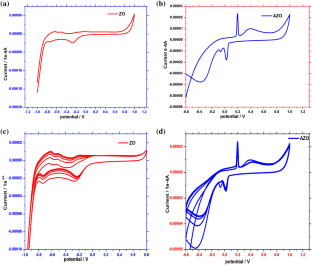 References
Aghabeygi S, Khademi-Shamami M (2018) ZnO/ZrO2 nanocomposite: sonosynthesis, characterization and its application for wastewater treatment. Ultrason Sonochem 41:458–465

Ahmad Z, Mishra A (2020) Growth of PbBr2 microrods with unique structure and surface morphology. J Mater Sci 31:4672–4676

Arrechea R, Bellottib N, Blancoa M, Vázqueza P et al (2015) Synthesis and characterization of zirconium oxides for use as antimicrobial additives in paints. Procedia Mater Sci 9:627–634

Behbahani A, Rowshanzamir S, Esmaeilifar A (2012) Hydrothermal synthesis of zirconia nanoparticles from commercial zirconia. Procedia Eng 42:908–917

Bensaha R, Bensouy H (2012) Synthesis, characterization and properties of zirconium oxide (ZrO2)—doped titanium oxide (TiO2) thin films obtained via sol–gel process. Heat Treat Convent Novel Appl. https://doi.org/10.5772/51155

Bharathi E, Sivakumari G, Kamalakkannan J, Karthikeyan B, Senthilvelan S (2020) Synergetic execute pressure, temperature on mixed Ac/Ag@CuO and its multi properties of solar light elucidation and antibacterial activity by hydrothermal technique. Mater Sci Energy Technol 3:407–419

Bumajdad A, Nazeer AA, Sagheer FA, Nahar S, Zaki MI (2018) Controlled synthesis of ZrO2 nanoparticles with tailored size, morphology and crystal phases via organic/inorganic hybrid films. Sci Rep 8:3695. https://doi.org/10.1038/S41598-018-22088-0

Chandraboss VL, Natanapatham L, Karthikeyan B, Kamalakkannan J, Prabha S, Senthilvelan S (2013) Effect of bismuth doping on the ZnO nanocomposite material and study of its photocatalytic activity under UV-light. Mater Res Bull 48:3707–3712

Davar F, Hassankhani A, Loghman-Estarkic MR (2013) Controllable synthesis of metastable tetragonal zirconia nanocrystals using citric acid assisted sol–gel method. Ceram Int 39:2933–2941

Dawoud TMS, Pavitra V, Ahmad P, Syed A, Nagaraju G (2020) Photocatalytic degradation of an organic dye using Ag doped ZrO2 nanoparticles: milk powder facilitated eco-friendly. Synthesis J King Saud Univ Sci 32:1872–1878

Fu H, Pan C, Yao W, Zhu Y (2005) Visible-light-induced degradation of Rhodamine B by Nanosized Bi2WO6. J Phys Chem B 109(47):22432–22439

Gad M, Abualsaud R, Rahoma A, Al-Thobity AM, Alabidi K, Akhtar S (2018) Effect of zirconium oxide nanoparticles addition on the optical and tensile properties of polymethyl methacrylate denture base material. Int J Nanomed 13:283–292

Garg N, Bera S, Mangamma G, Mittal VK, Krishnan R, Velmurugan S (2014) Study of Fe2O3 -ZrO2 interface of ZrO2 coating grown by hydrothermal process on stainless steel. Surf Coat Technol 258:597–604. https://doi.org/10.1016/j.surfcoat.2014.08.030

Gonella F, Mattei G, Mazzoldi P, Battaglin G (1999) Structural and optical properties of silver-doped zirconia and mixed zirconia−silica matrices obtained by sol−gel processing. Chem Mater 11(3):814–821

Herrera G, Montoya N, Domenech A, Alarcón J (2013) Synthesis, characterization and electrochemical properties of iron zirconia solid solution nanoparticles prepared by sol-gel. Phys Chem Chem Phys 12:2–46

Ismael M, Wu Y, Wark M (2019) Photocatalytic activity of ZrO2 composite with graphitic carbon nitride for hydrogen production under visible light. New J Chem. https://doi.org/10.1039/c8nj06507a

Kamalakkannan J, Chandraboss VL, Prabha S, Senthilvelan S (2015) Advanced construction of heterostructured InCrO4-TiO2 and its dual properties of greater UV photocatalytic and antibacterial activity. RSC Adv 5:77000–77013

Kavitha G, Arul KT, Babu P (2018) Enhanced acetone gas sensing behavior of n-ZnO/p-NiO nanostructures. J Mater Sci 29:6666–6671

Kim JR, Kan E (2016) Heterogeneous photocatalytic degradation of sulfamethoxazole in water using a biochar-supported TiO2 photocatalyst. J Environ Manage 180:94–101

Kumari L, Li WZ (2009) Controlled hydrothermal synthesis of zirconium oxide nanostructures and their optical properties. Cryst Growth Des 9:3874–3880

Kumari L, Du GH, Li WZ, Vennila RS, Saxena SK, Wang DZ (2009) Synthesis, microstructure and optical characterization of zirconium oxide nanostructures. Ceram Int 35(6):2401–2408

Latha Kumari DGH, Li WZ, Selva Vennila R, Saxena SK, Wang DZ (2009) Synthesis, microstructure and optical characterization of zirconium oxide nanostructures. Ceramics Int 35:2401–2408

Liu C, Hajagos TJ, Chen D, Chen Y, Kishpaugh D, Pei Q (2016) Efficient one-pot synthesis of colloidal zirconium oxide nanoparticles for high-refractive-index nano composites. ACS Appl Mater Interfaces 8(7):4795–4802

Liu J, Zhang X, Zhong Q, Li J, Wu H, Zhang B, Jin L, Tao HB, Liu B (2020) Electrostatic self-assembly of AgI/Bi2Ga4O9 p–n junction photocatalyst for boosting superoxide radical generation. J Mater Chem A. https://doi.org/10.1039/C9TA13724F

Meshesha DS, Matangi RC, Tirukkovalluri SR, Bojja S (2017) Synthesis and characterization of Ba2+ and Zr4+ co-doped titania nanomaterial which in turn used as an efficient photocatalyst for the degradation of rhodamine-B in visible light. S Afr J Chem Eng 23:10–16

Mudila et al (2016) Electrochemical performance of zirconia/graphene oxide nanocomposites cathode designed for high power density supercapacitor. J Anal Sci Technol 7:3. https://doi.org/10.1186/s40543-016-0084-7

Pei LZ, Xie YK, Pei YQ, Yuan CZ (2013) Synthesis and formation process of zirconium dioxide nanorods. Mater Sci-Poland 31(2):186–192

Polisetti S, Deshpande PA, Madras G (2011) Photocatalytic activity of combustion synthesized ZrO2 and ZrO2 -TiO2 mixed oxides. Ind Eng Chem Res 50(23):12915–12924

Rajesh G, Akilandeswari S, Govindarajan D, Thirumalai K (2020) Enhancement of photocatalytic activity of ZrO2 nanoparticles by doping with Mg for UV light photocatalytic degradation of methyl violet and methyl blue dyes. J Mater Sci Mater Electron 31:4058–4072

Ranga Rao G, Ranjan Sahu H (2001) Indian Academy of Sciences, XRD and UV–Vis diffuse reflectance analysis of CeO2–ZrO2 solid solutions synthesized by combustion method. Indian Acad Sci 113:651–658

Rani S, Verma S, Kumar S (2017) Tailoring the structural and optical parameters of zirconia nanoparticles via silver. Appl Phys A 123:539

Ranjan Sahu H, Ranga Rao G (2000) Characterization of combustion synthesized zirconia powder by UV–Vis, IR and other techniques. Bull Mater Sci 23:349–354

Sadikovic M, Nigovic B (2017) Development of electrochemical platform based on carbon nanotubes decorated with zirconium oxide nanoparticles for determination of nebivolol. Int J Electrochem Sci 12:9675–9688

Sagadevan S, Podder J, Das I (2016) Hydrothermal synthesis of zirconium oxide nanoparticles and its characterization. J Mater Sci 27(6):5622–5627

Sampurnam S, Dhanasekaran T, Muthamizh S, Padmanaban A, Munusamy S, Latha D, Narayanan V (2019) Synthesis, characterization, and photocatalytic activity of silver nanoparticle doped phosphomolybdic acid supported zirconia. Mater Today 14:558–562

Sathyaseelan B, Manikandan E, Baskaran I et al (2017) Studies on structural and optical properties of ZrO2 nanopowder for opto-electronic applications. J Alloy Compd 694:556–559

Sharma K, Sharma V, Sharma SS (2018) Dye-sensitized solar cells: fundamentals and current status. Nanoscale Res Lett 13:381

Singh AK, Nakate UT (2014) Microwave synthesis, characterization, and photoluminescence properties of nanocrystalline zirconia. Sci World J. https://doi.org/10.1155/2014/349457

Sinhamahapatra A, Jeon JP, Kang J, Han B, Yu JS (2016) Oxygen-deficient Zirconia (ZrO2-x). A new material for solar light absorption. Sci Rep. https://doi.org/10.1038/srep27218

Subash B, Krishnakumar B, Swaminathan M, Shanthi M (2013) Highly efficient, solar active, and reusable photocatalyst: Zr loaded Ag–ZnO for reactive red 120 dye degradation with synergistic effect and dye-sensitized mechanism. Langmuir 29:939–949

Sudrajat S, Babel S (2016) Comparison and mechanism of photocatalytic activities of N-ZnO and N-ZrO2 for the degradation of rhodamine 6G. Environ Sci Pollut Res 23(10):10177–10188

Vivekanandhan S, Venkateswarlu M, Rawls HR, Misra M, Mohanty AK, Satyanarayana N (2015) Synthesis and characterization of AgNP: ZrO2 functional nano materials by leaf extract assisted bioreduction process. Ceram Int 41(2):3305–3311

Wang M-L, Liu B-L, Ren C-C, Shih Z-W (1997) Preparation of the precursor of the zirconium oxide in EDTA−ammonia solution by the sol−gel method. Ind Eng Chem Res 36:2149–2155

Wang J, Huang J, Meng J, Li Q, Yang J (2016) Double-hole codoped huge-gap semiconductor ZrO2 for visible-light photocatalysis. Phys Chem Chem Phy 18(26):17517–17524

Ye L, Wang D, Chen S (2016) Fabrication and enhanced photoelectrochemical performance of MoS2/S-doped g-C3N4 heterojunction film. Appl Mater Interfaces 8:5280–5289
Ethics declarations
Conflict of interest
The co-author E. Bharathi grants major fellowship from F117.1/201617/RGNF201517SCTAM19182/(SAIII/Website): Rajiv Gandhi National Fellowship for SC candidates to pursue M.Phil/Ph.D. Degree, UNIVERSITY GRANTS COMMISSION-NEW DELHI, 110002.
Additional information
Publisher's Note
Springer Nature remains neutral with regard to jurisdictional claims in published maps and institutional affiliations.
About this article
Cite this article
Bharathi, E., Sivakumari, G., Karthikeyan, B. et al. Hydrothermal implement with supporting of semiconductor ZrO2 (ZO), Ag doped ZrO2 (AZO) nanomaterial and its astrophysical, UV photocatalytic employment on Rh6G dye. Appl Nanosci (2020). https://doi.org/10.1007/s13204-020-01453-4
Received:

Accepted:

Published:
Keywords
p-type semiconductor

Surface area

Rhodamine 6G

4-hydroxy coumarin

CV study

Langmuir–Hinshel wood mechanism