Abstract
The microwave properties of composite materials (CMs) based on epoxy resin and mixed filler carbon nanotubes/barium titanate (CNT/BT) at CNT concentrations up to 5 wt% and 34 wt% of BT were investigated. The complex permittivity of epoxy composites was measured in the frequency range 1–67 GHz via vector network analyzer. The CNT/BT/epoxy composite showed the increase of permittivity with the increase of CNT content in CM. The electromagnetic shielding properties of developed CMs were measured using waveguide spectroscopy in the frequency range from 26 to 37.5 GHz. Increasing of CNT content enhances the conductivity, resulting in an increase of the EMR reflection at the interface air–composite as well as EMR absorption inside of the composite. The increase of the shields' thickness (up to 2.5 mm) leads to the increase of shielding effectiveness for transmission up to 30 dB for sample with 5% CNT content due to higher EMR absorption inside, while the changes of the reflection index versus frequency depend on CNT content and composite thickness. The reflection loss (RL) of composites was calculated for various thicknesses using the complex permittivity and the obtained results show that composite 2 wt% CNT/BT/epoxy exhibits superior absorptive properties in the frequency range 10–67 GHz. The BT primary role in such CMs (with conductive fillers) is to move the percolation threshold further for conductive filler, increasing its real part of permittivity.
Access options
Buy single article
Instant access to the full article PDF.
US$ 39.95
Tax calculation will be finalised during checkout.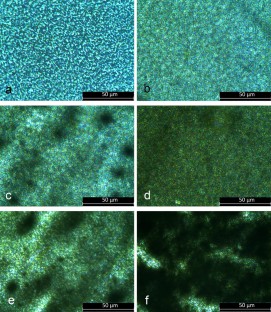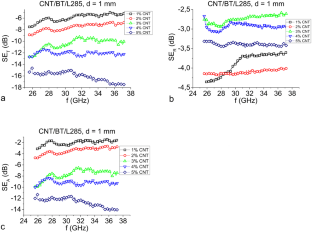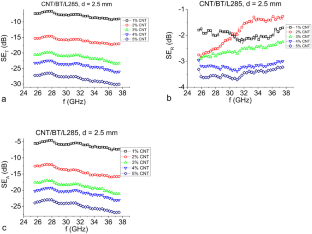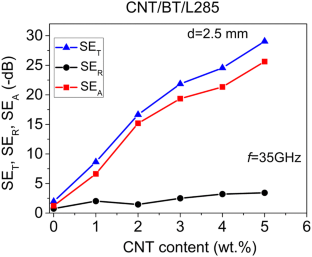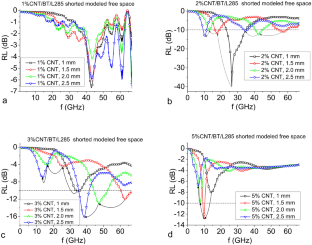 References
Ajayan PM, Schadler LS, Giannaris C, Rubio A (2000) Single-walled carbon nanotube-polymer composites: strength and weakness. Adv Mater 12:750–753

Bai Y, Cheng ZY, Bharti V, Xu H, Zhang QM (2000) High-dielectric-constant ceramic-powder polymer composites. Appl Phys Lett 76:3804

Boudida A, Beroual A, Brosseau C (1998) Permittivity of lossy composite materials. J Appl Phys 83:425–431

Cheng KC, Lin CM, Wang SF, Lin ST, Yang CF (2007) Dielectric properties of epoxy resin-barium titanate composites at high frequency. Mater Lett 61:757

Dang ZM, Yu YF, Xu HP, Bai J (2008) Study on microstructure and dielectric property of the BaTiO3/epoxy resin composites. Compos Sci Technol 68:171178

Dang ZM, Yuan JK, Zha JW, Zhou T, Li ST, Hu GH (2012) Fundamentals, processes and applications of high-permittivity polymerematrix composites. Prog Mater Sci 57(4):660–723

Dang ZM, Yuan JK, Yao SH, Liao RJ (2013) Flexible nanodielectric materials with high permittivity for power energy storage. Adv Mater 25:6334–6365

Dosoudil R, Usáková M, Franek J, Sláma J, Grusková A (2010) Particle size and concentration effect on permeability and EM-wave absorption properties of hybrid ferrite polymer composites. IEEE Trans Magn 46:436

Hu R, Tan G, Gu X, Chen S, Wu C, Man Q, Chang C, Wang X, Li RW, Che S, Jiang L (2018) Electromagnetic and microwave-absorbing properties of Co-based amorphous wire and Ce2Fe17N3-δ composite. J Alloy Compd 730(5):255–260

Ji W, Deng H, Fu Q (2017) Heterogeneous filler distribution in polymeric capacitor films: an efficient route to improve their dielectric properties. Compos Sci Technol 151:131–138

Joo J, Lee CY (2000) High frequency electromagnetic interference shielding response of mixtures and multilayer films based on conducting polymers. J Appl Phys 8:513

Liu Z, Bai G, Huang Y, Ma Y, Du F, Li F, Guo T, Chen Y (2007) Reflection and absorption contributions to the electromagnetic interference shielding of single-walled carbon nanotube/polyurethane composites. Carbon 45:821

Lozitsky OV, Vovchenko LL, Matzui LY, Milovanov YS (2018) Dielectric properties of epoxy composites with mixed fillers including graphite nanoplatelets/BaTiO3. Mol Cryst Liq Cryst. https://doi.org/10.1080/15421406.2018.1542086

Maiti S, Khatua BB (2016) Graphene nanoplate and multiwall carbon nanotube-embedded polycarbonate hybrid composites: high electromagnetic interference shielding with low percolation threshold. Polym Compos 37:2058

Mdarhri A, Carmona F, Brosseau C, Delhaes P (2008) Direct current electrical and microwave properties of polymer-multiwalled carbon nanotubes composites. J Appl Phys 103:054303

Ni QQ, Zhu YF, Yu LJ, Fu YQ (2015) One-dimensional carbon nanotube@barium titanate@polyaniline multiheterostructures for microwave absorbing application. Nanoscale Res Lett 10:174

Ramajo L, Reboredo MM, Castro MS (2010) BaTiO3–epoxy composites for electronic applications. Int J Appl Ceram Technol 7:444451

Rao Y, Ogitani S, Kohl P, Wong CP (2002) Novel polymer–ceramic nanocomposite based on high dielectric constant epoxy formula for embedded capacitor application. J Appl Polym Sci 83:1084

Sihvola A, Alanen E (1991) Studies of mixing formulae in the complex plane. IEEE Trans Geosci Remote Sens 29:679

Subodh G, Deepu V, Mohanan P, Sebastian M (2009) Dielectric response of high permittivity polymer ceramic composite with low loss tangent. Appl Phys Lett 95:062903

Toner V, Polizos G, Manias E, Randal CA (2012) Epoxy-based nanocomposites for electrical energy storage. I: effects of montmorillonite and barium titanate nanofillers. J Appl Phys 108:074116

Vovchenko LL, Matzui LY, Oliynyk VV, Launetz VL (2011) The effect of filler morphology and distribution on electrical and shielding properties of graphite-epoxy composites. Mol Cryst Liq Cryst 535:179–188

Vovchenko LL, Matzui LY, Brusylovets O, Oliynyk VV, Launetz VL, Shames A, Yakovenko O, Skoryk N (2016) Synthesis and properties of ferrite nanopowders for epoxy-barium hexaferrite-nanocarbon composites for microwave applications. Mat-wiss u Werkstofftech 47(2–3):139–148

Wang Z, Zhao GL (2013) Microwave absorption properties of carbon nanotubes-epoxy composites in a frequency range 2–20GHz. Open J Compos Mater 3:17

Wang ZJ, Wu L, Zhou JG, Cai W, Shen BZ, Jiang ZH (2013) Magnetite nanocrystals on multiwalled carbon nanotubes as a synergistic microwave absorber. J Phys Chem C 117:5446–5452

Yao SH, Yuan JK, Dang ZM, Bai J (2010) High dielectric performance of three-component nanocomposites induced by a synergetic effect. Mater Lett 64:2682

Zhao CY, Zhang AB, Zheng YP, Luan JF (2012) Electromagnetic and microwave-absorbing properties of magnetite decorated multiwalled carbon nanotubes prepared with poly(N-vinyl-2-pyrrolidone). Mater Res Bull 47:217–221

Zhou XB, Shen L, Li L, Zhou SH, Huang TM, Hu CF et al (2013) Microwave sintering carbon nanotube/Ni0.5Zn0.5Fe2O4 composites and their electromagnetic performance. J Eur Ceram Soc 33:2119–2126
Additional information
Publisher's Note
Springer Nature remains neutral with regard to jurisdictional claims in published maps and institutional affiliations.
About this article
Cite this article
Lozitsky, O.V., Vovchenko, L.L., Matzui, L.Y. et al. Microwave properties of epoxy composites with mixed filler carbon nanotubes/BaTiO3. Appl Nanosci 10, 2759–2767 (2020). https://doi.org/10.1007/s13204-020-01402-1
Received:

Accepted:

Published:

Issue Date:
Keywords
Polymer composites

Barium titanate

Carbon nanotubes

Shielding

Permittivity