Abstract
The composite catalyst of crystalline Co(OH)2 modified rare-earth perovskite-type LaNiO3 was synthesized by physical precipitation-sol high temperature calcination method. The ratio between La/Ni and between Co(OH)2/LaNiO3 added presence obvious impact on hydrogen production performance. Under the illumination of the cut-off filter (≥ 420 nm), when the molar ratio between La/Ni is 2:1, the hydrogen production amount at 5 h reached 70.89 μmol. The hydrogen production of Co(OH)2/LaNiO3 under the optimal catalytic conditions was 4.5 times higher than of pure LaNiO3. X-ray diffraction (XRD) and X-ray photoelectron spectroscopy (XPS) showed good crystallinity of the sample and successful synthesis of the material. TEM and SEM were used to detect the appearance of the catalytic material. The Photoluminescence spectrum (PL), ultraviolet–visible spectroscopy (UV–Vis) and electrochemical workstations were used to characterize the catalytic performance, which is consistent with the hydrogen production results. It is indicated that the bulk Co(OH)2 acts as an electron collector in the catalytic process, which significantly increases the transfer rate of photoelectrons, enhance the hydrogen production performance.
Access options
Buy single article
Instant access to the full article PDF.
US$ 39.95
Tax calculation will be finalised during checkout.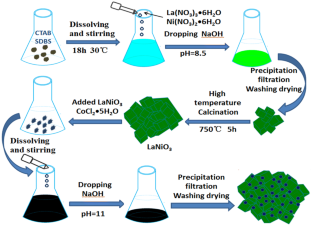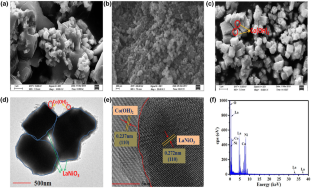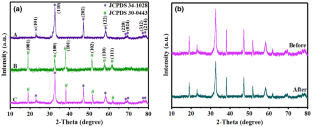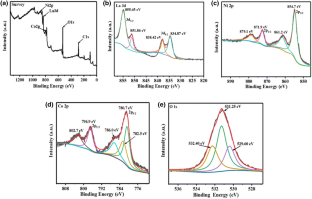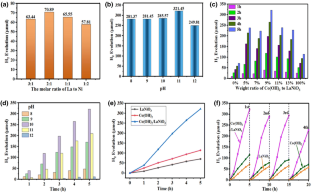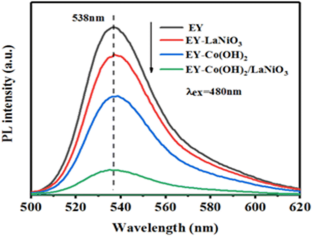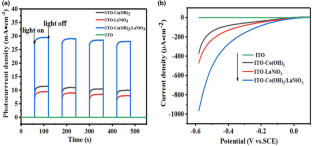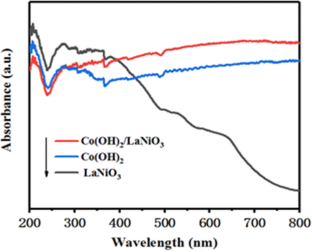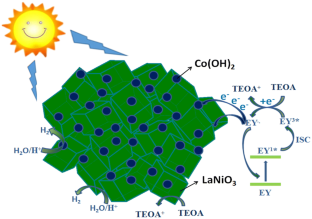 References
Aguilar O, Tzompantzi F, Pérez-Hernández R et al (2016) Novel preparation of ZnS from Zn5(CO3)2(OH)6 by the hydro- or solvothermal method for H2 production. Catal Today 287:91–98

Alali KT, Liu T, Liu J et al (2017) Preparation and characterization of ZnO/CoNiO2 hollow nanofibers by electrospinning method with enhanced gas sensing properties. J Alloy Compd 702:20–30

Ao Y, Wang K, Wang P et al (2016) Synthesis of novel 2D–2D p-n heterojunction BiOBr/La2Ti2O7 composite photocatalyst with enhanced photocatalytic performance under both UV and visible light irradiation. Appl Catal B 194:157–168

Cai X, Zhang J, Fujitsuka M et al (2017) Graphitic-C3N4 hybridized N-doped La2Ti2O7 two-dimensional layered composites as efficient visible-light-driven photocatalyst. Appl Catal B 202:191–198

Chen P, Wang H et al (2019) Directional electron delivery and enhanced reactants activation enable efficient photocatalytic air purification on amorphous carbon nitride co-functionalized with O/La. Appl Catal B 242:19–30

Dang H, Dong X, Dong Y et al (2015) Facile synthesis of Co(OH)2 modified TiO2 nanocomposites with enhanced photocatalytic H2 evolution activity. Mater Lett 138:56–59

Dang H, Cheng Z, Yang W et al (2017) Room-temperature synthesis of CuxS (x=1 or 2) co-modified TiO2 nanocomposite and its highly efficient photocatalytic H2, production activity. J Alloy Compd 709:422–430

Ding J, Bao J et al (2009) Combinatorial discovery of visible-light driven photocatalysts based on the ABO3-type (A) Y, La, Nd, Sm, Eu, Gd, Dy, Yb, B ) Al and In) binary oxides. J Comb Chem 11:523–526

Fan K, Jin Z, Yuan H et al (2017) Construction of CuO-modified zeolitic imidazolate framework-9 for photocatalytic hydrogen evolution. Chin J Catal 38(12):2056–2066

Guo P, Wu J, Li XB et al (2018) A highly stable bifunctional catalyst based on 3D Co(OH)2 @NCNTs@NF towards overall water-splitting. Nano Energy 47:96–104

Hao X, Jin Z, Xu J et al (2016) Functionalization of TiO2 with graphene quantum dots for efficient photocatalytic hydrogen evolution. Superlattices Microstruct 94:237–244

Hojamberdiev M, Kawashima K et al (2017) Engaging the flux-grown La1-xSrxFe1-yTiyO3 crystals in visible-light-driven photocatalytic hydrogen generation. Int J Hydrogen Energy 42:27024–27033

Hu J, Cao Y, Xie J et al (2017) Simple solid-state synthesis and improved performance of Ni(OH)2 -TiO2, nanocomposites for photocatalytic H2 production. Ceram Int 43(14):11109–11115

Kumar S, Hong D et al (2017) Ultrathin MoS2 layers anchored exfoliated reduced graphene oxide nanosheet hybrid as a highly efficient cocatalyst for CdS nanorods towards enhanced photocatalytic hydrogen production. Appl Catal B 212:7–14

Li Z, Wu Y, Lu G (2016) Highly efficient hydrogen evolution over Co(OH)2 nanoparticles modified g-C3N4 co-sensitized by Eosin Y and Rose Bengal under Visible Light Irradiation. Appl Catal B 188:56–64

Li Y, Xu J et al (2019) Synthesis of Ni12P5 on Co3S4 material for effectively improved photocatalytic hydrogen production from water splitting under visible light. J Mater Sci 30:11694–11705

Li Y, Xu J, Liu Z et al (2019) Performance of amorphous CoSx/oxygen vacancies ZnO heterojunction photocatalytic hydrogen evolution. J Mater Sci 30:246–258

Liu Y, Zhou S, Li J et al (2015) Photocatalytic reduction of CO2 with water vapor on surface La-modified TiO2 nanoparticles with enhanced CH4 selectivity. Appl Catal B 168–169:125–131

Liu L, Xu X, Si Z et al (2017) Noble metal-free NiS/P-S codoped g-C3N4 photocatalysts with strong visible light absorbance and enhanced H2 evolution activity. Catal Commun 106:55–59

Lu L, Ni S, Liu G et al (2017) Structural dependence of photocatalytic hydrogen production over La/Cr co-doped perovskite compound ATiO3 (A = Ca, Sr and Ba). Int J Hydrogen Energy 42:23539–23547

Min S, Lu G (2011) Dye-sensitized reduced graphene oxide photocatalysts for highly efficient visible-light-driven water reduction. J Phys Chem C 115(28):13938–13945

Min S, Lu G (2012) Sites for high efficient photocatalytic hydrogen evolution on a limited-layered MoS\r, 2\r, cocatalyst confined on graphene sheets-the role of graphene. J Phys Chem C 116(48):25415–25424

Oliva J, Garcia CR, Verduzco E et al (2017) Enhancing the photocatalytic activity of the perovskite-based intergrowth oxide Sr3.2La0.8Fe1.5Co1.5O10-δ with Ca substitution. Ceram Int 43:14074–14081

Purusottam RB, Chandra SM, Poorna PB et al (2018) Photocatalytic, magnetic, and electrochemical properties of La doped BiFeO3, nanoparticles. Ceram Int 44:19512–19521

Song W, Ma S, Sun L, Yang Y et al (2017) Urchin-flower like hierarchical LaNiO3 spheres: structural characteristics and photocatalytic activity. Chem Technol 12:111–120

Sun X, Xu X (2017) Efficient photocatalytic hydrogen production over La/Rh co-doped Ruddlesden-Popper compound Sr2TiO4. Appl Catal B 210:149–159

Tahir M (2019) La-modified TiO2/carbon nanotubes assembly nanocomposite for efficient photocatalytic hydrogen evolution from glycerol-water mixture. Int J Hydrogen Energy 44:3711–3725

Wang P, Lu Y et al (2017) Co-modification of amorphous-Ti(IV) hole cocatalyst and Ni(OH)2 electron cocatalyst for enhanced photocatalytic H2–production performance of TiO2. Appl Surf Sci 391:259–266

Wang R, Ni S, Liu G et al (2018) Hollow CaTiO3 cubes modified by La/Cr co-doping for efficient photocatalytic hydrogen production. Appl Catal B 225:139–147

Wender H, Gonçalves RV, Dias CSB et al (2013) Photocatalytic hydrogen production of Co(OH)2 nanoparticle-coated a-Fe2O3 nanorings. Nanoscale 5(19):9310–9316

Wiranwetchayan O, Promnopas S, Phadungdhitidhada S et al (2019) Characterization of perovskite LaFeO3 synthesized by microwave plasma method for photocatalytic applications. Ceram Int 45:4802–4809

Wu F, Lv M, Sun X et al (2016) Efficient photocatalytic oxygen production over nitrogen-doped Sr4Nb2O9 under visible-light irradiation. ChemCatChem 8:615–623

Wu H, Li C, Che H et al (2018) Decoration of mesoporous Co3O4, nanospheres assembled by monocrystal nanodots on g-C3N4, to construct Z-scheme system for improving photocatalytic performance. Appl Surf Sci 440:308–319

Xie Y, Wu F, Sun X et al (2016) Quinary wurtzite Zn-Ga-Ge-N-O solid solutions and their photocatalytic properties under visible light irradiation. Sci Rep 6:19060

Xu YS, Zhang WD (2013) Anion exchange strategy for construction of sesame-biscuit-like Bi2O2CO3/Bi2MoO6 nanocomposites with enhanced photocatalytic activity. Appl Catal B 140–141:306–316

Xu H, Li S, Ge L et al (2017) In-situ synthesis of novel plate-like Co(OH)2, co-catalyst decorated TiO2, nanosheets with efficient photocatalytic H2 evolution activity. Int J Hydrogen Energy 42:22877–22886

Xu Y, Gong Y et al (2018) Insight into enhanced photocatalytic H2 production by Ni(OH)2-decorated ZnxCd1-xS nanocomposite photocatalysts. J Alloy Compd 735:2551–2557

Xu J, Yu H, Guo H (2018a) Synthesis and behaviors of g-C3N4, coupled with LaXCo3-XO4, nanocomposite for improved photocatalytic activeity and stability under visible light. Mater Res Bull 105:342–348

Xu J, Huo F, Zhao Y et al (2018b) In-situ La doped Co3O4 as highly efficient photocatalyst for solar hydrogen generation. Int J Hydrogen Energy 43:8674–8682

Xu J, Qi Y et al (2019) NH2-MIL-101(Fe)/Ni(OH)2 -derived C, N-codoped Fe2P/Ni2P cocatalyst modified g-C3N4 for enhanced photocatalytic hydrogen evolution from water splitting. Appl Catal B 241:178–186

Xue Z, Shen Y, Li P et al (2018) Promoting effects of lanthanum oxide on the NiO/CeO2, catalyst for hydrogen production by autothermal reforming of ethanol. Catal Commun 108:12–16

Yang J, Wang D, Han H et al (2013) Roles of Cocatalysts in photocatalysis and photoelectrocatalysis[J]. Acc Chem Res 46(8):1900–1909

Yin M, Jia F, Wu C et al (2017) Coupling g-C3N4 nanobelts and Cu(OH)2 nanoparticles with TiO2 for visible-light photocatalytic H2 production. Mater Sci Eng B 223:35–42

Yongke Z, Zhiliang J, Hong Y et al (2018) Well-regulated Nickel nanoparticles functional modified ZIF-67(Co) derived Co3O4/CdS p-n heterojunction for efficient photocatalytic hydrogen evolution. Appl Surf Sci 462:213–225

Yu X, Liu J, Yu Y, Zuo S, Li B (2014) Preparation and visible light photocatalytic activity of carbon quantum dots/TiO2 nanosheet composites. Carbon 68:718–724

Zhang Z, Zhou P et al (2017) Amorphous Zr(OH)4 coated LiNi0.915Co0.075Al0.01O2 cathode material with enhanced electrochemical performance for lithium ion batteries. J Energy Chem 26:481–487

Zhen W, Ning X, Yang B et al (2018) The enhancement of CdS photocatalytic activity for water splitting via antiphotocorrosion by coating Ni2P shell and removing nascent formed oxygen with artificial gill. Appl Catal B 221:243–257

Zhou M, Liu Y et al (2018) Growth of radial microspheres of Ni-Co-O at porous Ti and its phosphorization for high efficient hydrogen evolution. Electrochim Acta 259:329–337
Acknowledgements
This work was supported by the Natural Science Foundation of Ningxia Province (NZ17262). Open Project of State Key Laboratory of High-Efficiency Utilization of Coal and Green Chemical Engineering, Ningxia University (2019-KF-36); New Catalytic Process in Clean Energy Production (ZDZX201803).
Additional information
Publisher's Note
Springer Nature remains neutral with regard to jurisdictional claims in published maps and institutional ailiations.
About this article
Cite this article
Mao, M., Xu, J., Zhu, M. et al. Highly efficient catalytic hydrogen production of Co(OH)2-modified rare-earth perovskite LaNiO3 composite under visible light. Appl Nanosci 10, 4361–4374 (2020). https://doi.org/10.1007/s13204-020-01343-9
Received:

Accepted:

Published:

Issue Date:
Keywords
LaNiO3
Co(OH)2

Catalyst

Rare earth

Hydrogen

Perovskite