Abstract
Microbial inoculants containing plant-growth-promoting bacteria (PGPB) are low-cost tools to improve crop yield. The prospection of new strains should enable the selection of efficient microbial agents for commercial inoculants. This study aimed to isolate and select PGPB for maize in the Brazilian semiarid region. A field trial using two maize genotypes was implemented, and bacteria were isolated from maize stems and roots. The bacteria were grown in semi-solid BMGM or solid Dyg's media, and they were characterized in vitro with respect to five plant growth-promoting mechanisms. Twenty-seven strains were assessed for growth promotion using potted maize plants. Nine bacterial strains improved plant biomass and/or N accumulation in shoots and were selected for field assessment and identification by 16S rRNA sequencing. Fourteen and 65 bacterial strains were isolated, respectively, in the semi-solid and solid medium. Auxin production without L-Tryptophan and antagonism against F. verticillioides were found for bacteria isolated on solid medium, and other characteristics were found for the strains from semi-solid medium. These strains were classified as Bacillus (5), Brevibacillus (2), Staphylococcus (1), and Paenibacillus (1). Five strains (Bacillus spp. ESA 593, ESA 597, ESA 599, ESA 600, and Paenibacillus sp. ESA 601) improved maize yield (56–87%) compared with the non-inoculated and non-fertilizated (N) control. In conclusion, the Brazilian drylands maize plants harbor several potential PGPB, and five elite strains were retrieved in the present study. These strains will be used for future network field assays to assure their agronomic performance.
Access options
Buy single article
Instant access to the full article PDF.
US$ 39.95
Tax calculation will be finalised during checkout.
Subscribe to journal
Immediate online access to all issues from 2019. Subscription will auto renew annually.
US$ 79
Tax calculation will be finalised during checkout.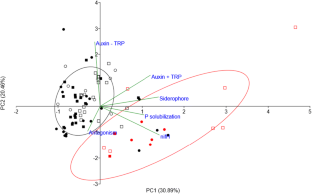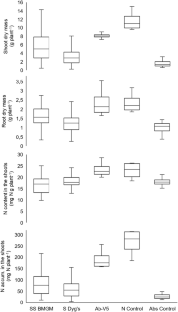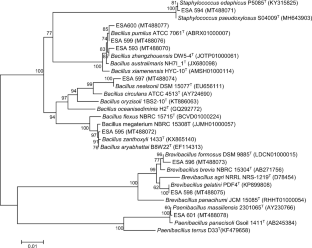 References
Aeron A, Khare E, Kumar C et al (2020) Revisiting the plant growth - promoting rhizobacteria : lessons from the past and objectives for the future. Arch Microbiol 202:665–676. https://doi.org/10.1007/s00203-019-01779-w

Akram MS, Shahid M, Tariq M, Azeem M, Javed MT, Saleem S, Riaz S (2016) Deciphering Staphylococcus sciuri SAT-17 mediated anti-oxidative defense mechanisms and growth modulations in salt stressed maize (Zea mays L.). Front Microbiol 7:1–14. https://doi.org/10.3389/fmicb.2016.00867

Alves GC, de Matos Macedo AV, dos Reis FB et al (2016) Plant growth promotion by four species of the genus Burkhoderia. Plant Soil 399:373–387. https://doi.org/10.1007/s11104-015-2701-4

Alves GC, Sobral LF, Reis VM (2020) Grain yield of maize inoculated with diazotrophic bacteria with the applicationof nitrogen fertilizer. Rev Caatinga 33:644–652. https://doi.org/10.1590/1983-21252020v33n307rc

Ambrosini A, Stefanski T, Lisboa BB, Beneduzi A, Vargas LK, Passaglia LMP (2016) Diazotrophic bacilli isolated from the sunflower rhizosphere and the potential of Bacillus mycoides B38V as biofertiliser. Ann Appl Biol 168:93–110. https://doi.org/10.1111/aab.12245

Andrade LF, de Souza GLOD, Nietsche S, Xavier AA, Costa MR, Cardoso AMS, Pereira MCT, Pereira DFGS (2014) Analysis of the abilities of endophytic bacteria associated with banana tree roots to promote plant growth. J Microbiol 52:27–34. https://doi.org/10.1007/s12275-014-3019-2

Antunes GR, Santana SRA, Escobar IEC et al (2019) Associative diazotrophic bacteria from forage grasses in the Brazilian semiarid region are effective plant growth promoters. Crop Pasture Sci 70:899–907. https://doi.org/10.1071/CP19076

Arruda L, Beneduzi A, Martins A, Lisboa B, Lopes C, Bertolo F, Passaglia LMP, Vargas LK (2013) Screening of rhizobacteria isolated from maize (Zea mays L.) in Rio Grande do Sul state (South Brazil) and analysis of their potential to improve plant growth. Appl Soil Ecol 63:15–22. https://doi.org/10.1016/j.apsoil.2012.09.001

Baldani JI, Reis VM, Videira SS, Boddey LH, Baldani VLD (2014) The art of isolating nitrogen-fixing bacteria from non-leguminous plants using N-free semi-solid media: a practical guide for microbiologists. Plant Soil 384:413–431. https://doi.org/10.1007/s11104-014-2186-6

Berraquero FR, Baya B, Cormenzana AR (1976) Establecimiento de índices para el estudio de la solubilización de fosfatos por bacterias del suelo. Ars Pharm 17:399–406

Bodhankar S, Grover M, Hemanth S et al (2017) Maize seed endophytic bacteria: dominance of antagonistic, lytic enzyme-producing Bacillus spp. 3 biotech 7:232. https://doi.org/10.1007/s13205-017-0860-0

Bomfim CSG, da Silva VB, Cursino LHS, Mattos WS, Santos JCS, de Souza LSB, Dantas BF, de Freitas ADS, Fernandes-Júnior PI (2020) Endophytic bacteria naturally inhabiting commercial maize seeds occupy different niches and are efficient plant-growth promoting agents. Symbiosis 83:255–269. https://doi.org/10.1007/s13199-020-00701-z

Bonatelli ML, Lacerda Júnior GV, dos Reis Junior FB et al (2021) Beneficial plant-associated microorganisms from semiarid and seasonally dry environments: a review. Front Microbiol 12:553223. https://doi.org/10.3389/fmicb.2020.55322

Cavaglieri L, Orlando J, Rodríguez MI, Chulze S, Etcheverry M (2005) Biocontrol of Bacillus subtilis against Fusarium verticillioides in vitro and at the maize root level. Res Microbiol 156:748–754. https://doi.org/10.1016/j.resmic.2005.03.001

Cavalcanti MIP, Nascimento R de C, Rodrigues DR et al (2020) Maize growth and yield promoting endophytes isolated into a legume root nodule by a cross-over approach. Rhizosphere 15:100211. https://doi.org/10.1016/j.rhisph.2020.100211

Cavite HJM, Mactal AG, Evangelista EV, Cruz JA (2020) Growth and yield response of upland rice to application of plant growth-promoting rhizobacteria. J Plant Growth Regul. https://doi.org/10.1007/s00344-020-10114-3

Chakra PS, Kumar PGV, Swamy CT (2019) Isolation and biochemical characterization of plant growth promoting bacteria from a maize crop field. Int J Curr Microbiol Appl Sci 8:1415–1422

Compant S, Clément C, Sessitsch A (2010) Plant growth-promoting bacteria in the rhizo- and endosphere of plants: their role, colonization, mechanisms involved and prospects for utilization. Soil Biol Biochem 42:669–678. https://doi.org/10.1016/j.soilbio.2009.11.024

CONAB (2019) Séries históricas. https://www.conab.gov.br/conteudos.php?a=1252&t=&Pagina_objcmsconteudos=3#A_objcmsconteudos. Accessed 9 Jun 2017

Costacurta A, Vanderleyden J (1995) Synthesis of phytohormones by plant-associated bacteria. Crit Rev Microbiol 21:1–18. https://doi.org/10.3109/10408419509113531

da Costa Leite R, dos Santos JGD, Silva EL et al (2019) Productivity increase, reduction of nitrogen fertiliser use and drought-stress mitigation by inoculation of Marandu grass (Urochloa brizantha) with Azospirillum brasilense. Crop Pasture Sci 70:61–67

da Silva Santos J, de Oliveira Viana T, de Jesus CM et al (2015) Inoculation and isolation of plant growth-promoting bacteria in maize grown in Vitória da Conquista, Bahia, Brazil. Rev Bras Cienc do Solo 39:78–85. https://doi.org/10.1590/01000683rbcs20150725

da Silva JF, da Silva TR, Escobar IEC, Fraiz ACR, dos Santos JWM, do Nascimento TR, dos Santos JMR, Peters SJW, de Melo RF, Signor D, Fernandes-Júnior PI (2018) Screening of plant growth promotion ability among bacteria isolated from field-grown sorghum under different managements in Brazilian drylands. World J Microbiol Biotechnol 34:186. https://doi.org/10.1007/s11274-018-2568-7

de Souza R, Ambrosini A, Passaglia LMP (2015) Plant growth-promoting bacteria as inoculants in agricultural soils. Genet Mol Biol 38:401–419. https://doi.org/10.1590/S1415-475738420150053

Dias A, Pacheco RS, dos Santos SG et al (2014) Screening of fluorescent rhizobacteria for the biocontrol of soilborne plant pathogenic fungi. Caatinga 27:1–9

Döbereiner J, Baldani VLD, Baldani JI (1995) Como isolar e identificar bactérias diazotróficas de plantas não-leguminosas. Embrapa Agrobiologia, Seropédica

Estrada-De Los Santos P, Bustillos-Cristales R, Caballero-Mellado J (2001) Burkholderia, a genus rich in plant-associated nitrogen fixers with wide environmental and geographic distribution. Appl Environ Microbiol 67:2790–2798. https://doi.org/10.1128/AEM.67.6.2790-2798.2001

Felestrino ÉB, Vieira IT, Caneschi WL, Cordeiro IF, Assis RAB, Lemes CGC, Fonseca NP, Sanchez AB, Cepeda JCC, Ferro JA, Garcia CCM, do Carmo FF, Kamino LHY, Moreira LM (2018) Biotechnological potential of plant growth-promoting bacteria from the roots and rhizospheres of endemic plants in ironstone vegetation in southeastern Brazil. World J Microbiol Biotechnol 34:156. https://doi.org/10.1007/s11274-018-2538-0

Fernandes Júnior PI, Pereira GMD, Perin L et al (2013) Diazotrophic bacteria isolated from wild rice Oryza glumaepatula (Poaceae) in the Brazilian Amazon. Rev Biol Trop 61:991–999

Fernandes-Júnior PI, de Tarso Aidar S, Morgante CV et al (2015) The resurrection plant Tripogon spicatus (Poaceae) harbors a diversity of plant growth promoting bacteria in northeastern Brazilian Caatinga. Rev Bras Cienc do Solo 39:993–1002. https://doi.org/10.1590/01000683rbcs20140646

Ferreira DF (2011) Sisvar: a computer statistical analysis system. Cienc e Agrotecnologia 35:1039–1042

Figueroa-López AM, Cordero-Ramírez JD, Martínez-Álvarez JC, López-Meyer M, Lizárraga-Sánchez GJ, Félix-Gastélum R, Castro-Martínez C, Maldonado-Mendoza IE (2016) Rhizospheric bacteria of maize with potential for biocontrol of Fusarium verticillioides. Springerplus 5:330. https://doi.org/10.1186/s40064-016-1780-x

Gopalakrishnan S, Sathya A, Vijayabharathi R, et al (2015) Plant growth promoting rhizobia: challenges and opportunities. 3 Biotech 5

Grady EN, MacDonald J, Liu L, Richman A, Yuan ZC (2016) Current knowledge and perspectives of Paenibacillus: a review. Microb Cell Factories 15:1–18. https://doi.org/10.1186/s12934-016-0603-7

Grover M, Ali SZ, Sandhya V, Rasul A, Venkateswarlu B (2011) Role of microorganisms in adaptation of agriculture crops to abiotic stresses. World J Microbiol Biotechnol 27:1231–1240. https://doi.org/10.1007/s11274-010-0572-7

Grover M, Madhubala R, Ali SZ, Yadav SK, Venkateswarlu B (2014) Influence of Bacillus spp. strains on seedling growth and physiological parameters of sorghum under moisture stress conditions. J Basic Microbiol 54:951–961. https://doi.org/10.1002/jobm.201300250

Grover M, Bodhankar S, Sharma A et al (2021) PGPR mediated alterations in root traits: way toward sustainable prop production. Frontiers in Sustainable Food Systems 4:1–28.  https://doi.org/10.3389/fsufs.2020.618230

Haiyambo DH, Chimwamurombe PM, Reinhold-Hurek B (2015a) Isolation and screening of rhizosphere bacteria from grasses in East Kavango region of Namibia for plant growth promoting characteristics. Curr Microbiol 71:566–571. https://doi.org/10.1007/s00284-015-0886-7

Haiyambo DH, Reinhold-Hurek B, Chimwamurombe PM (2015b) Effects of plant growth promoting bacterial isolates from Kavango on the vegetative growth of Sorghum bicolor. African J Microbiol Res 9:725–729. https://doi.org/10.5897/AJMR2014.7205

Hammer Ø, Harper DAT, Ryan PD et al (2011) PaSt: paleontological statistics software package for education and data analysis. Palaentologia Electron 4:5–7. https://doi.org/10.1016/j.bcp.2008.05.025

Hungria M, Campo RJ, Souza EM, Pedrosa FO (2010) Inoculation with selected strains of Azospirillum brasilense and A. lipoferum improves yields of maize and wheat in Brazil. Plant Soil 331:413–425. https://doi.org/10.1007/s11104-009-0262-0

Hungria M, Nogueira MA, Araujo RS (2016) Inoculation of Brachiaria spp. with the plant growth-promoting bacterium Azospirillum brasilense: an environment-friendly component in the reclamation of degraded pastures in the tropics. Agric Ecosyst Environ 221:125–131. https://doi.org/10.1016/j.agee.2016.01.024

IBGE (2018) Brazilian Semi-Arid Region. In: Reg. Maps. https://www.ibge.gov.br/en/geosciences/maps/regional-maps/19380-brazilian-semi-arid.html?=&t=o-que-e. Accessed 27 Apr 2020

Ikeda AC, Savi DC, Hungria M, Kava V (2020) Bioprospecting of elite plant growth-promoting bacteria for the maize crop. Acta Sci - Agron 42:e44364. https://doi.org/10.4025/actasciagron.v42i1.44364

Kavamura VN, Santos SN, da Silva JL et al (2013) Screening of Brazilian cacti rhizobacteria for plant growth promotion under drought. Microbiol Res 168:183–191. https://doi.org/10.1016/j.micres.2012.12.002

Kumar V, Kayasth M, Chaudhary V, Gera R (2014) Diversity of diazotrophs in arid and semi-arid regions of Haryana and evaluation of their plant growth promoting potential on Bt-cotton and pearl millet. Ann Microbiol 64:1301–1313. https://doi.org/10.1007/s13213-013-0774-y

Kuss AV, Kuss VV, Lovato T, Flôres L (2007) Fixação de nitrogênio e produção de ácido indolacético in vitro por bactérias diazotróficas endofíticas. Pesqui Agropecu Bras 42:1459–1465

Lima JVL, Weber OB, Correia D, Soares MA, Senabio JA (2015) Endophytic bacteria in cacti native to a Brazilian semi-arid region. Plant Soil 389:25–33. https://doi.org/10.1007/s11104-014-2344-x

Liu K, He L, Li S, Tian F, Sun Z, Li C (2018) Draft genome sequence of Paenibacillus strain LK1, a phytohormone producing bacterium. 3. Biotech 8:9–11. https://doi.org/10.1007/s13205-017-1042-9

Liu X, Li Q, Li Y, Guan G, Chen S (2019) Paenibacillus strains with nitrogen fixation and multiple beneficial properties for promoting plant growth. PeerJ 2019:e7445. https://doi.org/10.7717/peerj.7445

Mareque C, Taulé C, Beracochea M, Battistoni F (2015) Isolation, characterization and plant growth promotion effects of putative bacterial endophytes associated with sweet sorghum (Sorghum bicolor (L) Moench). Ann Microbiol 65:1057–1067. https://doi.org/10.1007/s13213-014-0951-7

Marra LM, Soares CRSF, Oliveira SM et al (2012) Biological nitrogen fixation and phosphate solubilization by bacteria isolated from tropical soils. Plant Soil 357:289–307. https://doi.org/10.1007/s11104-012-1157-z

Nehra V, Saharan BS, Choudhary M (2016) Evaluation of Brevibacillus brevis as a potential plant growth promoting rhizobacteria for cotton (Gossypium hirsutum) crop. Springerplus 5:948. https://doi.org/10.1186/s40064-016-2584-8

Niu X, Song L, Xiao Y, Ge W (2018) Drought-tolerant plant growth-promoting rhizobacteria associated with foxtail millet in a semi-arid and their potential in alleviating drought stress. Front Microbiol 8:1–11. https://doi.org/10.3389/fmicb.2017.02580

Oliveira CA, Alves VMC, Marriel IE, Gomes EA, Scotti MR, Carneiro NP, Guimarães CT, Schaffert RE, Sá NMH (2009) Phosphate solubilizing microorganisms isolated from rhizosphere of maize cultivated in an oxisol of the Brazilian Cerrado biome. Soil Biol Biochem 41:1782–1787. https://doi.org/10.1016/j.soilbio.2008.01.012

Pantůček R, Sedláček I, Indráková A, Vrbovská V, Mašlaňová I, Kovařovic V, Švec P, Králová S, Krištofová L, Kekláková J, Petráš P, Doškař J (2018) Staphylococcus edaphicus sp. nov., isolated in Antarctica, harbors the mecC gene and genomic islands with a suspected role in adaptation to extreme environments. Appl Environ Microbiol 84:e01746–e01717. https://doi.org/10.1128/AEM.01746-17

Pedrinho EAN, Galdiano RF, Campanharo JC et al (2010) Identificação E Avaliação De Rizobactérias Isoladas De Raízes De Milho. Bragantia 69:905–912. https://doi.org/10.1590/s0006-87052010000400017

Poly F, Monrozier LJ, Bally R (2001) Improvement in the RFLP procedure for studying the diversity of nifH genes in communities of nitrogen fixers in soil. Res Microbiol 152:95–103. https://doi.org/10.1016/S0923-2508(00)01172-4

Ratón T de los MO, Yano R, Gámez OR et al (2012) Isolation and characterisation of aerobic endospore forming bacilli from sugarcane rhizosphere for the selection of strains with agriculture potentialities. World J Microbiol Biotechnol 28:1593–1603. https://doi.org/10.1007/s11274-011-0965-2

Ribeiro CM, Cardoso EJBN (2012) Isolation, selection and characterization of root-associated growth promoting bacteria in Brazil pine (Araucaria angustifolia). Microbiol Res 167:69–78. https://doi.org/10.1016/j.micres.2011.03.003

Ríos-Ruiz WF, Torres-Chávez EE, Torres-Delgado J et al (2020) Inoculation of bacterial consortium increases rice yield (Oryza sativa L.) reducing applications of nitrogen fertilizer in San Martin region, Peru. Rhizosphere 14:100200. https://doi.org/10.1016/j.rhisph.2020.100200

Rodrigues Neto J, Malavolta VA Jr, Victor O (1986) Meio simples para o isolamento e cultivo de Xanthomonas campestris pv. citri tipo B. Summa Phytopathol 12:32

Santana SRA, Voltolini TV, Antunes G dos R, et al (2020) Inoculation of plant growth-promoting bacteria attenuates the negative effects of drought on sorghum. Arch Microbiol 202:1015–1024. https://doi.org/10.1007/s00203-020-01810-5

Santi C, Bogusz D, Franche C (2013) Biological nitrogen fixation in non-legume plants. Ann Bot 111:743–767

Santos AFJ, Morais JS, Miranda JS et al (2020) Cacti-associated rhizobacteria from Brazilian Caatinga biome induce maize growth promotion and alleviate abiotic stress. Revista Brasileira de Ciências Agrárias - Brazilian Journal of Agricultural Sciences 15(3):15:e8221.  https://doi.org/10.5039/agraria.v15i3a8221

Sarwar M, Kremer RJ (1995) Determination of bacterially derived auxins using a microplate method. Lett Appl Microbiol 20:282–285. https://doi.org/10.1111/j.1472-765X.1995.tb00446.x

Schwyn B, Neilands JB (1987) Universal chemical assay for the detection and determination of siderophores. Anal Biochem 160:47–56. https://doi.org/10.1016/0003-2697(87)90612-9

Silva MCP, Figueiredo AF, Andreote FD, Cardoso EJBN (2013) Plant growth promoting bacteria in Brachiaria brizantha. World J Microbiol Biotechnol 29:163–171. https://doi.org/10.1007/s11274-012-1169-0

Singh NP, Singh RK, Meena VS, Meena RK (2015) Can we use maize (Zea mays) rhizobacteria as plant growth promoter? Vegetos 28:86–99. https://doi.org/10.5958/2229-4473.2015.00012.9

Stoltzfus JR, So R, Malarvithi PP, Ladha JK, de Bruijn FJ (1997) Isolation of endophytic bacteria from rice and assessment of their potential for supplying rice with biologically fixed nitrogen. Plant Soil 194:25–36. https://doi.org/10.1023/A:1004298921641

Sylvester-Bradley R, Asakawa N, La Torraca S et al (1982) Levantamento quantitativo de microrganismos solubilizadores de fosfatos na rizosfera de gramíneas e leguminosas forrageiras na Amazônia. Acta Amaz 12:15–22

Teixeira PC, Donagemma GK, Fontana A, Teixeira WG (eds) (2017) Manual de métodos de análise de solo, 3rd edn. Brasilia, Empresa Brasileira de Pesquisa Agropecuária

Tinna D, Garg N, Sharma S, Pandove G, Chawla N (2020) Utilization of plant growth promoting rhizobacteria as root dipping of seedlings for improving bulb yield and curtailing mineral fertilizer use in onion under field conditions. Sci Hortic (Amsterdam) 109432:109432. https://doi.org/10.1016/j.scienta.2020.109432

Wang H, Qi M, Cutler AJ (1993) A simple method of preparing plant samples for PCR. Nucleic Acids Res 21:4153–4154

Weisburg WG, Barns SM, Pelletier DA, Lane DJ (1991) 16S ribosomal DNA amplification for phylogenetic study. J Bacteriol 173:697–703. https://doi.org/10.1128/jb.173.2.697-703.1991
Acknowledgments
We thank the Brazilian Council for Scientific and Technological Development (CNPq 485168/2013–8), INCT—Plant Growth Promoting Microorganisms for Agricultural Sustainability and Environmental Responsibility (CNPq/Fundação Araucária STI/CAPES INCT-MPCPAgro 465133/2014-4) and the Brazilian Agricultural Research Corporation (Embrapa 23.13.08.003.00.00) for financial support. We also thank the Coordination of Improvement of Higher Education Personnel (CAPES) for awarding scholarships to the first four authors (Code 001). The sixth and last authors are research fellows of CNPq.
Ethics declarations
Conflicts/competing interest
The authors declare that they have no conflict of interest. The funding agencies did not influence the data acquisition and its analyses.
Additional information
Publisher's note
Springer Nature remains neutral with regard to jurisdictional claims in published maps and institutional affiliations.
About this article
Cite this article
Nascimento, R.d., Cavalcanti, M.I.P., Correia, A.d. et al. Maize-associated bacteria from the Brazilian semiarid region boost plant growth and grain yield. Symbiosis (2021). https://doi.org/10.1007/s13199-021-00755-7
Received:

Accepted:

Published:
Keywords
Inoculant

Zea mays L.

Bacillaceae

Paenibacillaceae

Strain selection

Plant-growth promoting bacteria