Abstract
The acoel flatworm Symsagittifera roscoffensis lives in obligatory symbiosis with the microalgal chlorophyte Tetraselmis convolutae. Although this interaction has been studied for more than a century, little is known on the potential reciprocal benefits of both partners, a subject that is still controversial. In order to provide new insights into this question, we have compared the photophysiology of the free-living microalgae to the symbiotic form in the flatworm, both acclimated at different light irradiances. Photosynthesis – Irradiance curves showed that the free-living T. convolutae had greater photosynthetic performance (i.e., oxygen production rates, ability to harvest light) than their symbiotic form, regardless of the light acclimation. However, they were affected by photoinhibition under high irradiances, which did not happen for the symbiotic form. The resistance of symbiotic microalgae to photoinhibition were corroborated by pigment analyses, which evidenced the induction of photoprotective mechanisms such as xanthophyll cycle as well as lutein and β-carotene accumulation. These processes were induced even under low light acclimation and exacerbated upon high light acclimation, suggesting a global stress situation for the symbiotic microalgae. We hypothesize that the internal conditions in the sub-epidermal zone of the flatworm (e.g., osmotic and pH), as well as the phototaxis toward high light imposed by the worm in its environment, would be major reasons for this chronic stress situation. Overall, our study suggests that the relationship between S. roscoffensis and T. convolutae may be a farming strategy in favor of the flatworm rather than a symbiosis with mutual benefits.
This is a preview of subscription content, log in to check access.
Access options
Buy single article
Instant access to the full article PDF.
US$ 39.95
Price includes VAT for USA
Subscribe to journal
Immediate online access to all issues from 2019. Subscription will auto renew annually.
US$ 99
This is the net price. Taxes to be calculated in checkout.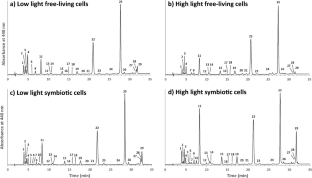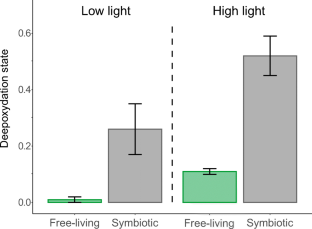 References
Ahmed F, Fanning K, Netzel M, Schenk PM (2015) Induced carotenoid accumulation in Dunaliella salina and Tetraselmis suecica by plant hormones and UV-C radiation. Appl Microbiol Biotechnol 99:9407–9416. https://doi.org/10.1007/s00253-015-6792-x

Arboleda E, Hartenstein V, Martinez P, Reichert H, Sen S, Sprecher S, Bailly X (2018) An emerging system to study photosymbiosis, brain regeneration, chronobiology, and behavior: the marine acoel Symsagittifera roscoffensis. BioEssays 40:1800107. https://doi.org/10.1002/bies.201800107

Archer SD, Ragni M, Webster R, Airs RL, Geider RJ (2010) Dimethyl sulfoniopropionate and dimethyl sulfide production in response to photoinhibition in Emiliania huxleyi. Limnol Oceanogr 55:1579–1589. https://doi.org/10.4319/lo.2010.55.4.1579

Arora M (2016) Tetraselmis, an introduction. The Botanica 66:155–175

Bailly X, Laguerre L, Correc G et al (2014) The chimerical and multifaceted marine acoel Symsagittifera roscoffensis: from photosymbiosis to brain regeneration. Front Microbiol 5:498. https://doi.org/10.3389/fmicb.2014.00498

Boyle JE, Smith DC (1975) Biochemical interactions between the symbionts of Convoluta roscoffensis. Proc R Soc Lond [Biol] 189:121–135. https://doi.org/10.1098/rspb.1975.0046

Cartaxana P, Domingues N, Cruz S, Jesus B, Laviale M, Serôdio J, Marques da Silva J (2013) Photoinhibition in benthic diatom assemblages under light stress. Aquat Microb Ecol 70:87–92. https://doi.org/10.3354/ame01648

Carvalho LF, Rocha C, Fleming A, Veiga-Pires C, Aníbal J (2013) Interception of nutrient rich submarine groundwater discharge seepage on European temperate beaches by the acoel flatworm, Symsagittifera roscoffensis. Mar Pollut Bull 75:150–156. https://doi.org/10.1016/j.marpolbul.2013.07.045

Decelle J, Stryhanyuk H, Gallet B et al (2019) Algal remodeling in a ubiquitous planktonic photosymbiosis. Curr Biol 29:968–978.e4. https://doi.org/10.1016/j.cub.2019.01.073

Demmig-Adams B, Adams WW (1996) The role of xanthophyll cycle carotenoids in the protection of photosynthesis. Trends Plant Sci 1:21–26. https://doi.org/10.1016/S1360-1385(96)80019-7

Dickson DMJ, Kirst GO (1986) The role of β-dimethylsulphoniopropionate, glycine betaine and homarine in the osmoacclimation of Platymonas subcordiformis. Planta 167:536–543

Doonan S, Gooday G (1982) Ecological studies of symbiosis in Convoluta roscoffensis. Mar Ecol Prog Ser 8:69–73. https://doi.org/10.3354/meps008069

Douglas AE (1983a) Uric acid utilization in Platymonas convolutae and symbiotic Convoluta roscoffensis. J Mar Biol Ass 63:435–447. https://doi.org/10.1017/S0025315400070788

Douglas AE (1983b) Establishment of the symbiosis in Convoluta roscoffensis. J Mar Biol Ass 63:419–434. https://doi.org/10.1017/S0025315400070776

Dupont S, Moya A, Bailly X (2012) Stable photosymbiotic relationship under CO2-induced acidification in the acoel worm Symsagittifera Roscoffensis. PLoS One 7:e29568. https://doi.org/10.1371/journal.pone.0029568

Ezequiel J, Laviale M, Frankenbach S, Cartaxana P, Serôdio J (2015) Photoacclimation state determines the photobehaviour of motile microalgae: the case of a benthic diatom. J Exp Mar Biol Ecol 468:11–20. https://doi.org/10.1016/j.jembe.2015.03.004

Foyer CH, Shigeoka S (2011) Understanding oxidative stress and antioxidant functions to enhance photosynthesis. Plant Physiol 155:93–100. https://doi.org/10.1104/pp.110.166181

Garcia JR, Gerardo NM (2014) The symbiont side of symbiosis: do microbes really benefit? Front Microbiol 5:510. https://doi.org/10.3389/fmicb.2014.00510

Garrido JL, Rodríguez F, Zapata M (2009) Occurence of loroxanthin, loroxanthin decenoate, and loroxanthin dodecenoate in Tetraselmis species (Prasinophyte, Cholorophyta). J Phycol 45:366–374. https://doi.org/10.1111/j.1529-8817.2009.00660.x

Grobbelaar JU, Schanz F, Dubinsky Z et al (1992) Photosynthetic characteristics of five high light and low light exposed microalgae as measured with 14C-uptake and oxygen electrode techniques. Mar Microb Food Webs 6:3–19

Haugan JA, Liaaen-Jensen S (1994) Blue carotenoids. Part 2. The chemistry of the classical colour reaction of common carotoind 5,6-epoxides with acid. Acta Chem Scand 48:152–159

Herre E, Knowlton N, Mueller U, Rehner S (1999) The evolution of mutualisms: exploring the paths between conflict and cooperation. Trends Ecol Evol 14:49–53. https://doi.org/10.1016/S0169-5347(98)01529-8

Hoogenboom M, Anthony K, Connolly S (2006) Energetic cost of photoinhibition in corals. Mar Ecol Prog Ser 313:1–12. https://doi.org/10.3354/meps313001

Horton P, Ruban A (2005) Molecular design of the photosystem II light-harvesting antenna: photosynthesis and photoprotection. J Exp Bot 56:365–373. https://doi.org/10.1093/jxb/eri023

Jahns P, Holzwarth AR (2012) The role of xanthophyll cycle and of lutein in photoprotection of photosystem II. Biochim Biophys Acta Bioenerg 1817:182–193. https://doi.org/10.1016/j.bbabio.2011.04.012

Jesus B, Ventura P, Calado G (2010) Behaviour and a functional xanthophyll cycle enhance photo-regulation mechanisms in the solar-powered sea slug Elysia timida (Risso, 1818). J Exp Mar Biol Ecol 395:98–105. https://doi.org/10.1016/j.jembe.2010.08.021

Johnson MD (2011) The acquisition of phototrophy: adaptive strategies of hosting endosymbionts and organelles. Photosynth Res 107:117–132. https://doi.org/10.1007/s11120-010-9546-8

Johnson MD, Tengs T, Oldach D, Stoecker DK (2006) Sequestration, performance, amd functional control of Cryptophyte plastids in the ciliate Myrionecta rubra (Ciliophora). J Phycol 42:1235–1246. https://doi.org/10.1111/j.1529-8817.2006.00275.x

Keebles F (1910) Plant animals, a study in Symbiosis, Cambridge: University press. Cambridge, UK

Keeling PJ, McCutcheon JP (2017) Endosymbiosis: the feeling is not mutual. J Theor 434:75–79. https://doi.org/10.1016/j.jtbi.2017.06.008

Keller MD, Selvin RC, Claus W, Guillard RRL (1975) Media for the culture of oceanic ultraplankton. J Phycol 23:633–638

Kiers ET, West SA (2016) Evolution: welcome to symbiont prison. Curr Biol 26:R66–R68. https://doi.org/10.1016/j.cub.2015.12.009

Kohata K, Watanabe M (1989) Diel changes in the composition of photosynthetic pigments and cellular carbon and nitrogen in Pyramimonas parkeae (Prasinophyte). J Phycol 25:377–385

Lesser MP, Stat M, Gates RD (2013) The endosymbiotic dinoflagellates (Symbiodinium sp.) of corals are parasites and mutualists. Coral Reefs 32:603–611. https://doi.org/10.1007/s00338-013-1051-z

Lopes dos Santos A, Gourvil P, Rodríguez F, Garrido JL, Vaulot D (2016) Photosynthetic pigments of oceanic Chlorophyta belonging to prasinophytes clade VII. J Phycol 52:148–155. https://doi.org/10.1111/jpy.12376

Lowe CD, Minter EJ, Cameron DD, Brockhurst MA (2016) Shining a light on exploitative host control in a photosynthetic endosymbiosis. Curr Biol 26:207–211. https://doi.org/10.1016/j.cub.2015.11.052

MacIntyre HL, Kana TM, Anning T, Geider RJ (2002) Photoacclimation of photosynthesis irradiance response curves and photosynthetic pigments in microalgae and cyanobacteria. J Phycol 38:17–38. https://doi.org/10.1046/j.1529-8817.2002.00094.x

Melis A, Neidhardt J, Benemann JR (1999) Dunaliella salina (Chlorophyta) with small chlorophyll antenna sizes exhibit higher photosynthetic productivities and photon use efficiencies than normally pigmented cells. J Appl Phycol 10:515–525

Melo Clavijo J, Donath A, Serôdio J, Christa G (2018) Polymorphic adaptations in metazoans to establish and maintain photosymbioses: evolution of photosymbiosis. Biol Rev 93:2006–2020. https://doi.org/10.1111/brv.12430

Meyer H, Provasoli L, Meyer F (1979) Lipid biosynthesis in the marine flatworm Convoluta roscoffensis and its algal symbiont Platymonas comvoluta. Biochim Biophys Acta 573:464–480

Muscatine L (1980) Productivity of zooxanthellae. In: Primary productivity in the sea, Plenum. P.G. Falkowski, New York

Muscatine L (1990) The role of symbiotic algae in carbon and energy flux in reef corals. In: Coral Reefs, Elsevier. Z. Dubinsky, Amsterdam

Muscatine L, Elizabeth Boyle J, Smith DC (1974) Symbiosis of the acoel flatworm Convoluta roscoffensis with the alga Platymonas convolutae. Proc R Soc Lond [Biol] 187:221–234

Mushegian AA, Ebert D (2015) Rethinking "mutualism" in diverse host-symbiont communities. BioEssays 38:100–108. https://doi.org/10.1002/bies.201500074

Nissen M, Shcherbakov D, Heyer A, Brummer F, Schill RO (2015) Behaviour of the plathelminth Symsagittifera roscoffensis under different light conditions and the consequences for the symbiotic algae Tetraselmis convolutae. J Exp Biol 218:1693–1698. https://doi.org/10.1242/jeb.110429

Niyogi KK, Bjorkman O, Grossman AR (1997) The roles of specific xanthophylls in photoprotection. Proc Natl Acad Sci U S A 94:14162–14167. https://doi.org/10.1073/pnas.94.25.14162

Nozawa K, Taylor DL, Provasoli L (1972) Respiration and photosynthesis in Convoluta roscoffensis Graff, infected with various symbionts. Biol Bull 143:420–430

Oren A (2005) A hundred years of Dunaliella research: 1905-2005. Saline Syst 1:1–14. https://doi.org/10.1186/1746-1448-1-2

Oschman JL (1966) Development of the symbiosis of Convoluta roscoffensis Graff and Platymonas sp. J Phycol 2:105–111

Parke M, Manton I (1967) The specific identity of the algal symbiont in Convoluta roscoffensis. J Mar Biol Ass 47:445–464

Platt T, Gallegos CL, Harrison WG (1980) Photoinhibition of photosynthesis in natural assemblages of marine phytoplankton. J Mar Res 38:103–111

Provasoli L, Yamasu T, Manton FRS (1968) Experiments on the resynthesis of symbiosis in Convoluta roscoffensis with different flagellate cultures. J Mar Biol Ass 48:465–479

Core Team R (2016) R: a language and environment for statistical computing. R Foundation for Statistical Computing, Vienna

Repeta DJ, Bjørland T (1997) Preparation of carotenoids standards. In: Phytoplankton Pigments in Oceanography, UNESCO Publishing. Jeffrey SW, Mantoura RFC, Wright SW, Paris

Reynolds CS (1984) The ecology of freshwater phytoplankton. Cambridge University Press, Cambridge

Ritchie RJ (2008) Universal chlorophyll equations for estimating chlorophylls a, b, c, and d and total chlorophylls in natural assemblages of photosynthetic organisms using acetone, methanol, or ethanol solvents. Photosynthetica 46:115–126. https://doi.org/10.1007/s11099-008-0019-7

Roy S, Llewellyn CA, Egland ES, Johnsen G (2011) Phytoplamkton pigments, characterization, chemotaxonomy, and applications in oceanography. Cambridge University Press, Cambridge

Rumpho ME, Pelletreau KN, Moustafa A, Bhattacharya D (2011) The making of a photosynthetic animal. J Exp Biol 214:303–311. https://doi.org/10.1242/jeb.046540

Selosse M-A (2000) Un exemple de symbiose algue-invertébré à Belle-Isle-en-Mer: la planaire Convoluta roscoffensis et la prasinophycée Tetraselmis convolutae. Acta Bot Gallica 147:323–331. https://doi.org/10.1080/12538078.2000.10515864

Sendova-Franks AB, Franks NR, Worley A (2018) Plant–animal worms round themselves up in circular mills on the beach. R Soc Open Sci 5:180665. https://doi.org/10.1098/rsos.180665

Serôdio J, Cruz S, Cartaxana P, Calado R (2014) Photophysiology of kleptoplasts: photosynthetic use of light by chloroplasts living in animal cells. Phil Trans R Soc B 369:20130242. https://doi.org/10.1098/rstb.2013.0242

Serôdio J, Silva R, Ezequiel J, Calado R (2011) Photobiology of the symbiotic acoel flatworm Symsagittifera roscoffensis: algal symbiont photoacclimation and host photobehaviour. J Mar Biol Ass 91:163–171. https://doi.org/10.1017/S0025315410001001

Six C, Finkel ZV, Rodríguez F et al (2008) Contrasting photoacclimation costs in ecotypes of the marine eukaryotic picoplankter Ostreococcus. Limnol Oceanogr 53:255–265. https://doi.org/10.4319/lo.2008.53.1.0255

Sørensen MES, Lowe CD, Minter EJA, et al (2019) The role of exploitation in the establishment of mutualistic microbial symbioses. FEMS Microbiol Lett 366:fnz148. https://doi.org/10.1093/femsle/fnz148

Sunda W, Kieber DJ, Kiene RP, Huntsman S (2002) An antioxidant function for DMSP and DMS in marine algae. Nature 418:317–320. https://doi.org/10.1038/nature00851

Taylor DL (1974) Nutrition of algal-invertebrate symbiosis. I Utilization of soluble organic nutrients by symbiont-free hosts Proc R Soc Lond [Biol] 186:357–368

Tipton L, Darcy JL, Hynson NA (2019) A developing symbiosis: enabling cross-talk between ecologists and microbiome scientists. Front Microbiol 10:292. https://doi.org/10.3389/fmicb.2019.00292

Turner JS, Brittain EG (1962) Oxygen as a factor in photosynthesis. Biol Rev 37:130–170

Van Bergeijk SA, Stal LJ (2001) Dimethylsulfoniopropionate and dimethylsulfide in the marine flatworm Convoluta roscoffensis and its algal symbiont. Mar Biol 138:209–216

Venn AA, Loram JE, Douglas AE (2008) Photosynthetic symbioses in animals. J Exp Bot 59:1069–1080. https://doi.org/10.1093/jxb/erm328

Wooldridge SA (2010) Is the coral-algae symbiosis really 'mutually beneficial' for the partners? Bioessays 32:615–625. https://doi.org/10.1002/bies.200900182

Worley A, Sendova-Franks AB, Franks NR (2019) Social flocculation in plant–animal worms. R Soc Open Sci 6:181626. https://doi.org/10.1098/rsos.181626

Zapata M, Garrido JL (1991) Influence of injection conditions in reversed-phase high-performance liquid chromatography of chlorophylls and carotenoids. Chromatographia 31:589–594

Zapata M, Rodríguez F, Garrido JL (2000) Separation of chlorophylls and carotenoids from marine phytoplankton; a new HPLC method using a reversed phase C8 column and pyridine containing mobile phases. Mar Ecol Prog Series 195:29–45
Acknowledgments
This work was supported by the French program Investissement d'Avenir IDEALG. We thank the Roscoff Aquarium Services, especially Sébastien Henry and Ronan Garnier for their technical help and Xavier Bailly for his advices regarding Symsagittifera roscoffensis ecology and physiology (Research Federation 2424). We thank the Roscoff Culture Collection, in particular Ian Probert, for the isolation and maintenance and the Tetraselmis convoluta culture. We also thank Alexandra Michiels for help with R coding, and Francisco Rodriguez and José Luis Garrido for the interesting discussions on the HPLC results. Finally, we are grateful to the anonymous reviewer whose suggestions greatly improved the manuscript.
Ethics declarations
Conflict of interest
Authors declare no conflict of interest.
Additional information
Publisher's note
Springer Nature remains neutral with regard to jurisdictional claims in published maps and institutional affiliations.
Electronic supplementary material
About this article
Cite this article
Androuin, T., Six, C., Bordeyne, F. et al. Better off alone? New insights in the symbiotic relationship between the flatworm Symsagittifera roscoffensis and the microalgae Tetraselmis convolutae. Symbiosis (2020). https://doi.org/10.1007/s13199-020-00691-y
Received:

Accepted:

Published:
Keywords
Symbiosis

Animal-plant

Photobiology

Symsagittifera roscoffensis
Tetraselmis convolutae