Abstract
Fungal endophytic communities and metabolite profiles in the aerial and underground parts of plants differ exerting complex influences on each other through mechanisms that largely remain unknown. Ephedra sinica is a model for studying the interactions between endophytic fungi in different plant tissues that exhibit contrasting pharmacological activities. In this study, the endophytic fungal community and metabolites in the stems (Ea) and roots (Eb) of E. sinica were systematically investigated using metagenomic and metabolomic approaches, and their relationships were further analyzed. Results showed that OTU48 and OTU30589 were endophytic fungi shared by Ea and Eb, respectively. The genera of Phyllosticta fungi were specifically and abundantly present in Ea, whereas Talaromyces, Aporospora, and Aspergillus fungi were specific and abundant in Eb. A total of 17 significant differential metabolites were observed between Ea and Eb. Ephedrine and methylephedrine were mainly present in Ea, whereas ephedrannin A and mahuannin A were present in Eb. Nine endophytic fungi significantly (P < 0.05 or 0.01) correlated with several differential metabolites. The results of this study further substantiate the differential formation of secondary metabolites in specific plant tissues.
This is a preview of subscription content, log in to check access.
Access options
Buy single article
Instant access to the full article PDF.
US$ 39.95
Price includes VAT for USA
Subscribe to journal
Immediate online access to all issues from 2019. Subscription will auto renew annually.
US$ 99
This is the net price. Taxes to be calculated in checkout.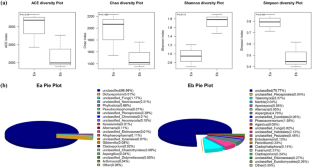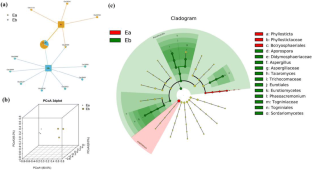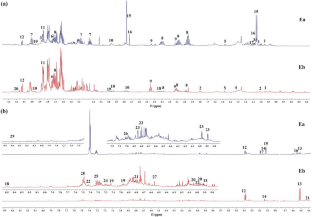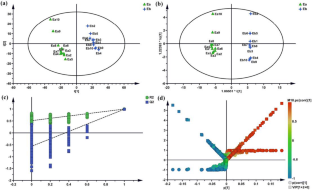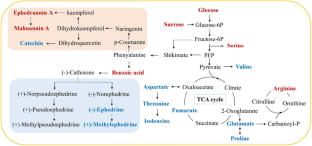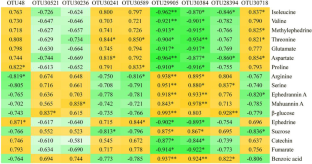 References
Abourashed EA, El-Alfy AT, Khan IA, Walker L (2003) Ephedra in perspective-a current review. Phytother Res 17:703–712. https://doi.org/10.1002/ptr.1337

Afzal I, Shinwari ZK, Sikandar S, Shahzad S (2019) Plant beneficial endophytic bacteria: mechanisms, diversity, host range and genetic determinants. Microbiol Res 221:36–49. https://doi.org/10.1016/j.micres.2019.02.001

Ambrose KV, Koppenhöfer AM, Belanger FC (2014) Horizontal gene transfer of a bacterial insect toxin gene into the Epichloë fungal symbionts of grasses. Sci Rep 4:5562. https://doi.org/10.1038/srep05562

Ball OJ, Prestidge RA, Sprosen JM (1995) Interrelationships between Acremonium lolii, peramine, and lolitrem B in perennial ryegrass. Appl Environ Microbiol 61:1527–1533

Blackwell M (2011) The fungi: 1, 2, 3 ... 5.1 million species? Am J Bot 98, 426:–438. https://doi.org/10.3732/ajb.1000298

Committee for the Pharmacopoeia of PR China (2015) Pharmacopoeia of the People's republic of China. Chinese Medical Science and Technology Press, Beijing, Vol 1:346–347

Cook D, Gardner DR, Pfister JA (2014) Swainsonine-containing plants and their relationship to endophytic fungi. J Agric Food Chem 62:7326–7334. https://doi.org/10.1021/jf501674r

Cui JL, Vijayakumar V, Zhang G (2018a) Partitioning of fungal endophyte assemblages in root-parasitic plant Cynomorium songaricum and its host Nitraria tangutorum. Front Microbiol 9:666. https://doi.org/10.3389/fmicb.2018.00666

Cui JL, Zhang YY, Vijayakumar V, Zhang G, Wang ML, Wang JH (2018b) Secondary metabolite accumulation associates with ecological succession of endophytic fungi in Cynomorium songaricum Rupr. J Agric Food Chem 66:5499–5509. https://doi.org/10.1021/acs.jafc.8b01737

Edgar RC, Haas BJ, Clemente JC, Quince C, Knight R (2011) UCHIME improves sensitivity and speed of chimera detection. Bioinformatics 27:2194–2200. https://doi.org/10.1093/bioinformatics/btr381

Hikino H, Ogata M, Konno C (1983) Structure of feruloylhistamine, a hypotensive principle of Ephedra roots. Planta Med 48:108–110. https://doi.org/10.1055/s-2007-969900

Hikino H, Shimoyama N, Kasahara Y, Takahashi M, Konno C (1982) Structures of mahuannin a and B, hypotensive principles of Ephedra roots. Heterocycles 19:1381–1384

Hong YS, Martinez A, Liger-Belair G, Jeandet P, Nuzillard JM, Cilindre C (2012) Metabolomics reveals simultaneous influences of plant defence system and fungal growth in Botrytis cinerea-infected Vitis vinifera cv. Chardonnay berries J Exp Bot 63:5773–5785. https://doi.org/10.1093/jxb/ers228

Jia M, Chen L, Xin HL, Zheng CJ, Rahman K, Han T, Qin LP (2016) A friendly relationship between endophytic fungi and medicinal plants: a systematic review. Front Microbiol 7:906. https://doi.org/10.3389/fmicb.2016.00906

Kaul S, Sharma T, Dhar MK (2016) "Omics" tools for better understanding the plant-endophyte interactions. Front Plant Sci 7:955. https://doi.org/10.3389/fpls.2016.00955

Kim HK, Choi YH, Erkelens C, Lefeber AWM, Verpoorte R (2005) Metabolic fingerprinting of Ephedra species using 1H-NMR spectroscopy and principal component analysis. Chem Pharm Bull 53:105–109. https://doi.org/10.1248/cpb.53.105

Kim HK, Choi YH, Verpoorte R (2010) NMR-based metabolomic analysis of plants. Nat Protoc 5:536–549. https://doi.org/10.1038/nprot.2009.237

Krizevski R, Bar E, Shalit O, Sitrit Y, Ben-Shabat S, Lewinsohn E (2010) Composition and stereochemistry of ephedrine alkaloids accumulation in Ephedra sinica Stapf. Phytochemistry 71:895–903. https://doi.org/10.1016/j.phytochem.2010.03.019

Li J, Zhang ZZ, Lei ZH, Qin XM, Li ZY (2018) NMR based metabolomic comparison of the antitussive and expectorant effect of Farfarae Flos collected at different stages. J Pharm Biomed Anal 150:377–385. https://doi.org/10.1016/j.jpba.2017.12.028

Ludwig-Müller J (2015) Plants and endophytes: equal partners in secondary metabolite production? Biotechnol Lett 37:1325–1334. https://doi.org/10.1007/s10529-015-1814-4

Ludwig-Müller J (2019) Interplay between endophyte and host plant in the synthesis and modification of metabolites. CABI Wallingford, UK

Macías-Rubalcava ML, Sánchez-Fernández RE, Roque-Flores G, Lappe-Oliveras P, Medina-Romero YM (2018) Volatile organic compounds from Hypoxylon anthochroum endophytic strains as postharvest mycofumigation alternative for cherry tomatoes. Food Microbiol 76:363–373. https://doi.org/10.1016/j.fm.2018.06.014

Nelson J, Shaw AJ (2019) Exploring the natural microbiome of the model liverwort: fungal endophyte diversity in Marchantia polymorpha L. Symbiosis 78:45–59. https://doi.org/10.1007/s13199-019-00597-4

Pandey SS, Singh S, Babu CS, Shanker K, Srivastava NK, Shukla AK, Kalra A (2016) Fungal endophytes of Catharanthus roseus enhance vindoline content by modulating structural and regulatory genes related to terpenoid indole alkaloid biosynthesis. Sci Rep 6:26583. https://doi.org/10.1038/srep26583

Pawar RS, Grundel E (2017) Overview of regulation of dietary supplements in the USA and issues of adulteration with phenethylamines (PEAs). Drug Test Anal 9:500–517. https://doi.org/10.1002/dta.1980

Qin D, Wang L, Han M, Wang J, Song H, Yan X, Duan X, Dong J (2018) Effects of an endophytic fungus Umbelopsis dimorpha on the secondary metabolites of host-plant Kadsura angustifolia. Front Microbiol 9:2845. https://doi.org/10.3389/fmicb.2018.02845

Rai M, Agarkar G (2016) Plant-fungal interactions: what triggers the fungi to switch among lifestyles? Crit Rev Microbiol 42:428–438. https://doi.org/10.3109/1040841X.2014.958052

Rodriguez RJ, White JF Jr, Arnold AE, Redmanet RS (2009) Fungal endophytes: diversity and functional roles. New Phytol 182:314–330. https://doi.org/10.1111/j.1469-8137.2009.02773.x

Rojas EC, Sapkota R, Jensen B, Jørgensen HJL, Henriksson T, Jørgensen LN, Nicolaisen M, Collinge DB (2019) Fusarium head blight modifies fungal endophytic communities during infection of wheat spikes. Microb Ecol 79:397–408. https://doi.org/10.1007/s00248-019-01426-3

Saikkonen K, Wäli P, Helander M, Faeth SH (2004) Evolution of endophyte-plant symbioses. Trends Plant Sci 9:275–280. https://doi.org/10.1016/j.tplants.2004.04.005

Saikkonen K, Gundel PE, Helander M (2013) Chemical ecology mediated by fungal endophytes in grasses. J Chem Ecol 39:962–968. https://doi.org/10.1007/s10886-013-0310-3

Spies CFJ, Moyo P, Halleen F, Mostert L (2018) Phaeoacremonium species diversity on woody hosts in the Western Cape Province of South Africa. Persoonia 40:26–62. https://doi.org/10.3767/persoonia.2018.40.02

Tao HM, Wang LS, Cui ZC, Zhao DQ, Liu YH (2008) Dimeric proanthocyanidins from the roots of Ephedra sinica. Planta Med 74:1823–1825. https://doi.org/10.1055/s-0028-1088321

Tian Y, Amand S, Buisson D, Kunz C, Hachette F, Dupont J, Nay B, Prado S (2014) The fungal leaf endophyte Paraconiothyrium variabile specifically metabolizes the host-plant metabolome for its own benefit. Phytochemistry 108:95–101. https://doi.org/10.1016/j.phytochem.2014.09.021

Trujillo ME, Bacigalupe R, Pujic P, Igarashi Y, Benito P, Riesco R, Médigue C, Normand P (2014) Genome features of the endophytic actinobacterium Micromonospora lupini strain Lupac 08: on the process of adaptation to an endophytic life style? PLoS One 9:e108522. https://doi.org/10.1371/journal.pone.0108522

Yaish MW, Al-Lawati A, Jana GA, Vishwas PH, Glick BR (2016) Impact of soil salinity on the structure of the bacterial endophytic community identified from the roots of caliph medic (Medicago truncatula). PLoS One 11:e0159007. https://doi.org/10.1371/journal.pone.0159007

Zhai X, Jia M, Chen L, Zheng CJ, Rahman K, Han T, Qin LP (2017) The regulatory mechanism of fungal elicitor-induced secondary metabolite biosynthesis in medical plants. Crit Rev Microbiol 43:238–261. https://doi.org/10.1080/1040841X.2016.1201041

Zhang BM, Wang ZB, Xin P, Wang QH, Bu H, Kuang HX (2018) Phytochemistry and pharmacology of genus Ephedra. Chin J Nat Med 16:811–828. https://doi.org/10.1016/S1875-5364(18)30123-7
Acknowledgements
This work was supported by the National Natural Science Foundation of China (grant numbers 31670328, 31270383). We express great thanks to the Scientific Instrument Center of Shanxi University of China for technical support. We also acknowledge Dr. Vinod Vijayakumar former Senior Researcher at The Ohio State University for manuscript editing and polishing the language.
Additional information
Publisher's note
Springer Nature remains neutral with regard to jurisdictional claims in published maps and institutional affiliations.
Electronic supplementary material
About this article
Cite this article
Zhang, Q., Xue, X., Miao, S. et al. Differential relationship of fungal endophytic communities and metabolic profiling in the stems and roots of Ephedra sinica based on metagenomics and metabolomics. Symbiosis (2020). https://doi.org/10.1007/s13199-020-00685-w
Received:

Accepted:

Published:
Keywords
Food additives

Endophytic fungi

Ephedra sinica

Endomycobiomes

Plant-microbe interaction

Metabolomics