Abstract
Arbuscular mycorrhizal (AM) fungi influence the plant establishment after disturbances, however, there were no reports on the succession of soil AM fungal communities after earthquakes. This study was carried out to monitor the changes of AM fungal species composition during plant succession after earthquakes. After a major earthquake, the 'Chi-Chi' event of 1999, a total of 4238 AM fungal spores belonging to 13 species were recorded. Higher AM fungal spore density was found in the crest area of the affected mountainside and the AM fungal community was significantly different between the crest and valley area. Scutellospora nigra, Acaulospora scrobiculata and Acaulospora tuberculata were dominant in the early succession stage. Glomus ambisporum, Glomus deserticola and Acaulospora mellea were more abundant in the late successional stage. These results demonstrated the dynamics of AM fungal community during succession and vegetation recovery.
This is a preview of subscription content, log in to check access.
Access options
Buy single article
Instant access to the full article PDF.
US$ 39.95
Price includes VAT for USA
Subscribe to journal
Immediate online access to all issues from 2019. Subscription will auto renew annually.
US$ 99
This is the net price. Taxes to be calculated in checkout.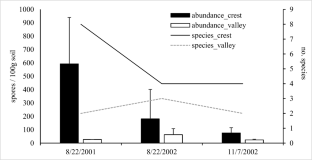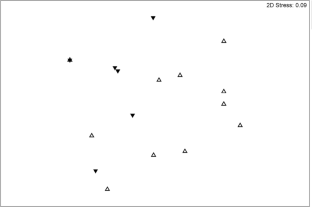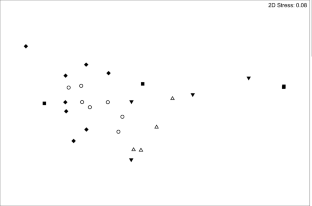 References
Allen EB, Chambers JC, Connor KF, Allen MF, Brown RW (1987) Natural reestablishment of mycorrhizae in disturbed alpine ecosystems. Arct Alp Res 19:11–20.

Allen MF, Crisafulli C, Friese CF, Jeakins SL (1992) Re-formation of mycorrhizal symbioses on mount St Helens, 1980–1990: interactions of rodents and mycorrhizal fungi. Mycol Res 96:447–453.

Asmelash F, Bekele T, Birhane E (2016) The potential role of arbuscular mycorrhizal fungi in the restoration of degraded lands. Front Microbiol 7:1095.

Attiwill PM (1994) The disturbance of forest ecosystems: the ecological basis for conservative management. For Ecol Manag 63:247–300.

Bellgard SE, Whelan RJ, Muston RM (1994) The impact of wildfire on vesicular-arbuscular mycorrhizal fungi and their potential to influence the re-establishment of post-fire plant communities. Mycorrhiza 4:139–146.

Chagnon PL, Bradley RL, Maherali H, Klironomos JN (2013) A trait-based framework to understand life history of mycorrhizal fungi. Trends Plant Sci 18:484–491

Chen T-S (2005) Change detection for vegetation from landslides of the 921 earthquake at Mt. Jiujiufong with the NDVI analysis Journal of Endemic Species Research 7:63–75 (in Chinese)

Clarke KR, Warwick RM (2001) Change in marine communities: an approach to statistical analysis and interpretation, 2nd ed. Plymouth, U.K.: PRIMER-E Ltd

Dickie IA, Martínez-García LB, Koele N, Grelet GA, Tylianakis JM, Peltzer DA, Richardson SJ (2013) Mycorrhizas and mycorrhizal fungal communities throughout ecosystem development. Plant Soil 367:11–39.

García de León D, Moora M, Öpik M, Neuenkamp L, Gerz M, Jairus T, Vasar M, Bueno CG, Davison J, Zobel M (2016) Symbiont dynamics during ecosystem succession: co-occurring plant and arbuscular mycorrhizal fungal communities. FEMS Microbiol Ecol 92:fiw097.

Gehring CA, Mueller RC, Whitham TG (2006) Environmental and genetic effects on the formation of ectomycorrhizal and arbuscular mycorrhizal associations in cottonwoods. Oecologia 149:158–164.

Gerdemann JW, Nicolson TH (1963) Spores of mycorrhizal Endogone species extracted from soil by wet sieving and decanting. Trans Br Mycol Soc 46:235–244.

Goomaral A, Undarmaa J, Matsumoto T, Yamato M (2013) Effect of plant species on communities of arbuscular mycorrhizal fungi in the Mongolian steppe. Mycoscience 54:362–367.

Grime JP, Mackey JML, Hillier SH, Read DJ (1987) Floristic diversity in a model system using experimental microcosms. Nature 328:420–422.

Helm DJ, Allen EB, Trappe JM (1996) Mycorrhizal chronosequence near Exit Glacier, Alaska. Can J Bot 74:1496–1506

Huang (2002) Monitoring and assessing the changes of vegetation cover at Jiujiufong nature reserve. Q J For Res 24:35–48

INVAM (2003) International culture collection of vesicular and arbuscular mycorrhizal fungi. Species description. Morgantown, West Virginia Agriculture and Forestry Experimental Station. Home page. http://invam.caf.wvu.edu. Accessed 31 Dec 2003

Jenkins WR (1964) A rapid centrifugal-flotation technique for separating nematodes from soil. Plant Dis Rep 692

Karandashov V, Nagy R, Wegmüller S, Amrhein N, Bucher M (2004) Evolutionary conservation of a phosphate transporter in the arbuscular mycorrhizal symbiosis. Proc Natl Acad Sci U S A 101:6285–6290.

Kauppinen M, Raveala K, Wäli PR, Ruotsalainen AL (2014) Contrasting preferences of arbuscular mycorrhizal and dark septate fungi colonizing boreal and subarctic Avenella flexuosa. Mycorrhiza 24:171–177.

Kikvidze Z, Armas C, Fukuda K, Martínez-García LB, Miyata M, Oda-Tanaka A, Pugnaire FI, Wu B (2010) The role of arbuscular mycorrhizae in primary succession: differences and similarities across habitats. Web Ecol 10:50–57.

Klironomos JN, McCune J, Hart M, Neville J (2000) The influence of arbuscular mycorrhizae on the relationship between plant diversity and productivity. Ecol Lett 3:137–141.

Koide RT, Mosse B (2004) A history of research on arbuscular mycorrhiza. Mycorrhiza 14:145–163.

Koziol L, Bever JD (2016) The missing link in grassland restoration: arbuscular mycorrhizal fungi inoculation increases plant diversity and accelerates succession. J Appl Ecol n/a-n/a 54:1301–1309.

Krüger C, Kohout P, Janoušková M, Püschel D, Frouz J, Rydlová J (2017) Plant communities rather than soil properties structure arbuscular mycorrhizal fungal communities along primary succession on a mine spoil. Front Microbiol 8.

Lin TC, Wu CG (2007) Vesicular-arbuscular mycorrhizal fungi (VAMF) symbiotic with pioneer plants at Mt. Jiujiufong after the 921 earthquakes. Journal of Endemic Species Research 9:51–62 (in Chinese)

Lin W-T, Chou W-C, Lin C-Y, Huang P-H, Tsai J-S (2005) Vegetation recovery monitoring and assessment at landslides caused by earthquake in Central Taiwan. For Ecol Manag 210:55–66.

Lin G, McCormack ML, Guo D (2015) Arbuscular mycorrhizal fungal effects on plant competition and community structure. J Ecol 103:1224–1232.

Lovelock CE, Andersen K, Morton JB (2003) Arbuscular mycorrhizal communities in tropical forests are affected by host tree species and environment. Oecologia 135:268–279.

Miransari M (2010) Contribution of arbuscular mycorrhizal symbiosis to plant growth under different types of soil stress. Plant Biol 12:563–569.

Morton JB (1988) Taxonomy of VA mycorrhizal fungi: classification, nomenclature and identification. Mycotaxon 32:267–324

Neuenkamp L, Prober SM, Price JN, Zobel M, Standish RJ (2018) Benefits of mycorrhizal inoculation to ecological restoration depend on plant functional type, restoration context and time. Fungal Ecology (Accepted/In press):1–10.

Oba H, Shinozaki N, Oyaizu H, Tawaraya K, Wagatsuma T, Barraquio WL, Saito M (2004) Arbuscular mycorrhizal fungal communities associated with some pioneer plants in the lahar area of Mt. Pinatubo, Philippines. Soil Sci Plant Nutr 50:1195–1203.

Oehl F, Alves a Silva G, Goto BT, Costa Maia L, Sieverding E (2011a) Glomeromycota: two new classes and a new order. Mycotaxon 116:365–379.

Oehl F, Sieverding E, Palenzuela J, Ineichen K (2011b) Advances in Glomeromycota taxonomy and classification. IMA Fungus Glob Mycol J 2:191–199.

Plett JM, Martin F (2011) Blurred boundaries: lifestyle lessons from ectomycorrhizal fungal genomes. Trends Genet 27:14–22.

Read DJ (1993) Mycorrhiza in plant communities. Adv Plant Pathol 9:1–31

Rillig MC, Wright SF, Eviner VT (2002) The role of arbuscular mycorrhizal fungi and glomalin in soil aggregation: comparing effects of five plant species. Plant Soil 238:325–333

Rillig MC, Mardatin NF, Leifheit EF, Antunes PM (2010) Mycelium of arbuscular mycorrhizal fungi increases soil water repellency and is sufficient to maintain water-stable soil aggregates. Soil Biol Biochem 42:1189–1191.

Schenck NC, Pérez Y (1990) Manual for the identification of VA mycorrhizal fungi. Synergistic Publications, Gainesville, FL

Schüßler A, Walker C (2010) The Glomeromycota. A species list with new families and new genera. In: CreateSpace independent publishing platform. Gloucester, England

Sikes BA, Maherali H, Klironomos JN (2012) Arbuscular mycorrhizal fungal communities change among three stages of primary sand dune succession but do not alter plant growth. Oikos 121:1791–1800.

Smith SE, Read DJ (2010) Mycorrhizal Symbiosis. Academic Press

Toju H, Yamamoto S, Sato H, Tanabe AS (2013) Sharing of diverse mycorrhizal and root-endophytic fungi among plant species in an oak-dominated cool–temperate forest. PLoS One 8:e78248.

Turrini A, Sbrana C, Avio L, Njeru EM, Bocci G, Bàrberi P, Giovannetti M (2016) Changes in the composition of native root arbuscular mycorrhizal fungal communities during a short-term cover crop-maize succession. Biol Fertil Soils 52:643–653.

Vogelsang KM, Reynolds HL, Bever JD (2006) Mycorrhizal fungal identity and richness determine the diversity and productivity of a tallgrass prairie system. New Phytol 172:554–562.

Wang Y, Huang J, Gao Y (2012) Arbuscular mycorrhizal colonization alters subcellular distribution and chemical forms of cadmium in Medicago sativa L. and resists cadmium toxicity. PLoS One 7:e48669.

Warner NJ, Allen MF, MacMahon JA (1987) Dispersal agents of vesicular-arbuscular mycorrhizal fungi in a disturbed arid ecosystem. Mycologia 79:721–730.

Wu B, Hogetsu T, Isobe K, Ishii R (2007) Community structure of arbuscular mycorrhizal fungi in a primary successional volcanic desert on the southeast slope of Mount Fuji. Mycorrhiza 17:495–506.

Yang G, Liu N, Lu W, Wang S, Kan H, Zhang Y, Xu L, Chen Y (2014) The interaction between arbuscular mycorrhizal fungi and soil phosphorus availability influences plant community productivity and ecosystem stability. J Ecol 102:1072–1082.

Zangaro W, Rostirola LV, de Souza PB, de Almeida Alves R, Lescano LEAM, Rondina ABL, Nogueira MA, Carrenho R (2013) Root colonization and spore abundance of arbuscular mycorrhizal fungi in distinct successional stages from an Atlantic rainforest biome in southern Brazil. Mycorrhiza 23:221–233.

Zhang H, Liu Z, Chen H, Tang M (2016) Symbiosis of arbuscular mycorrhizal fungi and Robinia pseudoacacia L. improves root tensile strength and soil aggregate stability. PLoS One 11:e0153378.
Acknowledgments
Financial support was provided by the Council of Agriculture, Executive Yuan, R. O. C. (Taiwan). We thank Dr. Chi-Guang Wu for assistance with identification of AM fungal spores. For assistance with field work, we thank Mr. E. L. Cheu and Ms. C. H. Wu.
About this article
Cite this article
Lin, T., Wang, P. & Lin, W. Changes of mycorrhizal fungal community occurring during the natural restoration after the chi-chi earthquake in Taiwan. Symbiosis 77, 177–184 (2019). https://doi.org/10.1007/s13199-018-0582-z
Received:

Accepted:

Published:

Issue Date:
Keywords
Earthquakes

Arbuscular mycorrhizal fungi

Pioneer species

Ectomycorrhizal fungi

In situ field study