Abstract
Tannase is a widely used enzyme that improves the quality of tea by facilitating the release of water-soluble polyphenolic compounds, as well as reduces the formation of tea creams. The microbial tannase enzymes are often employed for tea biotransformation by hydrolyses esters of phenolic acids, including the gallated polyphenols found in blacks teas. The study was focused to investigate the tannase enzyme mediated biotransformation of black tea such as CTC-(Crush, tear, curl) & Kangra orthodox which are commonly used by the south Indian peoples. HPLC spectral analysis revealed that tannase treatment on tea cream formation (CTC & Kangra orthodox tea) allows the hydrolysis of the EGC, GA, ECG, and EGCG. A significant reduction in the formation of tea cream and increased antioxidant activity has been observed in the CTC (1.62 fold) and Kangra orthodox (1.55 fold). The results revealed that tannase treatment helps to improve the quality of black tea infusions with respect to cream formation, the intensity of colour, and sensory characteristics of tea. The result of this study indicates that E. cloacae 41 produced tannase can be used to improve the quality of both tea samples.
Access options
Buy single article
Instant access to the full article PDF.
US$ 39.95
Tax calculation will be finalised during checkout.
Subscribe to journal
Immediate online access to all issues from 2019. Subscription will auto renew annually.
US$ 79
Tax calculation will be finalised during checkout.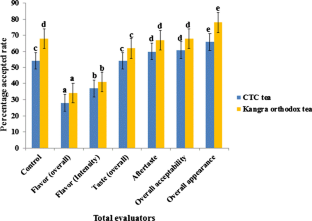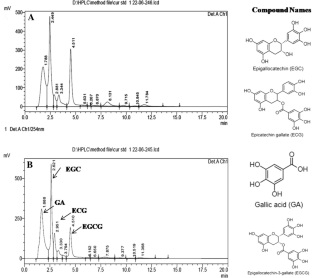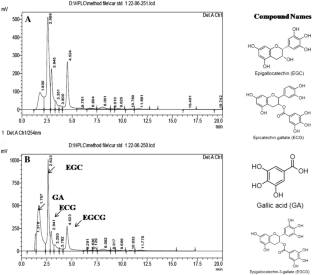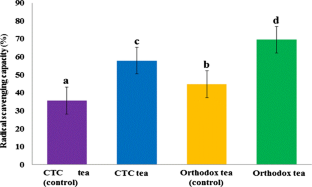 References
Athar M, Back JH, Tang X, Kim KH, Kopelovich L, Bickers DR, Kim AL (2007) Resveratrol: a review of preclinical studies for human cancer prevention. Toxicol appl pharmacol 224(3):274–283

Balentine DA, Wiseman SA, Bouwens LC (1997) The chemistry of tea flavonoids. Cri Rev Food Sci Nut 37(8):693–704

Battestin V, Macedo GA, Freitas VAP (2008) Hydrolyis of epigallocatechin gallate using a tanase from Paecilomyces variotii. Food Chem 108:228–233

Bayram M, Kaya C (2018) Effects of different tea concentrations and extraction durations on caffeine and phenolics of tea liqueurs. Food Measure 12:285–291

Beniwal V, Kumar A, Goel G, Chhokar V (2013) A novel low molecular weight acido thermophilic tannase from Enterobacter cloacae MTCC 9125. Biocatal Agric Biotechnol 2:132–137

Boadi D, Neufeld R (2001) Encapsulation of tannase for the hydrolysis of tea tannins. Enzyme and Microbial Technol 28(8):590–595

Chaiwut P, Chomnunti P, Thaochan N, Saikeur A, Pintathong P (2019) Effect of solid state fermentation with Trichoderma sp. on phenolic content and antioxidant capacities of mature assam tea leaves. J Food Sci Agric Technol 5:106–113

Chandini SK, Rao LJ, Gowthaman M, Haware D, Subramanian R (2011) Enzymatic treatment to improve the quality of black tea extracts. Food Chem 127(3):1039–1045

Conde VR, Alves MG, Oliveira PF, Silva BM (2015) Tea (Camellia sinensis (L.): A Putative anticancer agent in bladder carcinoma. Anti-Cancer Agents Med Chem 15:26–36

Fang X, Du M, Liu T, Fang Q, Liao Z, Zhong Q, Chen J, Meng X, Zhou S, Wang J (2019) Changes in the Biotransformation of Green Tea Catechins Induced by Different Carbon and Nitrogen Sources in Aspergillus niger RAF106. Front Microbiol 10:2521

Forester SC, Lambert JD (2011) Antioxidant effects of green tea. Mol Nutr Food Res 55(6):844–854

Garcıa-Conesa MT, Stergaard P, Kauppinen S, Williamson G (2001) Hydrolysis of diethyl diferulates by a tannase from Aspergillus oryzae. Carbohyd Poly 44(4):319–324

Govindarajan RK, Mathivanan K, Rameshkumar N, Shyu DJH, Krishnan M, Kayalvizhi N (2019) Purification, structural characterization and biotechnological potential of tannase enzyme produced by Enterobacter cloacae strain 41. Process Biochem 77:37–47

Govindarajan RK, Revathi S, Rameshkumar N, Krishnan M, Kayalvizhi N (2016) Microbial tannase: Current perspectives and biotechnological advances. Biocata Agric Biotechnol 6:168–175

Ivanisova E, Menhartova K, Terentjeva M, Harangozo L, Kantor A, Kacaniova M (2020) The evaluation of chemical, antioxidant, antimicrobial and sensory properties of kombucha tea beverage. J Food Sci Technol 57(5):1840–1846

Kanpiengjai A, Khanongnuch C, Lumyong S, Haltrich D, Nguyen TH, Kittibunchakul S (2020) Co-production of gallic acid and a novel cell-associated tannase by a pigment-producing yeast, Sporidiobolus ruineniae A45.2. Microb Cell Fact 19:95

Kanpiengjai A, Unban K, Nguyen TH, Haltrich D, Khanongnuch C (2019) Expression and biochemical characterization of a new alkaline tannase from Lactobacillus pentosus. Protein Expres Protein Purif 157:36–41

Li J, Xiao Q, Huang Y, Ni H, Wu C, Xiao A (2017) Tannase application in secondary enzymatic processing of inferior Tieguanyin oolong tea. Elect J Biotechnol 28:87–94

Liu TPSL, Brandao Costa RMP, de Vasconcelos Freitas DJ, Oliveira Nacimento C, de Souza Motta CM, Bezerra RP, Herculano PN, Porto ALF (2017) Tannase from Aspergillus melleus improves the antioxidant activity of green tea: purification and biochemical characterization. Int J Food Sci Technol 52(3):652–661

Lu MJ, Chen C (2008) Enzymatic modification by tannase increases the antioxidant activity of green tea. Food Res Int 41(2):130–137

Lu MJ, Chu SC, Yan L, Chen C (2009) Effect of tannase treatment on protein—tannin aggregation and sensory attributes of green tea infusion. LWT Food Sci Technol 42:338–342

Macedo J, Ferreira L, Camara L, Santos J, Gambero A, Macedo G, Ribeiro ML (2012) Chemopreventive potential of the tannase-mediated biotransformation of green tea. Food Chem 133(2):358–365

Macedo JA, Battestin V, Ribeiro M, Macedo GA (2011) Increasing the antioxidant power of tea extracts by biotransformation of polyphenols. Food Chem 126(2):491–497

Mahmoud AE, Fathy SA, Rashad MM, Ezz MK, Mohammed AT (2018) Purification and characterization of a novel tannase produced by Kluyveromyces marxianus using olive pomace as solid support, and its promising role in gallic acid production. Int J Biol Macromol 107:2342–2350

Naidu Y, Meon S, Kadir J, Siddiqui Y (2010) Microbial starter for the enhancement of biological activity of compost tea. Int J Agric Biol 12(1):51–56

Neffe-Skocinska K, Sionek B, Scibiszi I, Kolozyn-Krajewska D (2017) Acid contents and the effect of fermentation condition of kombucha tea beverage on physicochemical, microbiological and sensory properties. CYTA J Food 15:601–607

Ong CB, Mohamad Annuar SM (2017) Polyphenolic composition and in vitro antioxidant activities of native-and tannase-treated green tea extracts. Int J Food Sci Technol 52(3):748–756

Perva-Uzunalic A, Skerget M, Knez Z, Weinreich B, Otto F, Gruner S (2006) Extraction of active ingredients from green tea (Camellia sinensis): extraction efficiency of major catechins and caffeine. Food Chem 96(4):597–605

Pure AE, Pure ME (2016) Antioxidant and antibacterial activity of kombucha beverages prepared using banana peel, common nettles and black tea infusions. Appl Food Biotechnol 3:125–130

Raghuwanshi S, Dutt K, Gupta P, Misra S, Saxena RK (2011) Bacillus sphaericus: the highest bacterial tannase producer with potential for gallic acid synthesis. J Biosci Bioeng 111(6):635–640

Roy S, Parvin R, Ghosh S, Bhattacharya S, Maity S, Banerjee D (2018) Occurrence of a novel tannase (tan BLP) in endophytic Streptomyces sp. AL1L from the leaf of Ailanthus excelsa Roxb. 3. Biotech 8:33

Shao Y, Zhang YH, Zhang F, Yang QM, Weng HF, Xiao Q, Xiao AF (2020) Thermostable Tannase from Aspergillus niger and its application in the enzymatic extraction of green tea. Molecules 25:952

Sherief A, El-Tanash A, Nour A (2011) Optimization of tannase biosynthesis from two local Aspergilli using commercial green tea as solid substrate. Biotechnol 10(1):78–85

Turkmen N, Sari F, Velioglu YS (2006) Effects of extraction solvents on concentration and antioxidant activity of black and black mate tea polyphenols determined by ferrous tartrate and Folin-Ciocalteu methods. Food Chem 99(4):835–841

Unban K, Kodchasee P, Shetty K, Khanongnuch C (2020) Tannin-tolerant and extracellular Tannase producing bacillus isolated from traditional fermented tea leaves and their probiotic functional properties. Foods 9:490

Xu XY, Meng JM, Mao QQ, Shang A, Li BY, Zhao CN, Tang GY, Cao SY, Wei XL, Gan RY, Corke H, Li HB (2019) Effects of Tannase and ultrasound treatment on the bioactive compounds and antioxidant activity of green tea extract. Antioxidants 8:362

Yang CS, Wang H, Li GX, Yang Z, Guan F, Jin H (2011) Cancer prevention by tea: evidence from laboratory studies. Pharmacol Res 64(2):113–122
Acknowledgement
The authors would like to thank Division of Biotechnology, School of Agro-Industry, Faculty of Agro-Industry, Chiang Mai University, for their facilities. We also acknowledge to Science and Technology Park, Chiang Mai University, Thailand.
Funding
No funds, grants, or other support was received.
Ethics declarations
Conflict of interest
The authors declare that they have no known competing financial interests or personal relationships that could have appeared to influence the work reported in this paper.
Ethics approval
Author does not use any ethics approval.
Consent to participate
All authors of the manuscript have consented to submission.
Consent for publication
The author has consented to the submission of the research report to the journal.
Availability of data and material
The data that support the findings of this study are available from the corresponding author upon reasonable request.
Additional information
Publisher's Note
Springer Nature remains neutral with regard to jurisdictional claims in published maps and institutional affiliations.
About this article
Cite this article
Govindarajan, R.K., Khanongnuch, C., Mathivanan, K. et al. In-vitro biotransformation of tea using tannase produced by Enterobacter cloacae 41. J Food Sci Technol (2021). https://doi.org/10.1007/s13197-021-05018-3
Revised:

Accepted:

Published:
Keywords
Enterobacter cloacae 41

Tannase enzyme

CTC

Kangara orthodox

HPLC

DPPH