Abstract
In the search for domestic natural additives favored by consumers for food flavor and antioxidant enhancement, this work aimed to estimate the influence of the substitution of sucrose by date syrup treated with gamma rays on the physico-chemical properties, antioxidant capacity and organoleptic quality of yogurt. Date syrup was irradiated by two different doses: 1 kGy and 2 kGy and incorporated into yogurt with different sucrose substitution percentages. The obtained results showed that gamma irradiation improved the microbiological quality of the date syrup while retaining its physicochemical quality. In fact, a significant reduction of the microbial charge was observed. The two-irradiation doses were proven not affected the total sugars, proteins, phenols or the syrup antioxidant activity. Besides, water content and color indices were found to decrease. The substitution of sucrose at the rate of 75 and 100% with date syrup irradiated by the dose of 1 kGy enhances the antioxidant activity, phenol, protein and sugar content of the prepared yogurt. Furthermore, yogurt with irradiated date syrup gave good sensory scores. The treated syrup, especially by the dose of 1 kGy, could be a promising technological path. This gamma irradiation guarantees a biological method for preserving the syrup for its use in the engineering of processes applied to the dairy industry.
Access options
Buy single article
Instant access to the full article PDF.
US$ 39.95
Tax calculation will be finalised during checkout.
Subscribe to journal
Immediate online access to all issues from 2019. Subscription will auto renew annually.
US$ 79
Tax calculation will be finalised during checkout.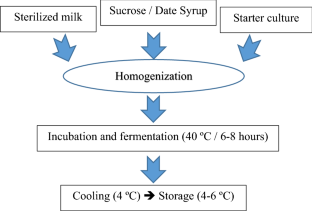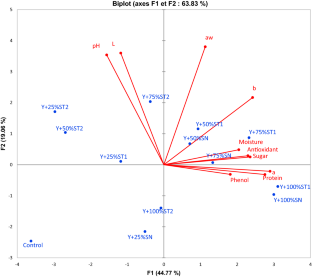 Availability of data and material
The authors confirm that the data supporting the findings of this study are available within the article and its supplementary files.
References
Abbes F, Kchaou W, Blecker C, Ongena M, Lognay G, Attia H, Besbes S (2013) Effect of processing conditions on phenolic compounds and antioxidant properties of date syrup. Ind Crops Prod 44:634–642

Abd El-Moneim MR, Afify MR, Ebtesam AM, Hossam SE (2011) Effect of Gamma Radiation on Protein Profile, Protein Fraction and Solubility's of Three Oil Seeds: Soybean, Peanut and Sesame. Not Bot HortiAgrobo 39(2):90–98

Akpinar A, Saygili D, Yerlikaya O (2020) Production of set-type yoghurt using Enterococcus faecium and Enterococcus durans strains with probiotic potential as starter adjuncts. Int J Dairy Technol 73(4):726–736

Aleid M, Bakri H, Hassan L, Salah A, Safar H, Sobhy M (2014) Microbial Loads and Physicochemical Characteristics of Fruits from Four Saudi Date Palm Tree Cultivars: Conformity with Applicable Date Standards. Food NutrSci 5:316–327

Al-Farsi M, Alasalvar C, Al-Abid M, Al-Shoaily K, Al-Amry M, Al-Rawahy F (2007) Compositional and fonctional characteristics of date syrup and their by-products. Food Chem 104:934–947

Alighourchi H, Barzegar M, Sahari MA, Abbasi S (2014) The effects of sonication and gamma irradiation on the inactivation of Escherichia coli and Saccharomyces cerevisiae in pomegranate juice. Iranian J microbial 6(1):51–58

AOAC (1990) Association of official analytical chemists. In: Helrich K (ed) Official methods of analysis, 15th edn. Arlington, VA, pp 1025–1034

Belala EH, Mohammed S, Mustafa IA, Mohammed N, Al-Dosari N (2010) Evaluation of date-feed ingredients mixes. Anim Feed SciTechnol 81:291–298

Buchanan R, Edelson S, Snipes K, Boyd G (1998) Inactivation of Escherichia coli O157: H7 in apple juice by irradiation. Appl Environ Microbiol 64:4533–4535

Campos P, Yariwake JH, Lancas FM (2005) Effect of X- and gamma-rays on phenolic compounds from Maytenus aquifoliumMartius. J RadioanalNuclChem 264:707–709

Chniti S (2015) Optimisation de la bioproduction d'éthanol par valorisation des refus de l'industrie de conditionnement des dattes. Thèse de doctorat. Université de Rennes

CIE (Commission Internationale de l'Eclairage) (1976) Recommendations on uniformcolor spaces-color difference equations, Psychometric Color Terms. CIE Publication, Paris

De N, Goodluck TM, Bobai M (2014) Microbiological quality assessment of bottled yogurt of different brands sold in Central Market, Kaduna Metropolis, Kaduna, Nigeria. Int J CurrMicrobiol App Sci 3(2):20–27

Dianxing W, Qingfu Y, Wang Z, Xia Y (2004) Effect of gamma irradiation on the nutritional components and CrylAb protein in the transgenic rice with a synthetic CrylAb gen from Bacillus thuringiensis. RadiatPhysChem 69:79–83

El-Nagga EA, Abd El–Tawab YA (2012) Compositional characteristics of date syrup extracted by different methods in some fermented dairy products. Food SciTechnol 57(1):29–56

Finola MS, Lasagno MC, Marioli JM (2007) Microbiological and chemical characterization of honeys from central Argentina. Food Chem 100:1649–1653

Foley DM, Dufour A, Rodriguez L, Caporaso F, Prakash A (2002) Reduction of Escherichia coli 0157:H7 in shredded iceberg lettuce by chlorination and gamma irradiation. RadiatPhysChem 63:391–396

Fuentes-Alventosa JM, Rodríguez-Gutiérrez G, Jaramillo-Carmona S, Spejo-Calvo JA, Rodríguez-Arcos R, Fernández- Bolaños J, Guillén-Bejarano R, Jiménez-Araujo A (2009) Effect of extraction method on chemical composition and functional characteristics of high dietary fibre powders obtained from asparagus byproducts. Food Chem 113:665–671

Granato D, Santos JS, Salem RDS, Mortazavian AM, Rocha RS, Cruz AG (2018) Effects of herbal extracts on quality traits of yogurts, cheeses, fermented milks, and ice creams: a technological perspective. CurrOpin Food Sci 19:1–7

Hall EJ, Giaccia AJ (2006) Radiobiology for the Radiologist, 6th edn. Lippincott Williams & Wilkins, Philadelphia, PA

Hussein GAM, Aumara IE (2006) Preparation and properties of probiotic frozen yoghurt made with sweet potato and pumpkin. Arab Univ J AgricSci 14:679–692

Imdadullah M, Shah Z, Ihsanullah I, Khan H, Rashid H (2010) Effect of gamma irradiation, packaging and storage on the nutrients and shelf life of Palm dates. J Food ProcPres 34:622–638

Kader A, Hussein A (2009v Harvesting and postharvest handling of dates. The International Center for Agricultural Research in the Dry Areas (ICARDA), pp 1–18

Kalaiselvan RR, Sugumar A, Radhakrishnan M (2018) Gamma irradiation usage in fruit juice extraction. In: Rajauria G, Tiwari BK (eds.), Fruit juices. Academic Press, San Diego, pp 423–435

Khattak KF, Simpson TJ, Ihasnullah X (2008) Effect of gamma irradiation on the extraction yield, total phenolic content and free radical-scavenging activity of Nigella staiva seed. Food Chem 110:967–972

Kim JH, Shin MH, Hwang YJ, Srinivasan P, Kim JK, Park HJ, Byun MW, Lee JW (2009) Role of gamma irradiation on the natural antioxidants in cumin seeds. RadiatPhysChem 78:153–157

Lee JW, Kim JK, Srinivasan P, Choi J, Kim JH, Han SB, Kim DJ, Byun MW (2009) Effect of gamma irradiation on microbial analysis, antioxidant activity, sugar content and color of ready-to-use tamarind juice during storage. LWT: Food SciTechnol 42(1):101–105

Manjaya JG, Suseelan KN, Gopalakrishna T, Pawar SE, Bapat VA (2007) Radiation induced variability of seed storage proteins in soybean [Glycine max (L.) Merrill]. Food Chem 100:1324–1327

Mitchell GE, McLauchlan RL, Isaacs RL, Williams DJ, Nottingham SM (1992) Effect of low dose gamma radiation on composition of tropical fruits and vegetables. J Food Compos Anal 5:291–311

Munir MT, Federighi M (2020) Control of foodborne biological hazards by ionizing radiations. Foods 9(878):1–23

Nakasaki K, Kwon SH, Ikeda HI (2013) Identification of microorganisms in the granules generated during methane fermentation of the syrup wastewater produced while canning fruit. Process Biochem 48(5–6):912–919

Narvaiz P, Lescano G, Kairiyama E (1992) Irradiation of almonds and cashew nuts. LWT-Food SciTechnol 25:232–235

Nasehi SM, Ansari S (2012) Removal of dark colored compounds from date syrup using activated carbon: a kinetic study. J food Eng 111(3):490–495

Raikos V, He N, Helen H, Viren R (2019) Antioxidant properties of a yogurt beverage enriched with salal (Gaultheria shallon) berries and blackcurrant (Ribesnigrum) pomace during cold storage. Beverages 5(2):1–11

Rajurkar NS, Samdani KG (2012) Effect of gamma irradiation on antioxidant activity of Amoorarohitaka. J RadioanalNuclChem 93(1):1–5

Ramadan BR (2000) Storage stability and utilization of date syrup. 1st Mansoura conference for food & dairy science and technology

Rodríguez R, Jaramillo S, Rodríguez G, Espejo JA, Guillén R, Fernández-Bolaños J, Heredia A, Jiménez A (2005) Antioxidant activity of ethanolic extracts from several asparagus cultivars. J Agric Food Chem 53:5212–5217

Rodríguez-Pérez C, Quirantes-Piné R, Contreras MM, Uberos J, Fernández-Gutiérrez A, Segura-Carretero A (2015) Assessment of the stability of proanthocyanidins and other phenolic compounds in cranberry syrup after gamma-irradiation treatment and during storage. Food Chem 174:392–399

Salama FMM (2004) The use of some natural sweeteners in ice cream manufacture. J Dairy Sci 32:355–366

Stone HH, Sidel J, Oliver S, Woolsey A, Singleton RC (1974) Sensory evaluation by quantitative descriptive analysis. Food Technol 28(11):24–31

Taylor T, Fasina O, Bell L (2008) Physical properties and consumer liking of cookies prepared by replacing sucrose with tagatose. J Food Sci 73:145–151

Torrico D, Tam J, Fuentes S, Gonzalez VC, Frank DR (2019) D-Tagatose as a sucrose substitute and its effect on the physico-chemical properties and acceptability of strawberry-flavored yogurt. Foods 8(256):1–18

Troller JA, Christian JHB (1978) Water activity and food. Academic Press, London

Wang HY, Qian H, Yao WR (2001) Melanoidins produced by the Maillard reaction structure and biological activity. Food Chem 128(3):573–584

Wu D, Shu Q, Wang Z, Xia Y (2002) Effect of gamma irradiation on starch viscosity and physico-chemical properties of different rice. RadiatPhysChem 65:79–86
Funding
The research was supported by the ministry of higher education and scientific research of Tunisia.
Ethics declarations
Conflict of interest
The authors have declared that no conflicts of interest exist.
Additional information
Publisher's Note
Springer Nature remains neutral with regard to jurisdictional claims in published maps and institutional affiliations.
Supplementary Information
Below is the link to the electronic supplementary material.
About this article
Cite this article
Hamza, H., Ben Miloud, N., Jemni, M. et al. Gamma irradiated date syrup for sucrose substitution in yogurt: effect on physicochemical properties, antioxidant capacity and sensory evaluation. J Food Sci Technol (2021). https://doi.org/10.1007/s13197-021-05000-z
Revised:

Accepted:

Published:
Keywords
Date syrup

Gamma radiation

Yogurt

Physico-chemical

Antioxidant capacity

Sensory properties