Abstract
BAMLET is a bioactive complex formed by the interaction between α-Lactoalbumin (α-LA) and oleic acid which exhibits cytotoxic activity against cancer cells. BAMLET is selectively cytotoxic to malignant cells while sparing the healthy ones. There are, however, no reports about its application in a food matrix. The objective of this work was to synthetize the BAMLET complex from oleic acid and bovine colostrum from the second and third milkings which naturally contain α-LA to prepare two functional spreadable cheeses. The complex was successfully formed and retained in the cheeses as verified through SDS-PAGE applied to the whey obtained. The spreadable cheese from the second milking had a higher protein content (13.56 ± 0.02%) and a higher yield (40%) than the product obtained from the third milking. Even though the cheeses did not show any significant differences (p > 0.05) in the inhibition of the angiotensin-converting enzyme 1, their inhibitory activities were good, as a 0.5 g portion of the cheese from the second milking was sufficient to inhibit 57.52 ± 9.17%, while the cheese from the third milking inhibited 51.48 ± 1.07% of the enzyme. The sensory analysis showed a good acceptance for both spreadable cheeses.
We're sorry, something doesn't seem to be working properly.
Please try refreshing the page. If that doesn't work, please contact support so we can address the problem.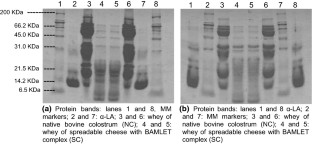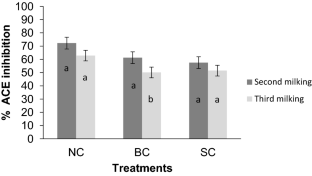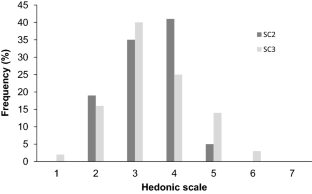 Availability of data and material
The datasets used and/or analysed during the current study are available from the corresponding author on reasonable request.
References
Abdel-Salam ZA, Abdel-Salam SAM, Abdel-Mageed II, Harith MA (2018) Evaluation of proteins in sheep colostrum via laser-induced breakdown spectroscopy and multivariate analysis. J Adv Res 15:19–25. https://doi.org/10.1016/j.jare.2018.07.001

Alves AC, Alves NG, Ascari IJ, Junqueira FB, Coutinho AS, Lima RR, Pérez JRO, De Paula SO, Furusho-Garcia IF, Abreu LR (2015) Colostrum composition of Santa Inês sheep and passive transfer of immunity to lambs. J Dairy Sci 98:3706–3716. https://doi.org/10.3168/jds.2014-7992

Bayarri S, Carbonell I, Costell E (2012) Viscoelasticity and texture of spreadable cheeses with different fat contents at refrigeration and room temperatures. J Dairy Sci 95:6926–6936. https://doi.org/10.3168/jds.2012-5711

Borad SG, Singh AK (2018) Colostrum immunoglobulins: Processing, preservation and application aspects. Int Dairy J 85:201–210. https://doi.org/10.1016/j.idairyj.2018.05.016

Brighenti M, Govindasamy-Lucey S, Jaeggi JJ, Johnson ME, Lucey JA (2018) Effects of processing conditions on the texture and rheological properties of model acid gels and cream cheese. J Dairy Sci 101:6762–6775. https://doi.org/10.3168/jds.2018-14391

Brinkmann CR, Thiel S, Larsen MK, Petersen TE, Jensenius JC, Heegaard CW (2011) Preparation and comparison of cytotoxic complexes formed between oleic acid and either bovine or human α-lactalbumin. J Dairy Sci 94:2159–2170. https://doi.org/10.3168/jds.2010-3622

Chen J, Wang Y, Ye R, Wu Y, Xia W (2013) Comparison of analytical methods to assay inhibitors of angiotensin I-converting enzyme. Food Chem 141:3329–3334. https://doi.org/10.1016/j.foodchem.2013.06.048

Cushman DW, Cheung HS (1971) Spectrophotometric assay and properties of the angiotensin-converting enzyme of rabbit lung. Biochem Pharmacol 20:1637–1648. https://doi.org/10.1016/0006-2952(71)90292-9

Delgado Y, Morales-Cruz M, Figueroa CM, Hernández-Román J, Hernández G, Griebenow K (2015) The cytotoxicity of BAMLET complexes is due to oleic acid and independent of the α-lactalbumin component. FEBS Open Bio 5:397–404. https://doi.org/10.1016/j.fob.2015.04.010

Dopierała K, Krajewska M, Prochaska K (2019) Binding of α-lactalbumin to oleic acid monolayer and its relevance to formation of HAMLET-like complexes. Int Dairy J 89:96–104. https://doi.org/10.1016/j.idairyj.2018.08.017

DuBois M, Gilles KA, Hamilton JK, Rebers PA, Smith F (1956) Colorimetric method of determination of sugars and related substances. Anal Chem 28:350–356. https://doi.org/10.1021/ac60111a017

Dzik S, Miciński B, Aitzhanova I, Miciński J, Pogorzelska J, Beisenov A, Kowalski IM (2017) Properties of bovine colostrum and the possibilities of use. Pol Ann Med 24:295–299. https://doi.org/10.1016/j.poamed.2017.03.004

Fajardo-Espinoza FS, Romero-Rojas A, Hernández-Sánchez H (2020) Production of bioactive peptides from bovine colostrum whey using enzymatic hydrolysis. Rev Mex Ing Quim 19:1–9. https://doi.org/10.24275/rmiq/Alim525

Fang B, Zhang M, Tian M, Jiang L, Guo HY, Ren FZ (2014) Bovine lactoferrin binds oleic acid to form an anti-tumor complex similar to HAMLET. BBA Mol Cel Biol L 1841:535–543. https://doi.org/10.1016/j.bbalip.2013.12.008

Fontana A, Spolaore B, Polverino de Laureto P (2013) The biological activities of protein/oleic acid complexes reside in the fatty acid. Biochim Biophys Acta 1834:1125–1143. https://doi.org/10.1016/j.bbapap.2013.02.041

Frau F, Font de Valdez G, Pece N (2014) Effect of pasteurization temperature, starter culture, and incubation temperature on the physicochemical properties, yield, rheology, and sensory characteristics of spreadable goat cheese. J Food Process 2014:1–8. https://doi.org/10.1155/2014/705746

Ghorbel D, Bettaïeb NB, Ghrib F, Slema MB, Attia H (2016) Textural properties of commercial processed cheese spreads: instrumental and sensory evaluations. Int J Food Prop 19:1513–1521. https://doi.org/10.1080/10942912.2015.1065425

Hoque M, Gupta J, Saleemuddin M (2017) Augmenting the cytotoxicity of oleic acid-protein complexes: potential of target-specific antibodies. Biochimie 137:139–146. https://doi.org/10.1016/j.biochi.2017.03.013

Hussein GAM, Shalaby SM (2014) Microstructure and textural properties of Kareish cheese manufactured by various ways. Ann Agric Sci 59:25–31. https://doi.org/10.1016/j.aoas.2014.06.004

Kaminarides S, Kalogridis D, Massouras T (2006) Creation and quality characterization of processed cheeses derived mainly from Halloumi cheese. Lait 86:333–343. https://doi.org/10.1051/lait:2006009

Korish M, Abd Elhamid AM (2012) Improving the textural properties of Egyptian kariesh cheese by addition of hydrocolloids. Int J Dairy Technol 65:237–242. https://doi.org/10.1111/j.1471-0307.2011.00818.x

Laemmli UK (1970) Cleavage of structural proteins during the assembly of the head of bacteriophage T4. Nature 227:680–685. https://doi.org/10.1038/227680a0

Lappa IK, Papadaki A, Kachrimanidou V, Terpou A, Koulougliotis D, Eriotou E, Kopsahelis N (2019) Cheese whey processing: integrated biorefinery concepts and emerging food applications. Foods 8:347. https://doi.org/10.3390/foods8080347

Layman DK, Lönnerdal B, Fernstrom JD (2018) Applications for α-lactalbumin in human nutrition. Nutr Rev 76:444–460. https://doi.org/10.1093/nutrit/nuy004

Lee SK, Klostermeyer H (2001) The effect of ph on the rheological properties of reduced-fat model processed cheese spreads. LWT-Food Sci Technol 34:288–292. https://doi.org/10.1006/fstl.2001.0761

Lucera A, Costa C, Marinelli V, Saccotelli MA, Del Nobile MA, Conte A (2018) Fruit and vegetable by-products to fortify spreadable cheese. Antioxidants 7:61. https://doi.org/10.3390/antiox7050061

McGrath BA, Fox PF, McSweeney PLH, Kelly AL (2016) Composition and properties of bovine colostrum: a review. Dairy Sci Technol 96:133–158. https://doi.org/10.1007/s13594-015-0258-x

Markey O, Souroullas K, Fagan CC, Kliem KE, Vasilopoulou D, Jackson KG, Humphries DJ, Grandison AS, Givens DI, Lovegrove JA, Methven L (2017) Consumer acceptance of dairy products with a saturated fatty acid–reduced, monounsaturated fatty acid–enriched content. J Dairy Sci 100:7953–7966. https://doi.org/10.3168/jds.2016-12057

Permyakov SE, Knyazeva EL, Leonteva MV, Fadeev RS, Chekanov AV, Zhadan AP, Håkanssond AP, Akatov VS, Permyakov EA (2011) A novel method for preparation of HAMLET-like protein complexes. Biochimie 93:1495–1501. https://doi.org/10.1016/j.biochi.2011.05.002

Official Methods of Analysis of AOAC INTERNATIONAL (2019) 21th, AOAC International, Gaitherburg, MD, USA, Official methods 927.05; 33.5.05; 991.20 and 2000.18.33.7.02

Puthia M, Storm P, Nadeem A, Hsiung S, Svanborg C (2014) Prevention and treatment of colon cancer by peroral administration of HAMLET (human α-lactalbumin made lethal to tumour cells). Gut 63:131–142. https://doi.org/10.1136/gutjnl-2012-303715

Rudovsky A, Locher L, Zeynerc A, Sobiraj A, Wittek T (2008) Measurement of immunoglobulin concentration in goat colostrum. Small Rumin Res 74:265–269. https://doi.org/10.1016/j.smallrumres.2007.06.003

Wu W, Yu P, Zhang F, Che H, Jiang Z (2014) Stability and cytotoxicity of angiotensin-I-converting enzyme inhibitory peptides derived from bovine casein. J Biomed Biotechnol 15:143–152. https://doi.org/10.1631/jzus.B1300239

Zheng Y, Liu Z, Mo B (2016) Texture profile analysis of sliced cheese in relation to chemical composition and storage temperature. J Chem 2016:1–10. https://doi.org/10.1155/2016/8690380
Acknowledgements
Reyes-Portillo K.A. received 928777 grant number from Consejo Nacional de Ciencia y Tecnología, Mexico.
Funding
A grant number 928777 was obtained from Consejo Nacional de Ciencia y Tecnología, Mexico.
Ethics declarations
Conflicts of interest
The authors declare that they have no competing interests.
Additional information
Publisher's Note
Springer Nature remains neutral with regard to jurisdictional claims in published maps and institutional affiliations.
About this article
Cite this article
Reyes-Portillo, K.A., Quintero-Lira, A., Piloni-Martini, J. et al. Using BAMLET complex in a functional spreadable cheese elaborated with bovine colostrum. J Food Sci Technol (2021). https://doi.org/10.1007/s13197-021-04990-0
Revised:

Accepted:

Published:
Keywords
BAMLET complex

Bovine colostrum

Spreadable cheese

Formation