Abstract
This study was dedicated to the optimization and preparation of chitosan-coated liposomes (chitosomes) as promising nanocarriers for retention of olive leaf extract optimized by Response surface methodology (RSM) based on central composite design. Accordingly, the best sample was chosen for further tests with the encapsulation efficiency, stability and electrical conductivity of 94%, 98% and 9.545 mS respectively. The average size of the optimal chitosome and nanoliposome were lower than 100 nm and the zeta potential was altered from a negative charge to positive after addition coating process with chitosan. Moreover, the differential scanning calorimetry of blank and loaded chitosome revealed the increase of fluidity and lower temperature of phase transition in loaded chitosome compared to blank one. FTIR spectra demonstrated that electrostatic interactions and hydrogen bonds occur between phospholipid polar groups, chitosan amine moieties and major olive leaf extract polyphenols including oleuropein and hydroxy tyrosol. Furthermore, the optimal loaded chitosome had the highest stability during 25 days at the temperature of 4 °C. Finally, the in vitro release tests were best fitted with Peppas-Sahlin and Kopcha models in food simulants and gastrointestinal simulated juice respectively revealing erosion-based release model.
Graphic abstract

We're sorry, something doesn't seem to be working properly.
Please try refreshing the page. If that doesn't work, please contact support so we can address the problem.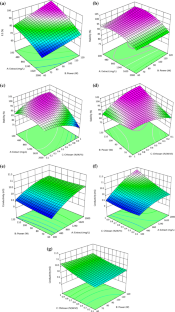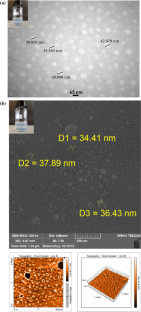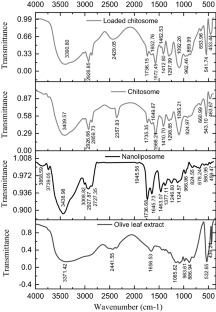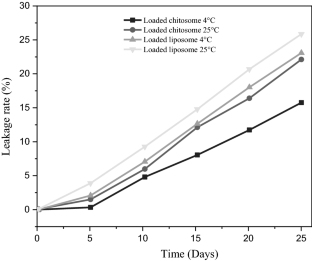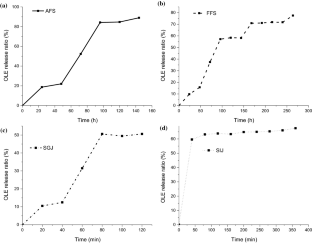 References
Almasi H, Zandi M, Beigzadeh S, Haghju S, Mehrnow N (2016) Chitosan films incorporated with nettle (Urtica Dioica L.) extract-loaded nanoliposomes: II. Antioxidant activity and release properties. J Microencapsul 33:449–459

Benavente-Garcia O, Castillo J, Lorente J, Alcaraz M (2002) Radioprotective effects in vivo of phenolics extracted from Olea europaea L. leaves against X-ray-induced chromosomal damage: comparative study versus several flavonoids and sulfur-containing compounds. J Med Food 5:125–135

Bonechi C, Donati A, Tamasi G, Pardini A, Rostom H, Leone G, Lamponi S, Consumi M, Magnani A, Rossi C (2019) Chemical characterization of liposomes containing nutraceutical compounds: tyrosol, hydroxytyrosol and oleuropein. Biophys Chem 246:25–34

Darbasi M, Askari G, Kiani H, Khodaiyan F (2017) Development of chitosan based extended-release antioxidant films by control of fabrication variables. Int J Biol Macromol 104:303–310

Erami SR, Amiri ZR, Jafari SM (2019) Nanoliposomal encapsulation of Bitter Gourd (Momordica charantia) fruit extract as a rich source of health-promoting bioactive compounds. LWT 116:108581

Fathi M, Varshosaz J, Mohebbi M, Shahidi F (2013) Hesperetin-loaded solid lipid nanoparticles and nanostructure lipid carriers for food fortification: preparation, characterization, and modeling. Food Bioprocess Technol 6:1464–1475

Gonçalves MC, Mertins O, Pohlmann AR, Silveira NP, Guterres SS (2012) Chitosan coated liposomes as an innovative nanocarrier for drugs. J Biomed Nanotechnol 8:240–250

Gorzynik-Debicka M, Przychodzen P, Cappello F, Kuban-Jankowska A, Marino Gammazza A, Knap N, Wozniak M, Gorska-Ponikowska M (2018) Potential health benefits of olive oil and plant polyphenols. Int J Mol Sci 19:686

Hasan M, Elkhoury K, Kahn CJ, Arab-Tehrany E, Linder M (2019) Preparation, characterization, and release kinetics of chitosan-coated nanoliposomes encapsulating curcumin in simulated environments. Molecules 24:2023

Hasan M, Messaoud GB, Michaux F, Tamayol A, Kahn C, Belhaj N, Linder M, Arab-Tehrany E (2016) Chitosan-coated liposomes encapsulating curcumin: study of lipid–polysaccharide interactions and nanovesicle behavior. RSC Adv 6:45290–45304

Hoseyni SZ, Jafari SM, Shahiri Tabarestani H, Ghorbani M, Assadpour E (2019) Effect of solution parameters on morphology and formation of electrospun nanofibers from Azivash (Corchorus olitorius L) leaf gum-polyvinyl alcohol. Food Sci Technol 16:359–368

Jafari SM, Mahdavee Khazaei K, Assadpour E (2019) Production of a natural color through microwave-assisted extraction of saffron tepal's anthocyanins. Food Sci Nutr 7:1438–1445

Katouzian I, Esfanjani AF, Jafari SM, Akhavan S (2017) Formulation and application of a new generation of lipid nano-carriers for the food bioactive ingredients. Trends Food Sci Technol 68:14–25

Katouzian I, Jafari SM (2016) Nano-encapsulation as a promising approach for targeted delivery and controlled release of vitamins. Trends Food Sci Technol 53:34–48

Kellaway IW, Najib NM (1981) Hydrophilic polymers as stabilisers and flocculants of sulphadimidine suspensions. Int J Pharm 9:59–66

Lombardo D, Calandra P, Caccamo MT, Magazù S, Kiselev MA (2019) Colloidal stability of liposomes. AIMS Mater Sci 6(2):200

Mady MM, Darwish MM (2010) Effect of chitosan coating on the characteristics of DPPC liposomes. J Adv Res 1:187–191

Maherani B, Arab-Tehrany E, Kheirolomoom A, Cleymand F, Linder M (2012) Influence of lipid composition on physicochemical properties of nanoliposomes encapsulating natural dipeptide antioxidant l-carnosine. Food Chem 134:632–640

Moghbeli S, Jafari SM, Maghsoudlou Y, Dehnad D (2019) Influence of pectin-whey protein complexes and surfactant on the yield and microstructural properties of date powder produced by spray drying. J Food Eng 242:124–132

Mohammadi A, Jafari SM, Assadpour E, Esfanjani AF (2016) Nano-encapsulation of olive leaf phenolic compounds through WPC–pectin complexes and evaluating their release rate. Int J Biol Macromol 82:816–822

Molina-Alcaide E, Yáñez-Ruiz DR (2008) Potential use of olive by-products in ruminant feeding: a review. Anim Feed Sci Technol 147:247–264

Nunes MA, Pimentel FB, Costa AS, Alves RC, Oliveira MBP (2016) Olive by-products for functional and food applications: challenging opportunities to face environmental constraints. Innov Food Sci Emerg Technol 35:139–148

Paini M, Daly SR, Aliakbarian B, Fathi A, Tehrany EA, Perego P, Dehghani F, Valtchev P (2015) An efficient liposome based method for antioxidants encapsulation. Colloids Surf B 136:1067–1072

Pan L, Wang H, Gu K (2018) Nanoliposomes as vehicles for astaxanthin: characterization, in vitro release evaluation and structure. Molecules 23:2822

Panya A, Laguerre M, Lecomte J, Villeneuve P, Weiss J, McClements DJ, Decker EA (2010) Effects of chitosan and rosmarinate esters on the physical and oxidative stability of liposomes. J Agric Food Chem 58:5679–5684

Prodduturi S, Urman KL, Otaigbe JU, Repka MA (2007) Stabilization of hot-melt extrusion formulations containing solid solutions using polymer blends. Aaps Pharmscitech 8:E152–E161

Pu C, Tang W (2016) A chitosan-coated liposome encapsulating antibacterial peptide, Apep10: characterisation, triggered-release effects and antilisterial activity in thaw water of frozen chicken. Food Funct 7:4310–4322

Ramezanzade L, Hosseini SF, Nikkhah M (2017) Biopolymer-coated nanoliposomes as carriers of rainbow trout skin-derived antioxidant peptides. Food Chem 234:220–229

Ritger PL, Peppas NA (1987) A simple equation for description of solute release II. Fickian and anomalous release from swellable devices. J Control Release 5:37–42

Ruozi B, Belletti D, Tombesi A, Tosi G, Bondioli L, Forni F, Vandelli MA (2011) AFM, ESEM, TEM, and CLSM in liposomal characterization: a comparative study. Int J Nanomed 6:557

Samet I, Han J, Jlaiel L, Sayadi S, Isoda H (2014) Olive (Olea europaea) leaf extract induces apoptosis and monocyte/macrophage differentiation in human chronic myelogenous leukemia K562 cells: insight into the underlying mechanism. Oxid Med Cell Longev 2014:927619. https://doi.org/10.1155/2014/927619

Sarabandi K, Jafari SM (2020) Effect of chitosan coating on the properties of nanoliposomes loaded with flaxseed-peptide fractions: stability during spray-drying. Food Chem 310:125951

Sarabandi K, Jafari SM, Mohammadi M, Akbarbaglu Z, Pezeshki A, Heshmati MK (2019a) Production of reconstitutable nanoliposomes loaded with flaxseed protein hydrolysates: stability and characterization. Food Hydrocolloids 96:442–450

Sarabandi K, Mahoonak AS, Hamishehkar H, Ghorbani M, Jafari SM (2019b) Protection of casein hydrolysates within nanoliposomes: antioxidant and stability characterization. J Food Eng 251:19–28

Singleton VL, Orthofer R, Lamuela-Raventós RM (1999) [14] Analysis of total phenols and other oxidation substrates and antioxidants by means of folin-ciocalteu reagent. Methods Enzymol 299:152–178

Sun Z, Deng Y, Zhao Y (2019) Preparation, optimization, and characterization of natural apple essence-loaded liposomes. J Food Sci 84:540–547

Talón E, Lampi A-M, Vargas M, Chiralt A, Jouppila K, González-Martínez C (2019) Encapsulation of eugenol by spray-drying using whey protein isolate or lecithin: release kinetics, antioxidant and antimicrobial properties. Food Chem 295:588–598

Tan C, Feng B, Zhang X, Xia W, Xia S (2016) Biopolymer-coated liposomes by electrostatic adsorption of chitosan (chitosomes) as novel delivery systems for carotenoids. Food Hydrocolloids 52:774–784

Tavakoli H, Hosseini O, Jafari SM, Katouzian I (2018) Evaluation of physicochemical and antioxidant properties of yogurt enriched by olive leaf phenolics within nanoliposomes. J Agric Food Chem 66:9231–9240

Tønnesen HH, Másson M, Loftsson T (2002) Studies of curcumin and curcuminoids. XXVII. Cyclodextrin complexation: solubility, chemical and photochemical stability. Int J Pharm 244:127–135

Weiss J, Decker EA, McClements DJ, Kristbergsson K, Helgason T, Awad T (2008) Solid lipid nanoparticles as delivery systems for bioactive food components. Food Biophys 3:146–154

Wu J, Liu H, Ge S, Wang S, Qin Z, Chen L, Zheng Q, Liu Q, Zhang Q (2015) The preparation, characterization, antimicrobial stability and in vitro release evaluation of fish gelatin films incorporated with cinnamon essential oil nanoliposomes. Food Hydrocolloids 43:427–435

Yaroslavov AA, Sybachin AV, Kesselman E, Schmidt J, Talmon Y, Rizvi SA, Menger FM (2011) Liposome fusion rates depend upon the conformation of polycation catalysts. J Am Chem Soc 133:2881–2883

Yu D-G, Yang J-H, Wang X, Tian F (2012) Liposomes self-assembled from electrosprayed composite microparticles. Nanotechnology 23:105606

Zoghi A, Khosravi-Darani K, Omri A (2018) Process variables and design of experiments in liposome and nanoliposome research. Mini Rev Med Chem 18:324–344
Acknowledgements
The authors would like to thank Gorgan University of Agricultural Sciences and Natural Resources for providing equipment needed for undertaking the experiments for the preparation of the nanostructures.
Additional information
Publisher's Note
Springer Nature remains neutral with regard to jurisdictional claims in published maps and institutional affiliations.
Supplementary Information
About this article
Cite this article
Katouzian, I., Taheri, R.A. Preparation, characterization and release behavior of chitosan-coated nanoliposomes (chitosomes) containing olive leaf extract optimized by response surface methodology. J Food Sci Technol (2021). https://doi.org/10.1007/s13197-021-04972-2
Revised:

Accepted:

Published:
Keywords
Olive leaf extract

Chitosome

Response surface methodology

Optimization

Release