Abstract
This paper aims to examine the association between the consumer's socioeconomic status and the consumption of organic food. A conceptual model developed in this paper provides a more detailed understating of how socioeconomic status can, through the perceived values of organic food, influence the willingness to buy and to pay. A sample of 384 consumers of organic food in Tunisia were interviewed using convenience sampling. The Structural Equation Modeling (SEM) was used to test the hypotheses of the proposed conceptual model. The socioeconomic status of consumers (education, occupation and income) was found to be an important predictor of perceived organic food values (utilitarian and hedonic). While utilitarian value had a stronger influence on the willingness to pay, hedonic value proved more influential on the willingness to buy. This paper is one of the earliest studies of its kind, which focused on the association between socioeconomic status and organic consumption. Findings have provided clear ways for practitioners to segment their markets on the basis of the socioeconomic status of consumers.
Access options
Buy single article
Instant access to the full article PDF.
US$ 39.95
Tax calculation will be finalised during checkout.
Subscribe to journal
Immediate online access to all issues from 2019. Subscription will auto renew annually.
US$ 79
Tax calculation will be finalised during checkout.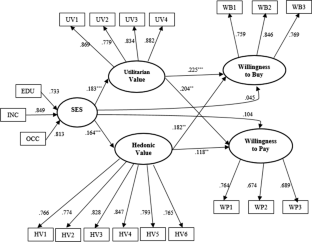 References
Aggarwal OP, Bhasin SK, Sharma AK, Chhabra P, Aggarwal KP (2005) A new instrument (scale) for measuring the socioeconomic status of a family: Preliminary study. Indian J Community Med 30(4):211–214

Ajzen I, Fishbein M (1980) Understanding attitudes and predicting social behavior. Prentice-Hall, Englewood Cliffs

Alkerwi A, Vernier C, Sauvageot N, Crichton GE, Elias MF (2015) Demographic and socioeconomic disparity in nutrition: application of a novel Correlated Component Regression approach. BMJ Open 5:1–12

Alphonce R, Alfnes F (2017) Eliciting consumer WTP for food characteristics in a developing context: application of four valuation methods in an African market. J Agric Econ 68(1):123–142

Altarawneh M (2013) Consumer awareness towards organic food: a pilot study in Jordan. J Agric Food Technol 3(12):14–18

American Department of Agriculture (2015) National organic program. https://www.ams.usda.gov/about-ams/programs-offices/national-organic-program. Accessed 3 June 2020

Anastasiou CN, Keramitsoglou KM, Kalogeras N, Tsagkaraki MI, Kalatzi L, Tsagarakis KP (2017) Can the "Euro-leaf" logo affect consumers' willingness-to-buy and willingness-to- pay for organic food and attract consumers' preferences? An empirical study in Greece. Sustainability 9(8):1450

Ann WR, Walsh W (2020) The intersectionality of socioeconomic status (SES) and social class on the therapeutic alliance with older adult clients. Smith Coll Stud Soc Work 90(1–2):96–114

Arvola AM, Vassallo M, Dean P, Lampila A, Saba L, Lahteenmaki L, Shepherd R (2008) Predicting intentions to purchase organic food: the role of affective and moral attitudes in the theory of planned behavior. Appetite 50(2):443–454

Aryal K, Chaudhary P, Pandit S, Sharma G (2009) Consumers' willingness to pay for organic products: a case from kathmandu valley. J Agric Environ 10:15–22

Babin BJ, Darden WR, Griffin M (1994) Work and/or fun: measuring hedonic and utilitarian shopping value. J Consum Res 20(4):644–656

Bagozzi R, Yi Y (1988) On the evaluation of structure equation models. J Acad Mark Sci 16(1):74–94

Batat W, Peter PC, Vicdan H, Manna V, Ulusoy E, Uiusoy E, Hong S (2017) Alternative food consumption (AFC): idiocentric and allocentric factors of influence among low socio-economic status (SES) consumers. J Mark Manag 33(7–8):580–601

Baumann S, Szabo M, Johnston J (2017) Understanding the food preferences of people of low socioeconomic status. J Consum Cult 19(3):316–339

Costa BVL, Menezes MC, Oliveira CDL, Mingoti SA, Jaime PC, Caiaffa WT, Lopes ACS (2019) Does access to healthy food vary according to socioeconomic status and to food store type? An ecologic study. BMC Public Health 19:775

Curl CL, Beresford SAA, Hajat A, Kaufman JD, Moore K et al (2013) Associations of organic produce consumption with socioeconomic status and the local food environment: multi-ethnic study of atherosclerosis (MESA). PLoS ONE 8(7):1–8

Darmon N, Drewnowski A (2008) Does social class predict diet quality? Am J Clin Nutr 87(5):1107–1117

Ditlevsen K, Sandoe P, Lassen J (2019) Healthy food is nutritious, but organic food is healthy because it is pure: the negotiation of healthy food choices by Danish consumers of organic food. Food Qual Prefer 71:46–53

Dodds WD, Monroe K, Grewal D (1991) Effects of price, brand and store information on buyers' product evaluations. J Mark Res 28(3):307–319

El-Gilany A, El-Wehady A, El-Wasify M (2012) Updating and validation of the socioeconomic status scale for health research in Egypt. East Mediterr Health J 18(9):962–968

Fornell C, Larcker DF (1981) Evaluating structural equation models with unobservable variables and measurement error. J Mark Res 18(1):39–50

Fuljahn A, Moosmayer DC (2011) The myth of guilt: a replication study on the suitability of hedonic and utilitarian products for cause related marketing campaigns in Germany. Int J Bus Res 11(1):85–92

Ghali Z (2019) Motives of willingness to buy organic food under the moderating role of consumer awareness. J Sci Res Rep 25(6):1–11

Ghali ZZ, Toukabri M (2019) The antecedents of the consumer purchase intention: sensitivity to price and involvement in organic product: moderating role of product regional identity. Trends Food Sci Technol 90:175–179

Ghosh A, Ghosh T (2009) Modification of Kuppuswamy's socioeconomic status scale in context to Nepal. Indian Pediatr 46:1104–1105

Ginon E, Combris P, Loheac Y, Enderli G, Issanchou S (2014) What do we learn from comparing hedonic scores and willingness-to-pay data? Food Qual Prefer 33:54–63

González MG, Swanson DP, Lynch M, Williams GC (2016) Testing satisfaction of basic psychological needs as a mediator of the relationship between socioeconomic status and physical and mental health. J Health Psychol 21(6):972–982

Govidnasamy R, Italia J (1990) Predicting willingness-to-pay a premium for organically grown fresh produce. J Food Distrib Res 46:44–53

Groth MV, Fagt S, Brondsted L (2001) Social determinants of dietary habits in Denmark. Eur J Clin Nutr 55:959–966

Kranjac M, Vapa-Tankosic J, Knezevic M (2017) Profile of organic food consumers. Econ Agric 64(2):497–514

Lantos GP (2015) Consumer behavior in action: real-life applications for marketing managers. Routledge, Abingdon

Lee HJ, Yun ZS (2015) Consumers' perceptions of organic food attributes and cognitive and affective attitudes as determinants of their purchase intentions toward organic food. Food Qual Prefer 39:259–267

Lim WM, Yong JL, Suryadi K (2014) Consumers' perceived value and willingness to purchase organic food. J Global Mark 27:298–307

Lio CH, Hsieh IY (2013) Determinants of consumer's willingness to purchase gray-market smartphones. J Bus Ethics 114(3):409–424

Liu CC, Chen CW, Chen HS (2019) Measuring consumer preferences and willingness to pay for coffee certification labels in Taiwan. Sustainability 11:1297

Loureiro ML, Mccluskey JJ, Mittelhammer RC (2001) Assessing consumer preferences for organic, eco-labeled, and regular apples. J Agric Resour Econ 26(2):404–416

Lu L, Chi CG (2018) An examination of the perceived value of organic dining. Int J Contemp Hosp Manag 30(8):2826–2844

Maehle N, Iversen N, Hem L, Otnes CC (2015) Exploring consumer preferences for hedonic and utilitarian food attributes. Br Food J 117(12):3039–3063

Molarius A, Berglund K, Eriksson C, Lambe M, Nordström E, Eriksson HG, Feldman I (2007) Socioeconomic conditions, lifestyle factors, and self-rated health among men and women in Sweden. Eur J Public Health 17:125–133

Nassivera F, Troiano S, Marangon F, Sillani S, Markova NI (2017) Willingness to pay for organic cotton: consumer responsiveness to a corporate social responsibility initiative. Br Food J 119(8):1815–1825

Netemeyer RG, Krishnan B, Pullig C, Wang G, Yagci M, Dean D, Ricks J, Wirth F (2004) Developing and validating measures of facets of customer-based brand equity. J Bus Res 57(2):209–224

Padel S, Foster C (2005) Exploring the gap between attitudes and behavior: understanding why consumers buy or do not buy organic food. Br Food J 107(8):606–625

Pechey R, Monsivais P (2016) Socioeconomic inequalities in the healthiness of food choices: Exploring the contributions of food expenditures. Prev Med 88:203–209

Petljak K, Stulec I, Renko S (2017) Consumers' willingness to pay more for organic food in Croatia. Ekonomski Vjesnik 30(2):441–455

Ryu K, Han H, Jang SS (2010) Relationships among hedonic and utilitarian values, satisfaction and behavioral intentions in the fast-casual restaurant industry. Int J Contemp Hosp Manag 22(3):416–430

Shahar D, Shai I, Vardi H, Shahar A, Fraser D (2005) Diet and eating habits in high and low socioeconomic groups. Nutrition 21(5):559–566

Shalev E, Morwitz VG (2012) Influence via comparison-driven self-evaluation and restoration: the case of the low-status influencer. J Consum Res 38(5):964–980

Singh A, Verma P (2017) Factors influencing Indian consumers' actual buying behavior towards organic food products. J Clean Prod 167:473–483

Sweeney JC, Soutar GN, Johnson LW (1999) The role of perceived risk in the quality-value relationship: a study in a retail environment. J Retail 75(1):77–105

Teng CC, Lu CH (2016) Organic food consumption in taiwan: motives, involvement, and purchase intention under the moderating role of uncertainty. Appetite 105:95–105

Wang L, Wang J, Huo X (2019) Consumer's willingness to pay a premium for organic fruits in China: a double-hurdle analysis. Int J Environ Res Public Health 16(126):3–14

White CJ, Tong E (2019) On linking socioeconomic status to consumer loyalty behaviour. J Retail Consum Serv 50:60–65

Yoon S, Kim HC (2017) Feeling economically stuck: the effect of perceived economic mobility and socioeconomic status on variety seeking. J Consum Res 44(5):1141–1156

Zepeda L, Li J (2007) Characteristics of organic food shoppers. J Agric Appl Econ 39(01):17–28
Additional information
Publisher's Note
Springer Nature remains neutral with regard to jurisdictional claims in published maps and institutional affiliations.
About this article
Cite this article
Ghali-Zinoubi, Z. On linking socioeconomic status to consumer willingness to buy and pay for organic food. J Food Sci Technol 58, 1042–1050 (2021). https://doi.org/10.1007/s13197-020-04618-9
Revised:

Accepted:

Published:

Issue Date:
Keywords
SES

Utilitarian value

Hedonic value

Willingness to buy

Willingness to pay

Organic food