Abstract
The aim of this research was to design a new product, in particular a watermelon-based jelly candy, without generating waste. The study was divided in two steps: (i) optimization of candy formulation in terms of amount of rind, pulp and juice; (ii) fortification of the jelly candy with different concentrations of orange by-products (albedo and flavedo flours). The fortified jelly samples were assessed for sensory quality and chemical properties, before and after digestion. The new candy product was greatly appreciated. The addition of albedo and flavedo flours significantly improved the chemical composition compared to jelly candy without by-products, before and after digestion. A whole quality index was also calculated to determine the best combination of by-products to be added. Fortification with albedo 1.2% and flavedo ranged between 0.6 and 1.2% allowed recording the most interesting jelly candy.
We're sorry, something doesn't seem to be working properly.
Please try refreshing the page. If that doesn't work, please contact support so we can address the problem.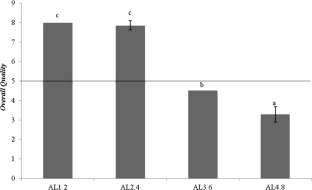 References
Al-Sayed HMA, Ahmed AR (2013) Utilization of watermelon rinds and sharlyn melon peels as a natural source of dietary fiber and antioxidants in cake. Ann Agric Sci 58:83–95

Benzie IF, Strain JJ (1996) The ferric reducing ability of plasma (FRAP) as a measure of "antioxidant power": the FRAP assay. Anal Biochem 239:70–76

Boland AB, Delahunty CM, van Ruth SM (2006) Influence of texture of gelatin gels and pectin gels on strawberry flavour release and perception. Food Chem 96:452–460

Cappa C, Lavelli V, Mariotti M (2015) Fruit candies enriched with grape skin powders: physicochemical properties. LWT Food Sci Technol 62:569–575

Choi Y, Lee SM, Chun J, Lee HB, Lee J (2006) Influence of heat treatment on the antioxidant activities and polyphenolic compounds of Shiitake (Lentinus edodes) mushroom. Food Chem 99:381–387

Ciriminna R, Meneguzzo F, Fidalgo A, Ilharco LM, Pagliaro M (2016) Extraction, benefits and valorization of olive polyphenols. Eur J Lipid Sci Technol 118:503–511

D'Antuono I, Garbetta A, Linsalata V, Minervini F, Cardinali A (2015) Polyphenols from artichoke heads (Cynara cardunculus (L.) subsp. scolymus Hayek): in vitro bio-accessibility, intestinal uptake and bioavailability. Food Funct 6:1268–1277

D'Archivio M, Filesi C, Varì R, Scazzocchio B, Masella R (2010) Bioavailability of the polyphenols: status and controversies. Int J Mol Sci 11:1321–1342

Dieng SIM, Diallo AJ, Fall AD, Diatta-Badji K, Diatta W, Sarr A, Bassene E (2017) Total polyphenols and flavonoids contents of aqueous extracts of watermelon red flesh and peels (Citrullus lanatus, Thunb). J Pharmac Phytochem 6:801–803

Escobedo-Avellaneda Z, Gutiérrez-Uribe J, Valdez-Fragoso A, Torres JA, Welti-Chanes J (2014) Phytochemicals and antioxidant activity of juice, flavedo, albedo and comminuted orange. J Funct Foods 6:470–481

Gille A, Trautmann A, Posten C, Briviba K (2016) Bioaccessibility of carotenoids from Chlorella vulgaris and Chlamydomonas reinhardtii. Int J Food Sci Nutr 67:507–513

Kälviäinen N, Roininen K, Tuorila H (2000) Sensory characterization of texture and flavor of high viscosity gels made with different thickeners. J Sens Stud 31:407–419

Kim SJ, Matsushita Y, Fukushima K, Aoki D, Yagami S, Yuk HG, Lee SC (2014) Antioxidant activity of a hydrothermal extract from watermelons. LWT Food Sci Technol 59:361–368

Lee EH, Yeom HJ, Ha MS, Bae DH (2010) Development of banana peel jelly and its antioxidant and textural properties. Food Sci Biotechnol 19:449–455

Marfil PHM, Anhê ACBM, Telis VRN (2012) Texture and microstructure of gelatin/corn starch-based gummy confections. Food Biophys 7:236–243

Melikoglu M, Lin CSK, Webb C (2013) Analysing global food waste problem: Pinpointing the facts and estimating the energy content. Cent Eur J Eng 3:157–164

Oberoi DPS, Sogi DS (2017) Utilization of watermelon pulp for lycopene extraction by response surface methodology. Food Chem 232:316–321

Peixoto CM, Dias MI, Alves MJ, Calhelha RC, Barros L, Pinho SP, Ferreira ICFR (2018) Grape pomace as a source of phenolic compounds and diverse bioactive properties. Food Chem 253:132–138

Perkins-Veazie P, Collins JK (2004) Flesh quality and lycopene stability of fresh-cut watermelon. Postharvest Biol Technol 31:159–166

Rimando AM, Perkins-Veazie PM (2005) Determination of citrulline in watermelon rind. J Chromatogr A 1078:196–200

Russo M, Bonaccorsi I, Inferrera V, Dugo P, Mondello L (2015) Underestimated sources of flavonoids, limonoids and dietary fiber: availability in orange's by-products. J Funct Foods 12:150–157

Schieber A, Stintzing FC, Carle R (2001) By-products of plant food processing as a source of functional compounds—recent developments. Trends Food Sci Technol 12(11):401–413

Singh S, Ramakrishna S, Gupta MK (2017) Towards zero waste manufacturing: a multidisciplinary review. J Clean Prod 168:1230–1243

Song Q, Li J, Zeng X (2015) Minimizing the increasing solid waste through zero waste strategy. J Clean Prod 104:199–210

Souad AM, Jamal P, Olorunnisola KS (2012) Effective jam preparations from watermelon waste. Inter Food Res J 19:1545–1549

Spinelli S, Conte A, Lecce L, Padalino L, Del Nobile MA (2016) Supercritical carbon dioxide extraction of brewer's spent grain. J Supercrit Fluids 107:69–74

Tarazona-Díaz MP, Viegas J, Moldao-Martins M, Aguayo E (2011) Bioactive compounds from flesh and by-product of fresh-cut watermelon cultivars. J Sci Food Agric 91:805–812
Additional information
Publisher's Note
Springer Nature remains neutral with regard to jurisdictional claims in published maps and institutional affiliations.
About this article
Cite this article
Marinelli, V., Lucera, A., Incoronato, A.L. et al. Strategies for fortified sustainable food: the case of watermelon-based candy. J Food Sci Technol 58, 894–901 (2021). https://doi.org/10.1007/s13197-020-04603-2
Revised:

Accepted:

Published:

Issue Date:
Keywords
Candy

Watermelon

Albedo

Flavedo

Zero waste