Abstract
In order to examine bee pollen hydrolysates to assess their anticancer and antioxidant properties, hydrolysis of bee pollen was first performed using three different commercially available enzymes: Alcalase®, Neutrase®, and Flavourzyme®. The study used DPPH and ABTS assay to evaluate the antioxidant properties of the hydrolysates obtained from bee pollen. All of the tested hydrolysates demonstrated antioxidant activity, while hydrolysate based on Alcalase® offered a high value for IC50 and was therefore chosen for further separation into five sub-fractions via ultrafiltration. The greatest antioxidant activity was presented by the MW < 0.65 kDa fraction, which achieved an IC50 value of 0.39 ± 0.01 µg/mL in the DPPH assay and 1.52 ± 0.01 µg/mL for ABTS. Purification of the MW < 0.65 kDa fraction was completed using RP-HPLC, whereupon the three fractions from the original six which had the highest antioxidant activity underwent further examination through ESI-Q-TOF–MS/MS. These particular peptides had between 7 and 11 amino acid residues. In the case of the MW < 0.65 kDa fraction, testing was also carried out to determine the viability of lung cancer cell lines, represented by ChaGo-K1 cells. Analysis of the antiproliferative properties allowed in vitro assessment of the ChaGo-K1 cells' viability following treatment using the MW < 0.65 kDa fraction. Flow-cytometry generated date which revealed that it was possible for the MW < 0.65 kDa fraction to induce apoptosis in the ChaGo-K1 cells in comparison to the results with cells which had not been treated.
Graphic abstract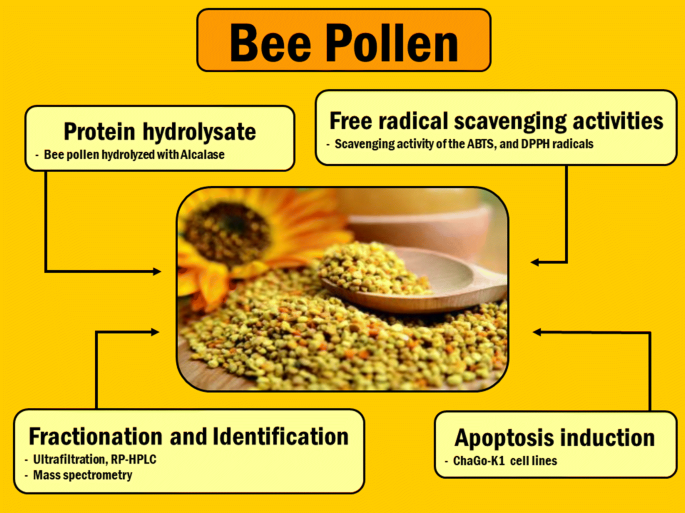 This is a preview of subscription content, log in to check access.
Access options
Buy single article
Instant access to the full article PDF.
US$ 39.95
Price includes VAT for USA
Subscribe to journal
Immediate online access to all issues from 2019. Subscription will auto renew annually.
US$ 99
This is the net price. Taxes to be calculated in checkout.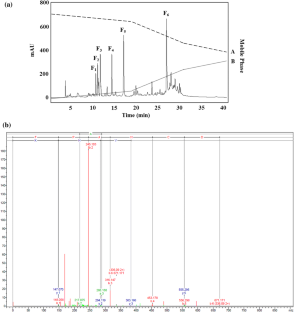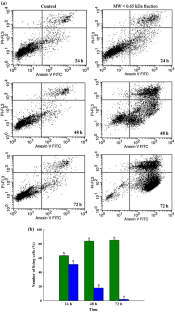 References
Amarowicz R (2008) Antioxidant activity of protein hydrolysates. Eur J Lipid Sci Technol 110:489–490. https://doi.org/10.1002/ejlt.200800120

Bocian A, Buczkowicz J, Jaromin M, Hus KK, Legáth J (2019) An effective method of isolating honey proteins. Molecules. https://doi.org/10.3390/molecules24132399

Bradford MM (1976) A rapid and sensitive method for the quantitation of microgram quantities of protein utilizing the principle of protein-dye binding. Anal Biochem 72:248–254. https://doi.org/10.1006/abio.1976.9999

Cao Q, Rui G, Liang Y (2018) Study on PM2.5 pollution and the mortality due to lung cancer in China based on geographic weighted regression model. BMC Public Health 18(1):925. https://doi.org/10.1186/s12889-018-5844-4

Chalamaiah M, Yu W, Wu J (2018) Immunomodulatory and anticancer protein hydrolysates (peptides) from food proteins: A review. Food Chem 245:205–222. https://doi.org/10.1016/j.foodchem.2017.10.087

Chen Z, Wang J, Liu W, Chen H (2017) Physicochemical characterization, antioxidant and anticancer activities of proteins from four legume species. J Food Sci Technol 54(4):964–972. https://doi.org/10.1007/s13197-016-2390-x

Cui H, Han W, Zhang J, Zhang Z, Su X (2019) Advances in the regulatory effects of bioactive peptides on metabolic signaling pathways in tumor cells. J Cancer 10(11):2425–2433. https://doi.org/10.7150/jca.31359

Fink SL, Cookson BT (2005) Apoptosis, pyroptosis, and necrosis: Mechanistic description of dead and dying eukaryotic cells. Infect Immun 73(4):1907–1916. https://doi.org/10.1128/IAI.73.4.1907-1916.2005

Fouad YA, Aanei C (2017) Revisiting the hallmarks of cancer. Am J Cancer Res 7(5):1016–1036

Goodarzi E, Sohrabivafa M, Adineh HA, Moayed L, Khazaei Z (2018) Geographical distribution global incidence and mortality of lung cancer and its relationship with the Human Development Index (HDI); an ecology study in 2018. World Cancer Res J 6:e1354. https://doi.org/10.32113/wcrj_20197_1354

Huang F, Pan B, Wu J, Chen E, Chen L (2017) Relationship between exposure to PM2.5 and lung cancer incidence and mortality: a meta-analysis. Oncotarget 8(26):43322–43331. https://doi.org/10.18632/oncotarget.17313

Jeampakdee P, Puthong S, Srimongkol P, Sangtanoo P, Saisavoey T, Karnchanatat A (2020) The apoptotic and free radical-scavenging abilities of the protein hydrolysate obtained from chicken feather meal. Poult Sci 99(3):1693–1704. https://doi.org/10.1016/j.psj.2019.10.050

Kocot J, Kiełczykowska M, Luchowska-Kocot D, Kurzepa J, Musik I (2018) Antioxidant potential of propolis, bee pollen, and royal jelly: possible medical application. Oxid Med Cell Longev 2018:7074209. https://doi.org/10.1155/2018/7074209

Komosinska-Vassev K, Olczyk P, Kaźmierczak J, Mencner L, Olczyk K (2015) Bee pollen: chemical composition and therapeutic application. Evid Based Complement Alternat Med 2015:297425. https://doi.org/10.1155/2015/297425

Kurrikoff K, Aphkhazava D, Langel U (2019) The future of peptides in cancer treatment. Curr Opin Pharmacol 47:27–32. https://doi.org/10.1016/j.coph.2019.01.008

Kurt OK, Zhang J, Pinkerton KE (2016) Pulmonary health effects of air pollution. Curr Opin Pulm Med 22(2):138–143. https://doi.org/10.1097/MCP.0000000000000248

Lee JH, Paik HD (2019) Anticancer and immunomodulatory activity of egg proteins and peptides: a review. Poult Sci 98(12):6505–6516. https://doi.org/10.3382/ps/pez381

Li R, Zhou R, Zhang J (2018) Function of PM2.5 in the pathogenesis of lung cancer and chronic airway inflammatory diseases. Oncol Lett 15(5):7506–7514. https://doi.org/10.3892/ol.2018.8355

Loomis D, Grosse Y, Lauby-Secretan B, El Ghissassi F, Bouvard V, Benbrahim-Tallaa L, Guha N, Baan R, Mattock H, Straif K (2013) The carcinogenicity of outdoor air pollution. Lancet Oncol 14(13):1262–1263. https://doi.org/10.1016/s1470-2045(13)70487-x

Luo J, Li YN, Wang F, Zhang WM, Geng X (2010) S-Adenosylmethionine inhibits the growth of cancer cells by reversing the hypomethylation status of c-myc and H-ras in human gastric cancer and colon cancer. Int J Biol Sci 6(7):784–795. https://doi.org/10.7150/ijbs.6.784

Morrone FB, Oliveira DL, Gamermann P, Stella J, Wofchuk S, Wink MR, Meurer L, Edelweiss MI, Lenz G, Battastini AM (2006) In vivo glioblastoma growth is reduced by apyrase activity in a rat glioma model. BMC Cancer 6:226. https://doi.org/10.1186/1471-2407-6-226

Nascimento AS, Marchini LC, Carvalho CAL, Araújo DFD, Silveira TA (2015) Pollen spectrum of stingless bees honey (Hymenoptera: Apidae), Paraná State. Brazil J Entomol Zool Stud 3(2):290–296

Ortiz-Martinez M, de Mejia EG, García-Lara S, Aguilar O, Lopez-Castillo LM, Otero-Pappatheodorou JT (2017) Antiproliferative effect of peptide fractions isolated from a quality protein maize, a white hybrid maize, and their derived peptides on hepatocarcinoma human HepG2 cells. J Funct Foods 34:36–48. https://doi.org/10.1016/j.jff.2017.04.015

Premratanachai P, Chanchao C (2014) Review of the anticancer activities of bee products. Asian Pac J Trop Biomed 4(5):337–344. https://doi.org/10.12980/APJTB.4.2014C1262

Rady I, Siddiqui IA, Rady M, Mukhtar H (2017) Melittin, a major peptide component of bee venom, and its conjugates in cancer therapy. Cancer Lett 402:16–31. https://doi.org/10.1016/j.canlet.2017.05.010

Redza-Dutordoir M, Averill-Bates DA (2016) Activation of apoptosis signalling pathways by reactive oxygen species. Biochim Biophys Acta 1863(12):2977–2992. https://doi.org/10.1016/j.bbamcr.2016.09.012

Rival SG, Boeriu CG, Wichers HJ (2011) Caseins and casein hydrolysates. 2. Antioxidative properties and relevance to lipoxygenase inhibition. J Agric Food Chem 49(1):295–302. https://doi.org/10.1021/jf0003911

Saadi S, Saari N, Anwar F, Abdul Hamid A, Ghazali HM (2015) Recent advances in food biopeptides: production, biological functionalities therapeutic applications. Biotechnol Adv 33(1):80–116. https://doi.org/10.1016/j.biotechadv.2014.12.003

Saisavoey T, Sangtanoo P, Reamtong O, Karnchanatat A (2019) Free radical scavenging and anti-inflammatory potential of a protein hydrolysate derived from salmon bones on RAW 264.7 macrophage cells. J Sci Food Agric 99(11):5112–5121. https://doi.org/10.1002/jsfa.9755

Saisavoey T, Sangtanoo P, Chanchao C, Reamtong O, Karnchanatat A (2020) Identification of novel anti-inflammatory peptides from bee pollen (Apis mellifera) hydrolysate in lipopolysaccharide-stimulated RAW264.7 macrophages. J Apic Res. https://doi.org/10.1080/00218839.2020.1745434(article in press)

Sangtanoo P, Srimongkol P, Saisavoey T, Reamtong O, Karnchanatat A (2020) Anti-inflammatory action of two novel peptides derived from peanut worms (Sipunculus nudus) in lipopolysaccharide-induced RAW264.7 macrophages. Food Funct 11(1):552–560. https://doi.org/10.1039/c9fo02178g

Sarić A, Balog T, Sobocanec S, Kusić B, Sverko V, Rusak G, Likić S, Bubalo D, Pinto B, Reali D, Marotti T (2009) Antioxidant effects of flavonoid from Croatian Cystus incanus L. rich bee pollen. Food Chem Toxicol 47(3):547–554. https://doi.org/10.1016/j.fct.2008.12.007

Suttisuwan R, Phunpruch S, Saisavoey T, Sangtanoo P, Thongchul N, Karnchanatat A (2019) Free radical scavenging properties and induction of apoptotic effects of FA fraction obtained after proteolysis of bioactive peptides from microalgae Synechococcus sp. VDW. Food Technol Biotechnol 57(3):358–368. https://doi.org/10.17113/ftb.57.03.19.6028

Valko M, Leibfritz D, Moncol J, Cronin MT, Mazur M, Telser J (2007) Free radicals and antioxidants in normal physiological functions and human disease. Int J Biochem Cell Biol 39(1):44–84. https://doi.org/10.1016/j.biocel.2006.07.001

Wang L, Ding L, Yu Z, Zhang T, Ma S, Liu J (2016) Intracellular ROS scavenging and antioxidant enzyme regulating capacities of corn gluten meal-derived antioxidant peptides in HepG2 cells. Food Res Int 90:33–41. https://doi.org/10.1016/j.foodres.2016.10.023

Xu CX, Jin H, Cho MH (2009) Apoptosis and apoptosis-based therapy in lung cancer. Anticancer Agents Med Chem 9:952–957. https://doi.org/10.2174/187152009789377682

Yokoyama C, Sueyoshi Y, Ema M, Mori Y, Takaishi K, Hisatomi H (2017) Induction of oxidative stress by anticancer drugs in the presence and absence of cells. Oncol Lett 14(5):6066–6070. https://doi.org/10.3892/ol.2017.6931
Acknowledgements
This study was completed with financial assistance from the Ratchadapisek Sompoch Fund for Postdoctoral Fellowship, Chulalongkorn University, the Annual Government Statement of Expenditure (GRB_BSS_79_57_61_11), and the Ratchadapisek Sompoch Endowment Fund (2019), Chulalongkorn University (762008) in recognition of the financial assistance offered which enabled this research study to be completed. The authors would also like to express their gratitude to the Institute of Biotechnology and Genetic Engineering, Chulalongkorn University, for the practical assistance offered and the facilities which were made available for the purposes of conducting the research.
Additional information
Publisher's Note
Springer Nature remains neutral with regard to jurisdictional claims in published maps and institutional affiliations.
About this article
Cite this article
Saisavoey, T., Sangtanoo, P., Srimongkol, P. et al. Hydrolysates from bee pollen could induced apoptosis in human bronchogenic carcinoma cells (ChaGo-K-1). J Food Sci Technol (2020). https://doi.org/10.1007/s13197-020-04592-2
Revised:

Accepted:

Published:
Keywords
Apoptosis

Bee pollen

ChaGo-K-1

Human bronchogenic carcinoma cells

Protein hydrolysate