Abstract
This study sought to assess the ideal conditions under which hydrolysate can be produced from the split gill mushroom proteins through the microbial protease, Alcalase. The research employed a central composite design and response surface methodology. Three specific parameters were varied for the purposes of the experimental process, while a fixed pH value of 8 was used in all cases. The variables were hydrolysis temperature (set as 45 °C, 50 °C, or 55 °C), hydrolysis time (set as 60 min, 120 min, or 180 min), and the ratio of enzyme to substrate (set as 2%, 4%, or 6% w/v). The variables under investigation exert a significant influence upon degree of hydrolysis (DH) in addition to 2,2′-Azino-bis (3-ethylbenzothiazoline-6-sulfonic acid) (ABTS) radical-scavenging activity (p < 0.05). Fractionation of the hydrolysate was accomplished using molecular weight (MW) cut-off membranes, while the greatest radical-scavenging capability was observed in the < 0.65 kDa fraction. The MW < 0.65 kDa fraction underwent separation through RP-HPLC in order to create five sub-fractions. Among these, the greatest ABTS radical-scavenging capability was observed in the F5 sub-fraction, which was therefore chosen to undergo additional examination using quadrupole-time-of-flight-electron spin induction-mass spectrometry-based de novo peptide sequencing. Via this process it was possible to determine five antioxidant peptides. Furthermore, the MW < 0.65 kDa fraction was able to demonstrating cellular antioxidant activity in the context of a human intestinal cancer cell line (HT-29). The extent of this activity was shown to depend upon the concentration levels of the peptide.
Graphic abstract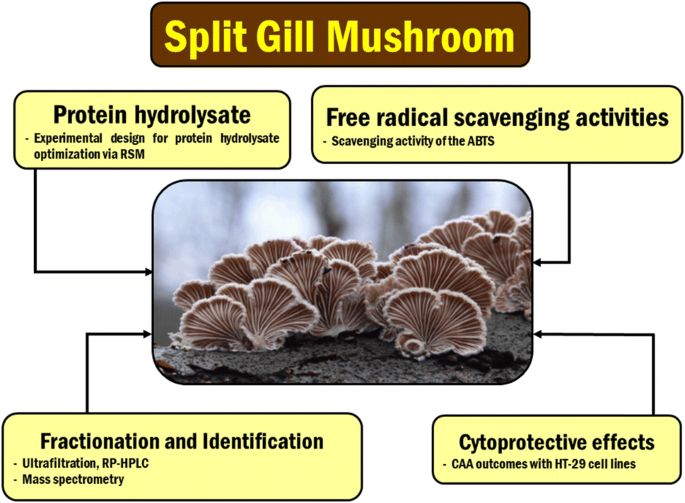 Access options
Buy single article
Instant access to the full article PDF.
US$ 39.95
Tax calculation will be finalised during checkout.
Subscribe to journal
Immediate online access to all issues from 2019. Subscription will auto renew annually.
US$ 79
Tax calculation will be finalised during checkout.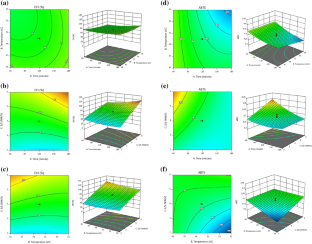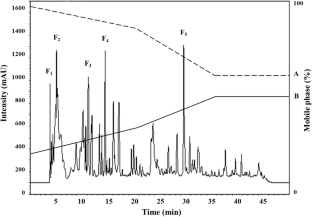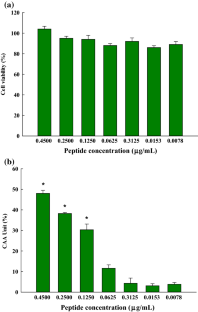 References
Bradford MM (1976) A rapid and sensitive method for the quantitation of microgram quantities of protein utilizing the principle of protein dye binding. Anal Biochem 72:248–254. https://doi.org/10.1016/0003-2697(76)90527-3

Chakrabarti S, Guha S, Majumder K (2018) Food-derived bioactive peptides in human health: challenges and opportunities. Nutrients 10(11):1738. https://doi.org/10.3390/nu10111738

Chanput W, Theerakulkait C, Nakai S (2009) Antioxidative properties of partially purified barley hordein, rice bran protein fractions and their hydrolysates. J Cereal Sci 49:422–428. https://doi.org/10.1016/j.jcs.2009.02.001

Chaturvedi VK, Agarwal S, Gupta KK, Ramteke PW, Singh MP (2018) Medicinal mushroom: boon for therapeutic applications. 3 Biotech 8(8):334. https://doi.org/10.1007/s13205-018-1358-0

Chen HM, Muramoto K, Yamauchi F, Nokihara K (1996) Antioxidant activity of designed peptides based on the antioxidant peptide isolated from digests of a soybean protein. J Agric Food Chem 144(9):2619–2623. https://doi.org/10.1021/jf950833m

Cheung IWY, Cheung LKY, Tan NY, Li-Chan ECY (2012) The role of molecular size in antioxidant activity of peptide fractions from Pacific hake (Merluccius productus) hydrolysates. Food Chem 134(3):1297–1306. https://doi.org/10.1016/j.foodchem.2012.02.215

Church FC, Swaisgood HE, Porter DH, Catignani GL (1983) Spectrophotometric assay using o-Phthaldialdehyde for determination of proteosis in milk and isolated milk proteins. J Dairy Sci 66(6):1219–1227. https://doi.org/10.3168/jds.S0022-0302(83)81926-2

Daliri EBM, Oh DH, Lee BH (2017) Bioactive peptides. Foods 6(5):32. https://doi.org/10.3390/foods6050032

Jeampakdee P, Puthong S, Srimongkol P, Sangtanoo P, Saisavoey T, Karnchanatat A (2020) The apoptotic and free radical-scavenging abilities of the protein hydrolysate obtained from chicken feather meal. Poult Sci 99(3):1693–1704. https://doi.org/10.1016/j.psj.2019.10.050

Jiang B, Zhang X, Yuan Y, Qu Y, Feng Z (2017) Separation of antioxidant peptides from pepsin hydrolysate of whey protein isolate by ATPS of EOPO co-polymer (UCON)/phosphate. Sci Rep 7(1):13320. https://doi.org/10.1038/s41598-017-13507-9

Kim SY, Je JY, Kim SK (2007) Purification and characterization of antioxidant peptide from hoki (Johnius belengerii) frame protein by gastrointestinal digestion. J Nutr Biochem 18:31–38. https://doi.org/10.1016/j.jnutbio.2006.02.006

Kumari S, Badana AK, Malla R (2018) Reactive oxygen species: a key constituent in cancer survival. Biomark Insights 13:1177271918755391. https://doi.org/10.1177/1177271918755391

Lee J, Koo N, Min DB (2004) Reactive oxygen species, aging, and antioxidative nutraceuticals. Compr Rev Food Sci Food Saf 3(1):21–33. https://doi.org/10.1111/j.1541-4337.2004.tb00058.x

Liu R, Wang M, Duan JA, Guo JM, Tang YP (2010) Purification and identification of three novel antioxidant peptides from Cornu bubali (water buffalo horn). Peptides 31(5):786–793. https://doi.org/10.1016/j.peptides.2010.02.016

Lobo V, Patil A, Phatak A, Chandra N (2010) Free radicals, antioxidants and functional foods: impact on human health. Pharmacogn Rev 4(8):118–126. https://doi.org/10.4103/0973-7847.70902

Meng X, Liang H, Luo L (2016) Antitumor polysaccharides from mushrooms: a review on the structural characteristics, antitumor mechanisms and immunomodulating activities. Carbohydr Res 424:30–41. https://doi.org/10.1016/j.carres.2016.02.008

Patel S, Goyal A (2012) Recent developments in mushrooms as anti-cancer therapeutics: a review. 3 Biotech 2(1):1–15. https://doi.org/10.1007/s13205-011-0036-2

Qian ZJ, Jung WK, Byun HG, Kim SK (2008) Protective effect of an antioxidativepeptide purified from gastrointestinal digests of oyster, Crassostrea gigas against free radical induced DNA damage. Bioresour Technol 99(9):3365–3371. https://doi.org/10.1016/j.biortech.2007.08.018

Re R, Pellegrini N, Proteggente A, Pannala A, Yang M, Rice-Evans C (1999) Antioxidat activity applying an improved ABTS radical cation decolorization assay. Free Radic Biol Med 26(9–10):1231–1237. https://doi.org/10.1016/S0891-5849(98)00315-3

Ren JY, Zhao MM, Shi J, Wang JS, Jiang YM, Cui C, Kakuda Y, Xue SJ (2008) Optimization of antioxidant peptide production from grass carp sarcoplasmic protein using response surface methodology. Food Sci Technol 41(9):1624–1632. https://doi.org/10.1016/j.lwt.2007.11.005

Rutherfurd-Markwick KJ (2012) Food proteins as a source of bioactive peptides with diverse functions. Br J Nutr 108(Suppl 2):S149–S157. https://doi.org/10.1017/S000711451200253X

Samaranayaka AG, Kitts DD, Li-Chan EC (2010) Antioxidative and angiotensin-I-converting enzyme inhibitory potential of a Pacific Hake (Merluccius productus) fish protein hydrolysate subjected to simulated gastrointestinal digestion and Caco-2 cell permeation. J Agric Food Chem 58(3):1535–1542. https://doi.org/10.1021/jf9033199

Sila A, Bougatef A (2016) Antioxidant peptides from marine by-products: isolation, identification and application in food systems. A review. J Funct Foods 21:10–26. https://doi.org/10.1016/j.jff.2015.11.007

Suttisuwan R, Phunpruch S, Saisavoey T, Sangtanoo P, Thongchul N, Karnchanatat A (2019) Free radical scavenging properties and induction of apoptotic effects of Fa fraction obtained after proteolysis of bioactive peptides from microalgae Synechococcus sp. VDW. Food Technol Biotechnol 57(3):358–368. https://doi.org/10.17113/ftb.57.03.19.6028

Takemoto S, Nakamura H, Imamura Y, Shimane T (2010) Schizophyllum commune as a ubiquitous plant parasite. Jpn Agric Res Q 44:357–364

Wang JS, Zhao MM, Zhao QZ, Bao Y, Jiang YM (2007) Antioxidant properties of papain hydrolysates of wheat gluten in different oxidation systems. Food Chem 101(4):1658–1663. https://doi.org/10.1016/j.foodchem.2006.04.024

Wasser SP (2011) Current findings, future trends, and unsolved problems in studies of medicinal mushrooms. Appl Microbiol Biotechnol 89(5):1323–1332. https://doi.org/10.1007/s00253-010-3067-4

Wasser SP (2014) Medicinal mushroom science: current perspectives, advances, evidences, and challenges. Biomed J 37(6):345–356. https://doi.org/10.1007/s00253-010-3067-4

Wasser SP, Weis AL (1999) Therapeutic effects of substances occurring in higher Basidiomycetes mushrooms: a modern perspective. Crit Rev Immunol 19(1):65–96. https://doi.org/10.1615/CritRevImmunol.v19.i1.30

Wolfe KL, Liu RH (2007) Cellular antioxidant activity (CAA) assay for assessing antioxidants, foods, and dietary supplements. J Agric Food Chem 55(22):8896–8907. https://doi.org/10.1021/jf0715166

Xie N, Wang B, Jiang L, Liu CC, Li B (2015) Hydrophobicity exerts different effects on bioavailability and stability of antioxidant peptide fractions from casein during simulated gastrointestinal digestion and Caco-2 cell absorption. Food Res Int 76(Pt 3):518–526. https://doi.org/10.1016/j.foodres.2015.06.025

Zhang JH, Zhang H, Wang L, Guo XN, Wang XG, Yao HY (2010) Isolation and identification of antioxidative peptides from rice endosperm protein enzymatic hydrolysate by consecutive chromatography and MALDI-TOF/TOF MS/MS. Food Chem 119(1):226–234. https://doi.org/10.1016/j.foodchem.2009.06.015
Acknowledgements
The authors would like to thank the Institute of Biotechnology and Genetic Engineering, Chulalongkorn University, for their support and providing access to their facilities. We acknowledge the financial support from the Grant for Research: The Research Assistantship Fund, Faculty of Science, Chulalongkorn University (RAF_2561_010), The Center of Excellence on Medical Biotechnology (CEMB), S&T Postgraduate Education and Research Development Office (PERDO), Office of Higher Education Commission (OHEC), Thailand (SN-60-003-909), and the Ratchadapisek Sompoch Endowment Fund, Chulalongkorn University (R_016_2556), and the Ratchadapisek Sompoch Endowment Fund (2019), Chulalongkorn University (762008) for providing the financial support for this research. The authors were grateful to Dr. Robert Douglas John Butcher for reviewing this manuscript.
Additional information
Publisher's Note
Springer Nature remains neutral with regard to jurisdictional claims in published maps and institutional affiliations.
About this article
Cite this article
Wongaem, A., Reamtong, O., Srimongkol, P. et al. Antioxidant properties of peptides obtained from the split gill mushroom (Schizophyllum commune). J Food Sci Technol 58, 680–691 (2021). https://doi.org/10.1007/s13197-020-04582-4
Revised:

Accepted:

Published:

Issue Date:
Keywords
Free radical scavenging activity

HT-29

Protein hydrolysate

Response surface methodology

Schizophyllum commune

Split gill mushroom