Abstract
Lactobionic acid (LBA) shows singular properties (antioxidant and antimicrobial). However, few studies aim to test them in foods and confirm the actual occurrence of properties. The present study aims to apply LBA/lactic acid in the production of requeijão cremoso model in order to recognize some of the effects caused by the component as a food additive. The effects on the requeijão cremoso model were evaluated by the final properties of the product: water activity, rheological properties, antioxidant and antimicrobial capacity. Model of requeijão completely acidified with LBA showed the maximum antioxidant activity (88%). The results revealed a potential of application of LBA for microbial inhibition. All model produced presented pseudo plastic behaviour.
Graphic abstract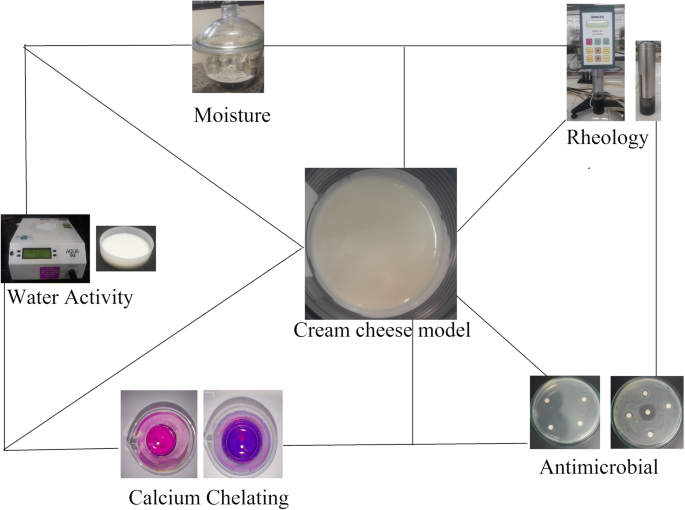 This is a preview of subscription content, log in to check access.
Access options
Buy single article
Instant access to the full article PDF.
US$ 39.95
Price includes VAT for USA
Subscribe to journal
Immediate online access to all issues from 2019. Subscription will auto renew annually.
US$ 99
This is the net price. Taxes to be calculated in checkout.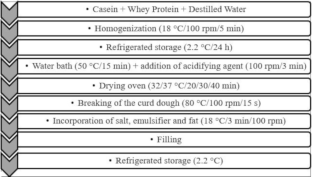 References
Alonso S, Rendueles M, Díaz M (2013) Bio-production of lactobionic acid: current status, applications and future prospects. Biotechnol Adv 31:1275–1291. https://doi.org/10.1016/j.biotechadv.2013.04.010

Alonso S, Rendueles M, Díaz M (2015) Simultaneous production of lactobionic and gluconic acid in cheese whey/glucose co-fermentation by Pseudomonas taetrolens. Bioresour Technol 196:314–323. https://doi.org/10.1016/j.biortech.2015.07.092

Bauer AW, Kirby WMM, Sherris MD, Turck MD (1966) Antibiotic susceptibility testing by a standardized single disk method. Am J Clin Pathol 45:493–496

Brul S (1999) Preservative agents in foods mode of action and microbial resistance mechanisms. Int J Food Microbiol 50:1–17. https://doi.org/10.1016/S0168-1605(99)00072-0

Cardoso T, Marques C, Dagostin JLA, Masson ML (2019) Lactobionic acid as a potential food ingredient: recent studies and applications. J Food Sci. https://doi.org/10.1111/1750-3841.14686

Correa FT, de Souza AC, de Souza Júnior EA et al (2019) Effect of Brazilian green propolis on microorganism contaminants of surface of Gorgonzola-type cheese. J Food Sci Technol 56:1978–1987. https://doi.org/10.1007/s13197-019-03664-2

de Vargas AC, Loguercio AP, Witt NM et al (2004) Atividade antimicrobiana "in vitro" de extrato alcóolico de própolis. Ciênc Rural 34:159–163. https://doi.org/10.1590/s0103-84782004000100024

del Olmo A, Picon A, Nuñez M (2018) Cheese supplementation with five species of edible seaweeds: effect on microbiota, antioxidant activity, colour, texture and sensory characteristics. Int Dairy J 84:36–45. https://doi.org/10.1016/j.idairyj.2018.04.004

Dewan RK, Bloomfield VA, Chudgar A, Morr CV (1972) Viscosity and voluminosity of bovine milk casein micelles. J Dairy Sci 56:699–705. https://doi.org/10.3168/jds.S0022-0302(73)85236-1

Dimitreli G, Thomareis AS (2004) Effect of temperature and chemical composition on processed cheese apparent viscosity. J Food Eng 64:265–271. https://doi.org/10.1016/j.jfoodeng.2003.10.008

Dudonné S et al (2009) Comparative study of antioxidant properties and total phenolic content of 30 plant extracts of industrial interest using DPPH, ABTS, FRAP, SOD, and ORAC assays. J Agric Food Chem 57:1768–1774

Dusselier M, Van Wouwe P, Dewaele A et al (2013) Lactic acid as a platform chemical in the biobased economy: the role of chemocatalysis. Energy Environ Sci 6:1415. https://doi.org/10.1039/c3ee00069a

Ferrão LL, Ferreira MVS, Cavalcanti RN et al (2018) The xylooligosaccharide addition and sodium reduction in requeijão cremoso processed cheese. Food Res Int 107:137–147. https://doi.org/10.1016/j.foodres.2018.02.018

Food and Drug Administration (FDA) (2018) Title 21—food and drugs. Chapter I—part 172. Food additives permitted for direct addition to food for human consumption Act 2011

Gutiérrez LF, Hamoudi S, Belkacemi K (2012) Lactobionic acid: a high value-added lactose derivative for food and pharmaceutical applications. Int Dairy J 26:103–111. https://doi.org/10.1016/j.idairyj.2012.05.003

Harb TB, Torres PB, Pires JS et al (2016) Ensaio em microplaca do potencial antioxidante através do sistema quelante de metais para extratos de algas. Inst Biociênc Univ São Paulo 1:2–6. https://doi.org/10.13140/rg.2.2.35838.69446

Hickey CD, Wilkinson MG, Sheehan JJ et al (2015) The influence of cheese manufacture parameters on cheese microbial localisation and their interactions during ripening: a review. Trends Food Sci Technol 41:135–148. https://doi.org/10.1016/j.tifs.2014.10.006

Hirpara K, Patel HG, Aj G, Mallik JM (2016) Influence of type of culture on compositional, physico-chemical, rheological and sensory attributes of processed cream cheese based (PCCB) spread. Indian J Dairy Sci 69:1–7

Illanes A, Guerrero C, Vera C et al (2016) Lactose-derived prebiotics: a process perspective. Elsevier, Amsterdam

Joshi NS, Muthukumarappan K, Dave RI (2004) Effect of calcium on microstructure and meltability of part skim mozzarella cheese. J Dairy Sci 87:1975–1985. https://doi.org/10.3168/jds.s0022-0302(04)70014-4

Kokoh KB, Alonso-Vante N (2006) Electrocatalytic oxidation of lactose on gold nanoparticle modified carbon in carbonate buffer. J Appl Electrochem 36:147–151. https://doi.org/10.1007/s10800-005-9042-6

Marriott NG, Schilling MW, Gravani RB (eds) (2018) Food contamination sources. In: Principles of food sanitation. Springer, Cham, pp 83–91

MINISTÉRIO DA AGRICULTURA E PECUÁRIA E ABASTECIMENTO (1997) PORTARIA No 359, DE 04 DE SETEMBRO DE 1997

Panouillé M, Saint-Eve A, de Loubens C et al (2011) Understanding of the influence of composition, structure and texture on salty perception in model dairy products. Food Hydrocoll 25:716–723. https://doi.org/10.1016/j.foodhyd.2010.08.021

Pereira CTM, Oliveira DSV, Veloso VS et al (2018) Microbiology quality, detection of enterotoxin genes and antimicrobial resistance of Staphylococcus aureus isolated from milk and coalho cheese. Semin Agrar 39:1957–1968. https://doi.org/10.5433/1679-0359.2018v39n5p1957

Perna A, Intaglietta I, Simonetti A, Gambacorta E (2015) Short communication: Effect of genetic type on antioxidant activity of caciocavallo cheese during ripening. J Dairy Sci 98:3690–3694. https://doi.org/10.3168/jds.2014-9097

Pivetta FP, Naissinger M, Tagliapietra BL, Silvia N (2019) Addition of green banana biomass as partial substitute for fat and encapsulated Lactobacillus acidophilus in requeijão cremoso processed cheese. Food Sci Nutr 2061:1–7

Přikryl J, Hájek T, Švecová B et al (2018) Antioxidant properties and textural characteristics of processed cheese spreads enriched with rutin or quercetin: the effect of processing conditions. LWT Food Sci Technol 87:266–271. https://doi.org/10.1016/j.lwt.2017.08.093

Rashidinejad A, Birch EJ, Sun-Waterhouse D, Everett DW (2013) Effects of catechin on the phenolic content and antioxidant properties of low-fat cheese. Int J Food Sci Technol 48:2448–2455. https://doi.org/10.1111/ijfs.12234

Re R, Pellegrini N, Proteggente A et al (1999) Antioxidant activity applying an improved ABTS radical cation decolorizations assay. Free Radic Biol Med 26:1231–1237

Revilla I, González-Martín MI, Vivar-Quintana AM et al (2016) Antioxidant capacity of different cheeses: affecting factors and prediction by near infrared spectroscopy. J Dairy Sci 99:5074–5082. https://doi.org/10.3168/jds.2015-10564

Ribeiro JCB, Granato D, Masson ML et al (2016) Effect of lactobionic acid on the acidification, rheological properties and aroma release of dairy gels. Food Chem 207:101–106. https://doi.org/10.1016/j.foodchem.2016.03.066

Rufino MDSM, Alves RE, de Brito ES et al (2007) Metodologia Científica: Determinação da atividade antioxidante total em frutas pela captura do radical livre DPPH. Ministério da Agric Pecuária e Abast 23:1–4. https://doi.org/10.1017/CBO9781107415324.004

Saint-Eve A, Lauverjat C, Magnan C et al (2009) Reducing salt and fat content: impact of composition, texture and cognitive interactions on the perception of flavoured model cheeses. Food Chem 116:167–175. https://doi.org/10.1016/j.foodchem.2009.02.027

Santiago-López L, Aguilar-Toalá JE, Hernández-Mendoza A et al (2018) Invited review: bioactive compounds produced during cheese ripening and health effects associated with aged cheese consumption. J Dairy Sci 101:3742–3757. https://doi.org/10.3168/jds.2017-13465

Schalk IJ (2018) A trojan-horse strategy including a bacterial suicide action for the efficient use of a specific gram-positive antibiotic on gram-negative bacteria. J Med Chem 61:3842–3844. https://doi.org/10.1021/acs.jmedchem.8b00522

Sołowiej B, Glibowski P, Muszyński S et al (2014) The effect of fat replacement by inulin on the physicochemical properties and microstructure of acid casein processed cheese analogues with added whey protein polymers. Food Hydrocoll 44:1–11. https://doi.org/10.1016/j.foodhyd.2014.08.022

Stodola FHH, Lockwood LB (1947) The oxidation of lactose and maltose to bionic acids by Pseudomonas. J Biol Chem 171:213–221

Syarifuddin A, Septier C, Salles C, Thomas-Danguin T (2016) Reducing salt and fat while maintaining taste: an approach on a model food system. Food Qual Prefer 48:59–69. https://doi.org/10.1016/j.foodqual.2015.08.009

Tang SZ, Kerry JP, Sheehan D, Buckley DJ (2002) Antioxidative mechanisms of tea catechins in chicken meat systems. Food Chem 76:45–51. https://doi.org/10.1016/S0308-8146(01)00248-5

Tunick MH, Nolan EDJ (1992) Rheology of cheese. In: Baian JC (ed) Physical chemistry of food process fundamental aspects. An AVI Book, New York, pp 273–297

Zardo DM, Alvarez LV, Los FGB et al (2019) In vitro assessment of the antibacterial and antioxidant properties of essential oils. Curr Bioact Compd 15:10

Zehren VL, Nusbaum DD (1992) Process cheese, 2nd edn. Cheese Reporter Publishing Company, Madison
Acknowledgements
The authors acknowledge CAPES (Coordination for the Improvement of Higher Education Personnel) for financing part of this study.
Funding
This work was supported by CAPES (Coordination for the Improvement of Higher Education Personnel) [Grant Number 1700001].
Ethics declarations
Conflict of interest
The authors declare no conflict of interest.
Additional information
Publisher's Note
Springer Nature remains neutral with regard to jurisdictional claims in published maps and institutional affiliations.
About this article
Cite this article
Cardoso, T., Dias, M.C.G.C., Dagostin, J.L.A. et al. Direct acidification of requeijão cremoso model by lactobionic acid: physical, chemical and antimicrobial effects. J Food Sci Technol (2020). https://doi.org/10.1007/s13197-020-04580-6
Revised:

Accepted:

Published:
Keywords
Rheology

Antioxidant

Brazilian cheese

Food additive