Abstract
The present study was attempted to investigate the effect of succinylation, as chemical modification, on the functionality of male date palm pollen protein concentrate (MDPPPC). Succinylation was applied at two levels, 4 and 8 mol of succinic acid per mole of lysine. 4 M and 8 M were compared to the native MDPPPC. Findings proved that succinylation improved the surface properties of pollen protein including solubility and surfactant activity. Increased solubility of succinylated MDPPPC has been noticed especially in pH superior to pHi. The results from the differential scanning calorimetry showed a significant decrease (P < 0.05) of the denaturation temperature and the heat enthalpy for succinylated MDPPPC. β turn of succinylated MDPPPC increased significantly (P < 0.05) at the expense of β sheet indicating that the protein gained more mobility after succinylation which explains the enhancement of the functional properties and promotes the use of succinylated protein as a techno-functional ingredient.
This is a preview of subscription content, log in to check access.
Access options
Buy single article
Instant access to the full article PDF.
US$ 39.95
Price includes VAT for USA
Subscribe to journal
Immediate online access to all issues from 2019. Subscription will auto renew annually.
US$ 99
This is the net price. Taxes to be calculated in checkout.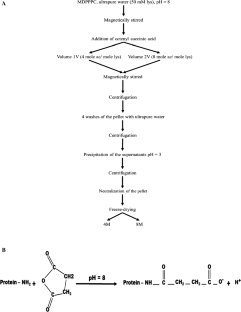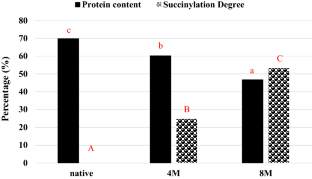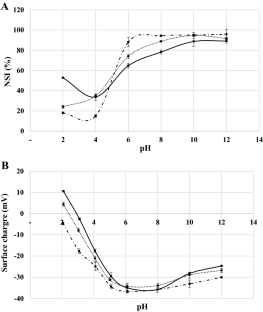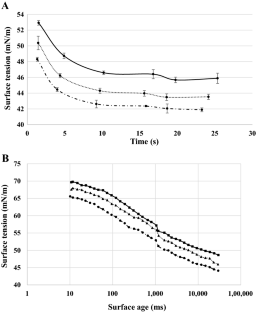 References
Achouri A, Zhang W (2001) Effect of succinylation on the physicochemical properties of soy protein hydrolysate. Food Res Int 34:507–514

Bchir B, Rabetafika HN, Paquot M, Blecker C (2014) Effect of pear, apple and date fibres from cooked fruit by-products on dough performance and bread quality. Food Bioprocess Technol 7:1114–1127

BESBES S, Blecker C, Attia H, MASSAUX C, Deroanne C (2002) Comparison of Ricotta cheese made by high pressure treatment with that produced by heat treatment of sweet whey. Sci des aliments 22:601–615

Blecker C, Piccicuto S, Lognay G, Deroanne C, Marlier M, Paquot M (2002) Enzymatically prepared n-alkyl esters of glucuronic acid: the effect of hydrophobic chain length on surface properties. J Colloid Interface Sci 247:424–428

Broersen K, Weijers M, de Groot J, Hamer RJ, de Jongh HH (2007) Effect of protein charge on the generation of aggregation-prone conformers. Biomacromol 8:1648–1656

Fainerman V, Miller R (2004) Maximum bubble pressure tensiometry—an analysis of experimental constraints. Adv Coll Interface Sci 108:287–301

Ghribi AM, Gafsi IM, Blecker C, Danthine S, Attia H, Besbes S (2015) Effect of drying methods on physico-chemical and functional properties of chickpea protein concentrates. J Food Eng 165:179–188

Guerrero P, De la Caba K (2010) Thermal and mechanical properties of soy protein films processed at different pH by compression. J Food Eng 100:261–269

Hesso N, Marti A, Le-Bail P, Loisel C, Chevallier S, Le-Bail A, Seetharaman K (2015) Conformational changes of polymers in model batter systems. Food Hydrocoll 51:101–107

Kato A, Tsutsui N, Matsudomi N, Kobayashi K, Nakai S (1981) Effects of partial denaturation on surface properties of ovalbumin and lysozyme. Agric Biol Chem 45:2755–2760

Kong J, Yu S (2007) Fourier transform infrared spectroscopic analysis of protein secondary structures. Acta Biochim Biophys Sin 39:549–559

Kulchaiyawat C, Wang T, Han Z (2016) Improving albumen thermal stability using succinylation reaction with octenyl succinic anhydride. LWT-Food Science and Technology 73:630–639

Liu Y, Zhang L, Li Y, Yang Y, Yang F, Wang S (2018) The functional properties and structural characteristics of deamidated and succinylated wheat gluten. Int J Biol Macromol 109:417–423

Mirmoghtadaie L, Kadivar M, Shahedi M (2009) Effects of succinylation and deamidation on functional properties of oat protein isolate. Food Chem 114:127–131

Nawrocka A (2014) Conformational changes in wheat gluten after using Ag-nanoparticles. Int Agrophysics 28:311–317

Nhouchi Z, Karoui R (2018) Application of Fourier-transform mid infrared spectroscopy for the monitoring of pound cakes quality during storage. Food Chem 252:327–334

Nir I, Feldman Y, Aserin A, Garti N (1994) Surface properties and emulsification behavior of denatured soy proteins. J Food Sci 59:606–610

Pugliese A, Paciulli M, Chiavaro E, Mucchetti G (2016) Characterization of commercial dried milk and some of its derivatives by differential scanning calorimetry. J Therm Anal Calorim 123:2583–2590

Shilpashree B, Arora S, Chawla P, Tomar S (2015a) Effect of succinylation on physicochemical and functional properties of milk protein concentrate. Food Res Int 72:223–230

Shilpashree B, Arora S, Chawla P, Vakkalagadda R, Sharma A (2015b) Succinylation of sodium caseinate and its effect on physicochemical and functional properties of protein. LWT-Food Science and Technology 64:1270–1277

Wan Y, Liu J, Guo S (2018) Effects of succinylation on the structure and thermal aggregation of soy protein isolate. Food Chem 245:542–550

Wang Y, Gan J, Zhou Y, Cheng Y, Nirasawa S (2017) Improving solubility and emulsifying property of wheat gluten by deamidation with four different acids: Effect of replacement of folded conformation by extended structure. Food Hydrocoll 72:105–114

Xiang Z, Runge T (2016) Emulsifying properties of succinylated arabinoxylan-protein gum produced from corn ethanol residuals. Food Hydrocoll 52:423–430

Yada RY (2017) Proteins in food processing. Woodhead Publishing, Cambridge

Yu L, Yang W, Sun J, Zhang C, Bi J, Yang Q (2015) Preparation, characterisation and physicochemical properties of the phosphate modified peanut protein obtained from Arachin Conarachin L. Food Chem 170:169–179

Zaghloul M, Prakash V (2002) Effect of succinylation on the functional and physicochemical properties of α-globulin, the major protein fraction from Sesamum indicum L. Food Nahrung 46:364–369

Zia-Ul-Haq M, Iqbal S, Ahmad S, Imran M, Niaz A, Bhanger M (2007) Nutritional and compositional study of desi chickpea (Cicer arietinum L.) cultivars grown in Punjab Pakistan. Food Chem 105:1357–1363
Acknowledgment
This work was funded by the Ministry of Higher Education and Scientific Research–Tunisia and Wallonie Bruxelles International (Axis 2, project 9).
Ethics declarations
Conflict of interests
The authors declare that there is no conflict of interests regarding the publication of this paper.
Additional information
Publisher's Note
Springer Nature remains neutral with regard to jurisdictional claims in published maps and institutional affiliations.
About this article
Cite this article
Sebii, H., Karra, S., Bchir, B. et al. Effect of succinylation on the secondary structures, surface, and thermal properties of date palm pollen protein concentrate. J Food Sci Technol (2020). https://doi.org/10.1007/s13197-020-04577-1
Revised:

Accepted:

Published:
Keywords
Succinylation

Protein concentrate

Secondary structures

Surface properties

Thermal properties