Abstract
Functional foods with high nutritive values and potential therapeutic potential is a prerequisite for today's ailing world. Soybeans exert beneficial effects on human health. It contains plentiful polyunsaturated fatty acids and dietary fibers along with several isoflavonoids having bioactivity for improving health. Recent studies have shown that soybean isoflavones can have a positive effect on bone growth. The current study was designed to observe any impact of isoflavone-enriched soy milk powder (I-WSM) on inducing osteogenic properties at cellular and molecular levels. Precisely, we have evaluated the effect of I-WSM on the bone differentiation process. Our results show that I-WSM has the ability to stimulate osteogenic properties in osteoblasts both at the initial and terminal stages of differentiation. Treatment of I-WSM on osteoblasts demonstrates the inductive effect on the expression of osteogenic transcriptional factors like Runx2 and Osterix. Moreover, I-WSM increased the expression of the extracellular matrix protein osteocalcin, required for the formation of scaffold for bone mineralization. The estrogen signaling pathway was utilized by I-WSM to induce osteogenic activity. Taken together, here we report the cellular and molecular events mediated by I-WSM to exert an osteogenic effect in osteoblasts, which will help to understand its mechanism of action and project it as a remedy for the bone-related disease. Taken together, I-WSM has the ability to exert the osteogenic effect in osteoblasts via the estrogen signaling pathway and thus might be projected as a remedy for a bone-related disease like osteoporosis.
This is a preview of subscription content, log in to check access.
Access options
Buy single article
Instant access to the full article PDF.
US$ 39.95
Price includes VAT for USA
Subscribe to journal
Immediate online access to all issues from 2019. Subscription will auto renew annually.
US$ 99
This is the net price. Taxes to be calculated in checkout.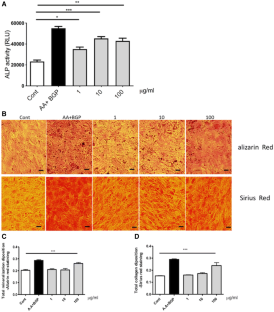 References
Ahn H, Park YK (2017) Soy isoflavone supplementation improves longitudinal bone growth and bone quality in growing female rats. Nutrition 37:68–73. https://doi.org/10.1016/j.nut.2016.12.008

Blum SC, Heaton SN, Bowman BM, Hegsted M, Miller SC (2003) Dietary soy protein maintains some indices of bone mineral density and bone formation in aged ovariectomized rats. J Nutr 133(5):1244–1249. https://doi.org/10.1093/jn/133.5.1244

Chang KL, Hu YC, Hsieh BS, Cheng HL, Hsu HW, Huang LW, Su SJ (2013) Combined effect of soy isoflavones and vitamin D3 on bone loss in ovariectomized rats. Nutrition 29(1):250–257. https://doi.org/10.1016/j.nut.2012.03.009

De Franciscis P, Grauso F, Luisi A, Schettino MT, Torella M, Colacurci N (2017) Adding agnus castus and magnolia to soy isoflavones relieves sleep disturbances besides postmenopausal vasomotor symptoms-long term safety and effectiveness. Nutrients. https://doi.org/10.3390/nu9020129

Ducy P (2000) Cbfa1: a molecular switch in osteoblast biology. Dev Dynam 219(4):461–471. https://doi.org/10.1002/1097-0177(2000)9999:9999<:AID-DVDY1074>3.0.CO;2-C

Friedman M, Brandon DL (2001) Nutritional and health benefits of soy proteins. J Agric Food Chem 49(3):1069–1086

Hu C, Wong WT, Wu R, Lai WF (2019) Biochemistry and use of soybean isoflavones in functional food development. Crit Rev Food Sci Nutr. https://doi.org/10.1080/10408398.2019.1630598

Jeewanthi RK, Lee NK, Lee KA, Yoon YC, Paik HD (2015) Comparative analysis of improved soy-mozzarella cheeses made of ultrafiltrated and partly skimmed soy blends with other mozzarella types. J Food Sci Technol 52(8):5172–5179. https://doi.org/10.1007/s13197-014-1542-0

Kahler RA, Westendorf JJ (2003) Lymphoid enhancer factor-1 and beta-catenin inhibit Runx2-dependent transcriptional activation of the osteocalcin promoter. J Biol Chem 278(14):11937–11944. https://doi.org/10.1074/jbc.M211443200

Kerstetter JE, Kenny AM, Insogna KL (2011) Dietary protein and skeletal health: a review of recent human research. Curr Opin Lipidol 22(1):16–20. https://doi.org/10.1097/MOL.0b013e3283419441

Khalid AB, Krum SA (2016) Estrogen receptors α and β in bone. Bone 87:130–135. https://doi.org/10.1016/j.bone.2016.03.016

Kim SM, Lee HS, Jung JI, Lim SM, Lim JH, Ha WH, Jeon CL, Lee JY, Kim EJ (2018) Effect of isoflavone-enriched whole soy milk powder supplementation on bone metabolism in ovariectomized mice. Nutr Res Practice 12(4):275–282. https://doi.org/10.4162/nrp.2018.12.4.275

Komori T (2011) Signaling networks in RUNX2-dependent bone development. J Cell Biochem 112(3):750–755. https://doi.org/10.1002/jcb.22994

Lecomte S, Demay F, Ferriere F, Pakdel F (2017) Phytochemicals targeting estrogen receptors: beneficial rather than adverse effects? Int J Mol Sci. https://doi.org/10.3390/ijms18071381

Li Y, Zhang H (2017) Soybean isoflavones ameliorate ischemic cardiomyopathy by activating Nrf2-mediated antioxidant responses. Food Funct 8(8):2935–2944. https://doi.org/10.1039/c7fo00342k

Liang HD, Yu F, Lv P, Zhao ZN, Tong ZH (2014) Role of Sost in Wnt signal pathway in osteoporosis rats and regulating effect of soybean isoflavones on Wnt signal pathway. Mol Biol Rep 41(7):4447–4454. https://doi.org/10.1007/s11033-014-3315-2

Matsumoto Y, Otsuka F, Takano-Narazaki M, Katsuyama T, Nakamura E, Tsukamoto N, Inagaki K, Sada KE, Makino H (2013) Estrogen facilitates osteoblast differentiation by upregulating bone morphogenetic protein-4 signaling. Steroids 78(5):513–520. https://doi.org/10.1016/j.steroids.2013.02.011

Mei J, Yeung SS, Kung AW (2001) High dietary phytoestrogen intake is associated with higher bone mineral density in postmenopausal but not premenopausal women. J Clin Endocrinol Metab 86(11):5217–5221. https://doi.org/10.1210/jcem.86.11.8040

Moser SC, van der Eerden BCJ (2018) Osteocalcin-a versatile bone-derived hormone. Front Endocrinol 9:794. https://doi.org/10.3389/fendo.2018.00794

Nguyen LT, Maidar O, Sharma AR, Sharma G, Kim HC, Park S, Lee SS, Nam JS (2016) Enhanced healing process of fracture by treatment of Kaempferol. Biomed Res-India 27(1):138–144

Oseni T, Patel R, Pyle J, Jordan VC (2008) Selective estrogen receptor modulators and phytoestrogens. Planta Med 74(13):1656–1665. https://doi.org/10.1055/s-0028-1088304

Qi H, Aguiar DJ, Williams SM, La Pean A, Pan W, Verfaillie CM (2003) Identification of genes responsible for osteoblast differentiation from human mesodermal progenitor cells. Proc Natl Acad Sci USA 100(6):3305–3310. https://doi.org/10.1073/pnas.0532693100

Rutkovskiy A, Stenslokken KO, Vaage IJ (2016) Osteoblast differentiation at a glance. Med Sci Monit Basic Res 22:95–106

Santos MA, Florencio-Silva R, Medeiros VP, Nader HB, Nonaka KO, Sasso GR, Simoes MJ, Reginato RD (2014) Effects of different doses of soy isoflavones on bone tissue of ovariectomized rats. Climacteric 17(4):393–401. https://doi.org/10.3109/13697137.2013.830606

Scheiber MD, Liu JH, Subbiah MT, Rebar RW, Setchell KD (2001) Dietary inclusion of whole soy foods results in significant reductions in clinical risk factors for osteoporosis and cardiovascular disease in normal postmenopausal women. Menopause 8(5):384–392

Sebastian A (2005) Isoflavones, protein, and bone. Am J Clin Nutr 81(4):733–735. https://doi.org/10.1093/ajcn/81.4.733

Setchell KD, Cassidy A (1999) Dietary isoflavones: biological effects and relevance to human health. J Nutr 129(3):758S–767S. https://doi.org/10.1093/jn/129.3.758S

Sharma AR, Nam JS (2019) Kaempferol stimulates WNT/β-catenin signaling pathway to induce differentiation of osteoblasts. J Nutr Biochem 74:108228. https://doi.org/10.1016/j.jnutbio.2019.108228

Sinha KM, Zhou X (2013) Genetic and molecular control of Osterix in skeletal formation. J Cell Biochem 114(5):975–984. https://doi.org/10.1002/jcb.24439

Tempfer CB, Bentz EK, Leodolter S, Tscherne G, Reuss F, Cross HS, Huber JC (2007) Phytoestrogens in clinical practice: a review of the literature. Fertil Steril 87(6):1243–1249. https://doi.org/10.1016/j.fertnstert.2007.01.120

Tullberg-Reinert H, Jundt G (1999) In situ measurement of collagen synthesis by human bone cells with a sirius red-based colorimetric microassay: effects of transforming growth factor beta2 and ascorbic acid 2-phosphate. Histochem Cell Biol 112(4):271–276

Xu JL, Shin JS, Park SK, Kang S, Jeong SC, Moon JK, Choi Y (2017) Differences in the metabolic profiles and antioxidant activities of wild and cultivated black soybeans evaluated by correlation analysis. Food Res Int 100(Pt 2):166–174. https://doi.org/10.1016/j.foodres.2017.08.026

Yu F, Liu Z, Tong Z, Zhao Z, Liang H (2015) Soybean isoflavone treatment induces osteoblast differentiation and proliferation by regulating analysis of Wnt/β-catenin pathway. Gene 573(2):273–277. https://doi.org/10.1016/j.gene.2015.07.054

Zaheer K, Humayoun Akhtar M (2017) An updated review of dietary isoflavones: nutrition, processing, bioavailability and impacts on human health. Crit Rev Food Sci Nutr 57(6):1280–1293. https://doi.org/10.1080/10408398.2014.989958

Zheng X, Lee SK, Chun OK (2016) Soy isoflavones and osteoporotic bone loss: a review with an emphasis on modulation of bone remodeling. J Med Food 19(1):1–14. https://doi.org/10.1089/jmf.2015.0045
Acknowledgements
This research work was supported by the Ministry of Trade, Industry, and Energy (MOTIE), Korea Institute for Advancement of Technology (KIAT) through the Research and Promotion Regional Specialized Industry (R0005131) and by Basic Science Research Program through the National Research Foundation of Korea (NRF) funded by the Ministry of Education (NRF-2016R1D1A1B03931318).
Ethics declarations
Conflict of interest
The author(s) declare that they have no conflict.
Additional information
Publisher's Note
Springer Nature remains neutral with regard to jurisdictional claims in published maps and institutional affiliations.
About this article
Cite this article
Jagga, S., Sharma, A.R., Kim, E.J. et al. Isoflavone-enriched whole soy milk powder stimulates osteoblast differentiation. J Food Sci Technol (2020). https://doi.org/10.1007/s13197-020-04572-6
Revised:

Accepted:

Published:
Keywords
Osteoblasts

Alkaline phosphatase activity

Estrogen signaling pathway