Abstract
In this study, the effect of Hibiscus sabdariffa L. flowers marmalade (HM) addition at different ratios (0%, 15%, 20%) was determined on the certain quality properties, total phenolic contents, antioxidant activity, mineral composition and heavy metal content of stirred-type yogurts (C, HM15, and HM20). The marmalade addition increased dry matter, ash, titratable acidity and viscosity whereas decreased pH, fat and protein values. HM addition significantly increased the antioxidant properties of yogurt samples. 2,2-Diphenylpicrylhydrazyl radical-scavenging activity, Copper (II) reducing antioxidant capacity and total phenolic content were found to be in the range of 5.92–26.73 mg TE/100 g, 4.88–15.03 mg TE/100 g, and 5.57–14.69 mg GAE/100 g, respectively. There were no statistically differences between control and HM-added groups in terms of lactic acid bacteria (LAB) counts, also in all samples the total LAB count was above 6 Log cfu/g during the storage. Fe, Mn, B, and Ba mineral values of samples with HM were higher than control sample. Cd, As, Hg and Li heavy metals were not detected in any of the samples, consequently results were within reliable limits reported by JECFA (Joint FAO/WHO Expert Committee on Food Additives) and Turkish Food Codex. As a result of the sensory evaluation, the samples containing 20% HM generally received higher scores than the samples containing 15% HM. Considering all the parameters, it was concluded that HM yogurts can be used as a different type in the functional yogurt industry due to its pleasant and characteristic taste.
Access options
Buy single article
Instant access to the full article PDF.
US$ 39.95
Tax calculation will be finalised during checkout.
Subscribe to journal
Immediate online access to all issues from 2019. Subscription will auto renew annually.
US$ 79
Tax calculation will be finalised during checkout.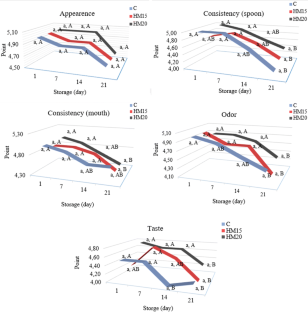 References
Akinwande BA, Olatunde SJ (2015) Comparative evaluation of the mineral profile and other selected components of onion and garlic. Int Food Res J 22(1):332–336

Anonymous (2011) Turkish Food Codex Contaminants Regulation (Official Gazette Numbered 28157). Retrieved on August 16, 2019 from FSIS Website: https://www.mevzuat.gov.tr/Metin.Aspx?MevzuatKod=7.5.15692&MevzuatIliski=0

AOAC (2005) Official Methods of Analysis of AOAC International, 18th edn. AOAC International, Gaithersburg, MD

Apak R, Güçlü K, Özyürek M, Karademir SE (2004) Novel total antioxidant capacity index for dietary polyphenols and vitamins C and E, using their cupric ion reducing capability in the presence of neocuproine: CUPRAC method. J Agric Food Chem 52(26):7970–7981. https://doi.org/10.1021/jf048741x

Atamer M and Sezgin E (1986) Yoğurtlarda, kurumadde artırımının pıhtının fiziksel özellikleri üzerine etkisi. Gıda 11(6):327–331. https://dergipark.org.tr/tr/pub/gida/issue/6803/91480

Bakırcı I, Arslaner A (2007) The effects of partially skim milk powder with whey powder in set type yogurt manufacture. Milchwissenschaft 62:434–438

Bakirci S, Dağdemir E, Boran OS, Hayaloğlu AA (2017) The effect of pumpkin fibre on quality and storage stability ofreduced-fat set-type yogurt. Int J Food Sci Tech 52(1):180–187. https://doi.org/10.1111/ijfs.13264

Bradley RL, Arnold E, Barbano DM, Semerad RG, Smith DE, Vines BK (1992) Chemical and physical methods. In: Marshall RT (ed) Dairy products: standard methods for the examination of dairy products, 15th edn. American Public Health Association, Washington DC, pp 433–529

Capcarova M, Harangozo L, Toth T, Schwarczova L, Bobkova A, Stawarz R, Guidi A, Massanyi P (2017) Detection of selected trace elements in yogurt components. J Environ Sci Health B 52(12):858–863. https://doi.org/10.1080/03601234.2017

Cemeroglu B (2010) General methods in food analysis. In: Cemeroglu B (ed) Food Analysis, 2nd edn. Food Tech Assoc Pub, Ankara, pp 87–93

Christian KR, Jackson JC (2009) Changes in total phenolic and monomeric anthocyanin composition and antioxidant activity of three varieties of sorrel (Hibiscus sabdariffa) during maturity. J Food Compos Anal 22(7–8):663–667. https://doi.org/10.1016/j.jfca.2009.05.007

Dave RI, Shah NP (1996) Evaluation of media for selective enumeration of Streptococcus thermophilus, Lactobacillus delbrueckii ssp. bulgaricus, Lactobacillus acidophilus, and Bifidobacteria. J Dairy Sci 79(9):1529–1536. https://doi.org/10.3168/jds.S0022-0302(96)76513-X

De La Fuente MA, Montes F, Guerrero G, Juarez M (2003) Total and soluble contents of calcium, magnesium, phosphorus and zinc in yoghurts. Food Chem 80(4):573–578. https://doi.org/10.1016/S0308-8146(02)00505-8

El-Said MM, Haggag HF, Fakhr El-Din HM, Gad AS, Farahat AM (2014) Antioxidant activities and physical properties of stirred yoghurt fortified with pomegranate peel extracts. Ann Agric Sci 59(2):207–212. https://doi.org/10.1016/j.aoas.2014.11.007

Fazilah NF, Ariff AB, Khayat ME, Rios-Solis L, Halim M (2018) Influence of probiotics, prebiotics, synbiotics and bioactive phytochemicals on the formulation of functional yogurt. J Funct Foods 48:387–399. https://doi.org/10.1016/j.jff.2018.07.039

Feng C, Wang B, Zhao A, Wei L, Shao Y, Wang Y, Cao B, Zhang F (2019) Quality characteristics and antioxidant activities of goat milk yogurt with added jujube pulp. Food Chem 277:238–245. https://doi.org/10.1016/j.foodchem.2018.10.104

Fernandez MA, Marette A (2017) Potential health benefits of combining yogurt and fruits based on their probiotic and prebiotic properties. Adv Nutr 8(1):155–164. https://doi.org/10.3945/an.115.011114

Gharibzahedi SMT, Jafari SM (2017) The importance of minerals in human nutrition: bioavailability, food fortification, processing effects and nanoencapsulation. Trends Food Sci Technol 62:119–132. https://doi.org/10.1016/j.tifs.2017.02.017

Harrigan WF (1998) Laboratory methods in food microbiology. Academic Press, London

JECFA (Joint FAO/WHO Expert Committee on Food Additives) (2010) Codex Alimentarius International Foods Standards, General Standard For Contaminants And Toxins In Food and Feed, CXS pp 193–1995, https://www.fao.org/fao-who-codexalimentarius/codex-texts/list-standards/en/

Leyva Daniel DE, Barragan Huerta BE, Vizcarra Mendoza MG, Sosa IA (2013) Effect of drying conditions on the retention of phenolic compounds, anthocyanins and antioxidant activity of roselle (Hibiscus sabdariffa L.) added to yogurt. Int J Food Sci Tech 48(11):2283–2291. https://doi.org/10.1111/ijfs.12215

Lin J, Opoku AR, Geheeb-Keller M, Hutchings AD, Terblanche SE, Jager AK, van Staden J (1999) Preliminary screening of some traditional Zulu medicinal plants for antiinflammatory and anti-microbial activities. J Ethnopharmacol 68(1–3):267–274. https://doi.org/10.1016/s0378-8741(99)00130-0

Lucey JA (2002) Formation and physical properties of milk protein gels. J Dairy Sci 85(2):281–294. https://doi.org/10.3168/jds.S0022-0302(02)74078-2

Mahadevan N, Kamboj SP (2009) Hibiscus sabdariffa Linn: an overview. Nat Prod Rad 8(1):77–83

Mohagheghi A, Maghsoud S, Khashayar P, Ghazi-Khansari M (2011) The effect of Hibiscus Sabdariffa on lipid profile, creatinine, and serum electrolytes: a randomized clinical trial. ISRN Gastroenterol 2011:1–4. https://doi.org/10.5402/2011/976019

Mohd-Esa N, Hern FS, Ismail A, Yee CL (2010) Antioxidant activity in different parts of roselle (Hibiscus sabdariffa L.) extracts and potential exploitation of the seeds. Food Chem 122(4):1055–1060. https://doi.org/10.1016/j.foodchem.2010.03.074

Nabrzyski M (2007) Functional role of some minerals in foods. In: Szefer P, Nriagu JO (eds) Mineral components in foods, 1st edn. CRC Press, New York, pp 123–161

O'Sullivan AM, O'Grady MN, O'Callaghan YC, Smyth T, O'Brien NM, Kerry JP (2016) Seaweed extracts as potential functional ingredients in yogurt. Innov Food Sci Emerg Technol 37:293–299. https://doi.org/10.1016/j.ifset.2016.07.031

Patel S (2014) Hibiscus sabdariffa: an ideal yet under-exploited candidate for nutraceutical applications. Biomed Prev Nutr 4(1):23–27. https://doi.org/10.1016/j.bionut.2013.10.004

Riaz G, Chopra R (2018) A review on phytochemistry and therapeutic uses of Hibiscus sabdariffa L. Biomed and Pharmacother 102:575–586. https://doi.org/10.1016/j.biopha.2018.03.023

Roy DKD, Saha T, Akter M, Hosain M, Khatun H, Roy MC (2015) Quality evaluation of yogurt supplemented with fruit pulp (banana, papaya, and water melon). Int J Food Sci Nutr 4(6):695–699. https://doi.org/10.11648/j.ijnfs.20150406.25

Spanos GA, Wrolstad RE (1990) Influence of processing and storage on the phenolic composition of Thompson seedless grape juice. J Agric Food Chem 38:1565–1571. https://doi.org/10.1021/jf00097a030

Souza TSP, Luna AS, Barros DB, Pimentel TC, Pereira EPR, Guimaraes JT, Esmerino EA, Freitas MQ, Costa RGB, Silva MC, Quterio SL, Raices RSL, Cruz AG (2019) Yogurt and whey beverages available in Brazilian market: mineral and trace contents, daily intake and statistical differentiation. Food Res Int 119:709–714. https://doi.org/10.1016/j.foodres.2018.10.050

Tamime AY, Deeth HC (1980) Yogurt: technology and biochemistry. J Food Prot 43(12):939–977. https://doi.org/10.4315/0362-028X-43.12.939

Turkish Standards Institution–TSE (2006) Yoghurt Standard (TSE–TS 1330). Turkish Standards Institution, Ankara
Additional information
Publisher's Note
Springer Nature remains neutral with regard to jurisdictional claims in published maps and institutional affiliations.
About this article
Cite this article
Arslaner, A., Salik, M.A. & Bakirci, İ. The effects of adding Hibiscus sabdariffa L. flowers marmalade on some quality properties, mineral content and antioxidant activities of yogurt. J Food Sci Technol 58, 223–233 (2021). https://doi.org/10.1007/s13197-020-04533-z
Revised:

Accepted:

Published:

Issue Date:
Keywords
Hibiscus sabdariffa L. flowers

Antioxidant

Total phenolic content

Mineral

Yogurt