Abstract
This study evaluated the pH, acidity, soluble solids, color, dietary fiber, sensory acceptance and the viability of Lactobacillus rhamnosus, Lactobacillus plantarum and Lactobacillus acidophilus in mango and carrot mixed juices. In addition, this study verified the resistance of L. plantarum that presented greater viability to the gastrointestinal tract simulated in vitro. Three formulations were elaborated (varying the pulps concentration) and the products were stored at 8 °C for 35 days. No difference was found in the total soluble solids and color of the products during storage time at 8 °C. A reduction in pH and an increase in acidity were observed in all samples during storage, probably due to the fermentative action of probiotics, which negatively influenced acceptance after 35 days of storage. On the other hand, juices with a higher concentration of mango pulp were more accepted and may be a strategy to improve the acceptance of fermented juices. Microorganisms showed greater viability in juices that had higher amount of carrot pulp, probably due to the higher fiber content in these samples. During the 35-day shelf life, all juices with L. plantarum maintained counts above 7 log CFU mL−1 after gastrointestinal conditions simulation. Therefore, mango and carrot mixed juice showed to be as a good vehicle for probiotic bacteria and meets the needs of consumers looking for functional, healthy, non-dairy and low-sugar foods.
Access options
Buy single article
Instant access to the full article PDF.
US$ 39.95
Tax calculation will be finalised during checkout.
Subscribe to journal
Immediate online access to all issues from 2019. Subscription will auto renew annually.
US$ 79
Tax calculation will be finalised during checkout.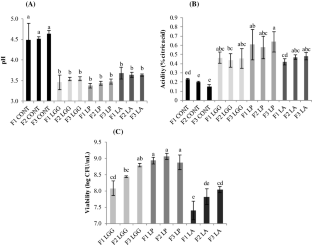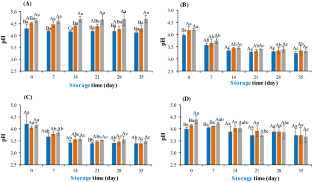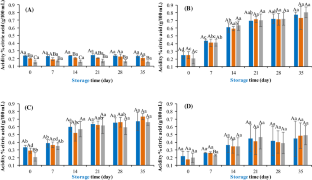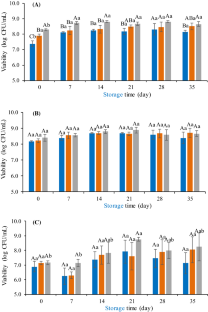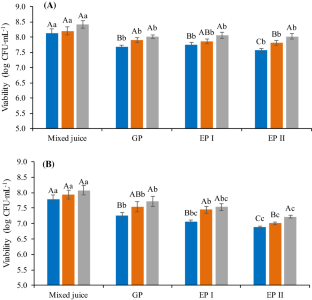 References
Adekunte AO, Tiwari BK, Cullen PJ et al (2010) Effect of sonication on colour, ascorbic acid and yeast inactivation in tomato juice. Food Chem 122:500–507

Antunes AEC, Liserre AM, Coelho ALA et al (2013) Acerola nectar with added microencapsulated probiotic. LWT: Food Sci Technol 54:125–131

AOAC (2000) Official methods of analysis of the AOAC, 16 edn. Washington, DC

AOAC (2012) Official methods of analysis of AOAC International: Agricultural chemicals, contaminants, drugs, 16th edn. AOAC International, Gaithersburg

Battistini C, Gullón B, Ichimura ES, Gomes AMP, Ribeiro EP, Kunigk L, Moreira JUV, Jurkiewicz C (2018) Development and characterization of an innovative synbiotic fermented beverage based on vegetable soybean. Braz J Microbiol 49(2):303–309

Bedani R, Rossi EA, Saad SMI (2013) Impact of inulin and okara on Lactobacillus acidophilus La-5 and Bifidobacterium animalis Bb-12 viability in a fermented soy product and probiotic survival under in vitro simulated gastrointestinal conditions. Food Microbiol 34:382–389

Brazil (2018) Ministério da Agricultura, Pecuária e Abastecimento. Instrução normativa nº 49, de 26 de Setembro de 2018. Regulamenta os padrões de identidade e qualidade de suco e polpa de fruta (Brasília, DF), Diário Oficial da União.

Cadena RS, Cruz AG, Netto RR et al (2013) Sensory profile and physicochemical characteristics of mango nectar sweetened with high intensity sweeteners throughout storage time. Food Res Int 54:1670–1679

Ceapa C, Davids M, Ritari J et al (2016) The variable regions of Lactobacillus rhamnosus genomes reveal the dynamic evolution of metabolic and host-adaptation repertoires. Genome Biol Evol 8:1889–1905

Choi MH, Kim GH, Lee HS (2002) Effects of ascorbic acid retention on juice color and pigment stability in blood Orange (Citrus sinensis) juice during refrigerated storage. Food Res Int 35:753–759

Costa GM, Silva JVC, Mingotti JD et al (2017) Effect of ascorbic acid or oligofructose supplementation on L. paracasei viability, physicochemical characteristics and acceptance of probiotic orange juice. LWT: Food Sci Technol 75:195–201

Ding WK, Shah NP (2008) Survival of free and microencapsulated probiotic bacteria in orange and apple juices. Int Food Res J 15:219–232

Espirito-Santo AP, Carlin F, Renard CMGC (2015) Apple, grape or orange juice: Which one offers the best substrate for lactobacilli growth? A screening study on bacteria viability, superoxide dismutase activity, folates production and hedonic characteristics. Food Res Int 78:352–360

Faraoni AS, Ramos AM, Guedes DB, Pinto MRMR (2013) Propriedades reológicas de sucos mistos de manga, goiaba e acerola adicionados de fitoquímicos. Braz J Food Technol 16:21–28

Gilliland SE, Speck ML (1997) Use of the Minitek System for characterizing Lactobacilli. Appl Environ Microbiol 33:1289–1292

Guan Y, Zhou L, Bi J et al (2016) Change of microbial and quality attributes of mango juice treated by high pressure homogenization combined with moderate inlet temperatures during storage. Innov Food Sci Emerg Technol 36:320–329

Hedberg M, Hasslöf P, Sjöström I et al (2008) Sugar fermentation in probiotic bacteria: an in vitro study. Oral Microbiol Immunol 23:482–485

Kandylis P, Pissaridi K, Bekatorou A et al (2016) Dairy and non-dairy probiotic beverages. Curr Opin Food Sci 7:58–63

Kaur G, Aggarwal P (2016) Effect of thermal processing and chemical preservatives on the physicochemical and phytochemical parameters of carrot juice. Asian J Dairy Food Res 35:71–75

Kleerebezem M, Boekhorst J, Van Kranenburg R et al (2003) Complete genome sequence of Lactobacillus plantarum WCFS1. Proc Natl Acad Sci 100:1990–1995

Li C, Nie SP, Zhu KX et al (2016) Lactobacillus plantarum NCU116 fermented carrot juice evokes changes of metabolites in serum from type 2 diabetic rats. Food Res Int 80:36–40

Martins EMF, Ramos AM, Vanzela ESL et al (2013) Products of vegetable origin: a new alternative for the consumption of probiotic bacteria. Food Res Int 51:764–770

Martins EMF, Ramos AM, Martins ML, Leite Junior BRC (2016) Fruit salad as a new vehicle for probiotic bacteria. Food Sci Technol 36:540–548

Moreira RM, Martins ML, Leite Júnior BRC et al (2017) Development of a juçara and Ubá mango juice mixture with added Lactobacillus rhamnosus GG processed by high pressure. LWT - Food Sci Technol 77:259–268

Nualkaekul S, Salmeron I, Charalampopoulos D (2011) Investigation of the factors influencing the survival of Bifidobacterium longum in model acidic solutions and fruit juices. Food Chem 129:1037–1044

Oliveira PM, Ramos AM, Martins EMF et al (2017) Comparison of vacuum impregnation and soaking techniques for addition of the probiotic Lactobacillus acidophilus to minimally processed melon. Int J Food Sci Technol 52:2547–2554

Pimentel TC, Madrona GS, Garcia S, Prudencio SH (2015) Probiotic viability, physicochemical characteristics and acceptability during refrigerated storage of clarified apple juice supplemented with Lactobacillus paracasei ssp. paracasei and oligofructose in different package type. LWT: Food Sci Technol 63:415–422

Ray RC, Montet D (2014) Microorganisms and fermentation of traditional foods. In: Kohajdová Z (ed.) Fermented cereal products. CRC Press, Boca Raton

Richter RL, Vedamuthu ER (2001) Milk and milk products. In: Downes FP, & Ito K (eds.) Compendium of methods for the microbiological examination of foods, 4 edn. Washington: American Public Health Association—APHA, pp 483–495.

Riganakos KA, Karabagias IK, Gertzou I, Stahl M (2017) Comparison of UV-C and thermal treatments for the preservation of carrot juice. Innov Food Sci Emer Technol 42:165–172

Rostami FM, Mousavi H, Mousavi MRN, Shahsafi M (2018) Efficacy of probiotics in prevention and treatment of infectious diseases. Clin Microbiol Newsl 40:97–103

Sabo SS, Vitolo M, González JMD, Oliveira RPS (2014) Overview of Lactobacillus plantarum as a promising bacteriocin producer among lactic acid bacteria. Food Res Int 64:527–536

Salminen S, Von Wright A (eds) (1993) Lactic acid bacteria. Marcel Decker, New York

Savedboworn W, Niyomrat S, Naknovn J, Phattayakornb K (2017) Impact of inulin on viability and storage stability of probiotic Lactobacillus plantarum TISTR 2075 in fermented rice extract. Agric Nat Resour 51:1–7

Sheehan VM, Ross P, Fitzgerald GF (2007) Assessing the acid tolerance and the technological robustness of probiotic cultures for fortification in fruit juices. Innov Food Sci Emer Technol 8:279–284

Shori AB (2016) Influence of food matrix on the viability of probiotic bacteria: a review based on dairy and non-dairy beverages. Food Biosci 13:1–8

Stone H, Sidel JL (1985) Sensory evaluation practices. Academic Press, Orlando, pp 56–59
Acknowledgments
The authors thank Coordenação de Aperfeiçoamento de Pessoal de Nível Superior (CAPES) and Conselho Nacional de Desenvolvimento Científico e Tecnológico (CNPq) for the financial support.
Additional information
Publisher's Note
Springer Nature remains neutral with regard to jurisdictional claims in published maps and institutional affiliations.
About this article
Cite this article
de Oliveira, P.M., Leite Júnior, B.R.d.C., Martins, E.M.F. et al. Mango and carrot mixed juice: a new matrix for the vehicle of probiotic lactobacilli. J Food Sci Technol 58, 98–109 (2021). https://doi.org/10.1007/s13197-020-04518-y
Revised:

Accepted:

Published:

Issue Date:
Keywords
Mixed beverage

Vegetable

Fruit

Probiotics

In vitro gastrointestinal digestion