Abstract
To estimate the oxidative stability of the raw and roasted hazelnuts, accelerated shelf-life testing (ASLT) was used at elevated temperatures (55, 65 and 75 °C) at water activity (aw) of 0.43. Chemical parameters, including peroxide value (PV), para-anisidine value, and total oxidation value were measured to estimate the oxidative stability of the samples using Arrhenius model. In addition, the samples were maintained for 8 months in a real condition at 20–30 °C (long-term shelf-life testing) for validating the results obtained from short-term ASLT. The maximum activation energy (Ea, 78.76 kJ/mol °K) and Q10 (1.871) was obtained for PV in raw hazelnuts, while the minimum Ea (53.36 kJ/mol °K) and Q10 (1.552) were recorded for PV in roasted hazelnuts, indicating the negative effect of roasting process on the oxidative stability of the samples. In order to validate the estimations, the values predicted by short-term ASLT for each oxidation index were plotted versus their corresponding values in actual storage. The results showed good correlation coefficients (R2 = 0.91–0.98), confirming the fitness of the Arrhenius model to predict the oxidative indices of the samples during normal storage.
This is a preview of subscription content, log in to check access.
Access options
Buy single article
Instant access to the full article PDF.
US$ 39.95
Price includes VAT for USA
Subscribe to journal
Immediate online access to all issues from 2019. Subscription will auto renew annually.
US$ 99
This is the net price. Taxes to be calculated in checkout.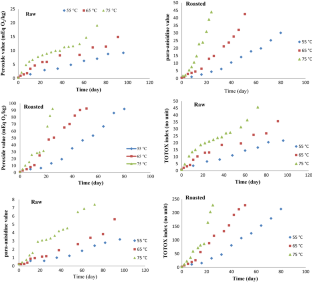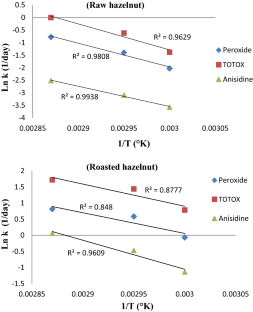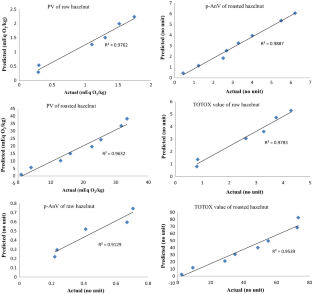 References
Abreu DAP, Losada PP, Maroto J, Cruz JM (2010) Evaluation of the effectiveness of a new active packaging film containing natural antioxidants (from barley husks) that retard lipid damage in frozen Atlantic salmon (Salmo salar L.). Food Res Int 43:1277–1282

Alamprese C, Ratti S, Rossi M (2009) Effect of roasting conditions on hazelnut characteristics in a two-step process. J Food Eng 95:272–279

Alasalvar C, Shahidi F, Liyanapathirana CM, Ohshima T (2003) Turkish Tombul Hazelnut (Corylus avellana L.). 1. Compositional characteristics. J Agric Food Chem 51(13):3790–3796

American Oil Chemists' Society (2003) Official methods and recommended practices of the American oil chemists' society. Champaign, IL, USA

Anderson G, Scott M (1991) Determination of product shelf life and activation energy for five drugs of abuse. Clin Chem 37(3):398–402

AOAC (2005) Official methods of analysis. Association of Official Analytical Chemists International, Maryland

Belviso S, Bello BD, Giacosa S, Bertolino M, Ghirardello D, Giordano M, Rolle L, Gerbi V, Zeppa G (2017) Chemical, mechanical and sensory monitoring of hot air and infrared-roasted hazelnuts (Corylus avellana L.) During nine months of storage. Food Chem 217:398–408

Benitez-Sánchez PL, León-Camacho M, Aparicio R (2003) A comprehensive study of hazelnut oil composition with comparisons to other vegetable oils, particularly olive oil. Eur Food Res Technol 218(1):13–19

Buransompob A, Tang J, Mao R, Swanson BG (2003) Rancidity of walnuts and almonds affected by short time heat treatments for insect control. J Food Process Preserv 27:445–464

Chang SK, Alasalvar C, Bolling BW, Shahidi F (2016) Nuts and their co-products: the impact of processing (roasting) on phenolics, bioavailability, and health benefits–A comprehensive review. J Funct Foods 26:88–122

Chung HJ, Colakoglu AS, Min DB (2004) Relationships among headspace oxygen, peroxide value, and conjugated diene content of soybean oil oxidation. J Food Sci 69(2):83–88

Corradini MG, Peleg M (2007) Shelf-life estimation from accelerated storage data. Trends Food Sci Technol 18(1):37–47

Ghorbani M, Hosseini H (2017) Determination of water activity corresponding to the proper quality of peanut kernels. J Food Process Preserv 41:e13260

Gómez-Alonso S, Mancebo-Campos V, Salvador D, Fregapane G (2004) Oxidation kinetics in olive oil triacylglycerols under accelerated shelf-life testing (25–75 °C). Eur J Lipid Sci Technol 106:369–375

Göncüoğlu Taş N, Gökmen V (2017) Maillard reaction and caramelization during hazelnut roasting: a multiresponse kinetic study. Food Chem 221:1911–1922

Gou P, Diaz I, Guerrero L, Valero A, Arnau J (2000) Physico-chemical and sensory property changes in almonds of Desmayo largueta variety during roasting. Food Sci Technol Int 6(1):1–7

Hosseini H, Ghorbani M, Sadeghi Mahoonak A, Maghsoudlou Y (2014) Monitoring hydroperoxides formation as a measure of predicting walnut oxidative stability. Acta Aliment Hung 43(3):412–418

Hosseini H, Ghorbani M, Jafari SM, Sadeghi Mahoonak A (2018) Investigating the effect of lipase from Candida rugosa on the production of EPA and DHA concentrates from Kilka fish (Clupeonella cultiventris caspia). LWT-Food Sci Technol 93:534–541

Hosseini H, Ghorbani M, Jafari SM, Sadeghi Mahoonak A (2019) Encapsulation of EPA and DHA concentrate from Kilka fish oil by milk proteins and evaluation of its oxidative stability. J Food Sci Technol 56(1):59–70

International Union of Pure and Applied Chemistry (IUPAC (1987) Evidence of purity and deterioration from ultraviolet spectrophotometry. In: Paquot C, Hautfenne A (eds) Standard methods for the analysis of oils, fats and derivatives. Blackwell Scientific, Oxford, pp 212–213

Lee SY, Krochta JM (2002) Accelerated shelf-life testing of whey-protein-coated peanuts analysed by static headspace gas chromatography. J Agric Food Chem 50:2022–2028

Liu N, Zhu Q, Zeng X, Yang B et al (2019) Influences of pulsed light-UV treatment on the storage period of dry-cured meat and shelf life prediction by ASLT method. J Food Sci Technol 56(4):1744–1756

Lopez-Duarte AL, Vidal-Quintanar RL (2009) Oxidation of linoleic acid as a marker for shelf life of corn flour. Food Chem 114(2):478–483

Manzocco L, Panozzo A, Calligaris S (2012) Accelerated shelf life testing (ASLT) of oils by light and temperature exploitation. J Am Oil Chem Soc 89:577–583

Martín-Polvillo M, Márquez-Ruiz G, Dobarganes MC (2004) Oxidative stability of sunflower oils differing in unsaturation degree during long- term storage at room temperature. J Am Oil Chem Soc 81(6):577–583

Martins RC, Lopes VV, Vicente AA, Teixeira JA (2008) Computational shelf-life dating: complex systems approaches to food quality and safety. Food Bioprocess Technol 1:207–222

Maskan M, Karatas S (1999) Storage stability of whole-split pistachio nuts (Pistachia vera L.) at various conditions. Food Chem 66:227–233

Mohammadi Moghaddam T, Razavi SM, Taghizadeh M, Sazgarnia A (2016) Sensory and instrumental texture assessment of roasted pistachio nut/kernel by partial least square (PLS) regression analysis: effect of roasting conditions. J Food Sci Technol 53(1):370–380

Özcan MM, Juhaimi FA, Uslu N (2018) The effect of heat treatment on phenolic compounds and fatty acid composition of Brazilian nut and hazelnut. J Food Sci Technol 55(1):376–380

Ozdemir M, Ackurt F, Yildiz M, Birinren G, Gurcan T, Loker M (2001) Effect of roasting on some nutrients of hazelnuts (Corylus Avellena L.). Food Chem 73:185–190

Ragnarsson JO, Labuza TP (1997) Accelerated shelf life testing for oxidative rancidity in foods—a Review. Food Chem 2:291–308

Riveros CG, Mestrallet MG, Gayol MF, Quiroga PR, Nepote V, Grosso NR (2010) Effect of storage on chemical and sensory profiles of peanut pastes prepared with high-oleic and normal peanuts. J Sci Food Agric 90(15):2694–2699

Robertson GL (2000) Shelf-life of packaged foods, its measurement and prediction. In: Robertson GL (ed) Food packages: principles and practices. CRC Press Inc., New York

Sehwag S, Upadhyay R, Das M (2018) Optimization and multivariate accelerated shelf life testing (MASLT) of a low glycemic whole jamun (Syzygium cumini L.) confection with tailored quality and functional attributes. J Food Sci Technol 55(12):4887–4900

Seyhan F, Ozay G, Saklar S, Ertaş E, Satır G, Alasalvar C (2007) Chemical changes of three native Turkish hazelnut varieties (Corylus avellana L.) during fruit development. Food Chem 105(2):590–596

Shahidi F, Miraliakbari H (2005) Tree Nut Oils. In: Shahidi F (ed) Bailey's industrial oil and fat products. Wiley, Hoboken

Shahidi F, Wanasundara UN (2002) Methods for measuring oxidative rancidity in fats and oils. In: Akoh C, Min D (eds) Food lipids. Marcel Dekker, New York, pp 483–501

Shakerardekani A, Karim R, Ghazali HM, Chin NL (2015) Oxidative stability of pistachio (Pistacia vera L.) paste and spreads. J Am Oil Chem Soc 92:1015–1021

Xie C, Ma ZF, Li F, Zhang H, Kong L, Yang Z, Xie W (2018) Storage quality of walnut oil containing lycopene during accelerated oxidation. J Food Sci Technol 55(4):1387–1395
Ethics declarations
Conflict of interest
All authors have no conflicts to disclose.
Additional information
Publisher's Note
Springer Nature remains neutral with regard to jurisdictional claims in published maps and institutional affiliations.
About this article
Cite this article
Shafiei, G., Ghorbani, M., Hosseini, H. et al. Estimation of oxidative indices in the raw and roasted hazelnuts by accelerated shelf-life testing. J Food Sci Technol 57, 2433–2442 (2020). https://doi.org/10.1007/s13197-020-04278-9
Revised:

Accepted:

Published:

Issue Date:
Keywords
Hazelnut

Roasting

Accelerated shelf-life testing

Para-anisidine value

Peroxide value

TOTOX value