Abstract
Kenaf seed oil was extracted with 3 different solvents, i.e. hexane, ethanol and aqueous enzymatic medium with or without ultrasonic assistance. The synergistic effects of ultrasound and extraction solvent on the content of bioactive compound in kenaf seed oil was investigated. Results show that ultrasound-assisted extraction with hexane obtained the highest yield (84.71%), while yield with aqueous enzymatic medium was the lowest (51.12%). Two endothermic peaks exhibited on the melting curve of kenaf seed oil at the temperature range − 37 to − 25 °C and − 12 to − 2 °C, respectively. Linoleic, oleic and palmitic acid are the major fatty acids, accounting for above 96% of the total fatty acids. The content of vitamin E, phosphatide, total phenols and sterol are 92.38–105.01 mg/100 g oil, 0.38–22.28 g/kg, 0.51–71.02 mg GAE/100 g and 161.79–533.12 mg/100 g, respectively. The solvent employed has significant effect (p < 0.05) on the thermal property, fatty acid composition and bioactive constituents of the extracted kenaf seed oil. The oil extracted with ethanol contained more nervonic acid and bioactive components such as β-carotene, phosphatide, total phenols and sterols. The introduction of ultrasound reduced the extraction time remarkably. The results demonstrate that extraction with ethanol combined with ultrasound is an effective method to extract kenaf seed oil, as more reasonable fatty acid composition and higher content of bioactive components can be achieved.
Access options
Buy single article
Instant access to the full article PDF.
US$ 39.95
Tax calculation will be finalised during checkout.
Subscribe to journal
Immediate online access to all issues from 2019. Subscription will auto renew annually.
US$ 79
Tax calculation will be finalised during checkout.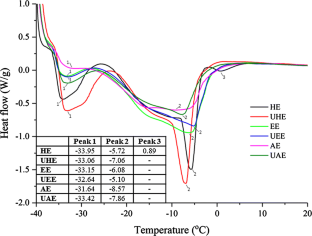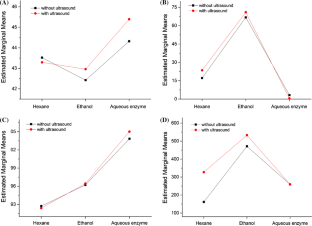 References
AOCS, (1997, 2001). Ca 12–55, Aa 4–38. In: Firestone, D. (Ed.), Official Methods and Recommended Practices of the American Oil Chemists' Society. AOCS Press, Champaign III USA.

Bhatnagar, A.S., Krishna, A.G.G., (2013). Effect of extraction solvent on oil and bioactives composition of commercial Indian niger (Guizotia abyssinica (L.f.) Cass.) seed. Journal of the American Oil Chemists Society 90(8), 1203–1212.

Bhutada PR, Jadhav AJ, Pinjari DV, Nemade PR, Jain RD (2016) Solvent assisted extraction of oil from Moringa oleifera Lam. seeds. Ind Crops Prod 82:74–80

Chan, K.W., Ismail, M., (2009). Supercritical carbon dioxide fluid extraction of Hibiscus cannabinus L. seed oil: A potential solvent-free and high antioxidative edible oil. Food Chemistry 114(3), 970–975.

Cheng WY, Akanda JMH, Nyam KL (2016) Kenaf seed oil: A potential new source of edible oil. Trends Food Sci Technol 52:57–65

Chew SC, Tan CP, Nyam KL (2017a) Optimization of bleaching parameters in refining process of kenaf seed oil with a central composite design model. J Food Sci 82(7):1622–1630

Chew SC, Tan CP, Nyam KL (2005) Optimization of degumming parameters in chemical refining process to reduce phosphorus contents in kenaf seed oil. Sep Purif Technol 188:379–385

Chew SC, Tan CP, Nyam KL (2017c) Application of response surface methodology for optimizing the deodorization parameters in chemical refining of kenaf seed oil. Sep Purif Technol 184:144–151

Clemente TE, Cahoon EB (2009) Soybean oil: Genetic approaches for modification of functionality and total content. Plant Physiol 151(3):1030–1040

Coetzee, R., Labuschagne, M.T., Hugo, A., (2008). Fatty acid and oil variation in seed from kenaf (Hibiscus cannabinus L.). Industrial Crops and Products 27(1), 104–109.

Damanik M, Murkovic M (2018) The stability of palm oils during heating in a rancimat. Eur Food Res Technol 244(7):1293–1299

de Oliveira RC, Davantel de Barros ST, Gimenes ML (2013) The extraction of passion fruit oil with green solvents. J Food Eng 117(4):458–463

Dhar P, Kar CS, Ojha D, Pandey SK, Mitra J (2015) Chemistry, phytotechnology, pharmacology and nutraceutical functions of kenaf (Hibiscus cannabinus L.) and roselle (Hibiscus sabdariffa L.) seed oil: An overview. Ind Crops Prod 77:323–332

Gutfinger T (1981) Polyphenols in olive oils. J Am Oil Chem Soc 58(11):966–968

Hashemi SMB, Mousavi Khaneghah A, Akbarirad H (2015) Effects of ultrasound treatment and zenyan essential oil on lipid oxidation of blended vegetable oil. International Food Research Journal 22(5):1918–1923

Hashemi SMB, Khaneghah AM, Akbarirad H (2016) The effects of amplitudes ultrasound-assisted solvent extraction and pretreatment time on the yield and quality of Pistacia khinjuk hull oil. J Oleo Sci 65(9):733–738

Hashemi SMB, Amarowicz R, Khaneghah AM, Vardehsara MS, Hosseini M, Yousefabad SHA (2017a) Kangar (Gundelia tehranica) seed oil: Quality measurement and frying performance. Journal of Food and Nutrition Research 56(1):86–95

Hashemi SMB, Mousavi Khaneghah A, Koubaa M, Lopez-Cervantes J, Yousefabad SHA, Hosseini SF, Karimi M, Motazedian A, Asadifard S (2017b) Novel edible oil sources: Microwave heating and chemical properties. Food Res Int 92:147–153

ISO, (2000, 2006, 1999). ISO:5509, ISO:9936, ISO:12228. International Organization for Standardization, Geneva, Switzerland

Khoddami, A., Ghazali, H.M., Yassoralipour, A., Ramakrishnan, Y., Ganjloo, A., (2011). Physicochemical characteristics of nigella seed (Nigella sativa L.) oil as affected by different extraction methods. Journal of the American Oil Chemists Society 88(4), 533–540.

Latif S, Anwar F (2011) Aqueous enzymatic sesame oil and protein extraction. Food Chem 125(2):679–684

Lee SY, Fu SY, Chong GH (2015) Ultrasound-assisted extraction kinetics, fatty acid profile, total phenolic content and antioxidant activity of green solvents' extracted passion fruit oil. Int J Food Sci Technol 50(8):1831–1838

Li H, Zhang Z, He D, Xia Y, Liu Q, Li X (2017) Ultrasound-assisted aqueous enzymatic extraction of oil from perilla seeds and determination of its physicochemical properties, fatty acid composition and antioxidant activity. Food Science and Technology 37:71–77

Mariod AA, Matthäus B, Ismail M (2011) Comparison of supercritical fluid and hexane extraction methods in extracting kenaf (Hibiscus cannabinus) seed oil lipids. J Am Oil Chem Soc 88(7):931–935

Mehanni, A.E.S., El-Reffaei, W.H.M., Melo, A., Casal, S., Ferreira, I.M.P.L.V.O., (2017). Enzymatic extraction of oil from Balanites Aegyptiaca (Desert Date) kernel and comparison with solvent extracted oil. Journal of Food Biochemistry 41(2), e12270, 1–6.

Mohamed A, Bhardwaj H, Hamama A, Webber C (1995) Chemical composition of kenaf (Hibiscus cannabinus L.) seed oil. Ind Crops Prod 4:157–165

Nyam KL, Tan CP, Lai OM, Long K, Man YBC (2009a) Physicochemical properties and bioactive compounds of selected seed oils. LWT-Food Science and Technology 42(8):1396–1403

Nyam KL, Tan CP, Che Man YB, Lai OM, Long K (2009b) Physicochemical properties of Kalahari melon seed oil following extractions using solvent and aqueous enzymatic methods. Int J Food Sci Technol 44(4):694–701

Oliveira R, Oliveira V, Aracava KK, Rodrigues CEDC (2012) Effects of the extraction conditions on the yield and composition of rice bran oil extracted with ethanol-A response surface approach. Food Bioprod Process 90(C1):22–31

Perrier A, Delsart C, Boussetta N, Grimi N, Citeau M, Vorobiev E (2017) Effect of ultrasound and green solvents addition on the oil extraction efficiency from rapeseed flakes. Ultrason Sonochem 39:58–65

Racette SB, Lin X, Lefevre M, Spearie CA, Most MM, Ma L, Ostlund RE Jr (2010) Dose effects of dietary phytosterols on cholesterol metabolism: a controlled feeding study. Am J Clin Nutr 91(1):32–38

Ranalli A, Lucera AM, Contento S, Sotiriou E (2005) Effects of processing techniques on the natural colourings and the other functional constituents in virgin olive oil. Food Res Int 38(9):873–878

Rodrigues, G.d.M., Ferreira de Mello, B.T., dos Santos Garcia, V.A., da Silva, C., (2017). Ultrasound-assisted extraction of oil from macauba pulp using alcoholic solvents. Journal of Food Process Engineering 40(5), e12530, 1–8.

Ryu, J., Kwon, S.-J., Ahn, J.-W., Jo, Y.D., Kim, S.H., Jeong, S.W., Lee, M.K., Kim, J.-B., Kang, S.-Y., (2017). Phytochemicals and antioxidant activity in the kenaf plant (Hibiscus cannabinus L.). Journal of Plant Biotechnology 44(2), 191–202.

Samaram S, Mirhosseini H, Tan CP, Ghazali HM (2014) Ultrasound-assisted extraction and solvent extraction of papaya seed oil: Crystallization and thermal behavior, saturation degree, color and oxidative stability. Ind Crops Prod 52:702–708

Samyn P, Schoukens G, Vonck L, Stanssens D, Van den Abbeele H (2012) Quality of Brazilian vegetable oils evaluated by (modulated) differential scanning calorimetry. J Therm Anal Calorim 110(3):1353–1365

Sicaire A-G, Vian MA, Fine F, Carre P, Tostain S, Chemat F (2016) Ultrasound induced green solvent extraction of oil from oleaginous seeds. Ultrason Sonochem 31:319–329

Tavakolpour, Y., Moosavi-Nasab, M., Niakousari, M., Haghighi-Manesh, S., Hashemi, S.M.B., Khaneghah, A.M., (2017). Comparison of four extraction methods for essential oil from Thymus daenensis subsp. Lancifolius and chemical analysis of extracted essential oil. Journal of Food Processing and Preservation 41(4): e13046.

Tir R, Dutta PC, Badjah-Hadj-Ahmed AY (2012) Effect of the extraction solvent polarity on the sesame seeds oil composition. Eur J Lipid Sci Technol 114(12):1427–1438

Wang L, Weller CL (2006) Recent advances in extraction of nutraceuticals from plants. Trends Food Sci Technol 17(6):300–312

Wong YH, Lau HW, Tan CP, Long K, Nyam KL (2014) Binary solvent extraction system and extraction time effects on phenolic antioxidants from kenaf seeds (Hibiscus cannabinus L.) extracted by a pulsed ultrasonic-assisted extraction. The Scientific World Journal 2014. Article 789346:1–7

Yanty NAM, Marikkar JMN, Long K (2011) Effect of varietal differences on composition and thermal characteristics of avocado oil. J Am Oil Chem Soc 88(12):1997–2003

Yusoff MM, Gordon MH, Ezeh O, Niranjan K (2016) Aqueous enzymatic extraction of Moringa oleifera oil. Food Chem 211:400–408

Yusri, N.M., Chan, K.W., Iqbal, S., Ismail, M., (2012). Phenolic content and antioxidant activity of Hibiscus cannabinus L. seed extracts after sequential solvent extraction. Molecules 17(11), 12612–12621.

Zhang ZS, Wang L-J, Li D, Jiao SS, Chen XD, Mao Z-H (2008) Ultrasound-assisted extraction of oil from flaxseed. Sep Purif Technol 62(1):192–198

Zhang Z-S, Wang L-J, Li D, Li S-J, Özkan N (2011) Characteristics of flaxseed oil from two different flax plants. Int J Food Prop 14(6):1286–1296

Zhang ZS, Li D, Zhang LX, Liu YL, Wang XD (2014) Heating effect on the DSC melting curve of flaxseed oil. J Therm Anal Calorim 115(3):2129–2135

Zheng, L., Huang, X., Wang, L., Chen, Z., (2012). Physicochemical properties, chemical composition and antioxidant activity of Dalbergia odorifera T. Chen seed oil. Journal of the American Oil Chemists Society 89(5), 883–890
Acknowledgements
The work was supported financially by National Key Research and Development Plan of China (2016YFD0400205-3), Fundamental Research Funds for the Central Universities (20720190038), National Natural Science Foundation of China (31101367) and China Agriculture Research System (CARS14-1-29).
Additional information
Publisher's Note
Springer Nature remains neutral with regard to jurisdictional claims in published maps and institutional affiliations.
About this article
Cite this article
Zhang, Zs., Xie, Qf. & Che, L. Synergistic effects of ultrasound and extraction solvent on the bioactive compound in kenaf seed oil. J Food Sci Technol 57, 2118–2128 (2020). https://doi.org/10.1007/s13197-020-04247-2
Revised:

Accepted:

Published:

Issue Date:
Keywords
Kenaf seed oil

Extraction

Ultrasound

Ethanol

Bioactive compound