Abstract
Liver, bones, and brain are common sites for breast cancer metastasis. We report here a rare scenario of metastasis to pancreatic head from breast cancer after a disease free interval of 7 years. A 60-year old breast cancer survivor noticed upper abdominal pain for 2 weeks, and her investigations revealed a pancreatic head mass lesion. Computed tomography imaging revealed a solitary pancreatic mass lesion with portal cavernoma formation and a guided biopsy yielded adenocarcinoma on histopathological examination. Immunohistochemistry processing demonstrated estrogen receptor, cytokeratin 7, and GATA 3 positivity which confirmed it to be a metastasis. Therapy was initiated with palbociclib and exemestane. Later, everolimus was started in view of failure of hormonal therapy. The patient is still alive 21 months after diagnosing the recurrence.
Access options
Buy single article
Instant access to the full article PDF.
US$ 39.95
Tax calculation will be finalised during checkout.
Subscribe to journal
Immediate online access to all issues from 2019. Subscription will auto renew annually.
US$ 79
Tax calculation will be finalised during checkout.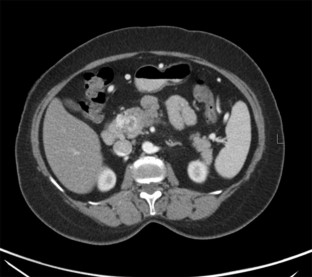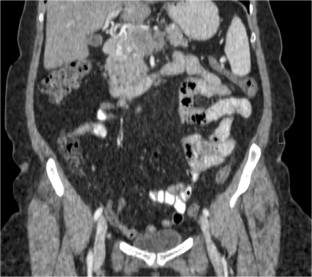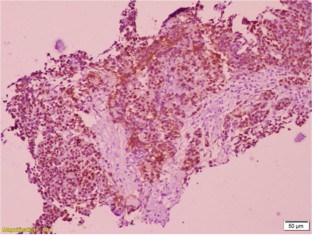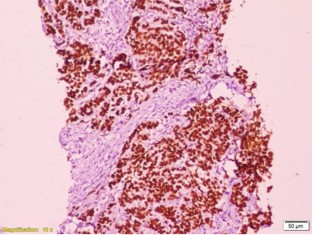 References
1.

Hellman, S. & Harris, J. R. in Diseases of the breast (eds Harris, J. R., Lippman, M. E., Morrow, M. & Osborne, C. K.), 407–423 (Lippincott Williams & Wilkins, Philadelphia, 2000). Describes the clinical behaviour of untreated breast cancer, including the incidences of regional lymphnode and distant metastasis

2.

Lee YT (1983) Breast carcinoma: pattern of metastasis at autopsy. J Surg Oncol 23:175–180

3.

Nakamura E, Shimizu M, Itoh T, Manabe T (2001) Secondary tumors of the pancreas: clinicopathological study of 103 autopsy cases of Japanese patients. Pathol Int 51(9):686–690

4.

Hanahan D, Weinberg RA (2000 Jan 7) The hallmarks of cancer. Cell 100(1):57–70

5.

Apodaca-Rueda M, Chaim FHM, Garcia MDS, Saito HPA, Gestic MA, Utrini MP et al (2017) Solitary pancreatic metastasis from breast cancer: case report and review of literature. Sao Paulo Med J

6.

Mehta SA, Jagannath P, Krishnamurthy SC, De Souza LG (1991) Isolated pancreatic metastasis from locally controlled breast cancer: a case report. Indian J Cancer 28(1):48–50

7.

Kobayashi T, Ichiba T, Sakuyama T, Arakawa Y, Nagasaki E, Aiba K, Nogi H, Kawase K, Takeyama H, Toriumi Y, Uchida K (2012 Jul 1) Possible clinical cure of metastatic breast cancer: lessons from our 30-year experience with oligometastatic breast cancer patients and literature review. Breast Cancer 19(3):218–237

8.

Tseng HS, Chen CY, Chan WP, Chiang JH (2009) Percutaneous transgastric computed tomography-guided biopsy of the pancreas using large needles. World J Gastroenterol 15(47):5972–5975. https://doi.org/10.3748/wjg.15.5972

9.

Zaha DC (2014 Aug 10) Significance of immunohistochemistry in breast cancer. World Journal of Clinical Oncology 5(3):382–392

10.

Rastogi S, Gulia S, Bajpai J, Ghosh J, Gupta S (2014 Jul) Oligometastatic breast cancer: a mini review. Indian journal of medical and paediatric oncology: official journal of Indian Society of Medical & Paediatric Oncology 35(3):203

11.

Makhlin I, Fox K (2020 Feb 1) Oligometastatic breast cancer: is this a curable entity? A contemporary review of the literature. Curr Oncol Rep 22(2):15

12.

National Comprehensive Cancer Network NCCN practice guidelines for pancreatic cancer, version 1. Published 2020

13.

Turner NC, Ro J, André F, Loi S, Verma S, Iwata H, Harbeck N, Loibl S, Huang Bartlett C, Zhang K, Giorgetti C (2015) Palbociclib in hormone-receptor–positive advanced breast cancer. N Engl J Med 373(3):209–219

14.

Finn RS, Martin M, Rugo HS, Jones S, Im SA, Gelmon K, Harbeck N, Lipatov ON, Walshe JM, Moulder S, Gauthier E (2016 Nov 17) Palbociclib and letrozole in advanced breast cancer. N Engl J Med 375(20):1925–1936

15.

Baselga J, Campone M, Piccart M, Burris HA III, Rugo HS, Sahmoud T, Noguchi S, Gnant M, Pritchard KI, Lebrun F, Beck JT (2012 Feb 9) Everolimus in postmenopausal hormone-receptor–positive advanced breast cancer. N Engl J Med 366(6):520–529

16.

Nieto Y, Nawaz S, Jones RB, Shpall EJ, Cagnoni PJ, McSweeney PA, Barón A, Razook C, Matthes S, Bearman SI (2002 Feb 1) Prognostic model for relapse after high-dose chemotherapy with autologous stem-cell transplantation for stage IV oligometastatic breast cancer. J Clin Oncol 20(3):707–718

17.

Yoo GS, Yu JI, Park W, Huh SJ, Choi DH (2015 Dec) Prognostic factors in breast cancer with extracranial oligometastases and the appropriate role of radiation therapy. Radiation oncology journal 33(4):301–309

18.

Bonapasta SA, Gregori M, Lanza R, Sangiorgi E, Menghi A, Scarpini M, Modesti M (2010) Metastasis to the pancreas from breast Cancer: difficulties in diagnosis and controversies in treatment. Breast Care (Basel) 5(3):170–173

19.

Crippa S, Angelini C, Mussi C, Bonardi C, Romano F, Sartori P, Uggeri F, Bovo G (2006) Surgical treatment of metastatic tumors to the pancreas: a single center experience and review of the literature. World J Surg 30(8):1536–1542

20.

Pérez Ochoa A, Sáez Hernáez F, Cajigas Fernández C, Pérez de la Lastra L, Ondiviela Gracia R, García de Polavieja Carrasco M (2007) Pancreatic metastases from ductal and lobular carcinomas of the breast. Clin Transl Oncol 9(9):603–605

21.

Milano MT, Zhang H, Metcalfe SK, Muhs AG, Okunieff P (2009 Jun 1) Oligometastatic breast cancer treated with curative-intent stereotactic body radiation therapy. Breast Cancer Res Treat 115(3):601–608

22.

Possanzini M, Greco C (2018 Oct) Stereotactic radiotherapy in metastatic breast cancer. Breast. 41:57–66
Additional information
Publisher's Note
Springer Nature remains neutral with regard to jurisdictional claims in published maps and institutional affiliations.
About this article
Cite this article
Ingle, P., Khandare, P., Rajput, M. et al. Solitary Pancreatic Head Metastasis from Ductal Carcinoma of Breast: A Case Report. Indian J Surg Oncol (2021). https://doi.org/10.1007/s13193-021-01284-x
Received:

Accepted:

Published:
Keywords
Pancreatic metastasis

Breast cancer

Palbociclib

Estrogen receptor