Abstract
Askin tumor is a rare malignant small round cell neoplasm of primitive neuroectodermal origin in the thoracopulmonary region, predominantly seen in childhood and adolescence. It belongs to the spectrum of Ewing's sarcoma family of tumors (ESFTs). Cytologically, ESFTs show small round cells with pseudorosettes. We report a case of an Askin tumor in an adult patient, diagnosed on fine-needle aspiration cytology. Clinico-radiological findings, immunochemistry, and cytogenetics help in confirming the diagnosis.
This is a preview of subscription content, log in to check access.
Access options
Buy single article
Instant access to the full article PDF.
US$ 39.95
Price includes VAT for USA
Subscribe to journal
Immediate online access to all issues from 2019. Subscription will auto renew annually.
US$ 99
This is the net price. Taxes to be calculated in checkout.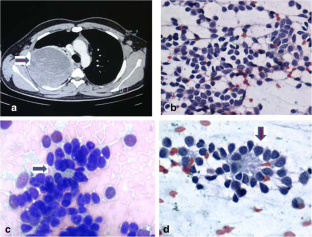 References
1.

Askin FB, Rosai J, Sibley RK, Dehner LP, McAlister WH (1979) Malignant small cell tumor of the thoracopulmonary region in childhood. Cancer 43:2438–2451

2.

Benbrahim Z, Arifi S, Daoudi K, Serraj M, Amara B, Benjelloun MC, Mellas N, el Mesbahi O (2013) Askin's tumor: a case report and literature review. World J Surg Oncol 11:10

3.

Desai SS, Jambhekar NA (2010) Pathology of Ewing's sarcoma/PNET:current opinion and emerging concepts. Indian J of Orthop 44:363–368

4.

Sahu K, Pai RR, Khadilkar UN (2000) Fine needle aspiration cytology of the Ewing's sarcoma family of tumors. Acta Cytol 44:332–336

5.

Rawanshi A, Srinivas R, Upasana G (2009) Malignant small round cell tumors. J Cytol 26:1–10
Ethics declarations
Conflict of Interest
The authors declare that they have no conflict of interest.
Code Availability
Not applicable.
Additional information
Publisher's Note
Springer Nature remains neutral with regard to jurisdictional claims in published maps and institutional affiliations.
About this article
Cite this article
Agnihotri, M., Vaideeswar, P. Rosettes—Diagnostic Feature of Askin Tumor on Cytology. Indian J Surg Oncol (2020). https://doi.org/10.1007/s13193-020-01150-2
Received:

Accepted:

Published:
Keywords
FNAC

PNET

Rosettes

Askin tumor