Abstract
We present an atypical case of histopathology suggesting hemangioendothelioma and immunohistochemistry-proven Ewing's sarcoma in a 39-year-old lady who presented with multiple stony hard swellings involving the occipital region of the scalp, right cervical lymph node, right scapular region, left infraclavicular region of the chest, right anterior abdominal wall swelling, and inner aspect of right thigh. She underwent left-sided below-knee amputation for parosteal osteosarcoma in the left distal tibia 3 years back. Palliative radiotherapy with dose of 30 Gy in 10 fractions over 2 weeks was administered to the right neck and right upper back following which she attained moderate pain relief but no reduction in swellings as was expected had it been a case of hemangioendothelioma or Ewing's sarcoma..
This is a preview of subscription content, log in to check access.
Access options
Buy single article
Instant access to the full article PDF.
US$ 39.95
Price includes VAT for USA
Subscribe to journal
Immediate online access to all issues from 2019. Subscription will auto renew annually.
US$ 99
This is the net price. Taxes to be calculated in checkout.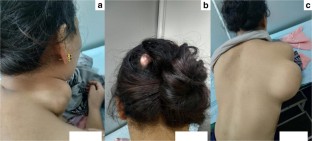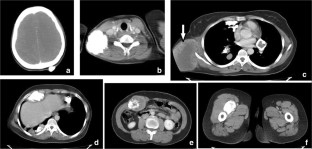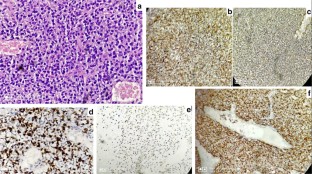 References
1.

Pappo AS, Navid F, Brennan RC, Krasin MJ, Davidoff AM, Furman WL (2015) Solid tumors of childhood. In: DeVita VT Jr, Lawrence TS, Rosenberg SA (eds) Devita, Hellman, and Rosenberg's cancer: principles & practice of oncology, 10th edn. Wolters Kluwer, Philadelphia, pp 1484–1488

2.

Koreich OM, Zaytonia R, Sidki K (1989) Ewing's sarcoma presenting as calcified metastases. Published online 1 Mar 1989. Ann Saudi Med 9(2). https://doi.org/10.5144/0256-4947.1989.216a

3.

Yeshvanth SK, Ninan K, Bhandary SK, Lakshinarayana KPH, Shetty JK, Makannavar JH (2012) Rare case of extraskeletal Ewings sarcoma of the sinonasal tract. J Cancer Res Ther 8(1):142–144

4.

Adisesh AM, Neeraja M, Prasad T (2005) Metastatic Ewing sarcoma - a case report. Indian J Orthop 39:127–129

5.

Ebnezar J, John R (2016) Textbook of Orthopedics, 5th edn. Jaypee Brothers medical publishers(P) limited, New Delhi

6.

Womer RB, West DC, Krailo MD, Dickman PS, Pawel BR, Grier HE, Marcus K, Sailer S, Healey JH, Dormans JP, Weiss AR (2012) Randomized controlled trial of interval-compressed chemotherapy for the treatment of localized Ewing sarcoma: a report from the children's oncology group. J Clin Oncol 30(33):4148–4154

7.

Heera R, Cherian LM, Lav R, Ravikumar V (2017) Hemangioendothelioma of palate: a case report with review of literature. J Oral Maxillofac Pathol 21(3):415–420

8.

Sardaro A, Bardoscia L, Petruzzelli MF, Nikolaou A, Detti B, Angelelli G (2014) Pulmonary epithelioid hemangioendothelioma presenting with vertebral metastases: a case report. J Med Case Rep 8:201. https://doi.org/10.1186/1752-1947-8-201
Additional information
Publisher's Note
Springer Nature remains neutral with regard to jurisdictional claims in published maps and institutional affiliations.
About this article
Cite this article
Halder, A., Biswas, R., Gangopadhyay, M. et al. Was it Ewing's? A Diagnostic and Therapeutic Dilemma. Indian J Surg Oncol (2020). https://doi.org/10.1007/s13193-020-01126-2
Received:

Accepted:

Published:
Keywords
Hemangioendothelioma

Ewing's sarcoma

Immunohistochemistry