Abstract
Introduction
Congenital anomalies of the iliac arteries are rare, and are usually discovered incidentally or infrequently intraoperatively.
Aim
To show the retroperitoneal major pelvic blood vessels anatomical variation during gynecologic and obstetrics surgeries in cases of retroperitoneal dissection.
Patients
We report three cases with incidental finding of anatomical variation in retroperitoneal major pelvic blood vessels. One patient underwent staging laparotomy for endometrial cancer with intraoperative finding of bilateral long internal iliac artery with short common iliac artery. The second patient underwent staging laparotomy for suspicious ovarian mass and mesh sacrocolpopexy for uterine prolapse with accidental finding of kinked long external iliac artery with short common iliac artery. The third patient underwent total hysterectomy with pelvic lymphadenectomy for endometrial cancer with incidental finding of bilateral absent internal iliac artery with common iliac artery continuing as external iliac artery.
Conclusions
Anatomical variations in the major retroperitoneal pelvic vasculature should be familiar with during surgeries to avoid inadequate management. Internal iliac artery ligation should be done as low as possible close to the bifurcation in case of long internal iliac artery as in case of bleeding, slipped uterine or injured vesical vessels. Kinked external iliac artery should not be considered as anomaly or swollen node with trial of excision in dissection of lymph nodes in gynecological cancer or a thrombosed vessel but continue as usual in dissection and preserve any branches arising from it which is a normal variation. Also, the absent internal iliac artery is no problem as its branches may arise from the aorta or the external iliac artery. The uterine artery can be traced in this condition from the uterine side and any branches from external iliac artery in pelvis can be a normal variation.
Access options
Buy single article
Instant access to the full article PDF.
US$ 39.95
Tax calculation will be finalised during checkout.
Subscribe to journal
Immediate online access to all issues from 2019. Subscription will auto renew annually.
US$ 79
Tax calculation will be finalised during checkout.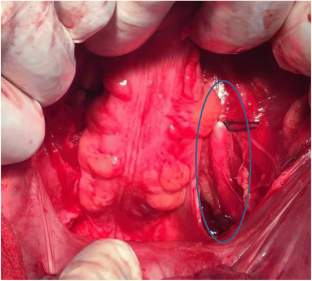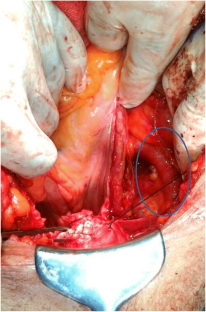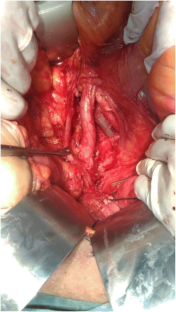 References
1.

Dabydeen D, Shabashov A, Shaffer K (2008) Congenital absence of the right common iliac artery. Radiol Case Rep 3(1):47

2.

Standring S (ed) (2005) Gray's anatomy, vol 1360, 39th edn. Elsevier Churchill Livingstone, Edinburgh

3.

El-Agwany AS (2016) Bilateral absence of common iliac artery: abnormal anatomical variation of the internal iliac artery during ligation in conservative surgical management of placenta previa accreta. Indian J Gynecol Oncolog 14:25

4.

Naveen NS, Murlimunjo BV, Kumar V, Jayanthi KS, Rao K, Pulakunta T (2011) Morphological analysis of the human internal iliac artery in South Indian population. Online J Health Allied Sci 10(1):1–4

5.

Llauger J, Sabate JM, Guardia E, Escudero J (1995) Congenital absence of the right common iliac artery: CT and angiographic demonstration. Eur J Radiol 21:128–130

6.

Shailaja S et al (2013) Bilateral absence of common iliac artery—a cadaveric observation. Int J Anat Var 6:7–8

7.

Bergman RA, Thompson SA, Afifi AK, Saadeh FA (1988) Compendium of human anatomic variation: catalog, atlas and world literature. Urban & Schwarzenberg, Baltimore and Munich

8.

Hamann CA (1892) Common iliac artery, vol 5. University Medical Magazine, Philadelphia, p 185

9.

Poynter CWM (1922) Congenital anomalies of the arteries and veins of the human body with bibliography, vol 22. University Studies of the University of Nebraska, Nebraska, pp 1–106

10.

Shepherd FJ (1882) On some anatomical variations: common iliac arteries. Annals of Anatomy and Surgery 6:171

11.

Curtis AH, Anson BJ, Ashley FL, Jones T (1942) The blood vessels of the female pelvis in relation to gynecological surgery. Surg., Gynecol. Obstet. 75:421–423

12.

Lipshutz B (1918) A composite study of the hypogastric artery and its branches. Ann Surg 67:584–608

13.

Harikrishnan S, Krishnamoorthy KM, Tharakan JM (2001) Congenital bilateral aplasia of external iliac arteries. Int J Cardiol 80:85–86

14.

Greebe J (1977) Congenital anomalies of the iliofemoral artery. J Cardiovasc Surg 18:317–323

15.

Koyama T, Kawada T, Kitanaka Y, Katagiri K, Ohno M, Ikeshita M et al (2003) Congenital anomaly of the external iliac artery: a case report. J Vasc Surg 37:683–685
Ethics declarations
Conflict of Interest
The author declares that he has no conflict of interest.
Ethical Approval
All procedures performed in studies involving human participants were in accordance with the ethical standards of the institutional and/or national research committee and with the 1964 Helsinki Declaration and its later amendments or comparable ethical standards.
Informed Consent
Informed consent was obtained from the patient included in the study.
Additional information
Publisher's Note
Springer Nature remains neutral with regard to jurisdictional claims in published maps and institutional affiliations.
About this article
Cite this article
El-Agwany, A.S. Retroperitoneal Major Pelvic Arteries' Anatomic Variation: Pictorial Essay and Significance in Obstetrical and Gynecological Surgery. Indian J Surg Oncol 11, 65–68 (2020). https://doi.org/10.1007/s13193-020-01038-1
Received:

Accepted:

Published:

Issue Date:
Keywords
retroperitoneum

anomalies of retropelvic vasculature