Abstract
Primary tumors of sacrum are rare. The most common malignant tumors are metastasis, and only 6% of all malignant tumors arise from the sacrum. Chondrosarcoma is the third most common primary bone malignancy following myeloma and osteosarcoma. Surgery is usually the most important therapeutic modality; the wide en bloc excision remains the treatment of choice. These technically demanding procedures require a multidisciplinary expert team (neurosurgery, surgical and orthopedic oncology, colorectal surgery, and plastic surgery) involvement. We present in this article a case of a 52-year-old man who presented less infrequent symptoms, and the diagnosis was made in a very advanced stage. The wide surgical excision of the mass was performed by two different anterior and posterior approaches in one stage. The free surgical margins were difficult to achieve because it presented a voluminous tumor with invasion of the rectum, bone, and sacral plexus, but the age, low histological grade, and extensive experience in extreme pelvic surgery of our multidisciplinary team allowed approaching the patient with debulking surgery en bloc, successfully. Total hospital stay was 20 days. The patient was discharged without any complications. At the 6-months' follow-up, the patient showed no local recurrence.
Access options
Buy single article
Instant access to the full article PDF.
US$ 39.95
Tax calculation will be finalised during checkout.
Subscribe to journal
Immediate online access to all issues from 2019. Subscription will auto renew annually.
US$ 79
Tax calculation will be finalised during checkout.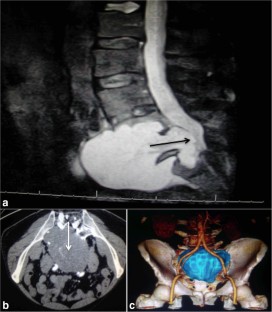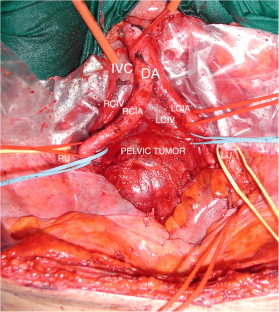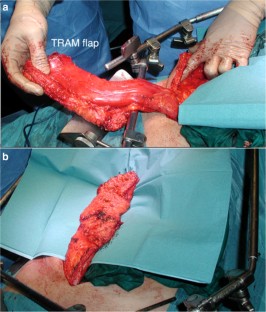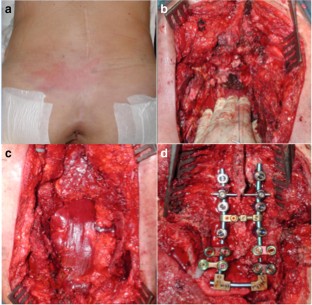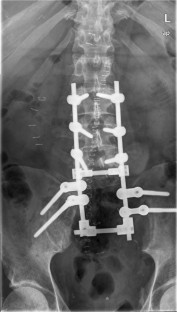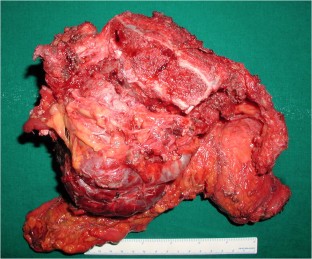 References
1.

Mavrogenis AF, Pavlos P, Georgia K, Papagelopoulos Panayiotis J (2009) Tumours of the sacrum. Orthop. 32:5–5

2.

Hogendoorn PCW, Bovee JM, Nielsen GP (2013) Chondrosarcoma (grades I-III), including primary and secondary variants and periosteal chondrosarcoma. In: CDM F, Bridge JA, PCW H, Mertens F (eds) World Health Organization classification of tumours of soft tissue and bone, vol 5, 4th edn. IARC, Lyon, p 264

3.

Gelderblom H, Hogendoorn PCW, Dijkstra SD et al (2008) The clinical approach towards chondrosarcoma. Oncologist 13(3):320–329

4.

Bjornsson J, McLeod RA, Unni KK, Ilstrup DM, Pritchard DJ (1998) Primary chondrosarcoma of long bones and limb girdles. Cancer. 83:2105–2119

5.

Angelini A, Guerra G, Mavrogenis AF et al (2012) Clinical outcome of central conventional chondrosarcoma. J Surg Oncol 106:929

6.

Wirbel RJ, Schulte M, Maier B, Koschnik M, Mutschler WE (2000) Chondrosarcoma of the pelvis: oncologic and functional outcome. Sarcoma 4(4):161–168

7.

Jullien-Petrelli AC, Asencio JM, Orue-Echebarria MI, Lozano P, Álvarez A, Serrano J, Calvo FM, Calvo-Haro JA, Lasso JM, García-Sabrido JL (2017 Sep 4) Role of intraoperative radiotherapy in the treatment of sacral chordoma. Spine J.

8.

Sheth DS, Yasko AW, Johnson ME, Ayala AG, Murray JA, Romsdahl MM (1996) Chondrosarcoma of the pelvis. Prognostic factors for 67 patients treated with definitive surgery. Cancer 78:745–750

9.

Hsieh PC, Xu R, Sciubba DM, MJ MG, Nelson C, Witham TF, Wolinsky JP (2009) Long-term clinical outcomes following en bloc resections for sacral chordomas and chondrosarcomas. Spine. 34(20):2233–2239

10.

Fiorenza F, Abudu A, Grimer RJ et al (2002) Risk factors for survival and local control in chondrosarcoma of bone. J Bone Joint Surg Br 84:93

11.

Gillis CC, Street JT, Boyd MC, Fisher CG (Oct 2014) Pelvic reconstruction after subtotal sacrectomy for sacral chondrosarcoma using cadaveric and vascularized fibula autograft. J Neurosurg Spine 21(4):623–627
Additional information
Publisher's Note
Springer Nature remains neutral with regard to jurisdictional claims in published maps and institutional affiliations.
About this article
Cite this article
Morales, A.G., Sabrido, J.L.G., Calvo, J.A. et al. Total Sacrectomy for the Treatment of Advanced Pelvic Chondrosarcoma. Indian J Surg Oncol 11, 27–32 (2020). https://doi.org/10.1007/s13193-019-01009-1
Received:

Accepted:

Published:

Issue Date:
Keywords
Chondrosarcoma

Sacrectomy

Multidisciplinary