Abstract
Radiation therapy (RT) is a crucial part of cancer care, but previous work suggests that many non-radiation oncologist physicians are uncomfortable referring for RT. To evaluate training and understanding of RT, the authors sent invitations to complete an online questionnaire to all physicians at a community hospital in Bronx, NY, which asked about oncology training and self-rated and objective knowledge of RT. Out of 247 invited participants, 87 responded (35%). Among responders, 19 were attending physicians (22%) and 66 (76%) were residents. Seventy-two percent of respondents reported caring for > 5 cancer patients in the past month, but 54% reported never referring patients for RT. Sixty-nine percent of respondents stated they received no radiation oncology training in medical school, and 36% reported no general oncology training. Approximately half believed themselves to be "somewhat knowledgeable" about RT indications (48%), benefits (53%), and side effects (55%). Objective assessment mean score was 6.2/12 (median 7) for all respondents; Respondents with internal medicine specialization scored higher than others (mean 7.7 vs 3.5; p < 0.01). Scores did not differ between attending and resident physicians, resident post-graduate levels, or receiving oncology training in medical school. The factors most commonly cited as affecting RT referral decisions were type of cancer, patient wishes, family wishes, poor functional status, and life expectancy. Many physicians are unaware of RT effectiveness or indications, which may affect referral patterns. Previous oncology training was not associated with higher knowledge scores.
Access options
Buy single article
Instant access to the full article PDF.
US$ 39.95
Tax calculation will be finalised during checkout.
Subscribe to journal
Immediate online access to all issues from 2019. Subscription will auto renew annually.
US$ 79
Tax calculation will be finalised during checkout.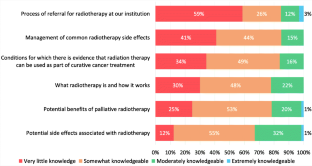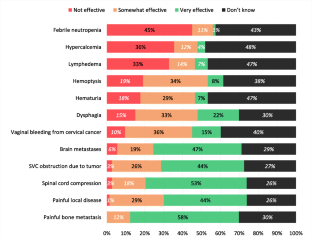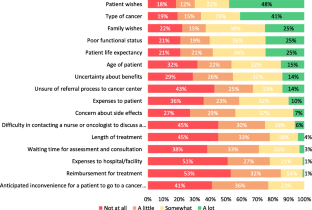 References
1.

Perez CA, Brady LW (1998) Principles and practice of radiation oncology. Principles and practice of radiation oncology. Lippincott-Raven, Philadelphia

2.

Kougioumtzopoulou A, Zygogianni A, Liakouli Z, Kypraiou E, Kouloulias V (2017) The role of radiotherapy in bone metastases: a critical review of current literature. Eur J Cancer Care 26(6):e12724

3.

Abshire D, Lang MK (2018) The evolution of radiation therapy in treating cancer. In: Seminars in oncology nursing, vol 34. Elsevier, Amsterdam, pp 151–157

4.

Lutz S, Berk L, Chang E, Chow E, Hahn C, Hoskin P, Howell D, Konski A, Kachnic L, Lo S (2011) Palliative radiotherapy for bone metastases: an ASTRO evidence-based guideline. Int J Radiat Oncol Biol Phys 79(4):965–976

5.

Rodrigues G, Macbeth F, Burmeister B, Kelly K-L, Bezjak A, Langer C, Hahn C, Movsas B (2012) Consensus statement on palliative lung radiotherapy: third international consensus workshop on palliative radiotherapy and symptom control. Clin Lung Cancer 13(1):1–5

6.

Chow E, Zeng L, Salvo N, Dennis K, Tsao M, Lutz S (2012) Update on the systematic review of palliative radiotherapy trials for bone metastases. Clin Oncol 24(2):112–124

7.

Everitt S, Plumridge N, Herschtal A, Bressel M, Ball D, Callahan J, Kron T, Schneider-Kolsky M, Binns D, Hicks R (2013) The impact of time between staging PET/CT and definitive chemo-radiation on target volumes and survival in patients with non-small cell lung cancer. Radiother Oncol 106(3):288–291

8.

Muijs CT, Pruim J, Beukema JC, Berveling MJ, Plukker JT, Langendijk JA (2013) Oesophageal tumour progression between the diagnostic 18F-FDG-PET and the 18F-FDG-PET for radiotherapy treatment planning. Radiother Oncol 106(3):283–287

9.

Gold HT, Thwin SS, Buist DSM, Field TS, Wei F, Yood MU, Lash TL, Quinn V, Geiger AM, Silliman RA (2009) Delayed radiotherapy for breast cancer patients in integrated delivery systems. Am J Manag Care 15(11):785–789

10.

Skolarus TA, Miller DC, Zhang Y, Hollingsworth JM, Hollenbeck BK (2010) The delivery of prostate cancer care in the United States: implications for delivery system reform. J Urol 184(6):2279–2284

11.

Zaorsky NG, Shaikh T, Handorf E, Eastwick G, Hesney A, Scher ED, Jones RT, Showalter TN, Avkshtol V, Rice SR, Horwitz EM, Meyer JE (2016) What are medical students in the United States learning about radiation oncology? Results of a multi-institutional survey. Int J Radiat Oncol Biol Phys 94(2):235–242. https://doi.org/10.1016/j.ijrobp.2015.10.008

12.

Bravery BD, Shi K, Nicholls L, Chelvarajah R, Tieu MT, Turner S, Windsor A (2019) Oncology and radiation oncology awareness in final year medical students in Australia and New Zealand. J Cancer Educ. https://doi.org/10.1007/s13187-019-01586-3

13.

Samant RS, Fitzgibbon E, Meng J, Graham ID (2007) Barriers to palliative radiotherapy referral: a Canadian perspective. Acta Oncol 46(5):659–663

14.

Samant RS, Fitzgibbon E, Meng J, Graham ID (2006) Family physicians' perspectives regarding palliative radiotherapy. Radiother Oncol 78(1):101–106

15.

Vulto A, van Bommel M, Poortmans P, Lybeert M, Louwman M, Baart R, Coebergh JW (2009) General practitioners and referral for palliative radiotherapy: a population-based survey. Radiother Oncol 91(2):267–270

16.

Olson RA, Lengoc S, Tyldesley S, French J, McGahan C, Soo J (2012) Relationships between family physicians' referral for palliative radiotherapy, knowledge of indications for radiotherapy, and prior training: a survey of rural and urban family physicians. Radiat Oncol 7(1):73

17.

McCloskey SA, Tao ML, Rose CM, Fink A, Amadeo AM (2007) National survey of perspectives of palliative radiation therapy: role, barriers, and needs. Cancer J 13(2):130–137

18.

Mackillop WJ, Kong W (2016) Estimating the need for palliative radiation therapy: a benchmarking approach. Int J Radiat Oncol Biol Phys 94(1):51–59. https://doi.org/10.1016/j.ijrobp.2015.09.045

19.

Huang J, Zhou S, Groome P, Tyldesley S, Zhang-Solomans J, Mackillop WJ (2001) Factors affecting the use of palliative radiotherapy in Ontario. J Clin Oncol 19(1):137–144. https://doi.org/10.1200/JCO.2001.19.1.137

20.

Ben Mustapha S, Meijnders P, Jansen N, Lakosi F, Coucke P (2019) The status of radiation oncology (RO) teaching to medical students in Europe. Clin Transl Radiat Oncol 17:40–46. https://doi.org/10.1016/j.ctro.2019.04.010

21.

Chapman NA, Oultram SC, Jovanovic K (2008) Radiation therapy education for rural and remote GPs. Rural Remote Health 8:2

22.

Samant R, Malette M, Tucker T, Lightfoot N (2001) Radiotherapy education among family physicians and residents. J Cancer Educ 16(3):134–138

23.

Lutz S, Spence C, Chow E, Janjan N, Connor S (2004) Survey on use of palliative radiotherapy in hospice care. Clin Oncol 22:3581–3586

24.

Lutz ST, Chow EL, Hartsell WF, Konski AA (2007) A review of hypofractionated palliative radiotherapy. Cancer 109(8):1462–1470

25.

Samant R (2001) Palliative care educational needs of family physicians. J Palliat Care 17(4):277–280

26.

Samant R, Gooi ACC (2005) Radiotherapy basics for family physicians. Potent tool for symptom relief. Can Fam Physician 51(11):1496–1501

27.

Rose JN, Crook JM (2015) The role of radiation therapy in the treatment of metastatic castrate-resistant prostate cancer. Ther Adv Urol 7(3):135–145. https://doi.org/10.1177/1756287215576647

28.

Sundaresan P, King MT, Stockler MR, Costa DSJ, Milross CG (2015) Barriers to radiotherapy utilisation in New South Wales Australia: health professionals' perceptions of impacting factors. J Med Imaging Radiat Oncol 59(4):535–541

29.

Halkett GKB, Jiwa M, Meng X, Leong E (2013) Referring advanced cancer patients for palliative treatment: a national structured vignette survey of Australian GPs. Fam Pract 31(1):60–70

30.

Khan A, Hussain R, Plummer D, Minichiello V (2004) Too many surveys! Eliciting the views of general practitioners for not participating in postal surveys. Aust J Prim Health 10(2):76–81

31.

Livergant J, Howard M, Klein J (2019) Barriers to referral for palliative radiotherapy by physicians: a systematic review. Clin Oncol 31(1):e75–e84
Acknowledgments
The authors would like to thank all the physicians at SBH Health System who participated in our survey and the departmental staff who provided contact information and assisted with distributing the survey invitation emails. Thanks also to Dr. Rajiv Samant for his help developing the survey questionnaire.
Ethics declarations
Ethical Approval
The study and questionnaire were approved by the SBH Health System Institutional Review Board.
Additional information
Publisher's Note
Springer Nature remains neutral with regard to jurisdictional claims in published maps and institutional affiliations.
About this article
Cite this article
Siau, E., Salazar, H., Livergant, J. et al. Non-oncologist Physician Knowledge of Radiation Therapy at an Urban Community Hospital. J Canc Educ 36, 199–206 (2021). https://doi.org/10.1007/s13187-019-01618-y
Keywords
Medical education

Graduate medical education

Continuing medical education

Resident education

Radiation oncology