Abstract
To establish the more relevant questions oncologic patients may have during cancer treatment. Cross-sectional observational study with all patients undergoing chemotherapy or radiotherapy for cancer in a Brazilian health institution. A questionnaire with open and close questions about cancer diagnosis, treatment, and prognosis was applied. A total of 198 patients were evaluated of whom 122 (62%) were female and 80% of the patients were between 50 and 89 years old. Sixty-one percent of women and 62% of men had questions about cancer diagnosis and treatment. Although questions about nutrition were the most frequent for all patients (72% of men and 48% of women), treatment short- and long-term consequences were a concern for 31% of men and treatment effects on esthetics for 21% of women. After having been informed by the oncology team about their diagnosis and treatment, 49% of the patients also searched for other sources of information. Thirty-eight patients (20%) searched for alternative treatments for cancer. About half of the patients searched for other sources of information after having been informed by the oncology team about their cancer diagnosis and treatment. The present study reinforces the importance for the oncologic health team to spend sufficient time with patients in order to clarify doubts about cancer diagnosis and treatment.
Access options
Buy single article
Instant access to the full article PDF.
US$ 39.95
Tax calculation will be finalised during checkout.
Subscribe to journal
Immediate online access to all issues from 2019. Subscription will auto renew annually.
US$ 79
Tax calculation will be finalised during checkout.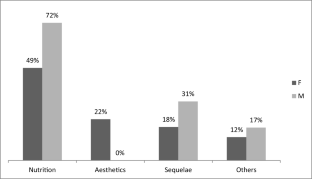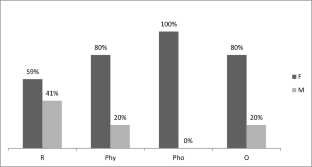 References
1.

Cancer.org [homepage on the internet]. Atlanta: American Cancer Society (2018) Treatment types. [Accessed 2018 May]. Available from: https://www.cancer.org/treatment/treatments-and-side-effects/treatment-types.html

2.

Adler N, Page A (2008) Cancer care for the whole patient: meeting psychosocial health needs. National Academies Press, Washington, DC

3.

Ferrell B, Paice J, Koczywas M (2008) New standards and implications for improving the quality of supportive oncology practice. J Clin Oncol 26(23):3824–3831

4.

Farhat F, Othman A, El Baba G, Kattan J (2015) Revealing a cancer diagnosis to patients: attitudes of patients, families, friends, nurses, and physicians in Lebanon-results of a cross-sectional study. Curr Oncol 22(4):e264–e272

5.

Samant R, Aivas I, Bourque JM, Tucker T (2010) Oncology residents' perspectives on communication skills and shared decision making. J Cancer Educ 25(4):474–477

6.

Mazur DJ, Hickam DH, Mazur MD, Mazur MD (2005) The role of doctor's opinion in shared decision making: what does shared decision making really mean when considering invasive medical procedures? Health Expect 8(2):97–102

7.

Hungr C, Sanchez-Varela V, Bober SL (2017) Self-image and sexuality issues among young women with breast cancer: practical recommendations. Rev Investig Clin 69(2):114–122

8.

Baile WF, Shapira L (2003 Winter) AACE launches a new section of cancer communication. J Cancer Educ 18(4):180–181

9.

Roberts C, Benjamin H, Chen L, Gavigan M, Gesme D, McCarthy P, Samuels R, Baile W (2005 Summer) Assessing communication between oncology professionals and their patients. J Cancer Educ 20(2):113–118

10.

Hilaire DM (2013) The need for communication skills training in oncology. J Adv Pract Oncol 4(3):168–171

11.

Kennedy Sheldon L (2005) Communication in oncology care: the effectiveness of skills training workshops for healthcare providers. Clin J Oncol Nurs 9(3):305–312

12.

Epstein RM, Street RL Jr (2007) Patient-centered communication in cancer care: promoting healing and reducing suffering. National Cancer Institute, Bethesda

13.

Melo A, Carvalho EC, Pelá N (2006) The sexuality of patients with onco-hematological diseases. Rev Lat Am Enfermagem 14(2):227–232
Acknowledgements
We thank all the patients who participated in the study.
Ethics declarations
Conflict of Interest
The authors declare that there is no conflict of interest.
Additional information
Publisher's Note
Springer Nature remains neutral with regard to jurisdictional claims in published maps and institutional affiliations.
About this article
Cite this article
Cansian, J.M., de Oliveira, T.M.R.D.R., Moreira, A.M. et al. What Cancer Patients Want to Know? Questions from Oncologic Patients in a Brazilian Private Cancer Center. J Canc Educ 36, 106–109 (2021). https://doi.org/10.1007/s13187-019-01605-3
Keywords
Cancer care

Supportive oncology

Quality of life

Alternative medicine