Abstract
In general, refugees have an increased cancer burden because of living in difficult conditions and having low income. Refugee women may have difficulty in accessing healthcare services because of the fear of uncertainty, security concerns, language barriers, cultural differences, and economic problems. For this reason, it is thought that health education given to Syrian refugee women by overcoming the language problem (given in their own language—Arabic) increases the awareness of breast and cervical cancer. The aim of this study is to evaluate the effect of health education given to refugee women in their own language on the awareness of breast and cervical cancer. This is a randomized controlled trial with one control and one intervention group. The research sample consisted of 60 Syrian women (30 experiments, 30 controls), at least 18 years old, married, and literate women who were refugees in Hatay/Turkey. The research data were collected via the questionnaire form developed by the researchers. At the beginning of the study, there was no statistically significant difference in terms of age, education, economic status, gravida, and parity among the women in the experimental and control groups (p > 0.05). There was no statistically significant difference between the pre-test mean scores of the experimental and control groups (p > 0.05). However, there was a statistically significant difference between the post-test mean scores of the experimental and control groups (p < 0.005). In this study, it was determined that health education given to refugee women in their own language had a significant effect on breast and cervical cancer awareness. The attitudes and motivations are shaped, not only by personal information but also by the cultural changes within the community.
Access options
Buy single article
Instant access to the full article PDF.
US$ 39.95
Tax calculation will be finalised during checkout.
Subscribe to journal
Immediate online access to all issues from 2019. Subscription will auto renew annually.
US$ 79
Tax calculation will be finalised during checkout.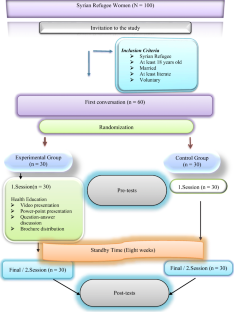 References
1.

Altintas HK, Karadag O (2010) Refugees and health. Turk Silahlı Kuvvetleri Koruyucu Hekim Bul 9(1):55–62

2.

Ergönül Ö, Tülek N, Kayı I, Irmak H, Erdem O, Dara M (2019) Profiling infectious diseases in Turkey after the influx of 3.5 million Syrian refugees. Clin Microbiol Infect. https://doi.org/10.1016/j.cmi.2019.06.022 Accessed 11 July 2019

3.

Orhan O, Gündoğar SS (2015) Effects of Syrian refugees in Turkey. http://tesev.org.tr/wpcontent/uploads/2015/11/Suriyeli_Siginmacilarin_Turkiyeye_Etkileri.pdf. Accessed 1 May 2019

4.

Zencir M, Davas A (2014) Syrian refugees and health services report. Turkish Medical Association Publications. https://www.ttb.org.tr/kutuphane/siginmacirpr.pdf. Accessed 1 May 2019

5.

Barın H (2015) Syrian women in Turkey: social struggles and solution proposals. J Migr Stud 1(2):10–56

6.

Bebis H, Reis N, Yavan T, Bayrak D, Unal A, Bodur S (2012) Effect of health education about cervical cancer and Papanicolaou testing on the behavior, knowledge, and beliefs of Turkish women. Int J Gynecol Cancer 22(8):1407–1412

7.

Shah SM, Ayash C, Pharaon NA, Gany FM (2008) Arab American immigrants in New York: health care and cancer knowledge, attitudes, and beliefs. J Immigr Minor Health 10(5):429–443

8.

Raithatha SJ, Mangalampalli A, Patel M, Kumar D, Tapadiya M (2018) Comparison of two training techniques (mannequin versus flip-chart presentation) of breast self examination of rural women: an interventional study. J Cancer Policy 15(2018):1–4

9.

Yılmaz M, Sayın Y, Cengiz HÖ (2017) The effects of training on knowledge and beliefs about breast cancer and early diagnosis methods among women. Eur J Breast Health 13(4):175–182

10.

World Health Organization (2018) Cancer today. https://gco.iarc.fr/today/online-analysis-map. Accessed 1 May 2019

11.

Kocaöz S, Özçelik H, Talas MS, Akkaya F, Özkul F, Kurtuluş A, Ünlü F (2018) The effect of education on the early diagnosis of breast and cervix cancer on the women's attitudes and behaviors regarding participating in screening programs. J Cancer Educ 33(4):821–832

12.

Alawa J, Hamade O, Alayleh A, Fayad L, Khoshnood K (2019) Cancer awareness and barriers to medical treatment among Syrian refugees and Lebanese citizens in Lebanon. J Cancer Educ:1–9

13.

Al Qadire M, Al-Shdayfat N (2019) Cancer awareness and barriers to seeking medical help among Syrian refugees in Jordan: a baseline study. J Cancer Educ 34(1):19–25

14.

Kara P, Nazik E (2018) Effect of migration on women and children health. Gümüşhane Univ J Health Sci 7(2):58–69

15.

Alkhasawneh E, Al-Farsi Y, Al-Simadi F, Leocadio M (2017) Development and validation of a culturally-tailored breast cancer health education programme for Arab women. Sultan Qaboos Univ Med J 17(2):181–190

16.

Ouyang YQ, Hu X (2014) The effect of breast cancer health education on the knowledge, attitudes, and practice: a community health center catchment area. J Cancer Educ 29(2):375–381

17.

Secginli S, Nahcivan NO (2011) The effectiveness of a nurse-delivered breast health promotion program on breast cancer screening behaviours in non-adherent Turkish women: a randomized controlled trial. Int J Nurs Stud 48(1):24–36

18.

Seven M, Akyuz A, Robertson LB (2015) Interventional education methods for increasing women's participation in breast cancer screening program. J Cancer Educ 30(2):244–252

19.

Tuzcu A, Bahar Z, Gozum S (2016) Effects of interventions based on health behavior models on breast cancer screening behaviors of migrant women in Turkey. Cancer Nurs 39(2):40–45

20.

Nuño T, Martinez ME, Harris R, García F (2011) A promotora-administered group education intervention to promote breast and cervical cancer screening in a rural community along the US–Mexico border: a randomized controlled trial. Cancer Causes Control 22(3):367–374

21.

Koç Z, Özdeş EK, Topatan S, Çinarli T, Sener A, Danaci E, Palazoglu CA (2019) The impact of education about cervical cancer and human papillomavirus on women's healthy lifestyle behaviors and beliefs: using the PRECEDE educational model. Cancer Nurs 42(2):106–118

22.

Shankar A, Rath GK, Roy S, Malik A, Bhandari R, Kishor K, Barnwal K, Upadyaya S, Srivastava V, Singh R (2015) Level of awareness of cervical and breast cancer risk factors and safe practices among college teachers of different states in India: do awareness programmes have an impact on adoption of safe practices. Asian Pac J Cancer Prev 16(3):927–932

23.

Rosser JI, Njoroge B, Huchko MJ (2015) Changing knowledge, attitudes, and behaviors regarding cervical cancer screening: the effects of an educational intervention in rural Kenya. Patient Educ Couns 98(7):884–889

24.

Abiodun OA, Olu-Abiodun OO, Sotunsa JO, Oluwole FA (2014) Impact of health education intervention on knowledge and perception of cervical cancer and cervical screening uptake among adult women in rural communities in Nigeria. BMC Public Health 14(1):814

25.

Schapira L (2016) Caring for refugees with cancer: a case for training of US oncology professionals. In: Silbermann M (ed) Cancer care in countries and societies in transition. Springer, Cham, pp 399–407
Acknowledgments
The authors would like to thank the women who participated in the study.
Ethics declarations
Permission to apply from the Directorate of the Public Education Center, ethics approval from the Ethics Committee of the Faculty of Medicine of Mustafa Kemal University (decision no: 2017/167), and written consent from the refugee women were taken before the study. Informed consent was obtained from all individual participants included in the study. Additional informed consent was obtained from all the participants for whom identifying information was included in this article. The same health education was given to the women in the control group after the study was completed.
Conflict of Interest
The authors declare that they have no conflict of interest.
Additional information
Publisher's Note
Springer Nature remains neutral with regard to jurisdictional claims in published maps and institutional affiliations.
About this article
Cite this article
Erenoğlu, R., Yaman Sözbir, Ş. The Effect of Health Education Given to Syrian Refugee Women in Their Own Language on Awareness of Breast and Cervical Cancer, in Turkey: a Randomized Controlled Trial. J Canc Educ 35, 241–247 (2020). https://doi.org/10.1007/s13187-019-01604-4
Keywords
Breast cancer

Cervical cancer

Education

Refugee women

Awareness