Abstract
Cascade testing for hereditary breast/ovarian cancer is an important public health priority. Increasing attention has been paid to the relevance of testing for men within BRCA1/2-positive families given that such testing may provide important information about their cancer risks, particularly for prostate cancer, and risks to their offspring. However, men are much less likely to seek genetic counseling and testing than their at-risk female relatives. To facilitate access to pre-test information and testing, we developed a web-based intervention (WI) for men that we are evaluating in a pilot randomized controlled trial (RCT). This paper describes three phases of research in the development of the WI: (1) formative (qualitative) research among men from BRCA1/2 families to assess needs and preferences for education; (2) a detailed description of the organization, format, and content of the WI; and (3) usability testing. We discuss the aims and hypotheses of the pilot RCT in which the WI is being compared with an enhanced usual care condition among at-risk men. We expect that the WI described here will foster informed decisions and lead to increased use of BRCA1/2 counseling and testing, potentially yielding improved cancer control outcomes for this understudied group, and for their at-risk relatives.
Access options
Buy single article
Instant access to the full article PDF.
US$ 39.95
Tax calculation will be finalised during checkout.
Subscribe to journal
Immediate online access to all issues from 2019. Subscription will auto renew annually.
US$ 79
Tax calculation will be finalised during checkout.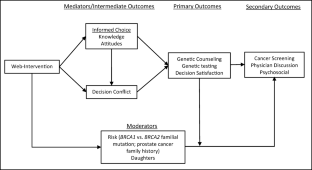 Acknowledgments
The authors thank research assistants Yvette Noah and Samantha Philip. We thank Susan Marx for the assistance with manuscript formatting. The study website was designed by Chadwick Cipiti Studios, Inc. Finally, we are grateful to all of the individuals who participated in the study.
Funding
The study was supported by Grant R21 CA185808 from the National Cancer Institute (Dr. Marc Schwartz, PI) and by the Jess and Mildred Fisher Center for Hereditary Cancer and Clinical Genomics Research.
Ethics declarations
Conflict of Interest
Ms. Peshkin is a paid consultant for Clear Genetics, San Francisco, CA. Dr. Isaacs has received consulting fees from Pfizer and Astra Zeneca and is on the speaker's bureau for Pfizer. Ms. Ladd, Ms. Segal, Ms. Jacobs, Drs. Taylor, Graves, O'Neill, and Schwartz declare that they have no conflict of interest.
Ethical Approval and Informed Consent
All procedures performed in studies involving human participants were in accordance with the ethical standards of Georgetown University (IRB 2017-0128) and with the 1964 Helsinki declaration and its later amendments or comparable ethical standards. Informed consent was obtained from all individual participants included in the study.
Animal Studies
This article does not contain any studies with animals performed by any of the authors.
Disclaimer
The content is solely the responsibility of the authors and does not necessarily represent the official views of the National Cancer Institute or the National Institutes of Health.
Additional information
Publisher's Note
Springer Nature remains neutral with regard to jurisdictional claims in published maps and institutional affiliations.
Electronic Supplementary Material
About this article
Cite this article
Peshkin, B.N., Ladd, M.K., Isaacs, C. et al. The Genetic Education for Men (GEM) Trial: Development of Web-Based Education for Untested Men in BRCA1/2-Positive Families. J Canc Educ 36, 72–84 (2021). https://doi.org/10.1007/s13187-019-01599-y
Keywords
BRCA1/BRCA2

Genetic counseling

Decision aid

Prostate cancer

Cascade testing