Abstract
The aim of this paper is to review various public transport reliability measures including the factors responsible for causing variability in the travel time. A four quadrant approach is used to summarize various reliability measures. These indicators use both Intelligent Transportation System (ITS) data and the stated preference data to measure reliability. Further various supply and demand side factors causing uncertainties in travel time are listed and discussed. In the end a brief case study on two routes of Bus Rapid Transit System(BRTS) of Ahmedabad is reported to apply and test the reviewed travel time measures on the ITS data.
Access options
Buy single article
Instant access to the full article PDF.
US$ 39.95
Tax calculation will be finalised during checkout.
Subscribe to journal
Immediate online access to all issues from 2019. Subscription will auto renew annually.
US$ 79
Tax calculation will be finalised during checkout.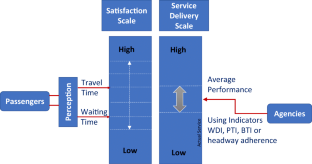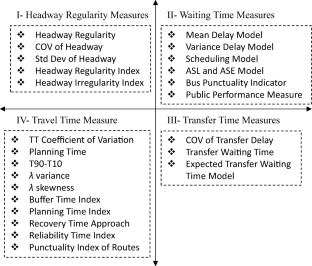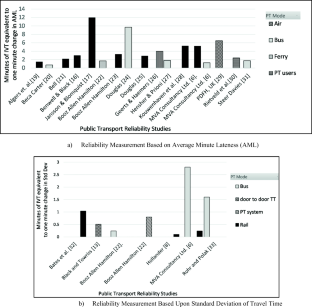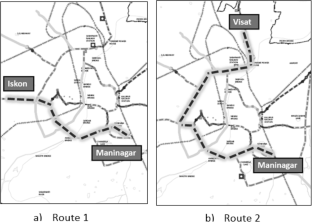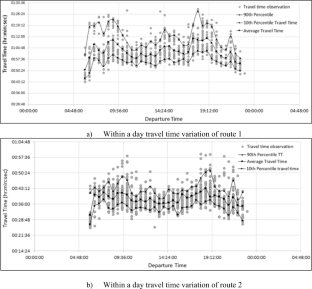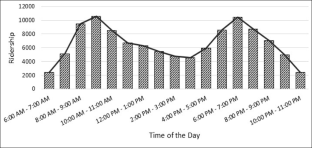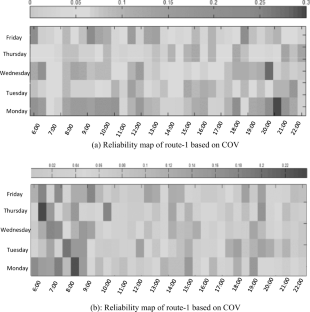 References
1.

Vuchic, V.: Urban Transit: Systems and Technology. John Wiley and Sons, Inc (2005)

2.

Ceder, A.: Public Transit Planning and Operation: Theory, Modelling and Practice. Elsevier (2007)

3.

Mohamed A, A.,Kitamura,R. and Jovanis,P, "Using stated preference data for studying the effect of advanced traffic information on drivers route choice. Transp. Res. C, 5(1), 1997, pp. 39–50

4.

Vincent M and Hamilton A. "Land Transport New Zealand Research Report 339: Measurement Valuation of Public Transport Reliability", 2008

5.

Trompet, M., Liu, X., Graham, D.: Development of key performance Indicator to compare regularity of service between urban bus operators. Transportation Research Record: Journal of the Transportation Research Board. 2216(1), 33–41 (2011)

6.

Consultancy Ltd, M.V.A.: Report on the Study of the Impact of the Phenomenon of Bus Irregularity – Analysis of Results, Paris (2000)

7.

Osuna, E.E., Newell, G.F.: Control strategies for an idealized public transportation system. Transp. Sci. 6(1), 52–72 (1972)

8.

Hollander, Y., "Travellers' Attitudes to Travel Time Variability: Intermodal and Intra- Modal Analysis". Paper Presented at the 3rd International SIIV Congress – People, Land, Environment and Transport Infrastructure – Reliability and Development, Bari, Italy, 2005

9.

Bates, J., Polak, J., Jones, P., Cook, A.: The valuation of reliability for personal travel. Transportation Research E. 37(2), 191–229 (2001)

10.

Noland, R.B., Polak, J.W.: Travel time variability: a review of theoretical and empirical issues. Transp. Rev. 22(1), 39–54 (2002)

11.

TRB, "Transit Capacity and Quality of Service Manual", 3rd Edition. Washington, D.C., 2013

12.

Gholami, A., Ziaee, M.: Development of a performance measurement system to choose the most efficient programs, the case of the Mashhad transportation system. Transp. Res. A Policy Pract. 106, 261–277 (2017)

13.

Black, I.G., Towriss, J.G.: In: Cranfield Institute of Technology (ed.) Demand Effects of Travel Time Reliability,London: Centre for Logistics and Transportation (1993)

14.

Department for Transport (UK), "Bus punctuality statistics 2005". http://www.dft.gov.uk/pgr/statistics/datatablespublications/public/buspunctuality/buspun ctualitystatisticsgb2005a, 2006. Accessed 10 May 2018

15.

Department for Transport (UK), "Autumn performance report 2007". http://www.dft.gov.uk/about/publications/apr/ap/autumnperformance07.pdf, 2007

16.

Benwell, M., Black, I.: Train service reliability on BR InterCity services. In: Report 3: Passenger Attitudes to Lateness. Cranfield University, London (1985)

17.

Jansson, Kjell, and Kerstin Blomquist. "Valuation of travel time and information-with and without use of timetable. PTRC Summer Annual Meeting, 22nd, 1994, University of Warwick, United Kingdom. 1994

18.

Hess, D.B., Brown, J., Shoup, D.: Waiting for the bus. J. Public Transp. 7(4), 4 (2004)

19.

Algers, S., A. Daly, P. Kjellman and S. Widlert, "Stockholm Model System (SIMS): Application", 7th World Conference of Transportation Research, Sydney, Australia, 1995

20.

Beca Carter, "Project Evaluation Benefit Parameter Values" Beca Carter Hollings & Ferner in Association with SDG Forsyte Research Brown Copeland & co Report to Transfund, April 2002

21.

Bell, D.,"Dandenong Rail Corridor Market Assessment". Melbourne, a Report by Multi-Modal Transport Solutions, 2004

22.

Hamilton, B.A.: "Sydney ferry business planning market research". Final report prepared for state transit, Australia. BAH Reference. A2526 (2001)

23.

Booz Allen Hamilton, "Sunshine Corridor Study Market Research". Final Report Prepared for Department of Infrastructure, Victoria, Australia, 2006

24.

Douglas, N., "Sydney M2 Busway Patronage Forecasts". Report Prepared for New South Wales Department of Transport, 1996

25.

Douglas Economics, "Tranz Metro Passenger Survey. Report to Tranz Metro by Douglas Economics Dated April, 2005

26.

Geerts, J.-F., and Haemers, V, "Service Reliability and Transfer Convenience on the Brussels Tramway Network". Paper Presented at the European Transport Conference, Strasbourg, 2005

27.

Hensher, D., Prioni, P.: A service quality index for area-wide contract performance assessment. Journal of Transport Economics and Policy. 36, 93–113 (2002)

28.

Kouwenhoven, Marco, et al. "New values of time and reliability in passenger transport in the Netherlands". Res. Transp. Econ. 47, 2014, pp. 37–49

29.

Association of Train Operating Companies: Passenger Demand Forecasting Handbook (PDFH). Version 5, London (2009)

30.

Rietveld, P., Bruinsma, F.R., van Vuuren, D.J.: Coping with unreliability in public transport chains: a case study for Netherlands. Transp. Res. A Policy Pract. 35(6), 539–559 (2001)

31.

Steer Davies and Gleave (NZ) Ltd. "The Effects of Quality Improvements in Public Transport. Report to Wellington Regional Council, November 1990

32.

Bates, J., Jones, P., Polak, J., Han, X.-L.: The investigation of punctuality and reliability: re-analysis of some existing data sets. Report submitted to rail operational research. In: Transport Studies Group. University of Westminster, London (1997)

33.

Rohr, P., Polak, J.W.: The regularity and reliability impacts of bus priority measures. Proceedings. 26, (1998)

34.

Currie, G., Douglas, N. J., and Kearns, I., "An Assessment of Alternative Bus Reliability Indicators". Paper Presented at the Australasian Transport Research Forum 2012 Proceedings, Perth, Australia, 2012

35.

MA, Z., Ferreira, L., and Mesbah, M., "A framework for the development of bus service reliability measures". Proceedings of Australian Transport Research Forum, Brisbane, Australia, 2013

36.

Strathman, J.G., Hopper, J.R.: Empirical analysis of bus transit on-time performance. Transp. Res., Part A. 27(2), 93–100 (1993)

37.

Henderson, G., Adkins, H., Kwong, P.: Subway reliability and the odds of getting there on time. Transp. Res. Rec. 1297, 10–13 (1993)

38.

Golshani, F.: System regularity and overtaking rules in bus services. J. Oper. Res. Soc. 1993, 591–597

39.

Kathuria, A., Parida, M., Ravi Sekhar, C.: Route performance evaluation of a closed bus rapid transit system using GPS data. Curr. Sci. 112(8), 1642–1652 (2017)

40.

Sekhar, R., Askura, Y.: Measuring travel time reliability of transportation system. Indian Highways. 35(11), 61–72 (2007)

41.

Mazloumi, E., Currie, G., Rose, G.: Using GPS data to gain insight into public transport travel time variability. J. Transp. Eng. 136(7), 623–631 (2010)

42.

Lint, V., J.W.C.,TU, H. and Van Zuylen, H.J., "Travel Time Reliability on Freeway.Proceeding of 10th World Conference on Transport Research, (WCTR), (CDROM) Istanbul, Turkey, 2004

43.

FHWA Report, "Travel Time Reliability: Making It There On Time, All The Time. US Department of Transportation, Federal Highway Administration, Web Document from http://www.ops.fhwa.dot.gov/publications/tt_reliability/index.htm, 2006. Accessed 10 May 2010

44.

Chepuri, A., Ramakrishnan, J., Arkatkar, S., Joshi, G., Pulugurtha, S.S.: Examining travel time reliability-based performance indicators for bus routes using GPS-based bus trajectory data in India. Journal of Transportation Engineering, Part A: Systems. 144(5), 04018012 (2018)

45.

Kieu, M.L., Bhaskar, A., Chung, E.: Establishing Definitions and Modelling Public Transport Travel Time Variability. Proceedings of Transportation Research Board Annual Meeting, Washington, USA (2014)

46.

Chen, X., Yu, L., Zhang, Y.: Analyzing urban bus service reliability at the stop, route and network levels. Transp. Res. A. 43(8), 722–734 (2009)

47.

Jang, W.: Travel time transfer analysis using transit smart card data. Journal of Transportation Research Board. 2144(1), 142–149 (2014). https://doi.org/10.3141/2144-16

48.

Knoppers, P., Muller, T.: Optimized transfer opportunities in public transport. Transp. Sci. 29(1), 101–105 (1995)

49.

Goverde, R. M. P., "Improving Punctuality and Transfer Reliability by Railway Timetable Optimization". (Doctor of Philosophy), Delft University of Technology, 1999

50.

Shalaby, A., Farhan, A.: Prediction model of bus arrival and departure times using AVL and APC data. J. Public Transp. 7(1), 41–61 (2004)

51.

Abdelfattah, A.M., Khan, A.M.: Models for predicting bus delays. Transp. Res. Rec. 162, 8–15 (1998)

52.

Abkowitz, M., Engelstein, I.: Factors affecting running time on transit routes. Transp. Res., Part A. 17(2), 107–113 (1983)

53.

Ng, C.P., Brah, S.A.: A running time model for bus operations in Singapore. Road Transport Res. 7(3), 48–57 (1998)

54.

Hofmann, M., and O'Mahony, M. "The impact of adverse weather conditions on urban bus performance measures". Proc., 8th Int. IEEE Conf. On intelligent transportation systems, IEEE, Vienna, Austria, 2005
Acknowledgements
The authors are thankful to Ahmedabad Janmarg Limited, India for their continuous support in data collection.
Additional information
Publisher's Note
Springer Nature remains neutral with regard to jurisdictional claims in published maps and institutional affiliations.
About this article
Cite this article
Kathuria, A., Parida, M. & Sekhar, C.R. A Review of Service Reliability Measures for Public Transportation Systems. Int. J. ITS Res. 18, 243–255 (2020). https://doi.org/10.1007/s13177-019-00195-0
Received:

Accepted:

Published:

Issue Date:
Keywords
Travel time reliability

Public transportation

Reliability measures