Abstract
Glioma shows progression presenting as malignant transformation or leptomeningeal metastasis (LM). However, longitudinal biopsy of brain parenchyma is difficult due to its critical location, whereas cerebrospinal fluid (CSF) can be obtained serially with a little invasiveness of puncture. Thus, if we could find a biomarker for glioma progression, we could predict such event and determine therapeutic interventions as early as possible. In this study, we examined whether cerebrospinal fluid (CSF) metabolome profiles can reflect glioma grade, difference with non-glial tumor, and LM status. We selected 32 CSF samples from glioma patients, and compared them with 10 non-tumor control and seven non-glial brain tumor (medulloblastoma) samples. A total of 10,408 low-mass ions (LMIs) were detected as a candidate of metabolites using mass spectrometry, and representative LMIs were identified via the Human Metabolome Database. Grade IV gliomas showed eight LMIs, including acetic acid, of higher levels (summed sensitivity and specificity > 180%) than grade III gliomas. Grade IV gliomas demonstrated more abundant 30 LMIs, including glycerophosphate, compared with medulloblastoma, but none was mutually exclusive. Phospholipid derivatives were significantly more abundant in LM (−) than LM (+) gliomas regardless of glioma grade. LMIs representative of LM (+) gliomas were derivatives of glycolysis. We also verified discriminative LMIs based on mean expression level of each LMI (Student t test, p < 0.05) and evaluated the differences of the above analyses. Over 90% of metabolite pathways indicated from two analytical models were common to each other. Non-targeted mass spectrometry of CSF metabolites revealed significantly different profiles across gliomas that possibly permitted differentiation between glioma grades, LM, and non-glial brain tumors.
This is a preview of subscription content, log in to check access.
Access options
Buy single article
Instant access to the full article PDF.
US$ 39.95
Price includes VAT for USA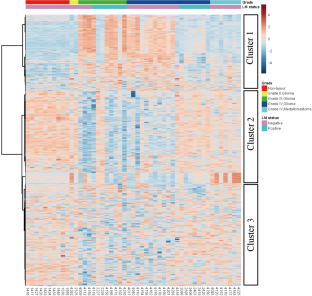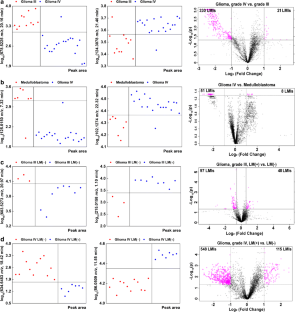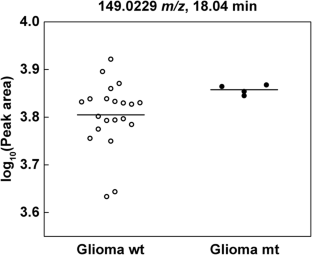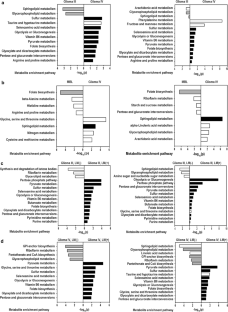 Abbreviations
CNS:

central nervous system

CSF:

cerebrospinal fluid

HMDB:

Human Metabolome Database

HPLC/MS:

high-performance liquid chromatography/MS

IDH1:

isocitrate dehydrogenase 1

LM:

leptomeningeal metastasis

LMIs:

low-mass ions

LOME:

low-mass-ion discriminant equation

MALDI:

matrix-assisted laser desorption ionization

MS:

mass spectroscopy

ODG:

oligodendroglioma

PA:

phosphatidic acids

PE:

phosphatidylethanolamine

PPPM:

predictive preventive personalized medicine

PS:

phosphatidylserine

TOF:

time-of-flight
References
1.

Stewart LA. Chemotherapy in adult high-grade glioma: a systematic review and meta-analysis of individual patient data from 12 randomised trials. Lancet. 2002;359(9311):1011–8. https://doi.org/10.1016/s0140-6736(02)08091-1.

2.

Stupp R, Mason WP, van den Bent MJ, Weller M, Fisher B, Taphoorn MJ, et al. Radiotherapy plus concomitant and adjuvant temozolomide for glioblastoma. N Engl J Med. 2005;352(10):987–96. https://doi.org/10.1056/NEJMoa043330.

3.

Wang J, Cazzato E, Ladewig E, Frattini V, Rosenbloom DI, Zairis S, et al. Clonal evolution of glioblastoma under therapy. Nat Genet. 2016;48(7):768–76. https://doi.org/10.1038/ng.3590.

4.

Straathof CS, de Bruin HG, Dippel DW, Vecht CJ. The diagnostic accuracy of magnetic resonance imaging and cerebrospinal fluid cytology in leptomeningeal metastasis. J Neurol. 1999;246(9):810–4. https://doi.org/10.1007/s004150050459.

5.

Frankfort SV, Tulner LR, van Campen JP, Verbeek MM, Jansen RW, Beijnen JH. Amyloid beta protein and tau in cerebrospinal fluid and plasma as biomarkers for dementia: a review of recent literature. Curr Clin Pharmacol. 2008;3(2):123–31.

6.

Romeo MJ, Espina V, Lowenthal M, Espina BH, Petricoin EF 3rd, Liotta LA. CSF proteome: a protein repository for potential biomarker identification. Expert Rev Proteomics. 2005;2(1):57–70. https://doi.org/10.1586/14789450.2.1.57.

7.

Lee JH, Kim KH, Park JW, Chang HJ, Kim BC, Kim SY, et al. Low-mass-ion discriminant equation: a new concept for colorectal cancer screening. Int J Cancer. 2014;134(8):1844–53. https://doi.org/10.1002/ijc.28517.

8.

Golubnitschaja O, Baban B, Boniolo G, Wang W, Bubnov R, Kapalla M, et al. Medicine in the early twenty-first century: paradigm and anticipation - EPMA position paper 2016. EPMA J. 2016;7:23. https://doi.org/10.1186/s13167-016-0072-4.

9.

Lu M, Zhan X. The crucial role of multiomic approach in cancer research and clinically relevant outcomes. EPMA J. 2018;9(1):77–102. https://doi.org/10.1007/s13167-018-0128-8.

10.

Grech G, Zhan X, Yoo BC, Bubnov R, Hagan S, Danesi R, et al. EPMA position paper in cancer: current overview and future perspectives. EPMA J. 2015;6(1):9. https://doi.org/10.1186/s13167-015-0030-6.

11.

Yoo BC, Lee JH, Kim KH, Lin W, Kim JH, Park JB, et al. Cerebrospinal fluid metabolomic profiles can discriminate patients with leptomeningeal carcinomatosis from patients at high risk for leptomeningeal metastasis. Oncotarget. 2017;8(60):101203–14. https://doi.org/10.18632/oncotarget.20983.

12.

Locasale JW, Melman T, Song S, Yang X, Swanson KD, Cantley LC, et al. Metabolomics of human cerebrospinal fluid identifies signatures of malignant glioma. Mol Cell Proteomics. 2012;(6):11, M111 014688. https://doi.org/10.1074/mcp.M111.014688.

13.

Ballester LY, Lu G, Zorofchian S, Vantaku V, Putluri V, Yan Y, et al. Analysis of cerebrospinal fluid metabolites in patients with primary or metastatic central nervous system tumors. Acta Neuropathol Commun. 2018;6(1):85. https://doi.org/10.1186/s40478-018-0588-z.

14.

Freilich RJ, Krol G, DeAngelis LM. Neuroimaging and cerebrospinal fluid cytology in the diagnosis of leptomeningeal metastasis. Ann Neurol. 1995;38(1):51–7. https://doi.org/10.1002/ana.410380111.

15.

Lee JH, Kim YH, Kim KH, Cho JY, Woo SM, Yoo BC, et al. Profiling of serum metabolites using MALDI-TOF and Triple-TOF mass spectrometry to develop a screen for ovarian cancer. Cancer Res Treat. 2018;50(3):883–93. https://doi.org/10.4143/crt.2017.275.

16.

Radin NS. Killing tumours by ceramide-induced apoptosis: a critique of available drugs. Biochem J. 2003;371(Pt 2):243–56. https://doi.org/10.1042/BJ20021878.

17.

Louis DN, Perry A, Reifenberger G, von Deimling A, Figarella-Branger D, Cavenee WK, et al. The 2016 World Health Organization Classification of Tumors of the Central Nervous System: a summary. Acta Neuropathol. 2016;131(6):803–20. https://doi.org/10.1007/s00401-016-1545-1.

18.

Dekker LJ, Boogerd W, Stockhammer G, Dalebout JC, Siccama I, Zheng P, et al. MALDI-TOF mass spectrometry analysis of cerebrospinal fluid tryptic peptide profiles to diagnose leptomeningeal metastases in patients with breast cancer. Mol Cell Proteomics. 2005;4(9):1341–9. https://doi.org/10.1074/mcp.M500081-MCP200.

19.

Nakamizo S, Sasayama T, Shinohara M, Irino Y, Nishiumi S, Nishihara M, et al. GC/MS-based metabolomic analysis of cerebrospinal fluid (CSF) from glioma patients. J Neurooncol. 2013;113(1):65–74. https://doi.org/10.1007/s11060-013-1090-x.

20.

Chen Y, Ma Z, Min L, Li H, Wang B, Zhong J, et al. Biomarker identification and pathway analysis by serum metabolomics of lung cancer. Biomed Res Int. 2015;2015:183624–9. https://doi.org/10.1155/2015/183624.

21.

Teplyuk NM, Mollenhauer B, Gabriely G, Giese A, Kim E, Smolsky M, et al. MicroRNAs in cerebrospinal fluid identify glioblastoma and metastatic brain cancers and reflect disease activity. Neuro Oncol. 2012;14(6):689–700. https://doi.org/10.1093/neuonc/nos074.

22.

Agnihotri S, Zadeh G. Metabolic reprogramming in glioblastoma: the influence of cancer metabolism on epigenetics and unanswered questions. Neuro Oncol. 2016;18(2):160–72. https://doi.org/10.1093/neuonc/nov125.

23.

Strickland M, Stoll EA. Metabolic reprogramming in glioma. Front Cell Dev Biol. 2017;5:43. https://doi.org/10.3389/fcell.2017.00043.

24.

Mencarelli C, Martinez-Martinez P. Ceramide function in the brain: when a slight tilt is enough. Cell Mol Life Sci. 2013;70(2):181–203. https://doi.org/10.1007/s00018-012-1038-x.

25.

Al-Enezi KS, Alkhalaf M, Benov LT. Glycolaldehyde induces growth inhibition and oxidative stress in human breast cancer cells. Free Radic Biol Med. 2006;40(7):1144–51. https://doi.org/10.1016/j.freeradbiomed.2005.10.065.

26.

Mao P, Joshi K, Li J, Kim SH, Li P, Santana-Santos L, et al. Mesenchymal glioma stem cells are maintained by activated glycolytic metabolism involving aldehyde dehydrogenase 1A3. Proc Natl Acad Sci U S A. 2013;110(21):8644–9. https://doi.org/10.1073/pnas.1221478110.

27.

Guo D, Bell EH, Chakravarti A. Lipid metabolism emerges as a promising target for malignant glioma therapy. CNS Oncol. 2013;2(3):289–99. https://doi.org/10.2217/cns.13.20.

28.

Srivastava NK, Pradhan S, Gowda GA, Kumar R. In vitro, high-resolution 1H and 31P NMR based analysis of the lipid components in the tissue, serum, and CSF of the patients with primary brain tumors: one possible diagnostic view. NMR Biomed. 2010;23(2):113–22. https://doi.org/10.1002/nbm.1427.

29.

Paine MRL, Liu J, Huang D, Ellis SR, Trede D, Kobarg JH, et al. Three-dimensional mass spectrometry imaging identifies lipid markers of medulloblastoma metastasis. Sci Rep. 2019;9(1):2205. https://doi.org/10.1038/s41598-018-38257-0.

30.

Kuhla B, Luth HJ, Haferburg D, Boeck K, Arendt T, Munch G. Methylglyoxal, glyoxal, and their detoxification in Alzheimer's disease. Ann N Y Acad Sci. 2005;1043:211–6. https://doi.org/10.1196/annals.1333.026.

31.

Watanabe T, Nobusawa S, Kleihues P, Ohgaki H. IDH1 mutations are early events in the development of astrocytomas and oligodendrogliomas. Am J Pathol. 2009;174(4):1149–53. https://doi.org/10.2353/ajpath.2009.080958.

32.

Yang H, Ye D, Guan KL, Xiong Y. IDH1 and IDH2 mutations in tumorigenesis: mechanistic insights and clinical perspectives. Clin Cancer Res. 2012;18(20):5562–71. https://doi.org/10.1158/1078-0432.CCR-12-1773.

33.

Batra S, Adekola KU, Rosen ST, Shanmugam M. Cancer metabolism as a therapeutic target. Oncology (Williston Park). 2013;27(5):460–7.

34.

Kishton RJ, Rathmell JC. Novel therapeutic targets of tumor metabolism. Cancer J. 2015;21(2):62–9. https://doi.org/10.1097/PPO.0000000000000099.

35.

Bajpai R, Shanmugam M. Targeting cancer metabolism through synthetic lethality-based combinatorial treatment strategies. Curr Opin Oncol. 2018;30(5):338–44. https://doi.org/10.1097/CCO.0000000000000467.

36.

Janssens JP, Schuster K, Voss A. Preventive, predictive, and personalized medicine for effective and affordable cancer care. EPMA J. 2018;9(2):113–23. https://doi.org/10.1007/s13167-018-0130-1.

37.

Cheng T, Zhan X. Pattern recognition for predictive, preventive, and personalized medicine in cancer. EPMA J. 2017;8(1):51–60. https://doi.org/10.1007/s13167-017-0083-9.

38.

Hu R, Wang X, Zhan X. Multi-parameter systematic strategies for predictive, preventive and personalised medicine in cancer. EPMA J. 2013;4(1):2. https://doi.org/10.1186/1878-5085-4-2.

39.

Fan Y, Nguyen DT, Akay Y, Xu F, Akay M. Engineering a brain cancer chip for high-throughput drug screening. Sci Rep. 2016;6:25062. https://doi.org/10.1038/srep25062.
Funding
This work was supported by grants from the National Cancer Center, Korea (NCC-1710871-3, 1910090-1 and 1910294-1), the Korea Health Industry Development Institute of Ministry of Health and Social Welfare, Republic of Korea (H1731340-2), and the Basic Science Research Program through the National Research Foundation of Korea (NRF) funded by the Ministry of Science, ICT and Future Planning (NRF-2017R1A2B4007859).
Ethics declarations
Conflict of interest
The authors declare that they have no conflict of interest.
Ethics approval and consent to participate
The study procedure was approved by National Cancer Center and all patients signed consent forms. All CSF samples were obtained after Institutional Review Board (NCC-150002) approval in May 2015; written informed consent was obtained from each participant before the collection. The ethics approval was given in compliance with the Declaration of Helsinki.
Additional information
Publisher's note
Springer Nature remains neutral with regard to jurisdictional claims in published maps and institutional affiliations.
Electronic supplementary material
About this article
Cite this article
Im, J.H., Yoo, B.C., Lee, J.H. et al. Comparative cerebrospinal fluid metabolites profiling in glioma patients to predict malignant transformation and leptomeningeal metastasis with a potential for preventive personalized medicine. EPMA Journal (2020). https://doi.org/10.1007/s13167-020-00211-4
Received:

Accepted:

Published:
Keywords
Predictive preventive personalized medicine

Cerebrospinal fluid

Glioma

Grade

Leptomeningeal metastasis

Metabolome