Abstract
In the 2010s, governments of newly industrialised economies in Asia took a proactive stance in the promotion of organic farming. In 2017, the government of Thailand launched a 4-year programme aimed at converting 160,000 ha to the production of certified organic rice, representing a five-fold increase. This article analyses to what extent the programme made certified organic farming accessible to a large number of farmers, and at the same time helped develop an organisationally and economically sustainable organic sector. Interviews were conducted with farmers, staff of public organisations and managers of rice mills that purchased organic rice. The programme provided training, subsidies to farmers and application for certification that was free of charge. The process through which farmers collectively shifted to organic farming involved requirements that were generally accessible to farmers. In terms of the surface area registered in the programme, the objective was rapidly reached. However, the programme used a national standard that is not widely recognised abroad, there were weaknesses in the inspections made as part of the certification process and the price premium received by farmers was lower than originally expected. Farmers who considered profitability was important received no support in getting certificates from other organic standards that could help them obtain higher premium prices. Whether these farmers will continue to practice organic farming once the programme ends is thus questionable.
This is a preview of subscription content, log in to check access.
Access options
Buy single article
Instant access to the full article PDF.
US$ 39.95
Price includes VAT for USA
Subscribe to journal
Immediate online access to all issues from 2019. Subscription will auto renew annually.
US$ 99
This is the net price. Taxes to be calculated in checkout.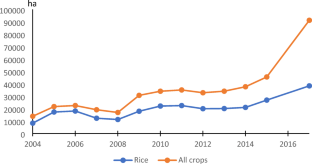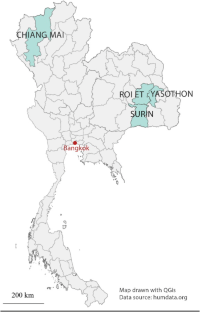 Data availability
Data available on request.
Notes
1.

In May 2019, 1 USD = 31.8 Thai baht (THB).
References
Amarender RA (2017) Impact study of Paramparagat Krishi Vikas Yojana. National Institute of Agricultural Extension Management, Hyderabad

Asli GK, Yonggong L, Feng B (2017) Factors limiting the potential impacts of organic agriculture on rural development in China. Org Agric 7(3):339–352

Charina A, Kusumo RAB, Sadeli AH, Deliana Y (2018a) Factors affecting farmers in applying standard operational procedure (SOP) of organic farming system in Bandung Barat Regency [in Indonesian]. J Penyuluhan 14(1):68–78

Charina A, Andriani R, Deliana Y (2018b) Impact of organic village program to farmers in Cibodas village, West Bandung District [in Indonesian]. Mimbar Agribisnis 4(1):1–11

David W (2016) Organic agriculture in Indonesia: challenges and opportunities. Org Agric 7(3):329–338

Ellis W, Panyakul V, Kasterine A, Vildoso D (2006) Strengthening the export capacity of Thailand's organic agriculture. Asia Trust Fund Project, unpublished report

Farmia A (2009) Development of organic rice farming in a rural area, Bantul regency, Yogyakarta special region province, Indonesia. J Dev in Sus Agric 3(2):135–148

Faysse N, Phiboon K (2019) Building capacities for change: farmers moving away from conventional rice farming in Prachinburi Province, Thailand. J Community Dev Res 12(4):57–67

IFOAM and Research Institute of Organic Agriculture (2012) The world of organic agriculture – statistics and emerging trends. FiBL and IFOAM, Frick

Indian Department of Administrative Reforms and Public Grievances (2017) Paramparagat Krishi Vikas Yojana. Manual for District Level Functionaries. https://darpg.gov.in/sites/default/files/Paramparagat%20Krishi%20Vikas%20Yojana.pdf. Accessed in February 2020

Jahroh S (2010) Organic farming development in Indonesia: lessons learned from organic farming in West Java and North Sumatra. Internatianl symposium on innovation and sustainable development in agriculture and food, Montpellier

Kaufmann S, Vogl CR (2018) Participatory guarantee systems (PGS) in Mexico: a theoretic ideal or everyday practice? Agric Hum Values 35(2):457–472

Kerdnoi T, Prabudhanitisarn S, Sangawongse S, Prapamontol T, Santasup C (2014) The struggle of organic rice in Thailand: a multi–level perspective of barriers and opportunities for up scaling. Env Nar Res J 12(1):95–115

Maohong B (2018) The rise of organic agriculture in the Philippines and its development. In: Lopez M, Suryomenggolo J (eds) Environmental resources use and challenges in contemporary Southeast Asia. Springer, Singapore, pp 189–205

Meek D, Anderson CR (2020) Scale and the politics of the organic transition in Sikkim, India. Agroecol Sustain Food Syst 44(5):653–672

Mohamed Haris NB (2019) Factors influencing the decision to farm organic practices in Malaysia. Doctoral dissertation, Newcastle Univers

Montefrio MJF, Johnson AT (2019) Politics in participatory guarantee systems for organic food production. J Rural Stud 65:1–11

Narayanan S (2005) Organic farming in India: relevance, problems and constraints. National Bank for Agriculture and Rural Development, Mumbai

Neuhoff D, Tashi S, Rahmann G, Denich M (2014) Organic agriculture in Bhutan: potential and challenges. Org Agric 4(3):209–221

Phiboon K, Faysse N (2019) Small-scale farmers' assessment of constraints and benefits from getting involved in various organic certification schemes for the domestic market in Thailand. NIDA Dev J 59(1):23–50

Pongsrihadulchai A (2018) Thailand's rice industry and current policies towards high value rice products. International seminar on promoting rice farmers' market through value-adding activities. Food and Fertilizer Technology Center, Taipei

Qiao Y, Martin F, Cook S, He X, Halberg N, Scott S, Pan X (2018) Certified organic agriculture as an alternative livelihood strategy for small-scale farmers in China: a case study in Wanzai County, Jiangxi Province. Ecol Econ 145:301–307

Qiao Y, Martin F, He X, Zhen H, Pan X (2019) The changing role of local government in organic agriculture development in Wanzai County, China. Can J Dev Stud 40(1):64–77

Raut V, Raut DD, Deshpande S (2018) A boost of organic farming to farmers. Gujarat J Ext Educ 29(2):159–162

Research Institute of Organic Agriculture (2020) Key data on organic agriculture worldwide. https://statistics.fibl.org/data-info-and-use.html. Accessed January 2020

Rice Department (2017) Organic rice production promotion project 2017–2021 [in Thai]. Bangkok

Ricks J (2018) Politics and the price of rice in Thailand: public choice, institutional change and rural subsidies. J Contemp Asia 48(3):395–418

Sacchi G, Caputo V, Nayga RM (2015) Alternative labeling programs and purchasing behavior toward organic foods: the case of the participatory guarantee systems in Brazil. Sustain 7(6):7397–7416

Sahakian M, Leuzinger T, Saloma C (2017) Uncovering changing prescriptions and practices around organic agriculture in Metro Manila, the Philippines. Agroecol Sust Food Syst 41(5):505–525

Salazar RC (2014) Going organic in the Philippines: social and institutional features. Agroecol Sust Food Syst 38(2):199–229

Schreer V, Padmanabhan M (2019) The many meanings of organic farming: framing food security and food sovereignty in Indonesia. Org Agric. https://doi.org/10.1007/s13165-019-00277-z

Scott S, Si Z, Schumilas T, Chen A (2018) Organic food and farming in China: top-down and bottom-up ecological initiatives. Routledge, London

Somasundram C, Razali Z, Santhirasegaram V (2016) A review on organic food production in Malaysia. Horticulturae 2(3):12

Suhaimee S, Ibrahim IZ, Abd Wahab MAM (2016) Organic agriculture in Malaysia. FFTC Agricultural Policy. http://ap.fftc.agnet.org/index.php. Accessed February 2020

Vandergeest P (2009) Opening the green box: how organic became the standard for alternative agriculture in Thailand. Paper presented at the Berkeley workshop on environmental politics, April 17

Wyatt B (2009) Local alternative agriculture and neoliberal agenda: regulations of organic vegetable commodity networks in Chiang Mai province, Northern Thailand. PhD Dissertation, Chiang Mai Univers

Xie B, Tingyou L, Yi Q (2011) Organic certification and the market: organic exports from and imports to China. Br Food J 113(10):1200–1216
Funding
The research was undertaken as part of the DOUBT research project and was funded by the French National Research Agency.
Ethics declarations
Conflict of interest
The authors declare that they have no conflict of interest.
Additional information
Publisher's note
Springer Nature remains neutral with regard to jurisdictional claims in published maps and institutional affiliations.
About this article
Cite this article
Hérique, O., Faysse, N. A large-scale public programme to promote organic rice farming in Thailand: building solid foundations to enable farmers to engage?. Org. Agr. (2020). https://doi.org/10.1007/s13165-020-00320-4
Received:

Accepted:

Published:
Keywords
Organic farming

Public programmes

Rice

Thailand

Transitioning