Abstract
As one of the youngest coastal wetland ecosystems in China, the Yellow River Delta has a gradual succession from bare land to grassland. Six typical communities were selected for the present study of the patterns and dynamics of soil microbial community under the gradual transitional succession. In which soil physicochemical properties such as soil pH, electrical conductivity, soil organic carbon, total nitrogen, and available phosphorus were measured simultaneously. The composition, structure, and variety of soil microorganisms were explored. Our results revealed that soil salinity decreased with succession, while soil organic carbon and total nitrogen exhibited an upward trend. Soil salinity, soil organic carbon, and total nitrogen were found to be the main factors that affect microbial composition and diversity in the Yellow River Delta. The phylum Gemmatimonadetes had the highest abundance in the saline bare land. Changes in the soil microbial composition and structure were observed under different succession stages, and microbial richness increased with succession. This research advances our understanding of the relationships among microbial species resources and soil environment with community succession in the Yellow River Delta. It could assist the identification of salt-tolerant microorganisms beneficial for future applications and saline-alkali land improvements.
Access options
Buy single article
Instant access to the full article PDF.
US$ 39.95
Tax calculation will be finalised during checkout.
Subscribe to journal
Immediate online access to all issues from 2019. Subscription will auto renew annually.
US$ 79
Tax calculation will be finalised during checkout.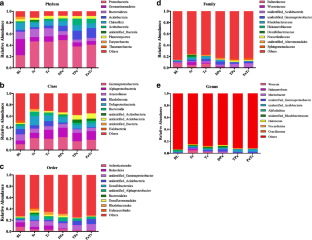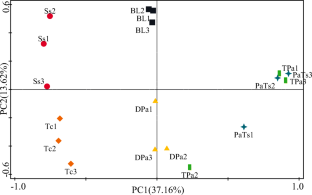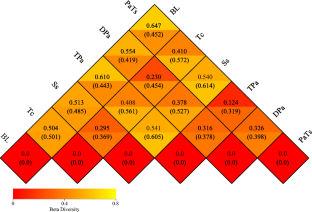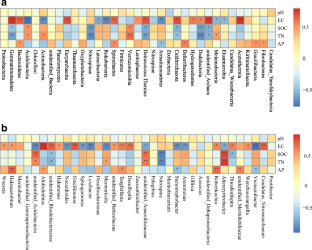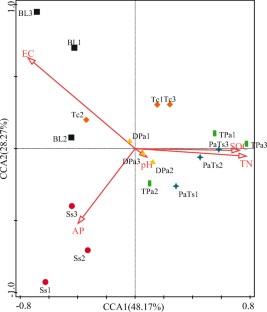 References
Bokulich NA, Subramanian S, Faith JJ, Gevers D, Gordon JI, Knight R, Mills DA, Caporaso JG (2012) Quality-filtering vastly improves diversity estimates from illumina amplicon sequencing. Nature Methods 10(1):57–59

Caporaso JG, Kuczynski J, Stombaugh J, Bittinger K, Bushman FD, Costello EK, Fierer N, Peña AG, Goodrich JK, Gordon JI, Huttley GA, Kelley ST, Knights D, Koenig JE, Ley RE, Lozupone CA, McDonald D, Muegge BD, Pirrung M, Reeder J, Sevinsky JR, Turnbaugh PJ, Walters WA, Widmann J, Yatsunenko T, Zaneveld J, Knight R (2010) Qiime allows analysis of high-throughput community sequencing data. Nature Methods 7(5):335–336

Cline LC, Zak DR (2016) Soil microbial communities are shaped by plant-driven changes in resource availability during secondary succession. Ecology 96(12):3374–3385

Cong J, Yang YF, Liu XD, Lu H, Liu X, Zhou JZ, Li DQ, Yin HQ, Ding JJ, Zhang YG (2015) Analyses of soil microbial community compositions and functional genes reveal potential consequences of natural forest succession. Scientific Reports 5:10007

Debruyn JM, Nixon LT, Fawaz MN, Johnson AM, Radosevich M (2011) Global biogeography and quantitative seasonal dynamics of gemmatimonadetes in soil. Applied and Environmental Microbiology 77(17):6295–6300

Dini-Andreote F, Pylro VS, Baldrian P, van Elsas D, Salles JF (2016) Ecological succession reveals potential signatures of marine–terrestrial transition in salt marsh fungal communities. The ISME Journal 10(8):1984–1997

Edgar RC (2013) Uparse: highly accurate otu sequences from microbial amplicon reads. Nature Methods 10(10):996–998

Edgar RC, Haas BJ, Clemente JC, Quince C, Knight R (2011) Uchime improves sensitivity and speed of chimera detection. Bioinformatics 27(16):2194–2200

Gholz HL, Wedin DA, Smitherman SM, Harmon ME, Parton WJ (2000) Long-term dynamics of pine and hardwood litter in contrasting environments: toward a global model of decomposition. Global Change Biology 6(7):751–765

Haas BJ, Gevers D, Earl AM, Feldgarden M, Ward DV, Giannoukos G, Ciulla D, Tabbaa D, Highlander SK, Sodergren E, Methe B, DeSantis TZ, Petrosino JF, Knight R, Birren BW (2011) Chimeric 16S rRNA sequence formation and detection in sanger and 454-pyrosequenced PCR amplicons. Genome Research 21(3):494–504

Harris J (2009) Soil microbial communities and restoration ecology: facilitators or followers? Science 325:573–574

Heimann M, Reichstein M (2008) Terrestrial ecosystem carbon dynamics and climate feedbacks. Nature 451(7176):289–292

Hou BD, Ma FY, Xing SJ, Song YM, Liu Y (2007) Soil and vegetation characteristics of wetland communities at different successive stages in the huanghe river delta. Journal of Zhejiang Forestry College 24(3):313–318

Huang LB, Bai JH, Wen XJ, Zhang GL, Zhang CD, Cui BS, Liu XH (2020) Microbial resistance and resilience in response to environmental changes under the higher intensity of human activities than global average level. Global Change Biology 26(4):2377–2389

Jangid K, Williams MA, Franzluebbers AJ, Schmidt TM, Coleman DC, Whitman WB (2011) Land-use history has a stronger impact on soil microbial community composition than aboveground vegetation and soil properties. Soil Biology and Biochemistry 43(10):2184–2219

Kuramae EE, Gamper HA, Yergeau E, Piceno YM, Brodie EL, DeSantis TZ, Andersen GL, Veen JA, Kowalchuk GA (2010) Microbial secondary succession in a chronosequence of chalk grasslands. The ISME Journal 4(5):711–715

Li SN, Wang GX, Deng W, Hu YM, Hu WW (2009) Influence of hydrology process on wetland landscape pattern: a case study in the Yellow River Delta. Ecological Engineering 35(12):1719–1726

Li H, Chi ZF, Li JL, Wu HT, Yan BX (2019) Bacterial community structure and function in soils from tidal freshwater wetlands in a chinese delta: potential impacts of salinity and nutrient. Science of The Total Environment. 696:134029

Magoc T, Salzberg SL (2011) Flash: fast length adjustment of short reads to improve genome assemblies. Bioinformatics 27(21):2957–2963

Moreno-Mateos D, Comin FA, Pedrocchi C, Rodriguez-Ochoa R (2008) Effects of wetland construction on nutrient, som and salt content in semi-arid zones degraded by intensive agricultural use. Applied Soil Ecology 40(1):57–66

Palomo A, Jane Fowler S, Gülay A, Rasmussen S, Sicheritz-Ponten T, Smets BF (2016) Metagenomic analysis of rapid gravity sand filter microbial communities suggests novel physiology of nitrospira spp. The ISME Journal 10(11):2569–2581

Pan SC, Wang XL, Chen M, Tan XN (2015) Determination of the effective phosphorus in soil by full Spectrum direct Reading plasma emission spectrometry. Multipurpose Utilization of Mineral Resources 3:59–61

Székely AJ, Berga M, Langenheder S (2013) Mechanisms determining the fate of dispersed bacterial communities in new environments. The ISME Journal 7(1):61–71

Tang YS, Wang L, Jia JW, Fu XH, Le YQ, Chen XZ, Sun Y (2011) Response of soil microbial community in Jiuduansha wetland to different successional stages and its implications for soil microbial respiration and carbon turnover. Soil Biology & Biochemistry 43(3):638–646

Vasquez-Cardenas D, van de Vossenberg J, Polerecky L, Malkin SY, Schauer R, Hidalgo-Martinez S, Confurius V, Middelburg JJ, Meysman FJR, Boschker HTS (2015) Microbial carbon metabolism associated with electrogenic Sulphur oxidation in coastal sediments. The ISME Journal 9(9):1966–1978

Wang ZY, Xin YZ, Gao DM, Li FM, Morgan J, Xing BS (2010) Microbial community characteristics in a degraded wetland of the Yellow River Delta. Pedosphere 20(4):466–478

Wang GH, Liu JJ, Yu ZH, Wang XZ, Jin J, Liu XB (2016) Research progress of Acidobacteria ecology in soils. Biotechnology Bulletin 32(2):14–20

Xi JB, Song YM, Xing SJ, Ma BY, Zhang JF, Chang LH (2002) The characteristics and succession law of ecosystem in the Yellow River Delta area. Journal of Northeast Forestry University 30(6):111–114

Yang H, Hu JX, Long XH, Liu ZP, Rengel Z (2016) Salinity altered root distribution and increased diversity of bacterial communities in the rhizosphere soil of Jerusalem artichoke. Scientific Reports 6:20687

Yu Y, Wang H, Liu J, Wang Q, Shen TL, Guo WH, Wang RQ (2012) Shifts in microbial community function and structure along the successional gradient of coastal wetlands in Yellow River estuary. European Journal of Soil Biology 49:12–21

Yu JB, Li YZ, Han GX, Zhou D, Fu YQ, Guan B, Wang GM, Ning K, Wu HF, Wang JH (2014) The spatial distribution characteristics of soil salinity in coastal zone of the Yellow River Delta. Environmental Earth Sciences 72(2):589–599

Yuan BC, Li ZZ, Liu H, Gao M, Zhang YY (2007) Microbial biomass and activity in salt affected soils under and conditions. Applied Soil Ecology 35(2):319–328

Zhang GS, Wang RQ, Song BM (2007) Plant community succession in modern Yellow River Delta, China. Journal of Zhejiang University-Science B 8(8):540–548

Zhang C, Liu GB, Xue S, Wang GL (2016) Soil bacterial community dynamics reflect changes in plant community and soil properties during the secondary succession of abandoned farmland in the loess plateau. Soil Biology and Biochemistry 97:40–49

Zhang GL, Bai JH, Jia J, Wang W, Wang X, Zhao QQ, Lu QQ (2019) Shifts of soil microbial community composition along a short-term invasion chronosequence of Spartina alterniflora in a Chinese estuary. Science of the Total Environment 657:222–233

Zhao KF, Feng LT, Zhang SQ (1998) Adaptive physiology of different ecotypes of phragmites communis to salinity in the Yellow River Delta. Acta Ecologica Sinica 18(5):463–469

Zhao QQ, Bai JH, Gao YC, Zhao HX, Zhang GL, Cui BS (2020) Shifts of soil bacterial community along a salinity gradient in the Yellow River Delta. Land Degradation & Development. 31:2255–2267. https://doi.org/10.1002/ldr.3594

Zhou DY, Guo WH, Li MY, Eller F, Zhang CY, Wu P, Yi SJ, Yang SR, Du N, Yu XN, Guo X (2020) No fertile island effects or salt island effects of Tamarix chinensis on understory herbaceous communities were found in the coastal area of Laizhou Bay. China. Wetlands. 40:2679–2689. https://doi.org/10.1007/s13157-020-01316-2
Acknowledgements
Thanks for the funding from the Ministry of Science and Technology and the National Foundation of China. And we would like to thank Jian Liu and Xiao Guo for their comments, and Huijuan Xia for provide and draw local images. The constructive comments from two anonymous reviewers and editors significantly improved our manuscript.
Availability of Data and Material
Not applicable.
Code Availability
Not applicable.
Funding
This research was supported by the following funds: National Key R&D Program of China (No. 2017YFC0505905), Key R&D Program of Shandong Province (No. 2019GSF109070), and National Natural Science Foundation of China (Nos. 31770361, and 31970347).
Ethics declarations
Conflicts of Interest/Competing Interests
The authors declare that they have no known competing financial interests or personal relationships that could have appeared to influence the work reported in this paper.
Ethics Approval
Not applicable.
Consent to Participate
The authors guaranteed that this article would only participate in Wetlands.
Consent for Publication
The authors guaranteed that this article would only published in Wetlands.
Additional information
Publisher's Note
Springer Nature remains neutral with regard to jurisdictional claims in published maps and institutional affiliations.
Supplementary Information
About this article
Cite this article
Gao, Y., Liu, L., Zhu, P. et al. Patterns and Dynamics of the Soil Microbial Community with Gradual Vegetation Succession in the Yellow River Delta, China. Wetlands 41, 9 (2021). https://doi.org/10.1007/s13157-021-01414-9
Received:

Accepted:

Published:
Keywords
The Yellow River Delta

Vegetation succession

Soil physicochemical properties

Soil microbial community

Biodiversity