Abstract
The ecological effects of tropical cyclones on mangrove forests are diverse and highly location- and cyclone-dependent. Ecological resistance, resilience, and enhancement are terms that describe most mangrove forest responses to tropical cyclones. However, in the most extreme cases, tropical cyclones can trigger abrupt and irreversible ecological transformations (i.e., ecological regime shifts). Here, we examine a cyclone-induced ecological regime shift that occurred in Everglades National Park (USA), where forest mortality and peat collapse due to a powerful tropical cyclone (the 1935 Labor Day Hurricane) led to the conversion of mangrove forests to mudflats and an estimated elevation loss of approximately 75 cm. We investigated soil elevation change measured in these mangrove forests and adjacent mudflats during a twenty-year period [1998–2018] using Surface Elevation Table-Marker Horizon (SET-MH) methods. This period encompasses the effects of Hurricanes Wilma (2005) and Irma (2017). We also used historical sea-level rise rates and future sea-level rise scenarios to estimate surface elevation changes in the past (1930–1998) and to illustrate elevation gains needed for these ecosystems to adapt to future change. Collectively, our findings advance understanding of the long-term effects of cyclone-induced ecological regime shifts due to forest mortality, peat collapse, and conversion of mangrove forests to mudflats.
This is a preview of subscription content, log in to check access.
Access options
Buy single article
Instant access to the full article PDF.
US$ 39.95
Price includes VAT for USA
Subscribe to journal
Immediate online access to all issues from 2019. Subscription will auto renew annually.
US$ 99
This is the net price. Taxes to be calculated in checkout.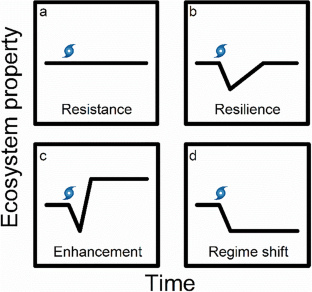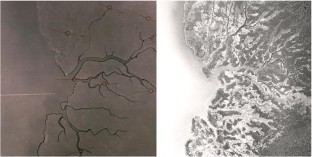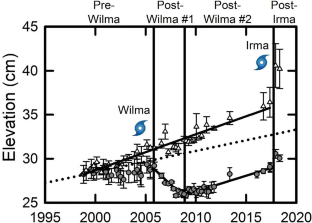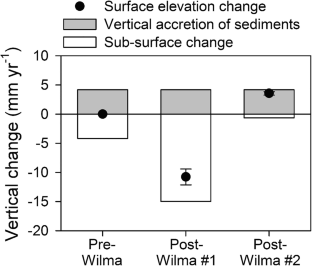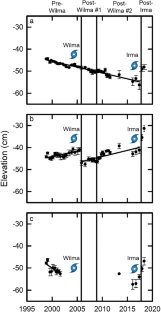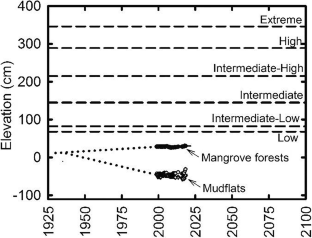 References
Armitage AR, Weaver CA, Kominoski JS, Pennings SC (2019) Resistance to hurricane effects varies among wetland vegetation types in the marsh-mangrove ecotone. Estuaries and Coasts. https://doi.org/10.1007/s12237-019-00577-3

Baldwin A, Egnotovich M, Ford M, Platt W (2001) Regeneration in fringe mangrove forests damaged by Hurricane Andrew. Plant Ecology 157:151—164

Barbier EB, Hacker SD, Kennedy C, Koch EW, Stier AC, Silliman BR (2011) The value of estuarine and coastal ecosystem services. Ecological Monographs 81:169—193

Barr JG, Engel V, Smith TJ III, Fuentes JD (2012) Hurricane disturbance and recovery of energy balance, CO2 fluxes and canopy structure in a mangrove forest of the Florida Everglades. Agricultural and Forest Meteorology 153:54—66

Bischof BG (1995) Aerial photographic analysis of coastal and estuarine mangrove system dynamics of the Everglades National Park, Florida, in response to hurricanes: implications for the continuing sea-level rise. M.S. Thesis. University of Miami. Coral Gables, Florida, USA

Blake ES, Landsea CW, Gibney EJ (2011) The deadliest, costliest, and most intense United State tropical cyclones from 1851—2010 (and other frequently requested hurricane facts). NOAA Technical Memorandum NWS NHC-6. NOAA, National Weather Service, National Hurricane Center, Miami, Florida, USA

Branoff BL (2019) Mangrove disturbance and response following the 2017 hurricane season in Puerto Rico. Estuaries and Coasts. https://doi.org/10.1007/s12237-019-00585-3

Breithaupt JL, Hurst N, Steinmuller HE, Duga E, Smoak JM, Kominoski JS, Chambers LG (2019) Comparing the biogeochemistry of storm surge sediments and pre-storm soils in coastal wetlands: Hurricane Irma and the Florida Everglades. Estuaries and Coasts. https://doi.org/10.1007/s12237-019-00607-0

Breithaupt JL, Smoak JM, Bianchi TS, Vaughn D, Sanders CJ, Radabaugh KR, Osland MJ, Feher LC, Lynch J, Cahoon DR, Anderson GH, Whelan KRT, Rosenheim BE, Moyer RP, Chambers LG (2020) Increasing rates of carbon burial in southwest Florida coastal wetlands. Journal of Geophysical Research. Biogeosciences 125:e2019JG005349

Cahoon DR (2006) A review of major storm impacts on coastal wetland elevations. Estuaries and Coasts 29:889—898

Cahoon DR, Reed DJ, Day JWJ, Steyer GD, Boumans RM, Lynch JC, McNally D, Latif N (1995) The influence of Hurricane Andrew on sediment distribution in Louisiana coastal marshes. Journal of Coastal Research, SI 21:280—294

Cahoon DR, Lynch JC, Hensel P, Boumans RMJ, Perez BC, Segura B, Day JW (2002a) High-precision measurements of wetland sediment elevation: I. Recent improvements to the sedimentation-erosion table. Journal of Sedimentary Research 72:730—733

Cahoon DR, Lynch JC, Perez BC, Segura B, Holland RD, Stelly C, Stephenson G, Hensel P (2002b) High-precision measurements of wetland sediment elevation: II. The rod surface elevation table. Journal of Sedimentary Research 72:734—739

Cahoon DR, Hensel P, Rybczyk J, McKee KL, Proffitt CE, Perez BC (2003) Mass tree mortality leads to mangrove peat collapse at Bay Islands, Honduras after Hurricane Mitch. Journal of Ecology 91:1093—1105

Callaway JC, Cahoon DR, Lynch JC (2013) The surface elevation table—marker horizon method for measuring wetland accretion and elevation dynamics. In: DeLaune RD, Reddy KR, Richardson CJ, Megonigal JP (eds) Methods in Biogeochemistry of Wetlands. Soil Science Society of America, Madison, Wisconsin, USA, pp 901—917

Carter L, Terando A, Dow K, Hiers K, Kunkel KE, Lascurain A, Marcy D, Osland M, Schramm P (2018) Southeast. In: Reidmiller DR, Avery CW, Easterling DR, Kunkel KE, Lewis KLM, Maycock TK, Stewart BC (eds) Impacts, Risks, and Adaptation in the United States: Fourth National Climate Assessment, Volume II. U.S. Global Change Research Program, Washington, DC, USA, pp 743—808

Castañeda-Moya E, Twilley RR, Rivera-Monroy VH, Zhang K, Davis SE III, Ross M (2010) Sediment and nutrient deposition associated with Hurricane Wilma in mangroves of the Florida Coastal Everglades. Estuaries and Coasts 33:45—58

Castañeda-Moya E, Rivera-Monroy VH, Chambers RM, Zhao X, Lamb-Wotton L, Gorsky A, Gaiser EE, Troxler TG, Kominoski JS, Hiatt M (2020) Hurricanes fertilize mangrove forests in the Gulf of Mexico (Florida Everglades, USA). Proceedings of the National Academy of Sciences. https://doi.org/10.1073/pnas.1908597117

Chambers LG, Steinmuller HE, Breithaupt JL (2019) Toward a mechanistic understanding of "peat collapse" and its potential contribution to coastal wetland loss. Ecology 100:e02720

Core Team R (2017) R: A language and environment for statistical computing. R Foundation for Statistical Computing, Vienna, Austria

Costanza R, de Groot R, Sutton P, van der Ploeg S, Anderson SJ, Kubiszewski I, Farber S, Turner RK (2014) Changes in the global value of ecosystem services. Global Environmental Change 26:152—158

Craighead FC (1964) Land, mangroves and hurricanes. The Fairchild Tropical Garden Bulletin 19:1—28

Craighead FC (1966) The effects of natural forces on the development and maintenance of the Everglades. National Geographic Society Research Reports 6:49—67

Craighead FC, Gilbert VC (1962) The effects of Hurricane Donna on the vegetation of southern Florida. Quarterly Journal of the Florida Academy of Sciences 25:1—28

Danielson TM, Rivera-Monroy VH, Castañeda-Moya E, Briceño H, Travieso R, Marx BD, Gaiser E, Farfán LM (2017) Assessment of Everglades mangrove forest resilience: Implications for above-ground net primary productivity and carbon dynamics. Forest Ecology and Management 404:115—125

Davis SE III, Cable JE, Childers DL, Coronado-Molina C, Day JW Jr, Hittle CD, Madden CJ, Reyes E, Rudnick D, Sklar F (2004) Importance of storm events in controlling ecosystem structure and function in a Florida gulf coast estuary. Journal of Coastal Research 20:1198—1208

Davis JH (1940) The ecology and geologic role of mangroves in Florida. Carnegie Institute of Washington Publications. Papers from Tortugas Laboratory 32:303—412

Doyle TW, Smith TJ III, Robblee MB (1995) Wind damage effects of Hurricane Andrew on mangrove communities along the southwest coast of Florida, USA. Journal of Coastal Research 21:159—168

Duke NC (2017) Mangrove floristics and biogeography revisited: further deductions from biodiversity hot spots, ancestral discontinuities, and common evolutionary processes. In: Rivera-Monroy VH, Lee SY, Kristensen E, Twilley RR (eds) Mangrove ecosystems: a global biogeographic perspective. Springer, New York, New York, USA, pp 17—53

Ewel KC, Twilley RR, Ong JE (1998) Different kinds of mangrove forests provide different goods and services. Global Ecology and Biogeography Letters 7:83—94

Feher LC, Osland MJ, Anderson GH (2019a) Everglades National Park sediment elevation and marker horizon data release (ver. 2.0, September 2019). U.S. Geological Survey Data Release. https://doi.org/10.5066/F7348HNP

Feher LC, Osland MJ, Anderson GH, Vervaeke WC, Krauss KW, Whelan KRT, Balentine KM, Tiling-Range G, Smith TJ III, Cahoon DR (2019b) The long-term effects of hurricanes Wilma and Irma on soil elevation change in Everglades mangrove forests. Ecosystems. https://doi.org/10.1007/s10021-019-00446-x

Folke C, Carpenter S, Walker B, Scheffer M, Elmqvist T, Gunderson L, Holling CS (2004) Regime shifts, resilience, and biodiversity in ecosystem management. Annual Review of Ecology, Evolution, and Systematics 35:557—581

Friess DA, Krauss KW, Horstman EM, Balke T, Bouma TJ, Galli D, Webb EL (2011) Are all intertidal wetlands naturally created equal? Bottlenecks, thresholds and knowledge gaps to mangrove and saltmarsh ecosystems. Biological Reviews 87:346—366

Gabler CA, Osland MJ, Grace JB, Stagg CL, Day RH, Hartley SB, Enwright NM, From AS, McCoy ML, McLeod JL (2017) Macroclimatic change expected to transform coastal wetland ecosystems this century. Nature Climate Change 7:142—147

Guntenspergen GR, Cahoon DR, Grace J, Steyer GD, Fournet S, Townson MA, Foote AL (1995) Disturbance and recovery of the Louisiana coastal marsh landscape from the impacts of Hurricane Andrew. Journal of Coastal Research, SI 21:324—339

Hayden HL, Granek EF (2015) Coastal sediment elevation change following anthropogenic mangrove clearing. Estuarine, Coastal and Shelf Science 165:70—74

Hoover DL, Knapp AK, Smith MD (2014) Resistance and resilience of a grassland ecosystem to climate extremes. Ecology 95:2646—2656

Imbert D (2018) Hurricane disturbance and forest dynamics in east Caribbean mangroves. Ecosphere 9:e02231

IPCC (2013) Climate change 2013: The physical science basis. Contribution of Working Group I to the Fifth Assessment Report of the Intergovernmental Panel on Climate Change. Cambridge University Press, Cambridge, United Kingdom

Jentsch A, Kreyling J, Beierkuhnlein C (2007) A new generation of climate-change experiments: events, not trends. Frontiers in Ecology and the Environment 5:365—374

Jones MC, Wingard GL, Stackhouse B, Keller K, Willard D, Marot M, Landacre B, Bernhardt CE (2019) Rapid inundation of southern Florida coastline despite low relative sea-level rise rates during the late-Holocene. Nature Communications 10:3231

Kirwan ML, Murray AB (2007) A coupled geomorphic and ecological model of tidal marsh evolution. Proceedings of the National Academy of Sciences 104:6118—6122

Knutson TR, McBride JL, Chan J, Emanuel K, Holland G, Landsea C, Held I, Kossin JP, Srivastava AK, Sugi M (2010) Tropical cyclones and climate change. Nature Geoscience 3:157—163

Knutson TR, Sirutis JJ, Zhao M, Tuleya RE, Bender M, Vecchi GA, Villarini G, Chavas D (2015) Global projections of intense tropical cyclone activity for the late twenty-first century from dynamical downscaling of CMIP5/RCP4. 5 scenarios. Journal of Climate 28:7203—7224

Krauss KW, Osland MJ (2020) Tropical cyclones and the organization of mangrove forests: a review. Annals of Botany 125:213—234

Krauss KW, Cahoon DR, Allen JA, Ewel KC, Lynch JC, Cormier N (2010) Surface elevation change and susceptibility of different mangrove zones to sea-level rise on Pacific high islands of Micronesia. Ecosystems 13:129—143

Krauss KW, McKee KL, Lovelock CE, Cahoon DR, Saintilan N, Reef R, Chen L (2014) How mangrove forests adjust to rising sea level. New Phytologist 202:19—34

Krauss KW, Cormier N, Osland MJ, Kirwan ML, Stagg CL, Nestlerode JA, Russell MJ, From AS, Spivak AC, Dantin DD, Harvey JE, Almario AE (2017) Created mangrove wetlands store belowground carbon and surface elevation change enables them to adjust to sea-level rise. Scientific Reports 7:1030

Krauss KW, Demopoulos AWJ, Cormier N, From AS, McClain-Counts JP, Lewis RR III (2018) Ghost forests of Marco Island: Mangrove mortality driven by belowground soil structural shifts during tidal hydrologic alteration. Estuarine, Coastal and Shelf Science 212:51—62

Landsea C, Franklin J, Beven J (2015) The revised Atlantic hurricane database (HURDAT2). NOAA National Hurricane Center. Available online at: nhc.noaa.gov/data/#hurdat

Lang'at JKS, Kairo JG, Mencuccini M, Bouillon S, Skov MW, Waldron S, Huxham M (2014) Rapid losses of surface elevation following tree girdling and cutting in tropical mangroves. PLoS ONE 9:e107868

LeBlanc AR, Kennedy LM, K-b L, Lane CS (2017) Linking hurricane landfalls, precipitation variability, fires, and vegetation response over the past millennium from analysis of coastal lagoon sediments, southwestern Dominican Republic. Journal of Paleolimnology 58:135—150

Lewis RR III, Milbrandt EC, Brown B, Krauss KW, Rovai AS, Beever JW, Flynn LL (2016) Stress in mangrove forests: Early detection and preemptive rehabilitation are essential for future successful worldwide mangrove forest management. Marine Pollution Bulletin 109:764—771

Lloret F, Escudero A, Iriondo JM, Martínez-Vilalta J, Valladares F (2012) Extreme climatic events and vegetation: the role of stabilizing processes. Global Change Biology 18:797—805

Lovelock CE, Sorrell BK, Hancock N, Hua Q, Swales A (2010) Mangrove forest and soil development on a rapidly accreting shore in New Zealand. Ecosystems 13:437—451

Lovelock CE, Feller IC, Adame MF, Reef R, Penrose HM, Wei L, Ball MC (2011) Intense storms and the delivery of materials that relieve nutrient limitations in mangroves of an arid zone estuary. Functional Plant Biology 38:514—522

Lugo AE (1997) Old-growth mangrove forests in the United States: bosques maduros de manglares en los Estados Unidos. Conservation Biology 11:11—20

Lugo AE (2008) Visible and invisible effects of hurricanes on forest ecosystems: an international review. Austral Ecology 33:368—398

Lynch JC, Hensel P, Cahoon DR (2015) The surface elevation table and marker horizon technique: A protocol for monitoring wetland elevation dynamics. Natural Resources Report NPS/NCBN/NRR-2015/1078. U.S. National Park Service, Fort Collins, Colorado, USA

McCloskey TA, Liu K-B (2013) Sedimentary history of mangrove cays in Turneffe Islands, Belize: evidence for sudden environmental reversals. Journal of Coastal Research 29:971—983

McDonald WF (1935) The hurricane of August 31 to September 6, 1935. Monthly Weather Review 63:269—271

McKee KL (2011) Biophysical controls on accretion and elevation change in Caribbean mangrove ecosystems. Estuarine, Coastal and Shelf Science 91:475—483

McKee KL, Cahoon DR, Feller IC (2007) Caribbean mangroves adjust to rising sea level through biotic controls on change in soil elevation. Global Ecology and Biogeography 16:545—556

Mendelssohn IA, Morris JT (2000) Eco-physiological controls on the productivity of Spartina alterniflora Loisel. In: Weinstein MP, Kreeger DA (eds) Concepts and controversies in tidal marsh ecology. Springer, Dordrecht, Netherlands, pp 59—80

Morris JT, Sundareshwar PV, Nietch CT, Kjerfve B, Cahoon DR (2002) Responses of coastal wetlands to rising sea level. Ecology 83:2869—2877

Needham H (2010) Identifying historic storm surges and calculating storm surge return periods for the Gulf of Mexico coast. M.S. Thesis. Louisiana State University. Baton Rouge, Louisiana, USA

Needham HF, Keim BD (2012) A storm surge database for the US Gulf Coast. International Journal of Climatology 32:2108—2123

Osland MJ, Feher LC, López-Portillo J, Day RH, Suman DO, Guzmán Menéndez JM, Rivera-Monroy VH (2018) Mangrove forests in a rapidly changing world: global change impacts and conservation opportunities along the Gulf of Mexico coast. Estuarine, Coastal and Shelf Science 214:120—140

Osland MJ, Feher LC, Spivak AC, Nestlerode JA, Almario AE, Cormier N, From AS, Krauss KW, Russell MJ, Alvarez F, Dantin DD, Harvey JE, Stagg CL (2020) Rapid peat development beneath maturing mangrove forests: quantifying ecosystem changes along a 25-year chronosequence of created coastal wetlands. Ecological Applications. https://doi.org/10.1002/eap.2085

Paling EI, Kobryn HT, Humphreys G (2008) Assessing the extent of mangrove change caused by Cyclone Vance in the eastern Exmouth Gulf, northwestern Australia. Estuarine, Coastal and Shelf Science 77:603—613

Radabaugh KR, Moyer RP, Chappel AR, Dontis EE, Russo CE, Joyse KM, Bownik MW, Goeckner AH, Khan NS (2019) Mangrove damage, delayed mortality, and early recovery following Hurricane Irma at two landfall sites in southwest Florida. Estuaries and Coasts. https://doi.org/10.1007/s12237-019-00564-8

Reimann EJ (1940) The Southwest Florida Patrol: Parts 1 and 2. Florida Naturalist 13:29—33 39—40, 73—79

Rivera-Monroy VH, Twilley RR, Davis SE III, Childers DL, Simard M, Chambers R, Jaffe R, Boyer JN, Rudnick DT, Zhang K, Castañeda-Moya E, Ewe SML, Price RM, Coronado-Molina C, Ross M, Smith TJ III, Michot B, Meselhe E, Nuttle W, Troxler TG, Noe GB (2011) The role of the Everglades Mangrove Ecotone Region (EMER) in regulating nutrient cycling and wetland productivity in south Florida. Critical Reviews in Environmental Science and Technology 41:633—669

Roth LC (1992) Hurricanes and mangrove regeneration: effects of Hurricane Joan, October 1988, on the vegetation of Isla del Venado, Bluefields, Nicaragua. Biotropica 24:375—384

Ruppert JC, Harmoney K, Henkin Z, Snyman HA, Sternberg M, Willms W, Linstädter A (2015) Quantifying drylands' drought resistance and recovery: the importance of drought intensity, dominant life history and grazing regime. Global Change Biology 21:1258—1270

Scheffer M, Carpenter SR (2003) Catastrophic regime shifts in ecosystems: linking theory to observation. Trends in Ecology & Evolution 18:648—656

Selvam V, Ravichandran K, Gnanappazham L, Navamuniyammal M (2003) Assessment of community-based restoration of Pichavaram mangrove wetland using remote sensing data. Current Science 85:794—798

Sherman RE, Fahey TJ, Battles JJ (2000) Small-scale disturbance and regeneration dynamics in a neotropical mangrove forest. Journal of Ecology 88:165—178

Sippo JZ, Lovelock CE, Santos IR, Sanders CJ, Maher DT (2018) Mangrove mortality in a changing climate: An overview. Estuarine, Coastal and Shelf Science 215:241—249

Smith TJ III, Robblee MB, Wanless H, Doyle TW (1994) Mangroves, hurricanes, and lightning strikes. BioScience 44:256—262

Smith TJ III, Anderson GH, Balentine K, Tiling G, Ward GA, Whelan KR (2009) Cumulative impacts of hurricanes on Florida mangrove ecosystems: sediment deposition, storm surges and vegetation. Wetlands 29:24—34

Smith MD (2011) The ecological role of climate extremes: current understanding and future prospects. Journal of Ecology 99:651—655

Sobel AH, Camargo SJ, Hall TM, Lee C-Y, Tippett MK, Wing AA (2016) Human influence on tropical cyclone intensity. Science 353:242—246

Spalding M, Kainuma M, Collins L (2010) World Atlas of Mangroves. Earthscan, London, UK

Stokes DJ, Healy TR, Cooke PJ (2009) Surface elevation changes and sediment characteristics of intertidal surfaces undergoing mangrove expansion and mangrove removal, Waikaraka Estuary, Tauranga Harbour, New Zealand. International Journal of Ecology & Development 12:88—106

Sweet WV, Kopp RE, Weaver CP, Obeysekera J, Horton RM, Thieler ER, Zervas C (2017) Global and regional sea level rise scenarios for the United States. NOAA Technical Report NOS CO-OPS 083. NOAA, Silver Spring, Maryland, USA

Tomlinson PB (1986) The botany of mangroves. Cambridge University Press, New York, New York, USA

U.S. Coast and Geodetic Survey (1935) T-sheet 4460. Available at: https://shoreline.noaa.gov/data/datasheets/t-sheets.html. NOAA National Geodetic Survey, Silver Spring, Maryland, USA

USGCRP (2017) Climate Science Special Report: Fourth National Climate Assessment, Volume I. U.S. Global Change Research Program, Washington, DC, USA

USGCRP (2018) Impacts, Risks, and Adaptation in the United States: Fourth National Climate Assessment, Volume II. U.S. Global Change Research Program, Washington, DC, USA

Wanless HR, Vlaswinkel BM (2005) Coastal landscape and channel evolution affecting critical habitats at Cape Sable, Everglades National Park, Florida. Final Report to Everglades National Park. University of Miami, Coral Gables, Florida, USA

Ward RD, Friess DA, Day RH, MacKenzie RA (2016) Impacts of climate change on mangrove ecosystems: a region by region overview. Ecosystem Health and Sustainability 2:e01211

Whelan KRT (2005) The successional dynamics of lightning-initiated canopy gaps in the mangrove forests of Shark River, Everglades National Park, USA. Ph.D. Dissertation. Florida International University, Miami, Florida, USA

Whelan KRT, Smith TJ III, Cahoon DR, Lynch JC, Anderson GH (2005) Groundwater control of mangrove surface elevation: Shrink and swell varies with soil depth. Estuaries and Coasts 28:833—843

Whelan KRT, Smith TJ III, Anderson GH, Ouellette ML (2009) Hurricane Wilma's impact on overall soil elevation and zones within the soil profile in a mangrove forest. Wetlands 29:16—23

Wingard GL, Bergstresser SE, Stackhouse B, Jones M, Marot ME, Hoefke K, Daniels A, Keller K (2019) Impacts of Hurricane Irma on Florida Bay Islands, Everglades National Park. USA. Estuaries and Coasts. https://doi.org/10.1007/s12237-019-00638-7:1—20

Woodroffe CD, Rogers K, McKee KL, Lovelock CE, Mendelssohn IA, Saintilan N (2016) Mangrove sedimentation and response to relative sea-level rise. Annual Review of Marine Science 8:243—266

Zhai L, Zhang B, Roy SS, Fuller DO, Sternberg LSL (2019) Remote sensing of unhelpful resilience to sea level rise caused by mangrove expansion: A case study of islands in Florida Bay, USA. Ecological Indicators 97:51—58
Acknowledgements
We are grateful to Jim Lynch, Christa Walker, Greg Ward, Luz Romero, Paul Nelson, Fara Ilami, Matt Finn, and the many other individuals that helped collect these data. We also thank the Everglades National Park for their permission to conduct this research. This research was supported by the USGS Greater Everglades Priority Ecosystems Science Program, the USGS Ecosystems Mission Area, and the USGS Land Change Science Climate R&D Program. Any use of trade, firm, or product names is for descriptive purposes only and does not imply endorsement by the U.S. Government. The SET-MH data are available via Feher et al. (2019a) — https://doi.org10.5066/F7348HNP.
Additional information
Publisher's Note
Springer Nature remains neutral with regard to jurisdictional claims in published maps and institutional affiliations.
Electronic Supplementary Material
About this article
Cite this article
Osland, M.J., Feher, L.C., Anderson, G.H. et al. A Tropical Cyclone-Induced Ecological Regime Shift: Mangrove Forest Conversion to Mudflat in Everglades National Park (Florida, USA). Wetlands (2020). https://doi.org/10.1007/s13157-020-01291-8
Received:

Accepted:

Published:
Keywords
Ecological regime shift

Hurricane

Mangrove forest

Peat collapse

Sea-level rise

Tropical cyclone