Abstract
Small wetlands increasingly become important agricultural production niches in sub-Saharan Africa. Understanding the diversity of these households may help to develop guidelines for their future use. In this study a typology of households in small wetlands was developed using case studies of 275 farmers from Kenya and Tanzania. Based on a combination of production system attributes land resources, and production objectives, households were categorised into 12 farm types. Production resources, access to cropland on upland, access to market, and non-wetland related livelihood strategies differed between households and translated into different wetland use patterns. Farm types were linked to the prevailing wetland systems. The household typology captured various dimensions in values, attitudes, and goals of farmers and determined their influence on land use decisions. The wetland field: farm size ratio differed significantly between farm types. More than one-third of the households depended completely on cropland in the wetland. The variable nature of household dependence was reflected in diverse production orientations with different levels of land use intensity and subsequent pressure on wetlands. The heterogeneity induced agricultural practices among households and the complexity of the wetland system highlight the need for specific incentives to develop sustainable plans for wetland management.
Access options
Buy single article
Instant access to the full article PDF.
US$ 39.95
Tax calculation will be finalised during checkout.
Subscribe to journal
Immediate online access to all issues from 2019. Subscription will auto renew annually.
US$ 79
Tax calculation will be finalised during checkout.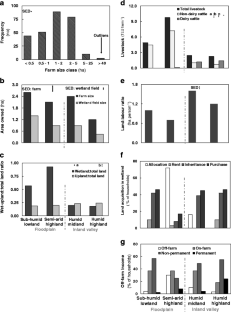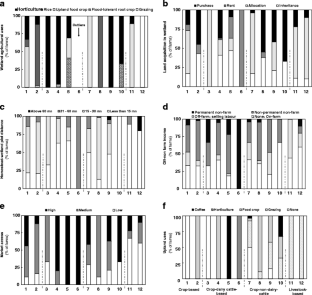 References
Adams WM (1993) Indigenous use of wetlands and sustainable development in West Africa. The Geographical Journal 159:209–218

Adekola, O (2007) Economic valuation and livelihood analysis of the provisioning services provided by Ga-Mampa wetland, South Africa. Master of Science in Environmental Sciences, Wageningen University, Wageningen, The Netherlands

Balasubramanian V, Sie M, Hijmans RJ, Otsuka K (2007) Increasing rice production in Sub-Saharan Africa: challenges and opportunities. Advances in Agronomy 94:55–133

Bezlepkina I, Oskam A, Lansink AO, Huirne R (2004) Development and performance of Russian agricultural enterprises, 1990-2001. Post-Communist Economies 16:439–457

Breman H, Debrah SK (2003) Improving African food security. SAIS Review vol. XXIII (Winter-Spring) no. 1, p 153–170

Cecchi G, Wint W, Shaw A, Marletta A, Mattioli R, Robinson T (2010) Geographic distribution and environmental characterization of livestock production systems in Eastern Africa. Agriculture, Ecosystems and Environment 135:98–110

Crowley EL, Carter SE (2000) Agrarian change and the changing relationships between toil and soil in Maragoli, Western Kenya (1900–1994). Human Ecology 28:383–414

De G, Djouara HH, Fomba B (1998) Les femmes et riziculture de bas-fonds: les déterminants socio-économiques. In: Ahmadi N, Teme B (eds) Aménagement et mise en valeur des bas-fonds au Mali. Bilan et perspectives nationales pour la zone de savane ouest-africaine. Colloques. IER-CIRAD-CMDT-CBF, Montpellier, pp 121–132

Dixon AB (2002) The hydrological impacts and sustainability of wetland drainage cultivation in Illubabor, Ethiopia. Land Degradation and Development 13:17–31

Dixon AB, Wood AP (2003) Wetland cultivation and hydrological management in eastern Africa: Matching community and hydrological needs through sustainable wetland use. Natural Resources Forum 27:117–129

Ellis F, Mdoe N (2003) Livelihoods and rural poverty reduction in Tanzania. World Development 31:1367–1384

Erenstein O, Oswald A, Mahaman M (2006) Determinants of lowland use close to urban markets along an agro-ecological gradient in West Africa. Agriculture, Ecosystems and Environment 117:205–217

Fish R, Seymour S, Watkins C (2003) Conserving English landscapes: land managers and agri-environmental policy. Environment & Planning A 35:19–41

Foley JA, DeFries R, Asner GP, Barford C, Bonan G, Carpenter SR, Chapin FS, Coe MT, Daily GC, Gibbs HK, Helkowski JH, Holloway T, Howard EA, Kucharik CJ, Monfreda C, Patz JA, Prentice IC, Ramankutty N, Snyder PK (2005) Global consequences of land use. Science 309:570–574

Freeman HA, Ellis F, Allison E (2004) Livelihoods and rural poverty reduction in Kenya. Development Policy Review 22:147–171

Giller KE, Rowe EC, De Ridder N, Van Keulen H (2006) Resource use dynamics and interactions in the tropics: Scaling up in space and time. Agricultural Systems 88:8–27

Harper DM, Mavuti KM (1996) Freshwater wetlands and marshes. In: McClanahan T, Young T (eds) East African Ecosystems and their Conservation. Oxford University Press, New York

Jaetzold R, Schmidt H, Hornetz B, Shisanya C (2006) Farm management handbook of Kenya, revised edition vol. II. Ministry of Agriculture, Nairobi

Kangalawe RYM, Liwenga ET (2005) Livelihoods in the wetlands of Kilombero valley in Tanzania: Opportunities and challenges to integrated water resource management. Physics and Chemistry of the Earth 30:968–975

Lambin EF, Turner BL, Geist HJ et al (2001) The causes of land-use and land-cover change: Moving beyond the myths. Global Environmental Change 11:261–269

Lambin EF, Geist HJ, Lepers E (2003) Dynamics of land-use and land-cover change in tropical regions. Annual Review of Environment and Resources, pp 205–241

Lynch K (1999) Commercial horticulture in rural Tanzania - an analysis of key influences. Geoforum, 30:171–183

McCartney MP, van Koppen, B (2004) Sustainable Development and Management of Wetlands. Wetlands contributions to livelihoods in United Republic of Tanzania. IUCN, IWMI, FAO, FAO-Netherlands Partnership Programme, Rome, Italy, 42 pp

McKinney JC (1950) The role of constructive typology in scientific sociological analysis. Social Forces 28:235–240

Mwakaje AG (2009) Wetlands, livelihoods and sustainability in Tanzania. African Journal of Ecology 47:179–184

Mwita EJ (2010) Remote sensing based assessment of small wetlands in East Africa. PhD Thesis, Department of Geography, Remote Sensing Research Group (RSRG). Bonn University, Bonn, p 190

Mwita E, Menz G, Misana S, Becker M, Kisanga D, Boehme B (2012) Mapping small wetlands of Kenya and Tanzania using remote sensing techniques. International Journal of Applied Earth Observation and Geoinformation. doi:10.1016/j.jag.2012.08.010

Norman DW, Worman FD, Siebert JD, Modiakglota E (1995) The farming systems approach to development and appropriate technology generation. FAO Farm Systems Management Series Nr.10, Rome, Italy

Olindo P (1992) Food policy and wetlands. In: Crafter SA, Njuguna SG, Howard GW (eds) Wetlands of Kenya, Proceedings of the KWWG Seminar on Wetlands of Kenya, Nairobi, Kenya, 3-5 July 1991. IUCN, Gland, pp 173–174

Ondersteijn CJM, Giesen GWJ, Huirne RBM (2003) Identification of farmer characteristics and farm strategies explaining changes in environmental management and environmental and economic performance of dairy farms. Agricultural Systems 78:31–55

Pender J, Place F, Ehui S (Eds.) (2006) Strategies for sustainable land management in the East African Highlands Washington, DC: International Food Policy Research Institute (IFPRI) and World Bank, Washington, DC, USA, 483 pp

Rebelo LM, Finlayson CM, Nagabhatla N (2009) Remote sensing and GIS for wetland inventory, mapping and change analysis. Journal of Environmental Management 90:2144–2153

Rebelo LM, McCartney MP, Finlayson CM (2010) Wetlands of Sub-Saharan Africa: Distribution and contribution of agriculture to livelihoods. Wetlands Ecology and Management 18:557–572

Roberts N (1988) Dambos in development: management of a fragile ecological resource. Journal of Biogeography 15:141–148

Rosegrant MW, Cai XM (2002) Global water demand and supply projections: part 2. Results and prospects to 2025. Water International 27:170–182

Sakané N (2011) Analysing and exploring land use decisions by smallholder agrowetland households in rural areas of East Africa. PhD Thesis, Department of Plant Production Systems, Wageningen University, The Netherlands, p 233

Sakané N, Alvarez M, Becker M, Boheme B, Handa C, Kamiri HW, Langensiepen M, Menz G, Misana S, Mogha NG, Moseler B, Mwita EJ, Oyieke AH, van Wijk MT (2011) Classification, characterisation, and use of small wetlands in East Africa. Wetlands 31:1103–1116

Sandford J, Ashley S (2008) Livestock livelihoods and institutions in the IGAD region. IGAD Livestock Policy Initiative working paper 10 2008. www.igad-lpi.org. Accessed 15 April 2010

SAS (2008) SAS/STAT® 9.2 User's Guide. SAS Institute Inc, Cary

Scoones I (1991) Wetlands in drylands: key resources for agricultural and pastoral production in Africa. Ambio 20:366–371

Solomon M, Abbott P, Sishaw T, Afework H (2000) Socio-economic determinants of wetland use in Metu and Yayu-Hurumu weredas, Illubabor. Report 1 for Objective 3. Ethiopian Wetlands Research Project: Metu, Ethiopia and Huddersfield, UK

Thenya T (2001) Challenges of conservation of dryland shallow waters, Ewaso Narok Swamp, Laikipia District, Kenya. Hydrobiologia 458:107–119

Tittonell P, Vanlauwe B, Leffelaar P, Rowe E, Giller K (2005) Exploring diversity in soil fertility management of smallholder farms of western Kenya I. Heterogeneity at region and farm scales. Agriculture, Ecosystems and Environment 110:149–165

Tittonell P, Muriuki A, Shepherd KD, Mugendi D, Kaizzi KC, Okeyo J, Verchot L, Coe R, Vanlauwe B (2010) The diversity of rural livelihoods and their influence on soil fertility in agricultural systems of East Africa—A typology of smallholder farms. Agricultural Systems 103:83–97

Valbuena D, Verburg PH, Bregt AK (2008) A method to define a typology for agent-based analysis in regional land-use research. Agriculture, Ecosystems and Environment 128:27–36

van de Steeg JA, Verburg PH, Baltenweck I, Staal SJ (2010) Characterization of the spatial distribution of farming systems in the Kenyan Highlands. Applied Geography 30:239–253

Van Doorn A, Bakker M (2007) The destination of arable land in a marginal agricultural landscape in South Portugal: an exploration of land use change determinants. Landscape Ecology 22:1073–1087

Wakatsuki T, Masunaga T (2005) Ecological engineering for sustainable food production and the restoration of degraded watersheds in tropics of low pH soils: Focus on West Africa. Soil Science and Plant Nutrition 51:629–636

Windmeijer PN, Andriesse W (1993) Inland valleys in West Africa: an agro-ecological characterization of rice-growing environments. ILRI Publication No. 52. International Institute for Land Reclamation and Improvement, Wageningen, p 160

Wood AP, Dixon AB (2001) Sustaining the flow: community management of highland wetlands in south-west Ethiopia. In: Mountains of the World: Community Development between Subsidy, Subsidiarity and Sustainability, Proceedings of the World Mountain Symposium, 30th September–4th October 2001, Interlaken, Switzerland, Berne, Swiss Development Cooperation, www.wms2001.ch/cd/publications/publication-100.html. Accessed 25 March 2010

Wood AP, Dixon AB (2002) Sustainable wetland management in Illubabor zone: Research Report Summaries. The University of Huddersfield and Wetland Action, Huddersfield, Kirklees

Wood A, van Halsema GE (2008) Scoping agriculture-wetland interactions: towards a sustainable multiple-response strategy. FAO Water Report 33, Food and Agriculture Organization of the United Nations, Rome, Italy

Woodhouse P, Bernstein H, Hulme D (2000) African enclosures? The social dynamics of wetlands in drylands. James Currey, Oxford
Acknowledgments
The authors are grateful to Volkswagen Foundation for funding. Support from National Museums of Nairobi (NMK) and Dar es Salaam University College of Education (DUCE) is gratefully acknowledged. We thank Robert Moris, Freddy Msaki, Gibson Manyeke, and Peter Komotho Mberi for assistance in data collection during the field surveys. Wetland farmers, key informants, agricultural extension officers, area chiefs, and village elders in Korogwe, Lukozi, Karatina, and Rumuruti are appreciated for their invaluable collaboration. We thank Prof. Ken Giller for reading and commenting on an earlier version of this paper. We are also thankful to two anonymous reviewers for their constructive comments on an earlier version of the manuscript.
Electronic supplementary material
Below is the link to the electronic supplementary material.
About this article
Cite this article
Sakané, N., Becker, M., Langensiepen, M. et al. Typology of Smallholder Production Systems in Small East-African Wetlands. Wetlands 33, 101–116 (2013). https://doi.org/10.1007/s13157-012-0355-z
Received:

Accepted:

Published:

Issue Date:
Keywords
Farm categorisation

Floodplain

Inland valley

Kenya

Livelihood diversity

Rural households

Uplands

Tanzania