Abstract
Taking the Qinhuai District of Nanjing, China, as the study area, this research adopted the bottom-up energy inventory method to estimate the anthropogenic heat emission at the spatial resolution of 100 m during the daytime and nighttime. Land use data derived by the visual interpretation from high resolution imagery was combined with the field investigation as well as statistical population data to estimate the spatial distribution of the population, which was then used to calculate the human metabolism. The traffic heat emission estimation was mainly based on the interpretation of different levels of roads and the statistical vehicle volume from field video recordings. The spatialized population, the collected energy consumption statistical data, the corresponding function and the number of floors in the buildings were combined to compute the industrial and the building heat emissions, respectively. The results illustrate the detailed spatio-temporal distribution variances of each type of anthropogenic heat emission during the daytime and the nighttime, which show a higher reasonability and precision. During the daytime, the high intensity of anthropogenic heat emissions is mainly distributed in the southwest of the study area, while the heat intensity is uniformly distributed during the nighttime. The average anthropogenic heat flux densities are 33.45 W/m2 and 15.34 W/m2 in the daytime and the nighttime, respectively. The highest heat flux density with the value of 14.93 W/m2 is released by commercial buildings during the daytime, while the traffic heat is the highest with the average value of 5.17 W/m2 during the nighttime.
This is a preview of subscription content, log in to check access.
Access options
Buy single article
Instant access to the full article PDF.
US$ 39.95
Price includes VAT for USA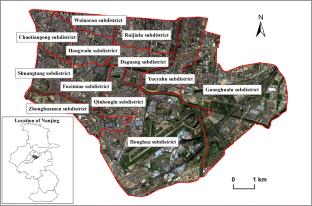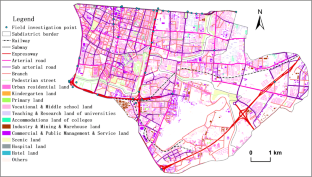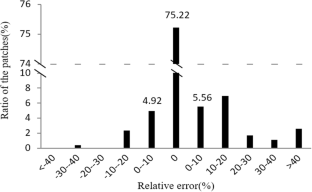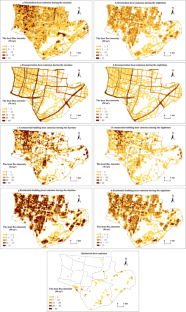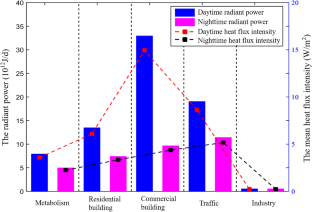 References
Afshari, A., Schuch, F., Marpu, P.: Estimation of the traffic related anthropogenic heat release using BTEX measurements - a case study in Abu Dhabi. Urban Clim. 24, 311–325 (2018)

Allen, L., Lindberg, F., Grimmond, C.S.B.: Global to city scale urban anthropogenic heat flux: model and variability. Int. J. Climatol. 31, 1990–2005 (2011)

Assimakopoulos, M.N., Mihalakakou, G., Flocas, H.A.: Simulating the thermal behavior of a building during summer period in the urban environment. Renew Energy. 32(11), 1805–1816 (2007)

Chen, B., Shi, G.Y., Wang, B., Zhao, J.Q., Tan, S.C.: Estimation of the anthropogenic heat release distribution in China from 1992 to 2009. Acta Meteor Sin. 26, 507–515 (2012)

Chow, W.T.L., Salamanca, F., Georgescu, M., Alex, M., Milne, J.M., Ruddell, B.L.: A multi-method and multi-scale approach for estimating city-wide anthropogenic heat fluxes. Atmos. Environ. 99, 64–76 (2014)

Davies, M., Steadman, P., Oreszczyn, T.: Strategies for the modification of the urban climate and the consequent impact on building energy use. Energ Policy. 36(12), 4548–4551 (2008)

Flanner, M.G.: Integrating anthropogenic heat flux with global climate models. Geophys. Res. Lett. 4(2), 270–271 (2009)

Gallego, F.J.: A population density grid of the European union. Popul Environ. 31(6), 460–473 (2010)

Hamilton, I.G., Davies, M., Steadman, P., Stone, A., Ridley, L., Evans, S.: The significance of the anthropogenic heat emissions of London's buildings: a comparison against captured shortwave solar radiation. Build. Environ. 44(4), 807–817 (2009)

Hsieh, C.M., Aramaki, T., Hanaki, K.: Estimation of heat rejection based on the air conditioner use time and its mitigation from buildings in Taipei City. Build. Environ. 42(9), 3125–3137 (2007)

Ichinose, T., Shimodozono, K., Hanaki, K.: Impact of anthropogenic heat on urban climate in Tokyo. Atmos. Environ. 33(24), 3897–3909 (1999)

Kłysik, K.: Spatial and seasonal distribution of anthropogenic heat emissions in Lodz, Poland. Atmos Environ. 30(20), 3397–3404 (1996)

Koralegedara, S.B., Lin, C.Y., Sheng, Y.F., Kuo, C.H.: Estimation of anthropogenic heat emissions in urban TaiWan and their spatial patterns. Environ. Pollut. 215, 84–95 (2016)

Lai, L.W.: The influence of urban heat island phenomenon on PM concentration: an observation study during the summer half-year in metropolitan Taipei, Taiwan. Theor Appl Climatol. 131, 227–243 (2018)

Li, H.D., Meier, F., Lee, X.H., Chakraborty, T., Liu, J.F., Schaap, M., Sodoudi, S.: Interaction between urban heat island and urban pollution island during summer in Berlin. Sci. Total Environ. 636, 818–828 (2018)

Liu, R.T., Han, Z.W.: The effects of anthropogenic heat release on urban meteorology and implication for haze pollution in the Beijing-Tianjin-Hebei region. Adv Meteorol 6178308 (2016)

Lu, Y., Wang, Q.G., Zhang, Y.Y., Sun, P., Qian, Y.: Anthropogenic heat emissions in the Yangtze River Delta region. Int. J. Climatol. 36, 1134–1142 (2016)

Makar, P.A., Gravel, S., Chirkov, V., Strawbridge, K.B., Froude, F., Arnold, J., Brook, J.: Heat flux, urban properties, and regional weather. Atmos. Environ. 40(15), 2750–2766 (2006)

Mirzaei, P.A., Haghighat, F.: Approaches to study urban Heat Island–abilities and limitations. Build. Environ. 45(10), 2192–2201 (2010)

Nie, W.S., Sun, T., Ni, G.H.: Spatiotemporal characteristics of anthropogenic heat in an urban environment: a case study of Tsinghua campus. Build. Environ. 82, 675–686 (2014)

Offerle, B., Grimmond, C.S.B., Fortuniak, K.: Heat storage and anthropogenic heat flux in relation to the energy balance of a central European city Centre. Int. J. Climatol. 25, 1405–1419 (2005)

Pigeon, G., Legain, D., Durand, P., Masson, V.: Anthropogenic heat release in an old European agglomeration (Toulouse, France). Int. J. Climatol. 27(14), 1969–1981 (2007)

Qi, W., Liu, S.H., Gao, X.L., Zhou, M.: Modeling the spatial distribution of urban population during the daytime and at night based on land use: a case study in Beijing, China. J Geogr Sci. 6, 756–768 (2015)

Quah, A.K.L., Roth, M.: Diurnal and weekly variation of anthropogenic heat emissions in a tropical city, Singapore. Atmos Environ. 46(1), 92–103 (2012)

Sailor, D.J.: A review of methods for estimating anthropogenic heat and moisture emissions in the urban environment. Int. J. Climatol. 31, 189–199 (2009)

Sailor, D.J., Lu, L.: A top–down methodology for developing diurnal and seasonal anthropogenic heating profiles for urban areas. Atmos. Environ. 38(17), 2737–2748 (2004)

Sun, R.H., Wang, Y.N., Chen, L.D.: A distributed model for quantifying temporal-spatial patterns of anthropogenic heat based on energy consumption. J. Clean. Prod. 170, 601–609 (2018)

Taha, H.: Urban climates and heat islands: albedo, evapotranspiration, and anthropogenic heat. Energ Buildings. 25(2), 99–103 (1997)

Torrance, K.E., Shun, J.S.W.: Time-varying energy consumption as a factor in urban climate. Atmos. Environ. 10(4), 329–337 (1976)

Wang, Y.N., Sun, R.H., Chen, L.D.: A review of anthropogenic heat calculation methods. J. Appl. Ecol. 27(6), 2024–2030 (2016)

Wang, Y.Y., Du, H.Y., Xu, Y.Q., Lu, D.B., Wang, X.Y., Guo, Z.Y.: Temporal and spatial variation relationship and influence factors on surface urban heat island and ozone pollution in the Yangtze River Delta, China. Sci Total Environ. 631-632, 921–933 (2018)

Xie, M., Zhu, K.G., Wang, T.J., Wen, F., Li, M.M., Li, S., Zhuang, B.L., Han, Y., Chen, P.L., Liao, J.B.: Changes of regional meteorology induced by anthropogenic heat and their impacts on air quality in South China. Atmos. Chem. Phys. 16(23), 1–29 (2016)

Yang, W.M., Chen, B., Cui, X.F.: High-resolution mapping of anthropogenic heat in China from 1992 to 2010. Int J Environ Res Public Health. 11, 4066–4077 (2014)

Zheng, Z.F., Ren, G.Y., Wang, H., Dou, J.X., Gao, Z.Q., Duan, C.F., Li, Y.B., Ngarukiyimana, J.P., Zhao, C., Cao, C., Jiang, M., Yang, Y.J.: Relationship between fine-particle pollution and the urban heat island in Beijing, China: observational evidence. Bound-Layer Meteorol. 169, 93–113 (2018)
Acknowledgements
This study was supported by the National Key R&D Program of China (No. 2018YFC1506801), the Natural Science Foundation of China (No. 41571418, 41871028), the Qing Lan Project of Jiangsu Province, and the Priority Academic Program Development of Jiangsu Higher Education Institutions.
Additional information
Publisher's Note
Springer Nature remains neutral with regard to jurisdictional claims in published maps and institutional affiliations.
Responsible Editor: Yunsoo Choi.
About this article
Cite this article
Zhang, G., Luo, Y. & Zhu, S. Estimation of the Spatio-Temporal Characteristics of Anthropogenic Heat Emission in the Qinhuai District of Nanjing Using the Inventory Survey Method. Asia-Pacific J Atmos Sci 56, 367–380 (2020). https://doi.org/10.1007/s13143-019-00142-9
Received:

Revised:

Accepted:

Published:

Issue Date:
Keywords
Anthropogenic heat emission

Bottom-up energy inventory method

Remote sensing

Spatio-temporal distribution