Abstract
The main objective of this paper is to test the impact of public health spending on infant health taking into account the role that institutional quality can play. We use a two-step system dynamic GMM method for 93 developed and developing countries over the1995–2015 period. Our main findings show that there is a clear positive and significant effect of health expenditure on infant mortality only for high-income countries, whereas for lower, lower-middle, and upper-middle-income ones, health spending does not have a significant impact on infant health status. Our findings show also that there is a certain threshold level that these groups must achieve to make government health spending (% GDP) positively affect infant mortality rates. This level is estimated at about 7%. Finally, estimations demonstrate also that institutional quality plays an important and significant role in mediating the relationship between health spending and IMR's.
This is a preview of subscription content, log in to check access.
Access options
Buy single article
Instant access to the full article PDF.
US$ 39.95
Price includes VAT for USA
Subscribe to journal
Immediate online access to all issues from 2019. Subscription will auto renew annually.
US$ 99
This is the net price. Taxes to be calculated in checkout.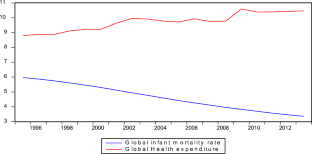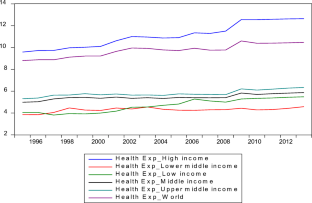 References
Arellano, M., & Bond, S. (1991). Some test of specification for panel data: Monte Carlo evidence and an application to employment equation. Review of Economic Studies, 58, 277–2997.

Arellano, M., & Bover, O. (1995). Another look at the instrumental variables estimation of error-components models. Journal of Econometrics, 68, 29–51.

Baldacci, et al. (2003). More on the effectiveness of public spending on health care and education: a covariance structure model. Journal of International Development, 15, 709–725.

Baldacci, E., Hillman, A. L., & Kojo, N. C. (2004). Growth, governance, and fiscal policy transmission channels in low-income countries. European Journal of Political Economy, 20(3), 517–549.

Berger, M. C., & Messer, J. (2002). Public financing of health expenditures, insurance, and health outcomes. Applied Economics, 34(17), 2105–2114.

Berthelemy, J.-C., & Seban, J. (2009). Dépenses de santé et équité dans l'accès aux services de santé dans les pays en développement. Revue d'Économie du Développement, 23(1), 33–71.

Blundell, R., & Bond, S. (1998). Initial conditions and moment restrictions in dynamic panel data models. Journal of Econometrics, 87, 115–143.

Culter, D., et al. (2006). The determinants of mortality. Journal of Economic Perspectives, 20(3), 97 120.

Dhrifi, A. (2015). Foreign direct investment, technological innovation and economic growth: empirical evidence using simultaneous-equations model. International Review of Economics, 62(4), 381–400.

Filmer, D., & Pritchett, L. (1997). Child mortality and public spending on health: how much does money matter?," mimeo. DRG, Washington, DC: The World Bank.

Filmer, D., & Pritchett, L. (1999). The impact of public spending on health: does money matter? Social Science & Medicine, 49(10), 1309–1323.

Filmer, D., Hammer, J. S., & Pritchett, L. (1998). Health policy in poor countries: weak links in the chain," World Bank Policy Research Working Paper No. 1874 Washington: World Bank.

Gupta, H., & Baghel, A. (1999). Infant mortality in the Indian slums: case studies of Calcutta metropolis and Raipur city. International Journal of Population Geography, 5(5), 353–366.

Gwatkin, D. R., Shea, R., Johnson, K., Suliman, E., Wagstaff, A., & Amouzou, A. (2007). Socio- economic differences in health, nutrition, and population within developing countries, an overview. Washington DC: Produced by the World Bank in collaboration with the Government of the Netherlands and Swedish International Development Cooperation Agency.

Harttgen, K., & Misselhorn, M. (2006). A mulitlevel approach to explain child mortality and undernutrition in South Asia and Sub-Saharan Africa Ibero America Institute for Econ. Research (IAI) Discussion Papers, September. University of Göttingen.

Isley, D. (1985). Leguminosae of United States. Astragalus L.: III. Species summary F-M. Iowa State Journal of Research, 60, 183–320.

Judson, & Owen. (1999). Estimating dynamic panel data models: a guide for macroeconomists. Economics Letters, 65(1), 9–15.

Khaleghian, P., & Gupta, M. D. (2005). Public management and the essential public health functions. World Development, 33(7), 1083–1099.

Musgrove, P. (1996). Public and private roles in health: theory and financing patterns. World Bank Discussion Paper No. 339. Washington, DC: the World Bank.

Nolte, E., & McKee, M. (2004). Does health care save lives? Avoidable mortality revisited. the Nuffield trust.

Pritchett, L., & Summers, L. H. (1996). Wealthier is healthier. The Journal of Human Resources, 31, 841–868.

Schultz, T. P. (1993). Studying the impact of household economic and community variables on child mortality. Population and Development Review, 10(supplement: child survival: strategies for research), 215–235.

Stleger, S. (2001). The anomaly that finally went away? Journal of Epidemiology and Community Health, 55(2), 79–79.

Thornton, J. W., & DeSalle, R. (2002). Gene family phylogenetics: tracing protein evolution on trees. Experientia Supplementum (EXS), 92, 191–207.

World Development Indicators. (2017). Online database. Washington DC: World Bank http://data.worldbank.org/data-catalog/worlddevelopment-indicators.
About this article
Cite this article
Dhrifi, A. Public Health Expenditure and Child Mortality: Does Institutional Quality Matter?. J Knowl Econ 11, 692–706 (2020). https://doi.org/10.1007/s13132-018-0567-4
Received:

Accepted:

Published:

Issue Date:
Keywords
Health expenditure

Infant mortality

Institutional quality
JEL Classification