Abstract
'Biodiversity' is increasingly perceived as an important resource for research and conservation, but also for economy. Conservation, access and sustainable use of biodiversity (genetic resources, species, samples) are negotiated on different political levels, resulting in an internationally binding legal framework. Resulting legislation is binding for all parties involved in biological sampling, i.e. researches and (and in italics) countries, and especially applies for tissue or DNA samples and dervied products thereof. Understanding and awareness of export and import permits for biological samples is increasingly important for biologists to perform research projects legally and timely. Nevertheless, some biologists are still exporting and importing biological samples ignoring or non-compliant with national and international legislation, conventions, and regulations. Resulting difficulties may not only cause serious problems during field work, but may also delay the export, import or exchange of samples. Comprehensive a priori information regarding legal requirements helps to avoid or at least diminish potential problems. We identified four major factors facilitating export/import permits: (1) good personal (mutually trusted) contacts in the country of origin, (2) understanding and compliance with all relevant laws and regulations; (3) access to information regarding knowledge on permits, regulations and laws including their circulation within the researcher communities; and (4) access to consistent and up to date regulations
Access options
Buy single article
Instant access to the full article PDF.
USD 39.95
Price includes VAT (USA)
Tax calculation will be finalised during checkout.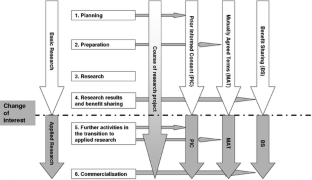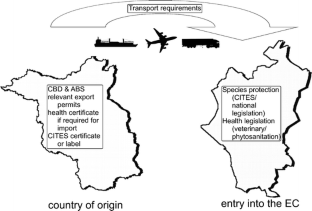 Notes
1.

We focus on the respective EC legislation but cite relevant international legislation, where appropriate.

2.

Some EC member states impose stricter or additional regulations—a few of these are briefly referred to but cannot be detailed here. The same applies for additional (stricter) amendments of international legislation or conventions implemented in European legislation.

3.

4.

5.

6.
References
DFG. (2008). Leitfaden für die Antragstellung von Forschungsvorhaben, die unter das Übereinkommen über die biologische Vielfalt (Convention on Biological Diversity–CBD) fallen. Deutsche Forschungsgemeinschaft, Bonn. http://www.dfg.de/download/programme/sonstige/antragstellung/1_021/1_021.pdf (access 30 August 2011).

IATA Dangerous Goods Regulations. (2012). 53rd edition, 1 January 2012.

Martinez, S. I., & Biber-Klemm, S. (2010). Scientists–take action for access to biodiversity costs 2:1–7.

World Customs Organisation, Universal Postal Union. (1998). Customer guide, Bern. http://www.upu.int/en.html
Acknowledgments
We would like to thank Netzwerk Forum Biodiversity Research Germany (→NeFo), a project in the frame of Diversitas Deutschland, funded by the Bundesministerium für Bildung und Forschung (BMBF), for support and funding. Further affiliates of the University of Ulm, DFG, and BfN have made the Berlin workshop and this publication possible and we are grateful for their support. The Bonn workshop was made possible by support from the Gesellschaft für Biologische Systematik (→GfBS) and from Zoologisches Forschungsmuseum Alexander Koenig, Bonn. Further information as well as the presentations are available online through NeFo (Appendix A). We also would like to thank Angelika Hänisch, Landesamt für Ländliche Entwicklung, Landwirtschaft und Flurneuordnung, Frankfurt/Oder, Germany, for helpful explanations of the import regulations for plants, plant parts and seeds, and Alexander Kocyan for comments on the manuscript. Jason Dunlop commented intensively on the manuscript. Last but not least two unknown reviewers gave corrections–at least one emphasized: the need for first talk to local contacts then do research is essential!
Additional information
Legal disclaimer
This guideline does not exempt researchers of their personal or institutional responsibilities to inform and comply with the relevant regulations and legislation. The compliance with the current legislation lies in the responsibility of the respective researcher and/or research project. In addition, this guideline does not claim completeness or authority. Legal requirements for research projects differ and consequently demand adjustment of and/or consideration of perhaps relevant additional, local, or other permits and legal requirements.
Appendices
Appendices
Appendix A–summary of the guidelines, prepared during workshops
Appendix B–contacts for national focal points (ABS)
Appendix C–legal basis and laws regarding CITES and species protection as of 2011
(1)

Federal Nature Conservation Act of 29 July 2009, Federal Law Gazette part I, p. 2542, in force since 03 March 2010

(2)

Council Regulation (EC)No. 338/97 of 09 December 1996–Gazette of the EC No. L 61 p. 1, corrected in Gazette of the EC No L 100, p. 72 and L 298, p. 70, recently changed by Commission Regulation No 709/2010 of 22 July 2010, Gazette of the EC L 212 of 12 August 2010, pp. 1

(3)

Commission Regulation (EC)No. 865/2006 of 04.05.2006–Gazette of the EC No. L 166 of 19 June 2006, in force since 9 July 2006, recently changed by Commission regulation No. 100/2008 of 04 February 2008–Gazette of the EC No L 31 of 05 February 2006–in force since 25 February 2008

(4)

Commission Regulation (EC)No. 997/2010 of 05 November 2010–Suspending the introduction into the Union of specimens of certain species of wild fauna and flora–Gazette of the EC No. L 290 of 06 November 2010, p. 1

(5)

Convention on International Trade in Endangered Species of Wild Fauna and Flora (CITES) of 03 March 1973, Text published in the Act on CITES of 22 March 1975 (Federal Law Gazette II, p. 773), Appendixes I-III CITES worked into the Annexes A-D of the Council Regulation (EC) 338/97 in the latest valid release

(6)

EC Birds Directive–Directive 2009/147/EC of the European Parliament and of the Council of 30 November 2009 on the conservation of wild birds–Gazette of the EC No L 20 of 26 January 2010, p. 7–in force since 15 February 2010

(7)

FFH-Directive–Council Directive 92/43/EEC of 21 May 1992 on the conservation of natural habitats and of wild fauna and flora–Gazette of the EC No. L 206 of 22 July 1992, p. 7, recently changed by Council Directive 2006/105/EC of 20 November 2006 (within the scope of the accession of Bulgaria and Romania into the EC of 01 January 2007)–Gazette of the EC No. L 363 of 20 December 2006, pp. 377

(8)

European Commission–Wildlife-Trade in the EU (http://www.eu-wildlifetrade.org/pdf/en/2_national_legislation_en.pdf), last access 30 August 2011
Appendix D–useful internet links for CITES permits
Appendix E
(1)

(Council Regulation (EC) No 338/97) introduces an additional category D for species having "monitoring status".

(2)

Directive 2009/147/EC of the European Parliament and the Council on the conservation of wild birds

(3)

Council Directive 92/43/EEC on the conservation of natural habitats and of wild fauna and flora
Appendix F–regulations for phytosanitation
About this article
Cite this article
Renner, S.C., Neumann, D., Burkart, M. et al. Import and export of biological samples from tropical countries–considerations and guidelines for research teams. Org Divers Evol 12, 81–98 (2012). https://doi.org/10.1007/s13127-012-0076-4
Received:

Accepted:

Published:

Issue Date:
Keywords
Research samples

Collection

Export

Import

Legislation

Permits

Specimens

Convention on Biological Diversity CBD

Access and Benefit Sharing ABS

Convention on International Trade in Endangered Species of Wild Fauna and Flora CITES

European Union EU

Country of origin