Abstract
This study aimed to investigate the efficacy of guiding sheath delivery with the crossover approach using a newly customized inner dilator for a 0.018-in. guidewire of the Destination® guiding sheath (Terumo Corporation, Tokyo, Japan) (18-system), compared with that of the conventional-type 0.035-in. guidewires with inner dilators (35-system), and to predict failure of guiding sheath delivery. We conducted a prospective multicenter case series study of the contralateral crossover approach using Destination®, to determine whether the 18-system could be a rescue system in cases in which the conventional 35-system failed. To evaluate the efficacy of the 18-system, we created an in vitro aortoiliac bifurcation model by using a silicone vessel. We enrolled 172 cases consecutively. The initial crossover approach with the 35-system failed in 37 cases (21.5%), and a second attempt with the 18-system was successful in all failed cases. The bifurcation angles in the 35-system failure cases were significantly steeper than those in the 35-system success cases. A receiver operating characteristic curve analysis demonstrated that an aortoiliac bifurcation angle of 68° was the optimal cut-off value for predicting failure of the crossover procedure. Data from the analysis using the silicone vessel model suggested that the 18-system provided superior results, especially in aortoiliac bifurcation angles steeper than 60°, consistent with the in vivo findings. The results of the initial use of the 18-system with the crossover approach suggest that it may be superior to the conventional 35-system, especially in cases of steeper aortoiliac bifurcation angles.
Access options
Buy single article
Instant access to the full article PDF.
US$ 39.95
Tax calculation will be finalised during checkout.
Subscribe to journal
Immediate online access to all issues from 2019. Subscription will auto renew annually.
US$ 79
Tax calculation will be finalised during checkout.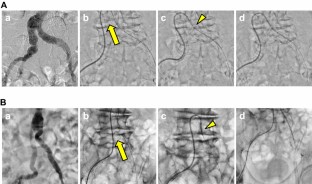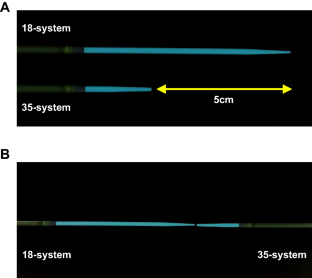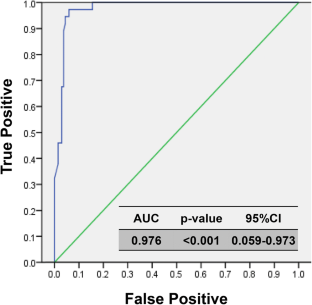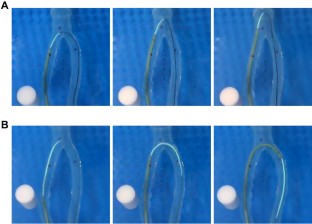 References
1.

Nice C, Timmons G, Bartholemew P, et al. Retrograde vs. antegrade puncture for infra-inguinal angioplasty. Cardiovasc Intervent Radiol. 2003;26:370–4.

2.

Marcus AJ, Lotzof K, Howard A. Access to the superficial femoral artery in the presence of a "hostile groin": a prospective study. Cardiovasc Intervent Radiol. 2007;30:351–4.

3.

Kawarada O, Zen K, Yokoi Y, et al. Contemporary critical limb ischemia: asian multidisciplinary consensus statement on the collaboration between endovascular therapy and wound care. Cardiovasc Interv Ther. 2018;33:297–312.

4.

Narins CR. Access strategies for peripheral arterial intervention. Cardiol J. 2009;16:88–97.

5.

Chan AW. Expanding roles of the cardiovascular specialists in panvascular disease prevention and treatment. Can J Cardiol. 2004;20:535–44.

6.

Yokoi Y. How should recent endovascular trials for femoropopliteal artery disease be interpreted? Cardiovasc Interv Ther. 2017;32:106–13.

7.

Martin EC, Katzen BT, Benenati JF, et al. Multicenter trial of the wall stent in the iliac and femoral arteries. J Vasc Interv Radiol. 1995;6:843–9.

8.

Biondi-Zoccai GG, Agostoni P, Sangiorgi G, et al. Mastering the antegrade femoral artery access inpatients with symptomatic lower limb ischemia: learning curve, complications, and technical tips and tricks. Catheter Cardiovasc Interv. 2006;68:835–42.

9.

Grenon SM, Reilly LM, Ramaiah VG. Technical endovascular highlights for crossing the difficult aortic bifurcation. J Vasc Surg. 2011;54:893–6.
Acknowledgements
We would like to thank Editage (www.editage.jp) for English language editing.
Funding
The author(s) received no financial support for the research, authorship, and/or publication of this article.
Additional information
Publisher's Note
Springer Nature remains neutral with regard to jurisdictional claims in published maps and institutional affiliations.
Electronic supplementary material
Below is the link to the electronic supplementary material.
About this article
Cite this article
Wakana, N., Zen, K., Kambayashi, D. et al. A newly designed 0.018-in.-compatible inner dilator as a novel option for endovascular therapy with the crossover approach. Cardiovasc Interv and Ther 35, 276–282 (2020). https://doi.org/10.1007/s12928-019-00620-x
Received:

Accepted:

Published:

Issue Date:
Keywords
Endovascular therapy

Peripheral artery disease

Guiding sheath

Contralateral crossover approach