Abstract
Acclimatization is the most delicate stage of micropropagation, which makes it challenging to obtain new seedlings. The use of suitable substrates associated with arbuscular mycorrhizal fungi (AMFs) has been promising during this stage. The goal of this study was to investigate the influence of different AMFs and substrates on the acclimatization of Curcuma longa L. The C. longa seedlings were obtained from in vitro cultivation with a specific medium for 120 days. After this period, they were transplanted into plastic pots containing two substrate formulations. The first compound was soil and vermiculite (1:1 v/v), and the second was a commercial substrate for vegetables, containing vermicompost and vermiculite (1:1:1 v/v). The fungi used in the study were Rhizophagus clarus, Claroideoglomus etunicatum, and a mixture of the two fungi. A treatment with no fungi was used as the control. After 240 days, the growth and structural characteristics of the plant were measured, as well as nutrients and soil–quality parameters. The use of a substrate rich in organic matter (substrate 2) associated with R. clarus and C. etunicatum promoted 100% survival of C. longa plants. In this condition, the plants were more vigorous. The root system increased in size and biomass, being robust with the presence of many roots. The soil indicators revealed that the fungi helped with the lower activity of the metabolic quotient and increased basal respiration, indicators that demonstrated the beneficial action of the fungi for the plants. In addition, changes in stomatal conformation and density probably allowed greater CO2 diffusion.
This is a preview of subscription content, log in to check access.
Access options
Buy single article
Instant access to the full article PDF.
US$ 39.95
Price includes VAT for USA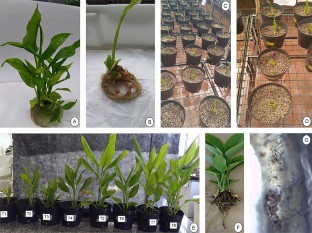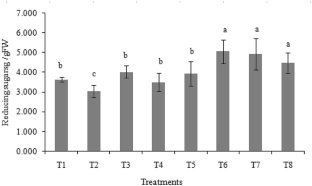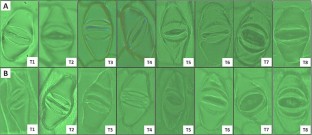 References
Acosta-Motos JR, Ortuño MF, Bernal-Vicente A, Diaz-Vivancos P, Sanchez-Blanco MJ, Hernandez JA (2017) Plant responses to salt stress: adaptive mechanisms. Agronomy 7(1):1–38. https://doi.org/10.3390/agronomy7010018

Antoniazzi D, de SouzaFerrari MP, Nascimento AB, Silveira FA, Pio LAS, Pasqual M, Magalhães HM (2016) Growth regulators, DNA content and anatomy in vitro-cultivated Curcuma longa seedlings. Afr J Biotechnol 15(32):1711–1725. https://doi.org/10.5897/AJB2016.15445

Assis AMD, Faria RTD, Unemoto LK, Colombo LA, Lone AB (2009) Ginger flower (Etlingera elatior) acclimation in coconut-based substrates. Acta Sci Agron 31(1):43–47. https://doi.org/10.4025/actasciagron.v31i1.6621

Barbosa MR, Araújo SMM, Willadino L, Ulisses C, Camara TR (2014) Geração e desintoxicação enzimática de espécies reativas de oxigênio em plantas. Ciên Rural 44(3):453–460

Begum N, Qin C, Ahanger MA, Raza S, Khan MI, Ahmed N, Zhang L (2019) Role of arbuscular mycorrhizal fungi in plant growth regulation: implications in abiotic stress tolerance. Front Plant Sci 10:1–15. https://doi.org/10.3389/fpls.2019.01068

Boivin S, Fonouni-Farde C, Frugier F (2016) How auxin and cytokinin phytohormones modulate root microbe interactions. Front Plant Sci 7:1–12. https://doi.org/10.3389/fpls.2016.01240

Bolouri MR, Le Roy K, Xiang L, Rolland F, Van den Ende W (2010) Sugar signalling and antioxidant network connections in plant cells. FEBS J 277(9):2022–2037. https://doi.org/10.1111/j.1742-4658.2010.07633.x

Bonfante P, Genre A (2010) Mechanisms underlying beneficial plant–fungus interactions in mycorrhizal symbiosis. Nat Commun 1(1):1–11

Brookes OC, Powlson DS, Jenkinson DS (1982) Measurement of microbial biomass phosphorus in soil. Soil Biol Biochem 14(4):3219–3329

Campanelli A, Ruta C, Tagarelli A, Morone-Fortunato I, De Mastro G (2014) Effectiveness of mycorrhizal fungi on globe artichoke (Cynara cardunculus L. var. scolymus) micropropagation. J Plant Interact 9(1):100–106. https://doi.org/10.1080/17429145.2013.770928

Dalanhol SJ, Nogueira AC, Gaiad S, Kratz D (2016) Effect of arbuscular mycorrhizal fungi and fertilization on growth of seedlings of Eugenia uniflora L., produced in different substrates. Rev Bras Frutic 38(1):117–128. https://doi.org/10.1590/0100-2945-266/14

De Smet I (2012) Lateral root initiation: one step at a time. New Phytol 193(4):867–873. https://doi.org/10.1111/j.1469-8137.2011.03996.x

De Souza Ferrari MP, Antoniazzi D, Nascimento AB, Franz LF, Bezerra CS, Magalhães HM (2016) Evaluation of new protocol Curcuma longa micropropagation: a medicinal and ornamental specie. J Med Plants Res 10(25):367–376. https://doi.org/10.5897/JMPR2016.6109

De Souza Ferrari MP, Santos Queiroz M, Andrade MM, Trettel JR, Magalhães HM (2019) Growth regulators affect the growth and biochemical activity of Curcuma longa plants grown in vitro. J Agric Sci 11(10):277–291. https://doi.org/10.5539/jas.v11n10p277

De Souza Ferrari MP, Santos Queiroz M, Andrade MM, Alberton O, Gonçalves JE, Gazim ZC, Maglhães HM (2020) Substrate-associated mycorrhizal fungi promote changes in terpene composition, antioxidant activity, and enzymes in Curcuma longa L. acclimatized plants. Rhizosphere 13:10019. https://doi.org/10.1016/j.rhisph.2020.100191

Diniz PFDA, Oliveira LEMD, Gomes MP, Castro EM, Mesquita AC, Bonome LDS, Silva LD (2010) Growth, biophysical parameters and anatomical aspects of young rubber tree plants inoculated with arbuscular mycorrhizal fungi Glomus clarum. Acta Bot Bras 24(1):65–72

Drechsler N, Courty PE, Brulé D, Kunze R (2018) Identification of arbuscular mycorrhiza-inducible nitrate transporter 1/peptide transporter family (NPF) genes in rice. Mycorrhiza 28(1):93–100. https://doi.org/10.1007/s00572-017-0802-z

Faridah QZ, Abdelmageed AHA, Julia AA, Hafizah RN (2011) Efficient in vitro regeneration of Zingiber zerumbet Smith (a valuable medicinal plant) plantlets from rhizome bud explants. Afr J Biotechnol 10(46):9303–9308. https://doi.org/10.5897/AJB11.1182

Ferreira DF (2011) Sisvar: a computer statistical analysis system. Ciênc Agrotec 35(6):1039–1042. https://doi.org/10.1590/S1413-70542011000600001

Gerdemann JW, Nicolson THS (1963) Spores of mycorrhizal endogone species extracted from soil by wet sieving and decanting. Trans Brit Mycol Soc 46(2):235–244

Ghasemzadeh A, Jaafar HZ, Rahmat A (2010) Elevated carbon dioxide increases contents of flavonoids and phenolic compounds, and antioxidant activities in Malaysian young ginger (Zingiber officinale Roscoe.) varieties. Molecules 15(11):7907–7922. https://doi.org/10.3390/molecules15117907

Giovanetti M, Mosse B (1980) An evaluation of techniques to measure vesicular–arbuscular infection in roots. New Phytol 84:484–500

Girardi CG, Pescador R (2010) Acclimation of ginger (Zingiber officinale Roscoe) and its relation to endogenous carbohydrates. Rev Bras Plantas Med 12(1):62–72

Haque SM, Ghosh B (2018) Micropropagation of Kaempferia angustifolia Roscoe—an aromatic, essential oil yielding, underutilized medicinal plant of Zingiberaceae family. J Crop Sci Biotechnol 21(2):147–153. https://doi.org/10.1007/s12892-017-0051-0

Hoagland DR, Arnon DI (1950) The water–culture method for growing plants without soil. Circ Calif Agric Exp Stn 347(2):1–32

Horacio P, Martinez-Noel G (2013) Sucrose signaling in plants: a world yet to be explored. Plant Signal Behav 8(3):1–11. https://doi.org/10.4161/psb.23316

Hosseini A, Hosseinzadeh H (2018) Antidotal or protective effects of Curcuma longa (turmeric) and its active ingredient, curcumin, against natural and chemical toxicities: a review. Biomed Pharmacother 99:411–421. https://doi.org/10.1016/j.biopha.2018.01.072

Jenkinson DS, Powlson DS (1976) The effects of biocidal treatments on metabolism in soil—v.a method for measuring soil biomass. Soil Biol Biochem 8:209–213

Jose S, Thomas TD (2015) Abiotic stresses increase plant regeneration ability of rhizome explants of Curcuma caesia Roxb. Plant Cell Tissue Organ 122(3):767–772. https://doi.org/10.1007/s11240-015-0795-2

Kaschuk G, Alberton O, Hungria M (2010) Three decades of soil microbial biomass studies in Brazilian ecosystems: lessons learned about soil quality and indications for improving sustainability. Soil Biol Biochem 42(1):1–13. https://doi.org/10.1016/j.soilbio.2009.08.020

Lermen C, Mohr FBM, Alberton O (2015) Growth of Cymbopogon citratus inoculated with mycorrhizal fungi under different levels of lead. Sci Hortic 186:239–246. https://doi.org/10.1016/j.scienta.2015.02.029

Lermen C, Cruz RMS, Souza Gonçalves CH (2019) Growth of lemongrass ('Cymbopogon citratus'(DC) Stapf) inoculated with arbuscular mycorrhizal fungi ('Rhizophagus clarus' and 'Claroideoglomus etunicatum') under contrasting phosphorus levels. Aust J Crop Sci 13(2):266–271. https://doi.org/10.21475/ajcs.19.13.02.p1344

Luzzi DS, Caye VAH, Sordi A, Cericato A, Klein C (2019) Production of turmeric (Curcuma longa L.) Submitted to plant densities with different types of rhizomes. Unoesc Ciên ACET 10(1):51–58

Malavolta E, Vitti GC, Oliveira AS (1987) Avaliação do estado nutricional das plantas: princípios e aplicações, 1st edn. Potafos, Piracicaba

Mazzetto AM, Cerri CEP, Feigl BJ, Cerri CC (2016) Activity of soil microbial biomass altered by land use in the southwestern Amazon. Bragantia 75(1):79–86. https://doi.org/10.1590/1678-4499.066

Medeiros TS, Gomes ARMG, Alves MPB, Sousa Marcelino A, Matos Santos D, Giongo AMM, Costa AR (2019) Production of radish (Raphanus sativus L.) cultivated under bovine manure levels and soil basal respiration. Braz Appl Sci Rev 3(2):1348–1357

Miller GL (1959) Use of dinitrosalicylic acid reagent for determination of reducing sugar. Anal Chem 31(3):426–428

Moura JCMS, Bonine CAV, Oliveira FV, Dornelas MC, Mazzafera P (2010) Abiotic and biotic stresses and changes in the lignin content and composition in plants. J Integr Plant Biol 52(4):360–376. https://doi.org/10.1111/j.1744-7909.2010.00892.x

Murashige T, Skoog FA (1962) revised medium for rapid growth and bio assays with tobacco tissue cultures. Physiol Plant 5:473–497

Nawal HAL (2018) A study of preservative effects of turmeric (Curcuma longa) on mashed potatoes. Int J Appl Eng Res 13(6):4278–4281

Neelakandan AK, Wang K (2012) Recent progress in the understanding of tissue culture-induced genome level changes in plants and potential applications. Plant Cell Rep 31(4):597–620. https://doi.org/10.1007/s00299-011-1202-z

Oliveira JRGD, Moraes TADL, Melo NFD, Yano-Melo AM (2010) Arbuscular mycorrhizal fungi and plant growth-promoting rhizobacteria in the acclimatization of Zingiber spectabile. Bragantia 69(3):687–694. https://doi.org/10.1590/S0006-87052010000300021

Oliveira JRGD, Morais TADL, Melo NFD, Yano-Melo AM (2011) Acclimatization of Tapeinochilos ananassae plantlets in association with arbuscular mycorrhizal fungi. Pesq Agric Bras 46(9):1099–1104. https://doi.org/10.1590/S0100-204X2011000900018

Pereira LS, Santos IS, Alvim FC, Souza Júnior JO, Gross E (2017) Effect of arbuscular mycorrhizal fungi on survival and growth of micropropagated Comanther amucugensis spp. mucugensis (Eriocaulaceae). Afr J Agric Res 12(20):1772–1780. https://doi.org/10.5897/AJAR2016.11933

Phillips JM, Hayman DS (1970) Improved procedures for clearing roots and staining parasitic and vesicular–arbuscular mycorrhizal fungi for rapid assessment of infection. Brit Mycol Soc Trans 55:158–161

Reis MV, Nery FC, Oliveira Prudente D, Paiva DOP, Paiva R, Freitas RT, Silva DP (2017) In vitro propagation of Zingiber spectabile. Orn Hortic 23(3):270–278. https://doi.org/10.1016/0304-4238(94)00759-9

Santos GSH, Klinger PH, Tito PKT, Anjos LHC, Oliveira VA, Lumbreras JF, Coelho MR, Cunha TJF (2013) Sistema brasileiro de classificação de solos (SiBCS), 5th edn. Embrapa, Brasília

Santos AA, Deoti JR, Müller G, Dário MG, Stambuk BU, Alves Junior SL (2017) Microwell plate-based method for the determination of reducing sugars with the DNS reagent. Braz J Food Technol 20:1–9. https://doi.org/10.1590/1981-6723.11315

Segatto FB, Bisognin DA, Benedetti M, Costa LC, Rampelotto MV, Nicoloso FT (2004) A technique for the anatomical study of potato leaf epidermis. Ciên Rural 34(5):1597–1601

Silva MAD, Silva FSBD, Yano-Melo AM, Melo NFD, Maia LC (2006) Fungos micorrízicos arbusculares e vermicomposto na aclimatação de Alpinia purpurata (Viell.) Schum e Zingiber spectabile Griff. (Zingiberaceae). Acta Bot Bras 20(2):249–256. https://doi.org/10.1590/S0102-33062006000200001

Silva MFD, Pescador R, Rebelo RA, Stürmer SL (2008) The effect of arbuscular mycorrhizal fungal isolates on the development and oleoresin production of micropropagated Zingiber officinale. Braz J Plant Physiol 20(2):119–130. https://doi.org/10.1590/S1677-04202008000200004

Silva AR, de Melo NF, Yano-Melo AM (2017) Acclimatization of micropropagated plants of Etlingera elatior (Jack) RM Sm. inoculated with arbuscular mycorrhizal fungi. S Afr J Bot 113:164–169. https://doi.org/10.1016/j.sajb.2017.08.014

Smeekens S, Ma J, Hanson J, Rolland F (2010) Sugar signals and molecular networks controlling plant growth. Curr Opin Plant Biol 13(3):273–278. https://doi.org/10.1016/j.pbi.2009.12.002

Smith FA, Smith SE (2011a) What is the significance of the arbuscular mycorrhizal colonisation of many economically important crop plants? Plant Soil 348(1–2):63–79. https://doi.org/10.1007/s11104-011-0865-0

Smith SE, Smith FA (2011b) Roles of arbuscular mycorrhizas in plant nutrition and growth: new paradigms from cellular to ecosystem scales. Annu Rev Plant Biol 62:227–250. https://doi.org/10.1146/annurev-arplant-042110-103846

Soil Survey Staff (2014) Keys to soil taxonomy, 12th edn. USDA-Natural Resources Conservation Service, Washington, Washington, DC

Tate KR, Ross DJ, Feltham CW (1988) A direct extraction method to estimate soil microbial C: effects of experimental variables and some different calibration procedures. Soil Biol Biochem 20(3):329–335

Tótola MR, Chaer GM (2002) Microrganismos e processos microbiológicos como indicadores da qualidade dos solos. Tóp Ciên Solo 2(3):195–276

Trettel JR, Gazim ZC, Gonçalves JE, Stracieri J, Magalhães HM (2017) Volatile essential oil chemical composition of basil (Ocimum basilicum L. 'Green') cultivated in a greenhouse and micropropagated on a culture medium containing copper sulfate. In Vitro Cell Dev Biol Plant 53(6):631–640. https://doi.org/10.1007/s11627-017-9868-8

Trettel JR, Gazim ZC, Gonçalves JE, Stracieri J, Magalhães HM (2018) Effects of copper sulphate (CuSO4) elicitation on the chemical constitution of volatile compounds and the in vitro development of Basil. Sci Hortic 234:19–26. https://doi.org/10.1016/j.scienta.2018.01.062

Uma E, Muthukumar T, Sathiyadash K, Muniappan V (2010) Mycorrhizal and dark septate fungal associations in gingers and spiral gingers. Botany 88(5):500–511. https://doi.org/10.1139/B10-021

Urcoviche RC, Gazim ZC, Dragunski DC, Barcellos FG, Alberton O (2015) Plant growth and essential oil content of Mentha crispa inoculated with arbuscular mycorrhizal fungi under different levels of phosphorus. Ind Crops Prod 67:103–107. https://doi.org/10.1016/j.indcrop.2015.01.016

Vance ED, Brookes PC, Jenkinson DS (1987) An extraction method for measuring soil microbial biomass C. Soil Biol Biochem 19(6):703–707

Vergara C, Araujo KEC, Souza SRD, Schultz N, Jaggin Júnior OJ, Sperandio MVL, Zilli JÉ (2019) Plant–mycorrhizal fungi interaction and response to inoculation with different growth-promoting fungi. Pes Agrop Bras 54:1–24. https://doi.org/10.1590/s1678-3921.pab2019.v54.25140

Volpe V, Giovannetti M, Sun XG, Fiorilli V, Bonfante P (2016) The phosphate transporters LjPT4 and MtPT4 mediate early root responses to phosphate status in non mycorrhizal roots. Plant Cell Environ 39(3):660–671. https://doi.org/10.1111/pce.12659

Wang E, Yu N, Bano AS, Liu C, Miller AJ, Cousins D, Downie JÁ (2014) A H+-ATPase that energizes nutrient uptake during mycorrhizal symbioses in rice and Medicago truncatula. Plant Cell 26(4):1818–1830. https://doi.org/10.1105/tpc.113.120527

Willis A, Rodrigues BF, Harris PJ (2013) The ecology of arbuscular mycorrhizal fungi. Crit Rev Plant Sci 32(1):1–20. https://doi.org/10.1080/07352689.2012.683375
Acknowledgements
We would like to thank the Coordenação de Aperfeiçoamento de Pessoal de Nível Superior (CAPES) n° 001 and Conselho Nacional de Desenvolvimento Científico e Tecnológico (CNPq) for funding this work. And Universidade Paranaense (UNIPAR) for financial support.
Ethics declarations
Conflict of interest
The authors declare that they have no conflict of interests.
About this article
Cite this article
de Souza Ferrari, M.P., da Cruz, R.M.S., dos Santos Queiroz, M. et al. Efficient ex vitro rooting, acclimatization, and cultivation of Curcuma longa L. from mycorrhizal fungi. J. Crop Sci. Biotechnol. (2020). https://doi.org/10.1007/s12892-020-00057-2
Keywords
Claroideoglomus etunicatum

Nutrients

Reducing sugars

Rhizophagus clarus

Stomata

Zingiberaceae