Abstract
The Crop Breeding Institute (CBI) develops new bread-wheat varieties as part of its research mandate. These are tested every year in multi-environmental trials (METs) so as to identify best performers suitable for commercial release. Here, we used METs' datasets collected across 57 locations in Zimbabwe during the 2009–17 winter seasons, on yield and agronomic performance of CBI-bred, 156 advanced experimental lines and 69 check cultivars. Twenty-five genotypes were tested each year, but the number of sites varied accordingly. The wheat genotypes were planted using an alpha (0.1) lattice design replicated thrice, and each replication constituted five incomplete blocks, with a block size of five. Significant differences in grain yield (GY) on some locations, as well as, significant GE interactions on GY were observed. GY averages of the best five experimental lines in the year 2013 and 2015 significantly differed from those of the best five check cultivars. Furthermore, yield increments were shown from the season, 2010–15, and GY averages of the best five experimental cultivars, successively differed between these seasons. Significant correlations were shown between GY and the other agronomic traits, particularly days to anthesis and days to physiological maturity. Experimental genotypes identified as G12|2014 (7.3 tha−1), G8|2013 (5.5 tha−1), and G8|2009 (5.4 tha−1) showed superior yield performance and stability hence, can be recommended for commercialization. Generally, an observable trend in yield increments was observed between the seasons, 2009–17, and experimental lines that showed superior performance can be possible targets for gene introgressions and integrations in breeding programs in the other regions.
Access options
Buy single article
Instant access to the full article PDF.
US$ 39.95
Tax calculation will be finalised during checkout.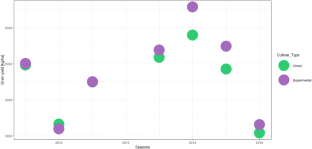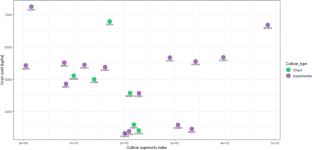 References
Adams RM, Hurd BH, Lenhart S, Leary N (1999) Effects of global climate change on agriculture: an interpretative review. Clim Res 11:19–30

Alvarado G, López M, Vargas M, Pacheco Á, Rodríguez F, Burgueño J, Crossa J. 2015. META-R (Multi Environment Trail Analysis with R for Windows) version 5.0. international maize and wheat improvement center (CIMMYT)

Baker R, Tipples K, Campbell A (1971) Heritabilities of and correlations among quality traits in wheat. Can J Plant Sci 51:441–448

Barnard AD, Labuschagne MT, Van Niekerk HA (2002) Heritability estimates of bread wheat quality traits in the Western Cape province of South Africa. Euphytica 127:115–122

Becker HC, Leon J (1988) Stability analysis in plant breeding. Plant Breed 101:1–23

Brennan JP, Martin PJ (2005) Developing cost functions for a wheat breeding program. Euphytica 130:1–17

Brennan JP, Martin PJ (2007) Returns to investment in new breeding technologies. Euphytica 157:337–349

Changizi M, Choukan R, Heravan EM, Bihamta MR, Darvish F (2014) Evaluation of genotype × environment interaction and stability of corn hybrids and relationship among univariate parametric methods. Can J Plant Sci 94:1255–1267

Chawarika A, Mutambara J, Chamboko T (2017) Competitiveness of wheat production in Zimbabwe. Afr J Sci Technol Innov Dev 9:263–268

DePauw RM, Knox RE, Clarke FR, Wang H, Fernandez MR, Clarke JM, McCaig TN (2007) Shifting undesirable correlations. Euphytica 157:409–415

Dube E, Klian W, Mwadzingeni L, Sosibo NZ, Barnard A, Tsilo TJ (2019) Genetic progress of spring wheat grain yield in various production regions of South Africa. S Afr J Plant Soil 36(1):33–39

Eberhart ST, Russell WA (1966) A general model for genetic effects. Crop Sci 6:36–40

FAO (2012) Breakout session P1.1 National food security—the wheat initiative—an international research initiative for wheat improvement

FAO (2016) Food and agriculture organization of the united nations. FAO Stat Div. https://doi.org/10.18356/877ef4ac-en

Farshadfar E, Ghannadha M, Zahravi M, Sutka J (2001) Genetic analysis of drought tolerance in wheat. Plant Breed 114:542–544

Flister L, Galushko V (2016) The impact of wheat market liberalization on the seed industry's innovative capacity: an assessment of Brazil's experience. Agric Food Econ 4(11):1–20

Foulkes MJ, Snape JW, Shearman VJ, Reynolds MP, Gaju O, Sylvester-Bradley R (2007) Genetic progress in yield potential in wheat: recent advances and future prospects. J Agric Sci 145:17–29

Fufa H, Baenziger PS, Beecher BS, Graybosch RA, Eskridge KM, Nelson LA (2005) Genetic improvement trends in agronomic performances and end-use quality characteristics among hard red winter wheat cultivars in Nebraska. Euphytica 144:187–198

Graybosch RA, Peterson CJ (2010) Genetic improvement in winter wheat yields in the Great Plains of North America, 1959–2008. Crop Sci 50:1882–1890

Heinen S, Esterhuizen D (2017) Zimbabwe grain feed. Annu Rep 1:1–8

Jat BS, Ranwah BR, Bharti B, Parihar AK (2015) Stability analysis to ascertain the performance of different genotypes of wheat (Triticum aestivum L.). Int Q J Life Sci 10:929–933

Kolusu S, Shamsudduha M, Todd M, Taylor R, Seddon D et al (2017) The El Niño event of 2015–16. Climate anomalies and the impact on groundwater (GW) over Eastern (EA) and Southern Africa. Hydrol Earth Syst Sc 23:1751–1762

Lin CS, Binns M (1988) A superiority measure of cultivar performance for cultivar × location data. J Plant Sci 68:193–198

Lobell DB, Schlenker W, Costa-Roberts J (2011) Climate trends and global crop production since 1980. Sci 333:616–620

Madamba R, Zinyandu F, Soko T, Mhike X, Muungani D, Simango K, Mutimaamba C, Nyamayevhu T, Makunde C, Matova P (2007) Practical Crop Improvement Methodologies in Zimbabwe. Internally published: http.www.drss.gov. Accessed 20 Apr 2020

Manès Y, Gomez HF, Puhl L, Reynolds M, Braun HJ, Trethowan R (2012) Genetic yield gains of the CIMMYT International semi-arid wheat yield trials from 1994 to 2010. Crop Sci 52:1543–1552

McDonald JH (2009) Handbook of biological statistics. Sparky house publishing, Baltimore

Mohsin T, Khan N, Naqvi FN (2009) Heritability, phenotypic correlation and path coefficient studies for some agronomic characters in synthetic elite lines of wheat. Environment 7:3–7

Mutambara J, Zvinavashe A, Mwakiwa E (2013) A critical review of the wheat industry in Zimbabwe. Glob J Biol Agric Health Sci 2:23–33

Mutari B, Udupa SM, Mavindidze P, Mutengwa CS (2017) Detection of rust resistance in selected Zimbabwean and ICARDA bread wheat (Triticum aestivum) germplasm using conventional and molecular techniques. S Afr J Plant Soil 35:101–110

Mwadzingeni L, Shimelis H, Dube E, Laing MD, Tsilo TJ (2016) Breeding wheat for drought tolerance: progress and technologies. J Integr Agric 15:935–943

Nehe A, Akin B, Sanal T, Evlice AK, Ünsal R et al (2019) Genotype × environment interaction and genetic gain for grain yield and grain quality traits in Turkish spring wheat released between 1964 and 2010. PLoS ONE 14(7):e0219432

Newsday (2018) Wheat production to surge, but imports to continue. https://www.newsday.co.zw/2018/08/wheat-production-to-surge-but-imports-to-continue/. Accessed 14 Mar 2019

Paux E, Faure S, Choulet F, Roger D, Gauthier V et al (2010) Insertion site-based polymorphism markers open new perspectives for genome saturation and marker-assisted selection in wheat. Plant Biotechnol J 8:196–210

Payne RW (2009) Gen Stat. Wiley Interdiscip Rev Comput Stat 1(2):255–258

Piepho HP (1998) Empirical best linear unbiased prediction in cultivar trials using factor-analytic variance-covariance structures. Theor Appl Genet 97:195–201

Purchase JL, Hatting H, van Deventer CS (2000) Genotype × environment interaction of winter wheat (Triticum aestivum L.) in South Africa: AMMI analysis of yield performance. S Afr J Plant Soil 17:95–100

Rembold F, Kerdiles H, Lemoine G, Perez-Hoyos A (2016) Impact of El Niño on agriculture in Southern Africa for the 2015/2016 main season. Joint Research Centre (JRC) MARS Bulletin–Global Outlook Series. European Commission, Brussels

Reynolds MP, Borlaug NE (2006) Impacts of breeding on international collaborative wheat improvement. J Agric Sci 144:3–17

Reynolds MP, Braun HJ, Pietragalla J, Ortiz R (2007) Challenges to international wheat breeding. Euphytica 157:281–285

Scapim CA, Oliveira VR, De Lucca E, Braccini A, Cruz CD, De Bastos Andrade CA, Vidigal MCG (2000) Yield stability in maize (Zea mays L.) and correlations among the parameters of the Eberhart and Russell, Lin and Binns and Huehn models. Genet Mol 23:387–393

Seed-Co Zimbabwe (2018) Seed Co wheat varieties on the market. https://www.seedcogroup.com/zw/media/blog/seed-co-wheat-varieties-market. Accessed 11 Mar 2019

Slafer GA, Araus JL, Royo C, García Del Moral LF (2005) Promising eco-physiological traits for genetic improvement of cereal yields in Mediterranean environments. Ann Appl Biol 146:61–70

Trethowan R, Crossa J (2007) Lessons learnt from forty years of international spring bread wheat trials. Euphytica 157:385–390

Trethowan RM, Crossa J, Van Ginkel M, Rajaram S (2001) Relationships among bread wheat international yield testing locations in dry areas. Crop Sci 41:1461–1469

Trethowan RM, van Ginkel M, Rajaram S (2002) Progress in breeding wheat for yield and adaptation in global drought affected environments. Crop Sci 42(5):1441–1446

United Nations (2013) World Population Prospects. United Nations, Department of Economic and Social Affairs, Population Division, New York

Venables WN, Smith DM (2003) The R development core team. An Introduction to R, Version, 1(0)

Weber VS, Melchinger AE, Magorokosho C, Makumbi D, Bänziger M, Atlin GN (2012) Efficiency of managed-stress screening of elite maize hybrids under drought and low nitrogen for yield under rainfed conditions in Southern Africa. Crop Sci 52:1011–1020

Woyann LG, Zdziarski AD, Zanella R, Rosa AC, Storck L, Benin G, de Castro RL, Caierão E, Toigo MDC, Wu J (2019) Genetic gain over 30 years of spring wheat breeding in Brazil. Crop Sci 59:1–10

Zahoor SA, Altaf SA, Sughra MG, Tunio HT (2014) Evaluation and selection of bread wheat genotypes grown under different environments. Int Biotechol Color J 4(1):8–14
Acknowledgements
The success of the wheat breeding programme is owing to the excellent team spirit within the Crop Breeding Institute's wheat breeding crew and all other stakeholders both in the public and private sectors of Zimbabwe. The Agricultural Research Trust (ART) Farm in Zimbabwe deserves a special mention for the independent on-farm multi-locational testing. Special thanks go to our international collaborators, CIMMYT and ICARDA, for their generous support with germplasm and capacity building. We acknowledge funding which we received from the African Development Bank, through ICARDA as well as the Government of Zimbabwe.
Ethics declarations
Conflict of interest
The authors declare that they are no conflict of interest.
About this article
Cite this article
Mavindidze, P., Mafandizvo, T., Gasura, E. et al. Progress check of yielding ability and stability of selected pre-release bread-wheat cultivars in Zimbabwe. J. Crop Sci. Biotechnol. 23, 337–345 (2020). https://doi.org/10.1007/s12892-020-00041-w
Accepted:

Published:

Issue Date:
Keywords
Wheat genotypes

Wheat genetic gains

Stability

Yielding ability

Crop Breeding Institute