Abstract
Conventional recombination breeding suffers setbacks for genetic improvement of sugarcane owing to its narrow gene pool, large complex genome, rare flowering, low fertility, long breeding cycle, and complex environmental interactions. However, production of transgenic plants can be a better alternative to improve quality traits and resistance to biotic and abiotic stresses. The authors report a ready in hand efficient in vitro culture protocol for genetic transformation in a popular sugarcane cv. Sabita (CoOR 03151) of Odisha. 2, 4-D at 3.0 mg/l resulted in highest callus induction frequency (87.8%) with white, friable, and nodular embryogenic calli suitable for plantlet regeneration. 2 mg/l BAP resulted in moderately higher number of shoots/responsive callus and higher percentage of plant survival. However, addition of TDZ (0.05 m/l) with 2 mg/l BAP in R medium (modified MS) may be considered optimum for regeneration of profuse healthy plantlets. A combination of PBZ (0.05 mg/l) with BAP (2 mg/l) and TDZ (0.05 mg/l) revealed profuse multiple shoots (25 microshoots/responsive callus) and higher percentage of survival during follow-up plant establishment than above hormonal supplementation. Among various hormone recipes in MS medium with 3.0 mg/l NAA resulted in excellent rhizogenesis response (88.0%) with more or less normal rooting within 2 weeks. The above efficient and highly reproducible in vitro culture system can be amenable for genetic transformation in this crop.
Access options
Buy single article
Instant access to the full article PDF.
US$ 39.95
Tax calculation will be finalised during checkout.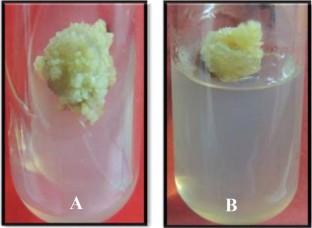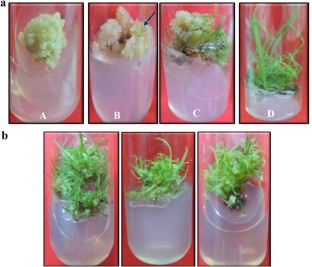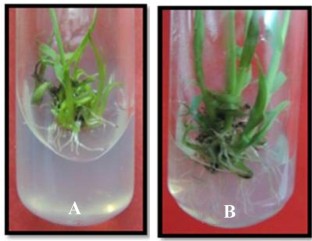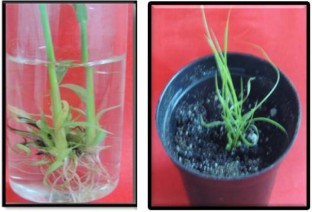 Abbreviations
BAP:

6-Benzylaminopurine

2,4-D:

2,4-Dicchlorophenoxyacetic acid

GA3 :

Gibberellic acid

IAA:

Indole-3-acetic acid

IBA:

Indole-3-butyric acid

Kn:

Kinetin(6-Furfuryladenopurine)

NAA:

α-Naphthalene acetic acid

PBZ:

Paclobutrazol

PVP:

Polyvinylpyrrolidone

RH:

Relative humidity

TDZ:

Thidizuron
References
Abdu SL, Yahaya M, Shehu UI (2012) In vitro regeneration of commercial sugarcane (Saccharum spp.) cultivars in Nigeria. J Life Sci 6:721–725

Ali S, Iqbal J (2012) Influence of physical factors on callogenesis in sugarcane (Saccharum officinarum L.). Sci Int (Lahore) 24(2):167–170

Ali A, Shagufta N, Fayyaz AS, Javed I (2008) An efficient protocol for large scale production of sugarcane through micropropagation. Pak J Bot 40:139–149

Arencibia A, Molina PR, de la Riva G, Selman-Housein G (1995) Production of transgenic sugarcane (Saccharum officinarum L.) plants by intact cell electroporation. Plant Cell Rep 14(5):305–309. https://doi.org/10.1007/bf00232033

Ather A, Khan S, Rehman A, Nazir M (2009) Optimization of the protocols for callus induction, regeneration and acclimatization of sugarcane cv. Thatta-10. Pak J Bot 41(2):815–820

Baksha R, Alam R, Karim MZ, Mannan SA, Podder BP (2003) Effect of auxin, sucrose pH level on in vitro rooting of callus induced micro shoots of sugarcane (Saccharum officinarum L.). J Biol Sci 3:915–920

Behera KK, Sahoo S (2009) Rapid in vitro micro propagation of sugarcane (Saccharum officinarum L. cv- Nayana) through callus culture. Nat Sci 7:1–10

Blaydes DF (1966) Interaction of kinetin and various inhibitors in the growth of soybean tissue. Physiol Plant 19:748–753

Chandran K (2011) In vitro regeneration of Saccharum edule from immature inflorescence. Sugar Tech 13:170–173

D'Hont A, Glaszmann JC (2001) Sugarcane genome analysis with molecular markers—a first decade of research. In: Proceedings of International Society of Sugar Cane Technologists, pp 556–559

de Alcantara GB, Dibax R, de Oliveira RA, Filho JCB, Daros E (2014) Plant regeneration and histological study of the somatic embryogenesis of sugarcane (Saccharum spp.) cultivars RB855156 and RB72454. Acta Scientiarum Agron 36(1):1–6. https://doi.org/10.4025/actasciagron.v36i1.16342

Dellaporta SL, Wood J, Hick JB (1983) A plant DNA minipreparation: version II. Plant Mol Biol Rep 1:19–21

Desai NS, Suprasanna P, Bapat A (2004) Simple and reproducible protocol for direct somatic embryogenesis from cultured immature inflorescence segments of sugarcane (Saccharum spp.). Curr Sci 87:764–768

Dewanti P, Widuri LI, Narulita F, Susilo HA, Addy Okviandari P, Sugiharto B (2016) Rapid propagation of virus-free sugarcane (Saccharum officinarum) by somatic embryogenesis. Agric Agric Sci Procedia 9:456–461

Dibax R, de Alcântara GB, Filho JCB, Machado MP, de Oliveira Y, da Silva ALL (2011) Plant regeneration of sugarcane cv. RB931003 and RB98710 from somatic embryos and acclimatization. J Biotech Biodivers 2:32–37

Donde R, Samal KC, Rout GR (2014) Studies on Agrobacterium mediated genetic transformation of rice (Oryza sativa L.) for drought tolerance using Dreb 1 gene. Int J Agril Sci 4(12):341–350

Duncan DB (1955) Multiple range and multiple F-tests. Biometrics 11:1–42

Efendi, Matsuoka M (2011) An efficient Agrobacterium-mediated transformation method for sugarcane (Saccharum officinarum L.). In: Proceedings of the annual international conference Syiah Kuala University, 2011, Banda Aceh, Indonesia, November 29–30, 2011

Eldessoky DS, Ismail RM, Abdel-Hadi AHA, Abdallah N (2011) Establishment of regeneration and transformation system of sugarcane cultivar GT54-9 (C9). GM Crops 2(2):126–134

Gamborg OL, Miller RA, Ojima K (1968) Nutrient requirement of soybean root cells. Exp Cell Res 50:151–158

Gandonou C, Errabii T, Abrinii J, Idaomar M, Chibi F, Skali Senhaji NS (2005) Effect of genotype on callus induction and plant regeneration from leaf explants of sugarcane. Afr J Biotechnol 4:1250–1255

Godheja J, Shekhar SK, Modi DR (2014) The standardization of protocol for large scale production of sugarcane (Co-86032) through micro propagation. Int J Plant Anim Environ Sci 4:135–143

Gopitha K, Bhavani LA, Senthilmanickam J (2010) Effect of the different auxins and cytokinins in callus induction, shoot, root regeneration in sugarcane. Int J Pharma Biol Sci 1:1–7

Hapsor D, Febrianie AP, Yusnita (2012) In vitro shoot formation on sugarcane (Saccharum officinarum L.) callus as affected by benzyladenine concentrations. J Agron Indonesia 40(1):56–61

Ijaz S, Rana IA, Khan IA, Saleem M (2012) Establishment of an in vitro regeneration system for genetic transformation of selected sugarcane genotypes. Genet Mol Res 11:512–530

Jahangir GZ, Nasir IA (2010) Various hormonal supplementations activate sugarcane regeneration in vitro. J Agril Sci 2:231–237

Kaur A, Gill MS, Ruma D, Gosal SS (2008) Enhanced in vitro shoot multiplication and elongation in sugarcane using cefotaxime. Sugar Tech 10(1):60–64

Khaliq A, Ashfaq M, Akram W, Choi JK, Lee J (2005) Effect of plant factors, sugar contents, and control methods on the Top Borer (Scirpophaga nivella F.) Infestation in selected varieties of sugarcane. Entomol Res 35:153–160

Khamrit R, Jaisil P, Bunnag S (2012) Callus induction, regeneration and transformation of sugarcane (Saccharum officinarum L.) with chitinase gene using particle bombardment. Afr J Biotech 11:6612–6618

Khan MR, Rashid H (2003) Studies on the rapid clonal propagation of Saccharum officinarum. Pak J Biol Sci 6:1876–1879

Khan IA, Khatri A, Nizamani GS, Siddiqui MA, Khanzada MH, Dahar NA, Seema N, Naqvi MH (2004) In vitro culture studies in sugarcane. Pak J Biotech 1:6–10

Khan SA, Hanif Z, Irshad U, Rashid H (2013) Genetic transformation of sugarcane Variety HSF-240 with marker gene GUS. Int J Agril Biol 15:1258–1264

Kumar T, Uzma Khan MR, Abbas Z, Ali GM (2014) Genetic improvement of sugarcane for drought and salinity stress tolerance using Arabidopsis Vacuolar Pyrophosphatase (AVP1) Gene. Mol Biotech 56(3):199–209

Linsmaier EH, Skoog F (1965) Organic growth factor requirements of tobacco tissue cultures. Plant Physiol Plant 18:100–127

Manickavasagam M, Ganapathi A, Anbazhagan VR, Sudhakar B, Selvaraj N, Vasudevan A, Kasthurirengan S (2004) Agrobacterium-mediated genetic transformation and development of herbicide-resistant sugarcane (Saccharum species hybrids) using axillary buds. Plant Cell Rep 23(3):134–143. https://doi.org/10.1007/s00299-004-0794-y

Mayavan S, Subramanyam K, Arun M, Rajesh M, Kapil Dev G, Sivanandhan G, Jaganath B, Manickavasagam M, Selvaraj N, Ganapathi A (2013) Agrobacterium tumefaciens-mediated in planta seed transformation strategy in sugarcane. Plant Cell Rep 32(10):1557–1574. https://doi.org/10.1007/s00299-013-1467-5

Michael PS (2007) Micropropagation of elite sugarcane planting materials from callus culture in vitro. J Proc R Soc NSW 140:79–86

Mittal P, Devi R, Gosal SS (2016) Effect of genotypes and activated charcoal on high frequency in vitro plant regeneration in sugarcane. Indian J Biotech 15:261–265

Murashige T, Skoog F (1962) A revised medium for rapid growth and bio assays with tobacco tissue culture. Physiol Plant 15:473–497

Patel VS, Mehta R, Naik KH, Singh D, Patel DU, Mali SC (2015) Callus induction & whole plant regeneration in sugarcane (Saccharum spp. complex) variety Co 86032. Green Farm 6(5):935–939

Pierik RLM (1997) In vitro culture of higher plants. Kluwar Academic Publishers, Netherlands, pp 95–196

Pillay E (2013) In vitro culture and genetic transformation of selected ancestral and commercial sugarcane germplasm. A dissertation submitted for the degree of Master of Science in the School of Life Science, University of KwaZulu-Natal, Durban, South Africa

Rashid AHA, Lateef DD (2016) Novel techniques for gene delivery into plants and its applications for disease resistance in crops. Am J Plant Sci 7:181–193

Rashid H, Khan SA, Zia M, Chaudhary MF, Hanif Z, Chaudary Z (2009) Callus induction and regeneration in elite sugarcane cultivar HSF-240. Pak J Bot 41(4):1645–1649

Satpal SB, Routray AK, Mishra R (2011) Rapid in vitro propagation technique for sugarcane variety 018. Int J Pharma Biol Sci 2:B242–B279

Singh BD (2012) Transgenic Plants:I. Gene construct, vectors and transformation methods. In: Biotechnology expanding horizons, Fourth edition, pp 372–405

Snyman S, Meyer G, Richards J, Haricharan N, Ramgareeb S, Huchett B (2006) Refining the application of direct embryogenesis in sugarcane: effect of the developmental phase of leaf disc explants and the timing of DNA transferon transformation efficiency. Plant Cell Rep 25:1016–1023

Soomro F, Lochi S, Lochi R, Lochi F, Ansari TS, Ansari P, Ansari UA, Rajper AA (2014) Callus induction in sugarcane. J Agric Food Tech 4(3):8–11

Souza GM, Berges H, Bocs S, Casu R, D'Hon A, Ferreira JE, Henry RJ, Ming R, Potier B, Sluya MAV, Vincentz M, Paterson A (2011) The sugarcane genome challenge: strategies for sequencing a highly complex genome. Trop Plant Biol 4:145–156. https://doi.org/10.1007/s12042-011-9079-0

Srivong T, Zhu YJ, Pongdontri P, Pliansinchai U, Sakuanrungsirikul S, Borthakur D, Nagai C, Kosittrakun M (2015) Optimization of callus induction and plant regeneration in sugarcane (Saccharum spp.) for a study of sucrose accumulation in relation to soluble acid invertase expression. Chiang Mai J Sci 42:797–805

Suprasanna P (2010) Biotechnological interventions in sugarcane improvement: strategies, methods and progress. Nucl Agril Biotech Div BARC Newsl 316:47–53

Taparia Y, Fouad WM, Gallo M, Altpeter F (2012a) Rapid production of transgenic sugarcane with the introduction of simple loci following biolistic transfer of a minimal expression cassette and direct embryogenesis. Vitro Cell Dev Biol Plant 48:15–22

Taparia Y, Gallo M, Altpeter F (2012b) Comparison of direct and indirect embryogenesis protocols, biolistic gene transfer and selection parameters for efficient genetic transformation of sugarcane. Plant Cell Tiss Organ Cult 111:131–141. https://doi.org/10.1007/s11240-012-0177-y

Ullah M, Khan H, Khan MS, Jan A, Ahmad K, Khan AW (2016) In vitro plant regeneration of sugarcane (Saccharum officinarum L.); the influence of variety, explant, explant position and growth regulators. ARPN J Agril Biol Sci 11:267–273

Vinayak V, Dhawan AK, Gupta VK (2009) Efficiency of nonpurine and purine cytokinins on shoot regeneration of sugarcane. Indian J Biotech 8:227–231

Warakagoda PS, Subasinghe S, Kumari DLC, Neththikumara TS (2007) Micro propagation of sugarcane (Saccharum officinarum L.) through auxiliary buds. In: Proc. Fourth Acad. Sessions 2007, University of Ruhuna, Mapalana, Kamburupitiya, pp 55–60

Yadav S, Ahmad A, Lal M (2012) Effect of different auxins and cytokinins on in vitro multiplication and rooting of shoot cultures in Sugarcane. Int J Biol Pharma Res 3:814–818

Zamir R, Khalil SA, Shah ST, Khan MS, Ahmad K, Shahenshah Ahmad N (2014) Efficient in vitro regeneration of sugarcane (Saccharum officinarum L.) from bud explants. Biotech Biotechnol Equip 26:3094–3099. https://doi.org/10.5504/BBEQ.2012.0049
Acknowledgements
We sincerely acknowledge and thank all researchers for their valuable contributions included in the text as references. Besides, special thanks to Breeder, AICRP (Sugarcane), Nayagarh, Odisha (OUAT) for providing the plant material for the study.
Funding
This research did not receive any specific grant from funding agencies in the public, commercial, or not-for-profit sectors.
Ethics declarations
Conflict of interest
The authors declare that there is no conflict of interests.
About this article
Cite this article
Tripathy, S.K., Ithape, D.M. High-throughput in vitro culture system targeting genetic transformation in sugarcane. J. Crop Sci. Biotechnol. 23, 325–335 (2020). https://doi.org/10.1007/s12892-020-00040-x
Accepted:

Published:

Issue Date:
Keywords
Somatic embryogenesis

High-throughput plantlet regeneration

Genetic

Transformation

Saccharum officinarum L.